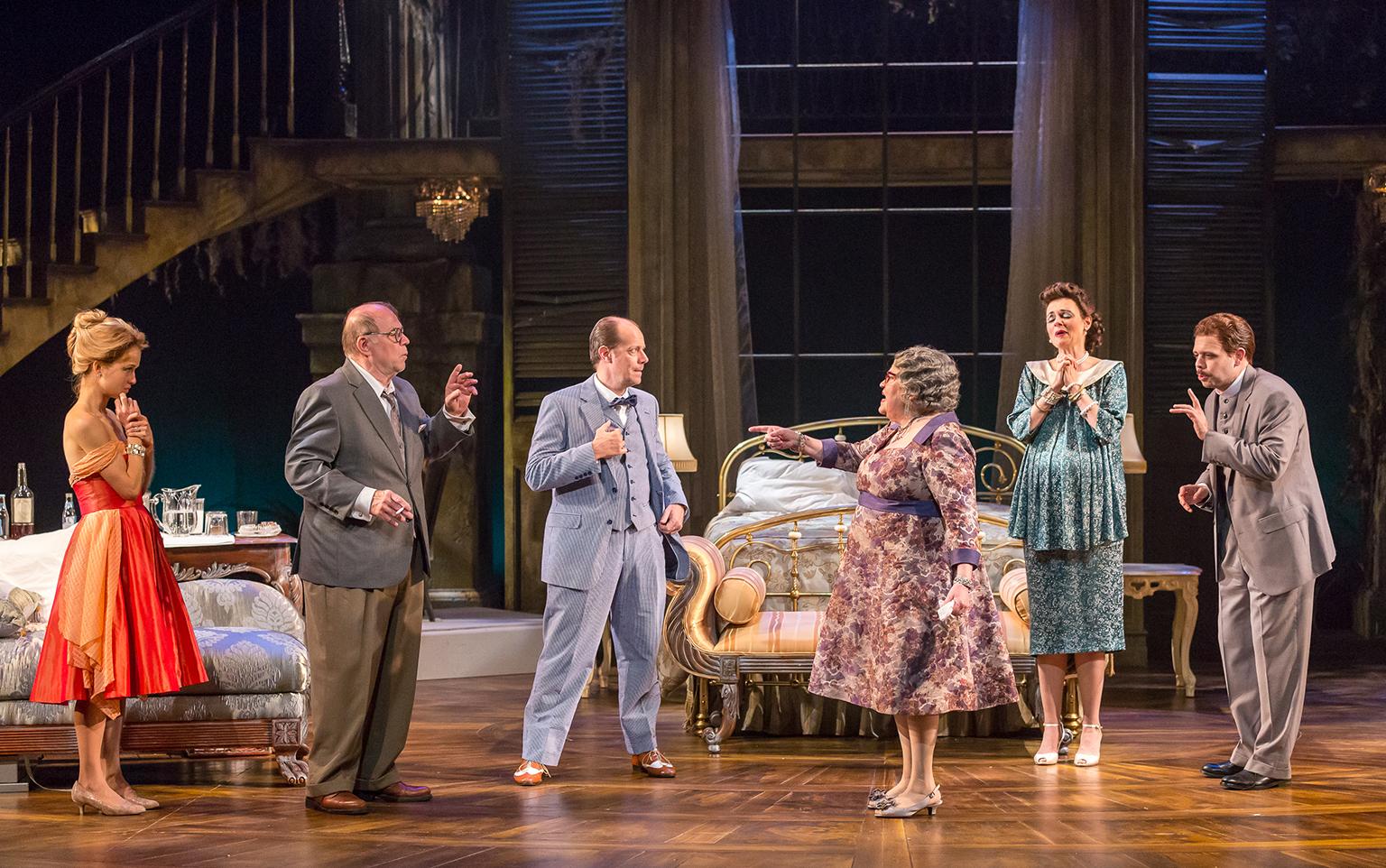 From left: Genevieve Angelson, Craig Spidle, Michael Milligan, Cindy Gold, Gail Rastorfer and Joe Bianco in "Cat on a Hot Tin Roof." (Credit: Brett Beiner Photograpahy)
In the program note for her ferocious Drury Lane Theatre production of Tennessee Williams' play, "Cat on a Hot Tin Roof," director Marcia Milgrom Dodge writes: "On a sultry Southern night, the Pollitt family gathers together to celebrate Big Daddy's 65th birthday amid secrets and lies so great that the characters roar as if singing arias in an opera."
With that single sentence Dodge captures the essence of her scorching revival of this emotionally brutal play – a production that unlocks Williams' writing in a new way. She not only subtly suggests why the choice of this work as the single dramatic entry in the theater's annual lineup of musicals possesses a compelling "music" all its own. But as she demonstrated in her revelatory production of the musical revue "Smokey Joe's Cafe" last season, she reveals what a meticulous reader and interpreter she can be, and how she can tap into fresh aspects of even the most familiar material.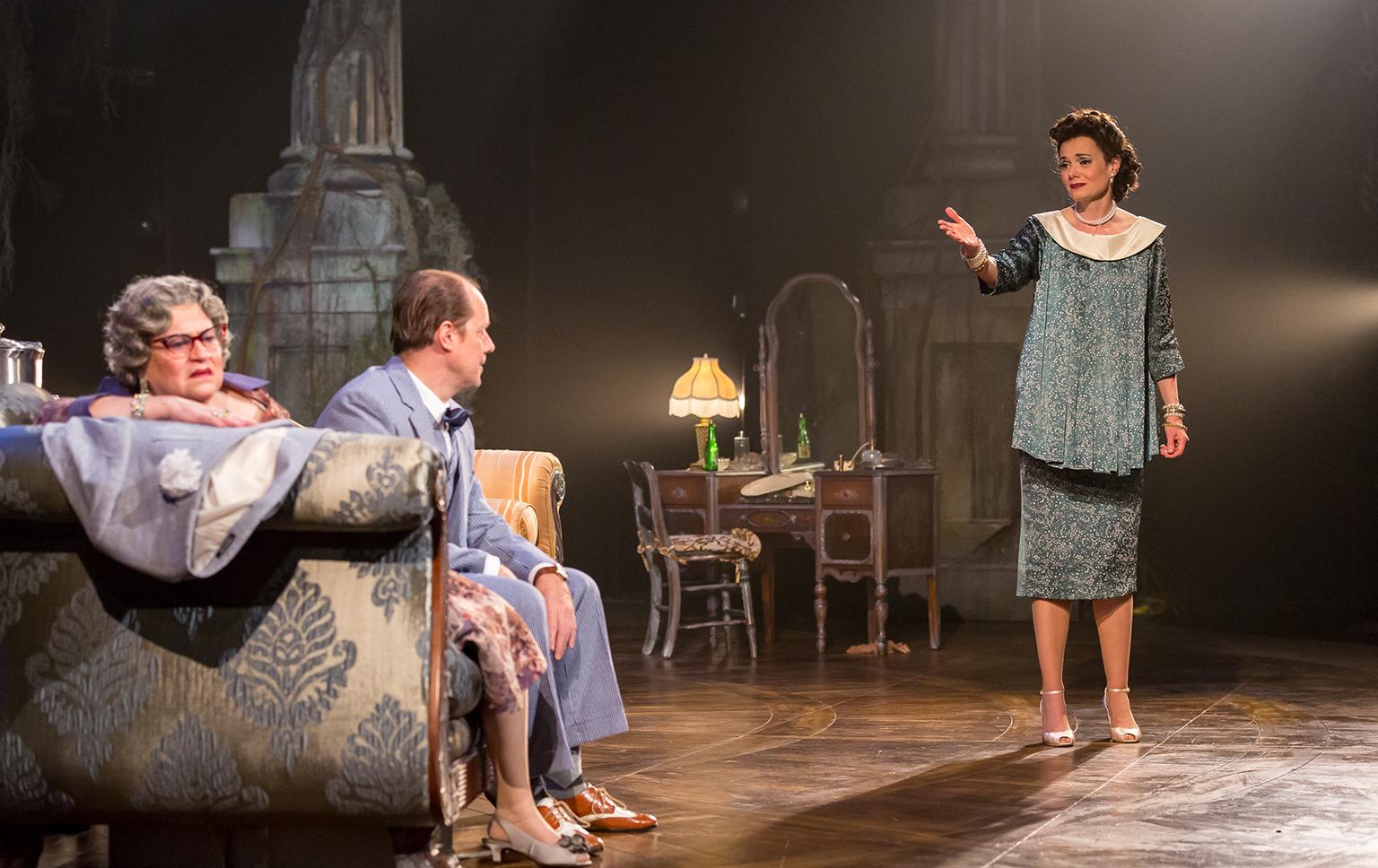 From left: Cindy Gold, Michael Milligan and Gail Rastorfer in "Cat on a Hot Tin Roof." (Credit: Brett Beiner Photograpahy)
Love, sex, guilt, money, mortality and lies (or "mendacity" as Big Daddy prefers to refer to the practice of lying to others and, above all, to oneself): These are the driving forces in "Cat on a Hot Tin Roof," and they are not all that different from what drives Williams' earlier classic, "A Streetcar Named Desire." Also of the essence here is the war between those with an indestructible survival instinct, and those hell-bent on self-destruction.
In the feverish intensity if its emotions alone, Williams' story is grand opera from start to finish. The year is 1955. The backdrop is the 28,000-acre Mississippi Delta estate (clearly a former plantation), owned by the self-made man referred to by his family as Big Daddy (a riveting turn by Matt DeCaro). And Kevin Depinet's astonishing set, framed by massive fractured columns and giant trees dripping with Spanish moss, suggests both immense wealth and a decaying ancient ruin, with the large iron bed at stage center an emblem of both fertility and impotence, as well as futile longing.
Not far from that bed is a bar – the all-powerful magnet for Brick (the darkly handsome Anthony Bowden), the younger of Big Daddy's two sons – a former athlete-turned-sports announcer who has become a serious alcoholic for a reason fully explained late in the play. And relentlessly attempting to draw him into that bed is his beautiful, desperately thwarted wife, Margaret (Genevieve Angelson, a petite engine of sexual desire and fierce determination) aptly self-described as "Maggie the Cat."
Anthony Bowden and Genevieve Angelson in "Cat on a Hot Tin Roof" (Credit: Brett Beiner Photograpahy)
Also in the house is Big Daddy's long-suffering but devoted wife, Big Mama (Cindy Gold), who has her own complex set of desires (and denials). And visiting are Brick's older brother, Gooper (Michael Milligan), a successful Memphis lawyer, whose wife, Mae (Gail Rastorfer), is a model of fecundity with five kids (or "no-neck monsters" as Maggie has dubbed them) and a sixth on the way – a woman who sees these children as an inducement for Big Daddy to will the estate to Gooper rather than Brick.
Although Big Daddy clearly is dying of cancer, no one will openly admit it. Lies are of the essence in this family – whether it has to do with Brick's suppressed homosexuality (although that word is never spoken), or the long but unhappy marriage between Big Daddy and Big Mama, or the motives of Gooper and Mae.
Daddy's doctor (Craig Spidle) withholds the truth for a while, too, while Reverend Tooker (Joe Bianco) opts for avoidance. The family's African-American maid (Donica Lynn), and butler (Reginald Robinson Jr.), stand by as silent witnesses to it all, until Lynn adds her haunting singing voice to the tale.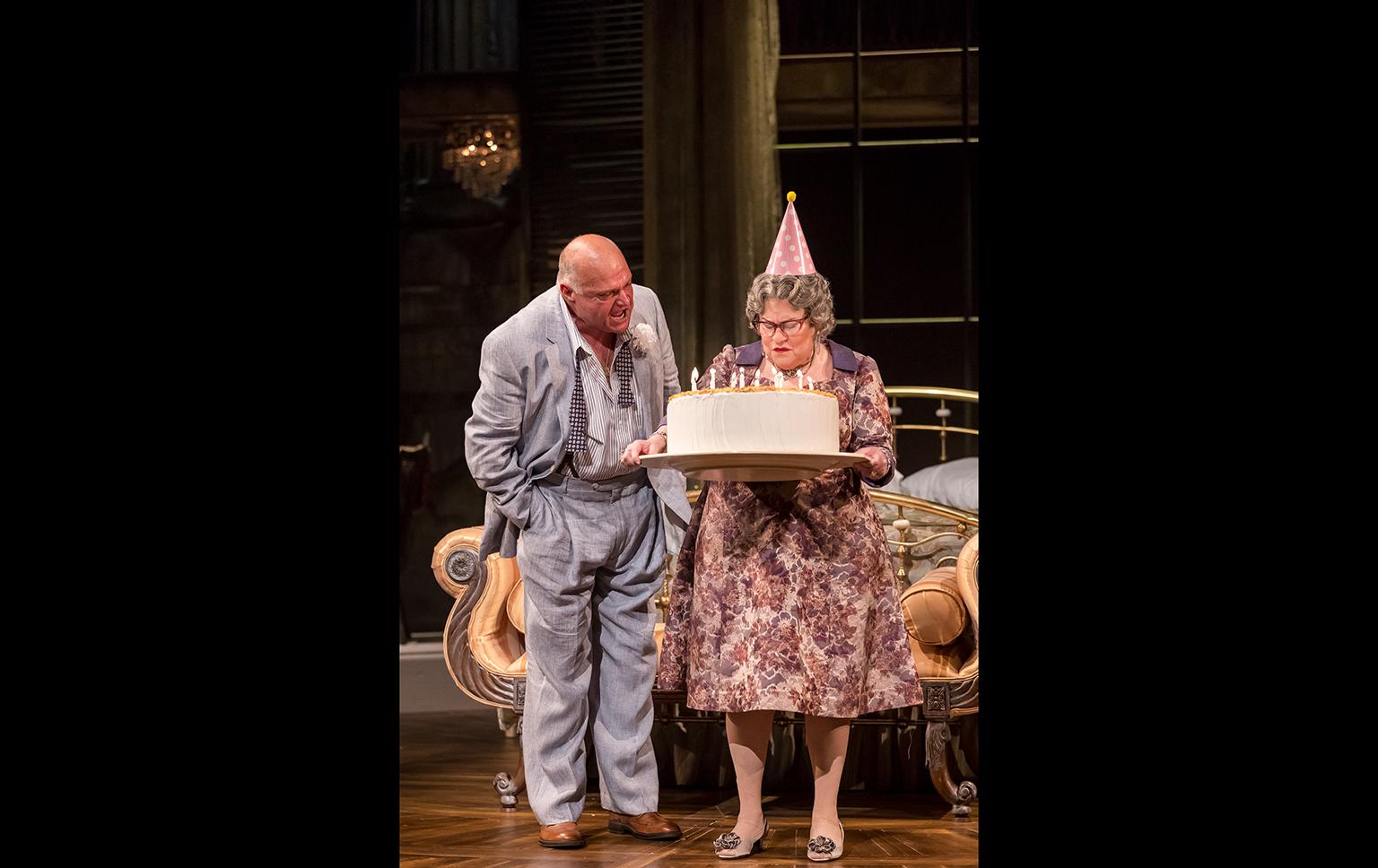 Matt DeCaro and Cindy Gold in "Cat on a Hot Tin Roof" (Credit: Brett Beiner Photograpahy)
And about those "arias." They come in the form of female voices that drive Brick to the point of distraction – whether in Maggie's long, alternately seductive and taunting opening scene (performed with catlike grace by Angelson, who strips down to a perfectly form-fitting pale blue corset as she tries every trick in her formidable arsenal to get a response from Brick), or in Mae's shrill, conniving tones as she advertises her maternal gifts. They take the form of Big Mama's deluded, heart-shattering proclamation of love for Daddy (a devastating turn by Gold) as she holds his giant birthday cake in her hands in the wake of his withering assessment of her, and Daddy's heated riff on mendacity (searingly delivered by DeCaro) as he and Brick attempt to make the sort of honest emotional connection that has always eluded them. And then there is Brick's full confession (rendered by Bowden with an aching honesty) about how he failed the man he most loved.
All these characters (ideally costumed by Sully Ratke) are warped by loneliness – a feeling that only seems to be magnified when they are surrounded by other people, especially those who love them but who they cannot love in return. And as Williams reminds us, this can make some give up on life while others, like Maggie, cling to the hot tin roof with every last fiber of their being.
"Cat on a Hot Tin Roof" runs through Aug. 26 at the Drury Lane Theatre, 100 Drury Lane, Oakbrook Terrace. For tickets ($43-$58) call (630) 530-0111 or visit www.DruryLaneTheatre.com. Running time: 2 hours and 30 minutes with one intermission.
---
In 'The Csardas Princess,' Cabaret Singer Embroiled In Love, Marriage and Social Chaos, Operetta-Style
In 'Waitress,' Master Pie Maker Finally Discovers Recipe for Love, Liberation
High-Wired 'Peter Pan' Flies on Well-Defined Gender Battle
At Goodman and Steppenwolf, 2 Plays That Mirror Each Other While Stretching Believability
Mercury Theater's 'Avenue Q' Revival Taps Into Irresistibly Funny Truthiness of Life's Disappointments
---