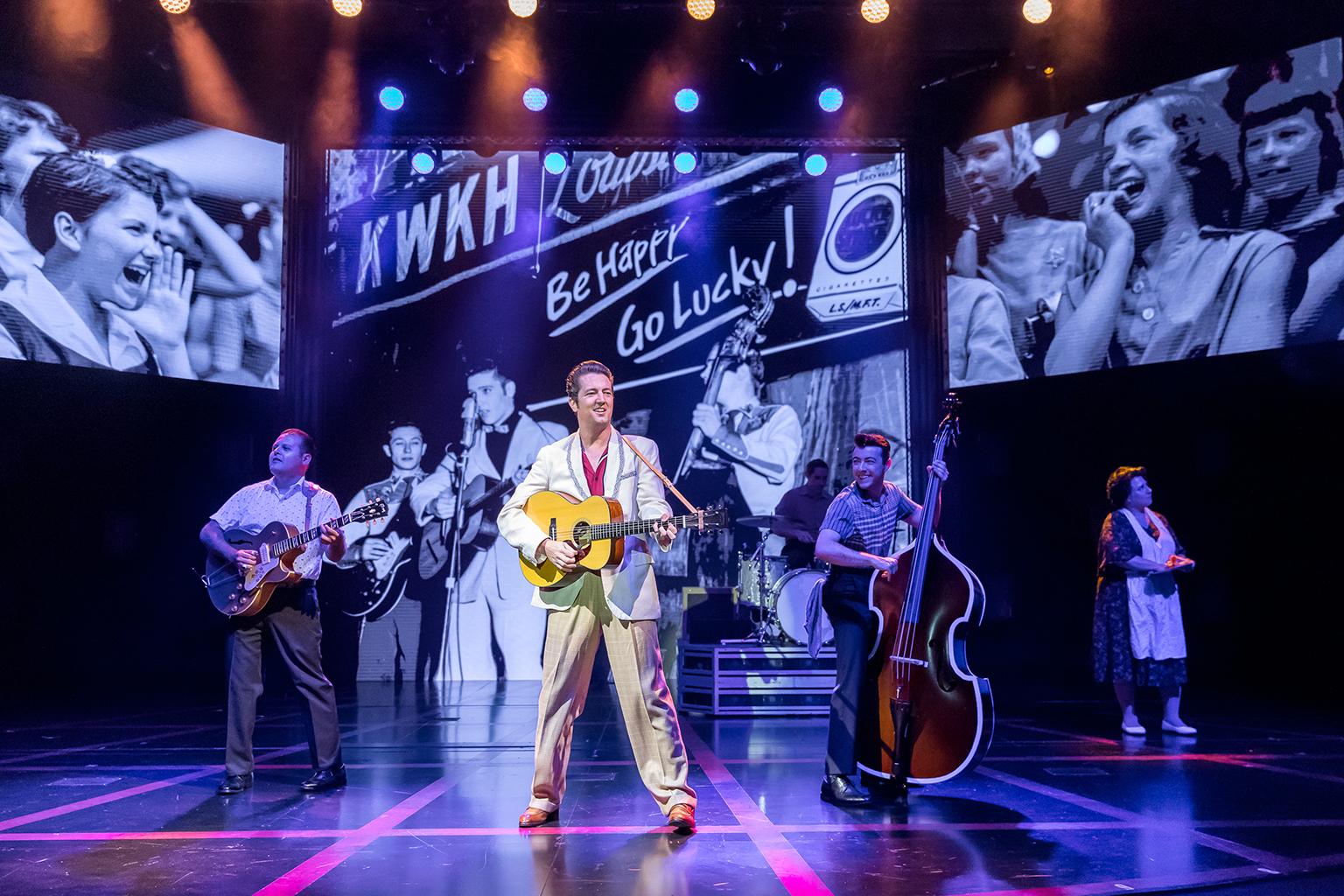 From left: Matt Codina, Eddie Clendening and Zach Lentino in "Heartbreak Hotel" at the Broadway Playhouse. (Credit: Brett Beiner)
"Heartbreak Hotel," the musical now onstage at the Broadway Playhouse, is an Elvis Presley-focused prequel to "Million Dollar Quartet" – the hit show that has by now earned countless millions of dollars of its own at the box office as it captures the one-time-only meeting of music legends Elvis Presley, Jerry Lee Lewis, Johnny Cash and Carl Perkins at Sam Phillips' Sun Records in Memphis in December of 1956.
Written and directed by Floyd Mutrux (who co-wrote the book for "Quartet"), "Heartbreak" is the story of the Faustian bargain Elvis made under the guidance (some would say "misguidance") of "Colonel" Tom Parker, who would go on to manage his career for more than two decades.
Too often this new show homes in on what feels like a patchwork of all the material about Elvis that might have been cut from "Quartet." But, on the plus side, as it chronicles the singer's ascent, it infuses the story with much that was omitted from that earlier show, including his initially underwhelming audition at Sun Records in 1954 (when he was 18 and driving a truck), to his first sensational appearance on "The Ed Sullivan Show" in 1956 (the same year that "Love Me Tender," the first of his 31 movies, was released).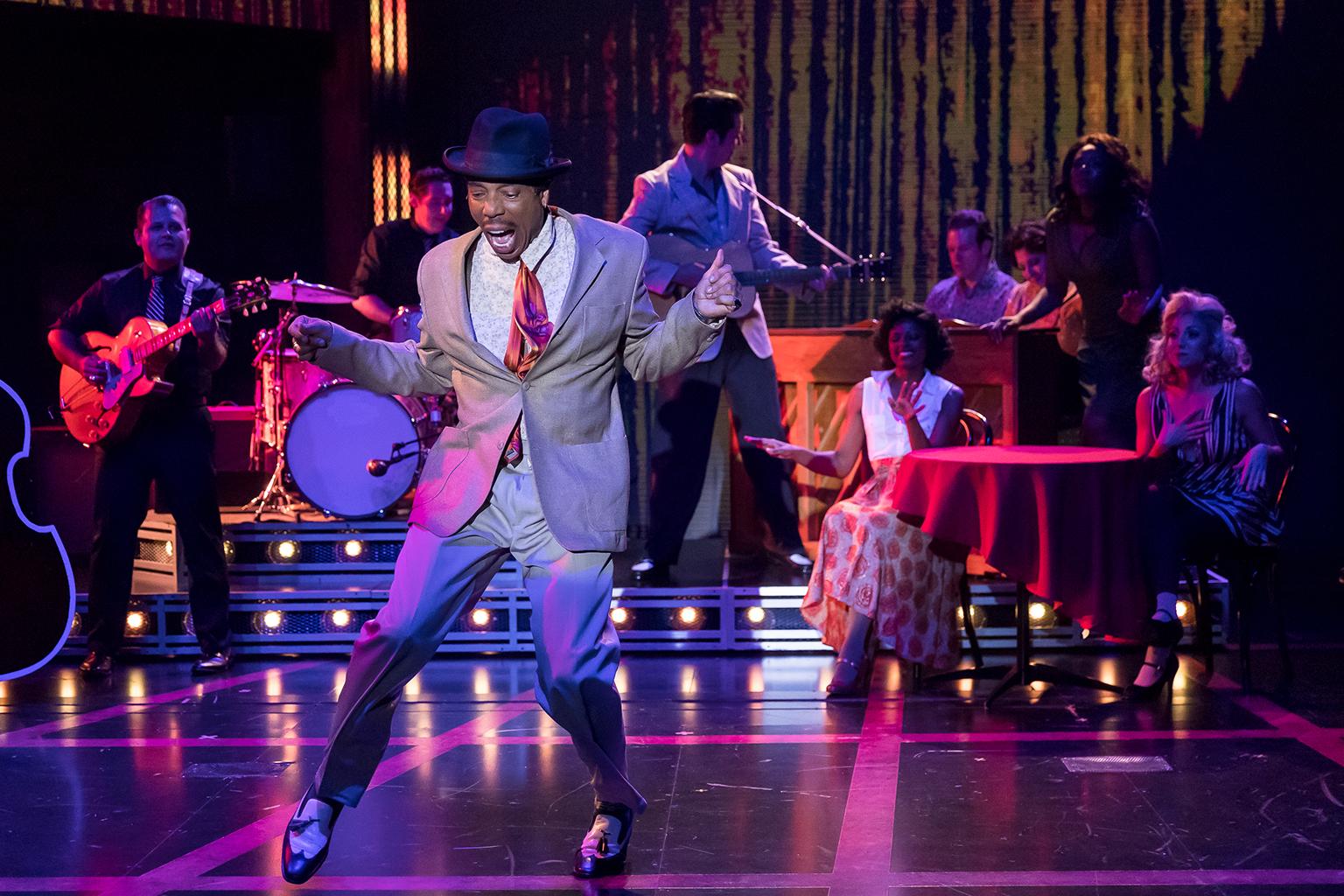 Geno Henderson in "Heartbreak Hotel" at the Broadway Playhouse. (Credit: Brett Beiner)
Most crucially it delivers homages to several of the African-American talents who clearly influenced and/or worked with Elvis (Chuck Berry, Roy Brown, Ruth Brown), and it briefly addresses "the race music" issue that swirled around rock 'n' roll at the time, with projections of archival material capturing the early burgeoning of the civil rights movement.
In addition, the show offers a fuller exploration of the decision of Sun Records' financially strapped Phillips to sell Elvis' contract to the RCA Victor label – a deal arranged by the "Colonel," a shrewd huckster who would go on to manage the singer's career (for better and for worse) for more than two decades. And it suggests how Elvis, shy and naive in many ways, and suddenly faced with unimaginable success, made several painful decisions under pressure – decisions that left him feeling guilty even if he was gentleman enough to deliver the bad news to those he was hurting by himself.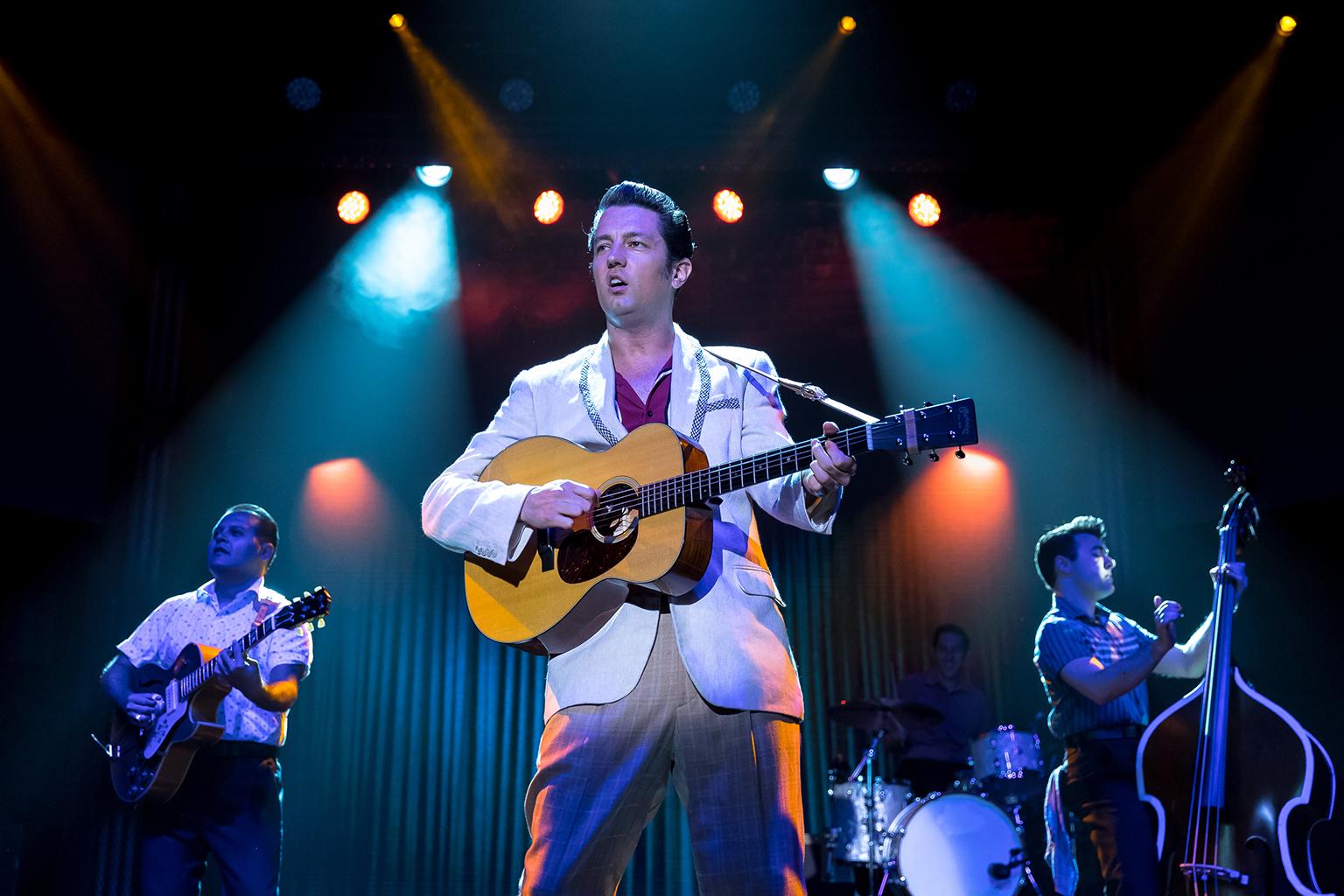 From left: Matt Codina, Eddie Clendening, Jamie Pittle and Zach Lentino in "Heartbreak Hotel" at the Broadway Playhouse. (Credit: Brett Beiner)
But what about the wildly charismatic Elvis? Eddie Clendening, a rockabilly singer and guitarist who played Elvis in the New York productions of "Million Dollar Quartet," bears a fine resemblance to the man in face and build as well as vocal quality. And he is effective in suggesting the melancholy and essential sweetness of the insecure country boy plunged into the world of brutal pop music commerce. But he never quite explodes in the way that is so crucial to capturing the force of nature that Elvis became, and often fails to clearly enunciate the song lyrics.
That crucial sexual energy of Elvis' body language – which was hidden in his first TV appearance when he was shot only from the waist up – is also mostly hidden from us here as well, except for the projections that include a bit of film of the real Elvis. And while no one wants to see an overdone, cliche-driven, impersonator-style pelvic swivel display, a little of that trademark "danger" is essential.
And there is this: While 36 songs are performed by Elvis and the other famous performers seen in the show, almost all are just heard in abbreviated "sampled" form, which often proves to be unsatisfying.
The show's supporting performers are terrific, including the actor-musicians who formed Elvis' all-important band, The Blue Moon Boys. They include Matt Codina as guitarist Scotty Moore; Zach Lentino as bassist Bill Black; and Jamie Pittle as drummer DJ Fontana.
From left: Matt Codina, Katherine Lee Bourne, Takesha Meshe Kizart and Geno Henderson in "Heartbreak Hotel" at the Broadway Playhouse. (Credit: Brett Beiner)
Jerry Kernion is just smarmy and crass enough as the Mephistopheles-like "Colonel." Erin Burniston is most winning as Elvis' strong-minded high school girlfriend and early confidence-builder. Takesha Meshe Kizart is superb as Ruth Brown, the rousing rhythm and blues songstress. Katherine Lee Bourne is ideal as gospel great Rosetta Tharpe. Darcy Jo Wood is first-rate as rockabilly singer Wanda Jackson (as well as Phillip's savvy associate). And there is fine work by Matt McKenzie as the beleaguered Phillips; stylish Geno Henderson as Chuck Berry and Roy Brown; Colte Julian as the important DJ at Memphis's WHBQ radio station, and Alicia McCracken Morgan and Andrea Collier as sexy singer-dancers.
Both Tom Vendafreddo's music direction and Birgitte Bjorum's choreography are polished. And designer Dustin Cross' dozens of costumes inject great panache into the show.
"Heartbreak Hotel" has its heart in the right place, but it is no "Million Dollar Quartet."
The show runs through Sept. 30 at Broadway Playhouse, 175 E. Chestnut St. For tickets ($35-$75) call (800) 775-2000. Running time: 2 hours with one intermission.
One final note: Fans of 1950s rock 'n' roll have a far better alternative at the moment. Following a brief hiatus, American Blues Theater's sensational production of "Buddy – The Buddy Holly Musical," has returned to Stage 773, 1225 W. Belmont Ave., where it will run through Sept. 15. Oh, boy!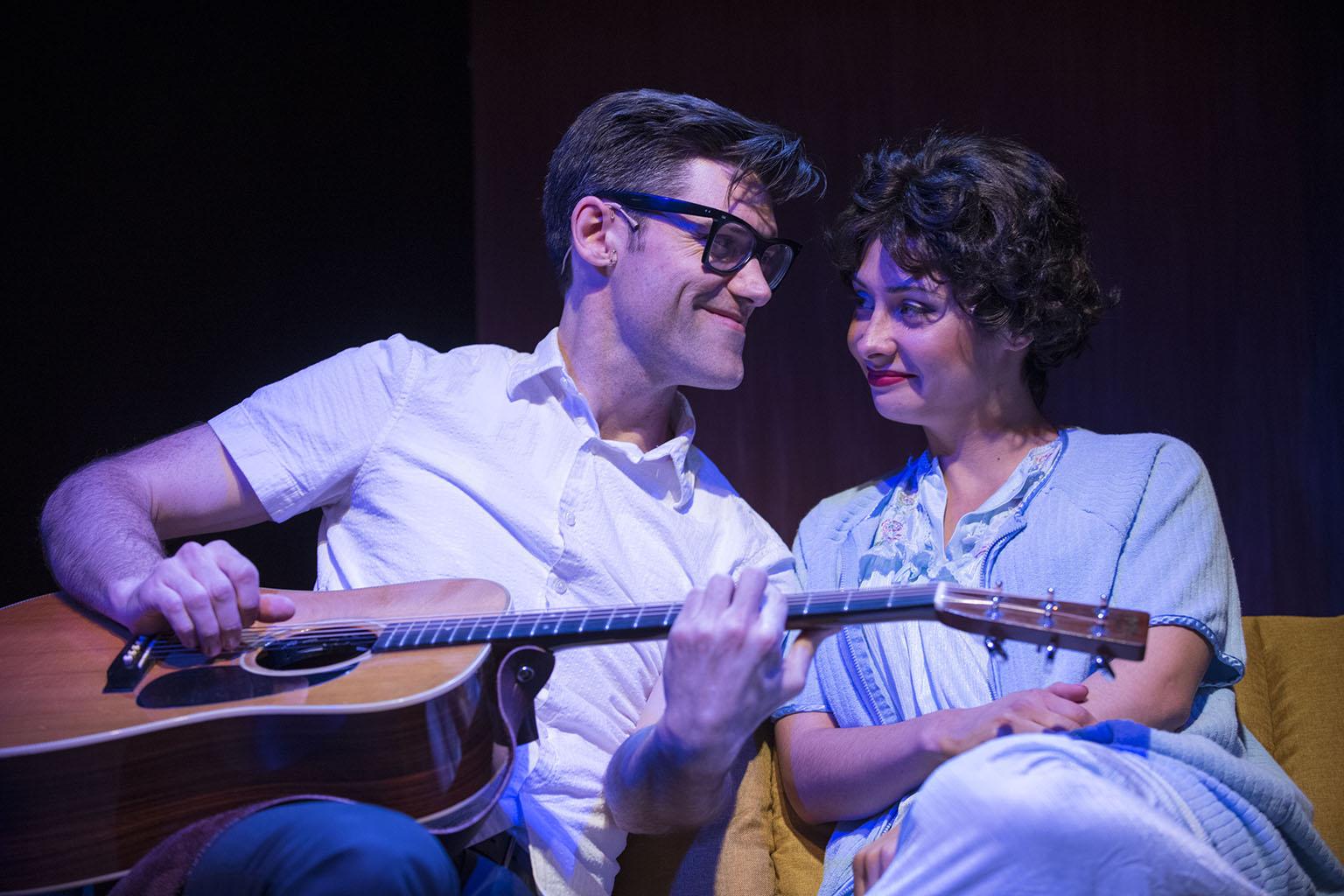 Zachary Stevenson and Molly Hernandez. (Photo credit: Michael Brosilow)
'Murder for Two' Sets Pair of Actors in Breathless Pursuit of Perpetrator
Tapping Into the Operatic in 'Cat on a Hot Tin Roof'
In 'The Csardas Princess,' Cabaret Singer Embroiled In Love, Marriage and Social Chaos, Operetta-Style
In 'Waitress,' Master Pie Maker Finally Discovers Recipe for Love, Liberation
---