Stacy Keach in the world premiere of Jim McGrath's "Pamplona," directed by Robert Falls at Goodman Theatre. (Credit Liz Lauren)
Ernest Hemingway would have admired actor Stacy Keach. A little more than a year after he suffered "a mild heart attack" midway through his opening night performance in "Pamplona," a one-man show at the Goodman Theatre about a difficult moment in the life of that Nobel Prize-winning author from Oak Park, Illinois, he has returned to that very stage.
Staring down what must surely have been a frightening brush with mortality – in addition to a most dramatic version of the actor's nightmare – Keach has demonstrated impressive determination and fearlessness. And he is in top form. In fact, he is in far better form than the formulaic, by-the-numbers play by Jim McGrath that he is performing.
Set in October 1959, five years after he received the Nobel (an award he believes invariably is the ruin of any author), Hemingway is about two years away from taking his own life at his home in Idaho. Holed up in his favorite room in the Gran Hotel La Perla in Pamplona, Spain – the place that each summer is the site of the running of the bulls – he is suffering from writer's block, and has already missed the deadline for a Life magazine story about two competing bullfighters. And to make matters worse, his fourth wife, Mary, has left him. His health is not good. He owes the IRS a considerable chunk of money. And between his nemesis, J. Edgar Hoover, and the revolutionary upheaval in Cuba (where he lives much of the time), there is even more to distract him.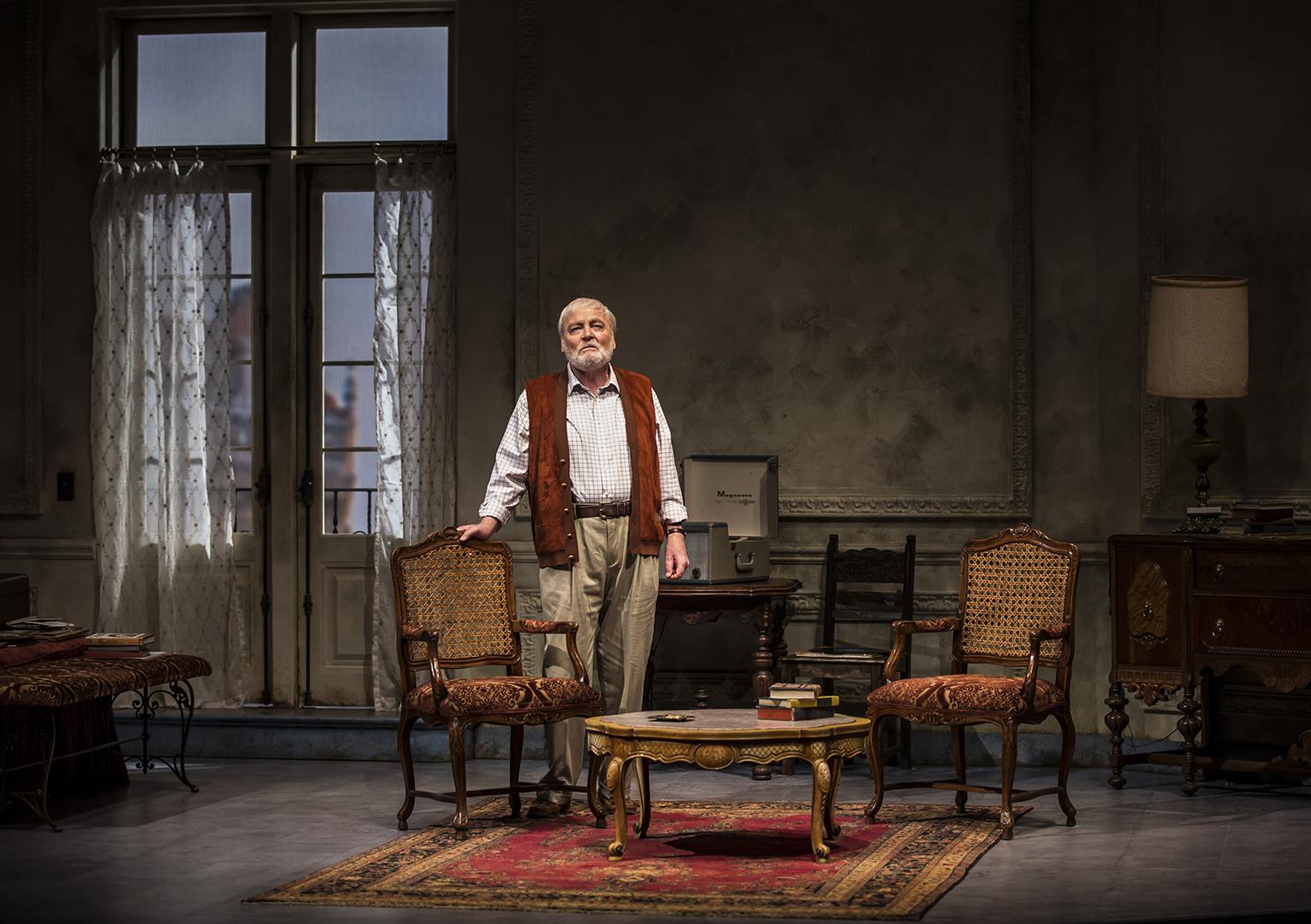 Stacy Keach in "Pamplona" (Credit Liz Lauren)
So, as the writer attempts to delve into the psyche of Antonio Ordonez, his friend and favorite bullfighter, and figure out how this man is able to repeatedly enter a bull ring knowing death might very well await him there, he takes us on many detours into his own life's story.
It is all very efficient, with a few phone calls, a bit of music from a record player, and knocks on the wall by an annoying guest in the neighboring room used as brief distractions. And along the way we learn about the many women in Hemingway's life: Agnes, his first love, and the nurse who cared for him after he was seriously injured while working as a Red Cross ambulance driver in World War I; Hadley, his first wife, who was with him during the crucial years he spent in Paris in the 1920s as part of "The Lost Generation," when he met F. Scott Fitzgerald, Gertrude Stein and Picasso; his second wife, journalist Pauline Pfeiffer; his third wife, the renowned war correspondent Martha Gellhorn; and finally, Mary, who pointedly reminded him that a wife is a partner not a nurse.
There also are explanations of the spark behind his greatest novels (taken from life, but heavily embroidered) including "A Farewell to Arms," the career-making "The Sun Also Rises,"  the Spanish Civil War-inspired "For Whom the Bell Tolls" and "The Old Man and the Sea."
Watching a writer write is always an artificial exercise, so McGrath keeps such moments at the typewriter to a minimum. Much of "Pamplona" is actually a memory play, with Hemingway confiding in the audience about everything from his bitter feelings toward his mother, to his attempt to connect with his father, to the history of suicide in his family.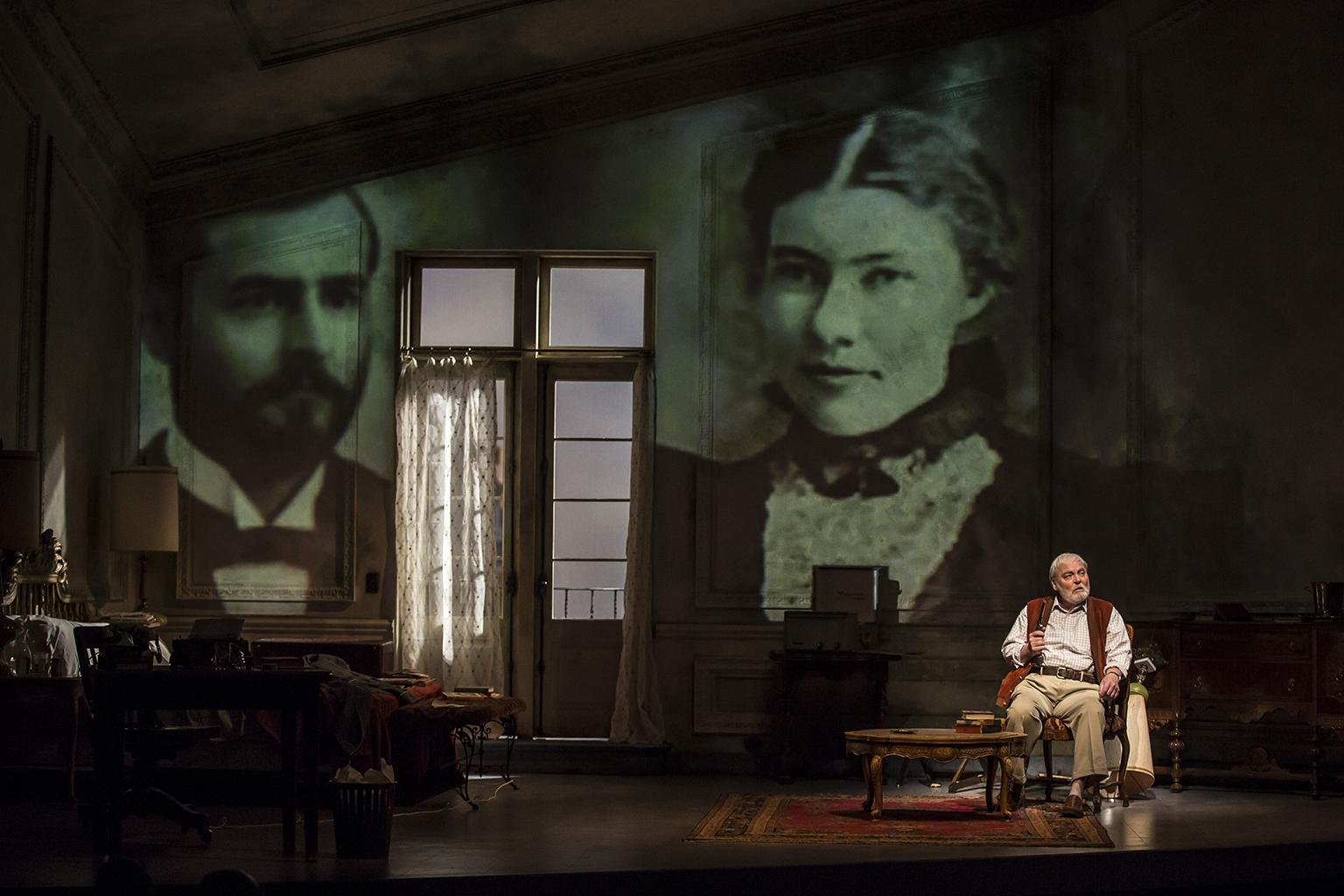 Stacy Keach in "Pamplona" (Credit Liz Lauren)
Keach, whose uncanny physical resemblance to Hemingway is a great asset here, gives a highly polished performance, with direction by Robert Falls. And Kevin Depinet's set ideally suggests a grand hotel's "pre-renovation" aura, and is richly enhanced by Adam Flemming's projections – a wonderful sepia-tinged album of many archival photos.
Hemingway, like the bullfighters he so admired, stared death in the face many times during his life – during World War I, in several plane crashes and a car crash, as a correspondent during World War II. And he had no compunction about self-dramatizing it all. In "Pamplona," Keach tries valiantly to find that drama even when the script doesn't fully support his efforts.
"Pamplona" runs through Aug. 19 at the Goodman Theatre, 170 N. Dearborn St. For tickets ($25-$90) call (312) 443-3800 or visit www.GoodmanTheatre.org. Running time: 85 minutes with no intermission.
---
Elvis Makes a Faustian Bargain in 'Heartbreak Hotel'
'Murder for Two' Sets Pair of Actors in Breathless Pursuit of Perpetrator
Tapping Into the Operatic in 'Cat on a Hot Tin Roof'
In 'The Csardas Princess,' Cabaret Singer Embroiled In Love, Marriage and Social Chaos, Operetta-Style
---