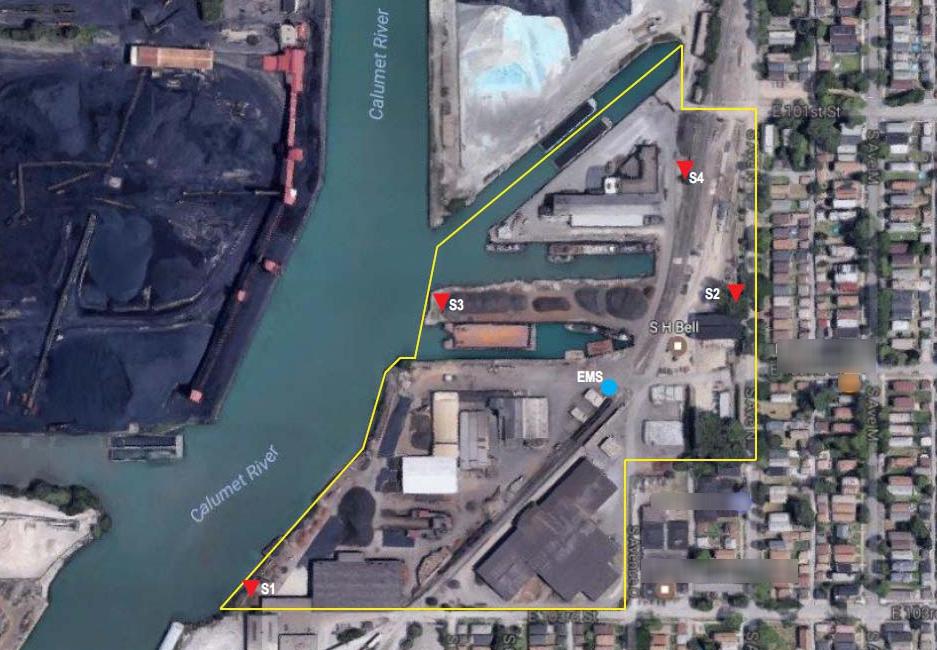 The placement of five air monitors installed in 2017 at S.H. Bell's Chicago facility is illustrated above. (Environmental Protection Agency)
A brain-damaging pollutant found at high levels near thousands of Southeast Side homes would be banned at future industrial sites under a new ordinance introduced by city officials Wednesday.
The proposal from Mayor Rahm Emanuel's administration would amend city zoning rules to prohibit new facilities from storing or handling materials containing more than trace amounts of manganese, a heavy metal used in steelmaking that can cause neurological defects similar to Parkinson's disease at high exposures.
The ordinance would not apply to facilities where manganese has been stored for at least a year, though it would prohibit them from expanding operations involving the heavy metal.
"Putting tough restrictions on manganese is the right thing to do for our families and communities, especially for those who live near facilities on the Southeast Side of Chicago," Emanuel said in a statement. "While the Trump and Rauner administrations are asleep at the switch when it comes to protecting the environment, Chicago will continue to take necessary steps to protect our residents."
The issue came to light in 2015 when air monitors set up by the Environmental Protection Agency to measure emissions of petcoke dust from facilities along the Calumet River happened to also detect manganese, with one facility – S.H. Bell Co. – as the likely source.
Related: After Petcoke, Community Confronts More Dangerous Pollutant: Manganese
Last summer, the EPA cited the company with violations of the Clean Air Act for exceeding federal health standards for emissions of manganese dust over a four-month period in 2017, with levels spiking up to four times the limit.
The data prompted Chicago's Department of Public Health to expand a study of manganese sources that it began in spring of last year following a series of Chicago Tonight stories about manganese pollution on the Southeast Side. Results from the study could lead to additional restrictions involving manganese, the city said Wednesday.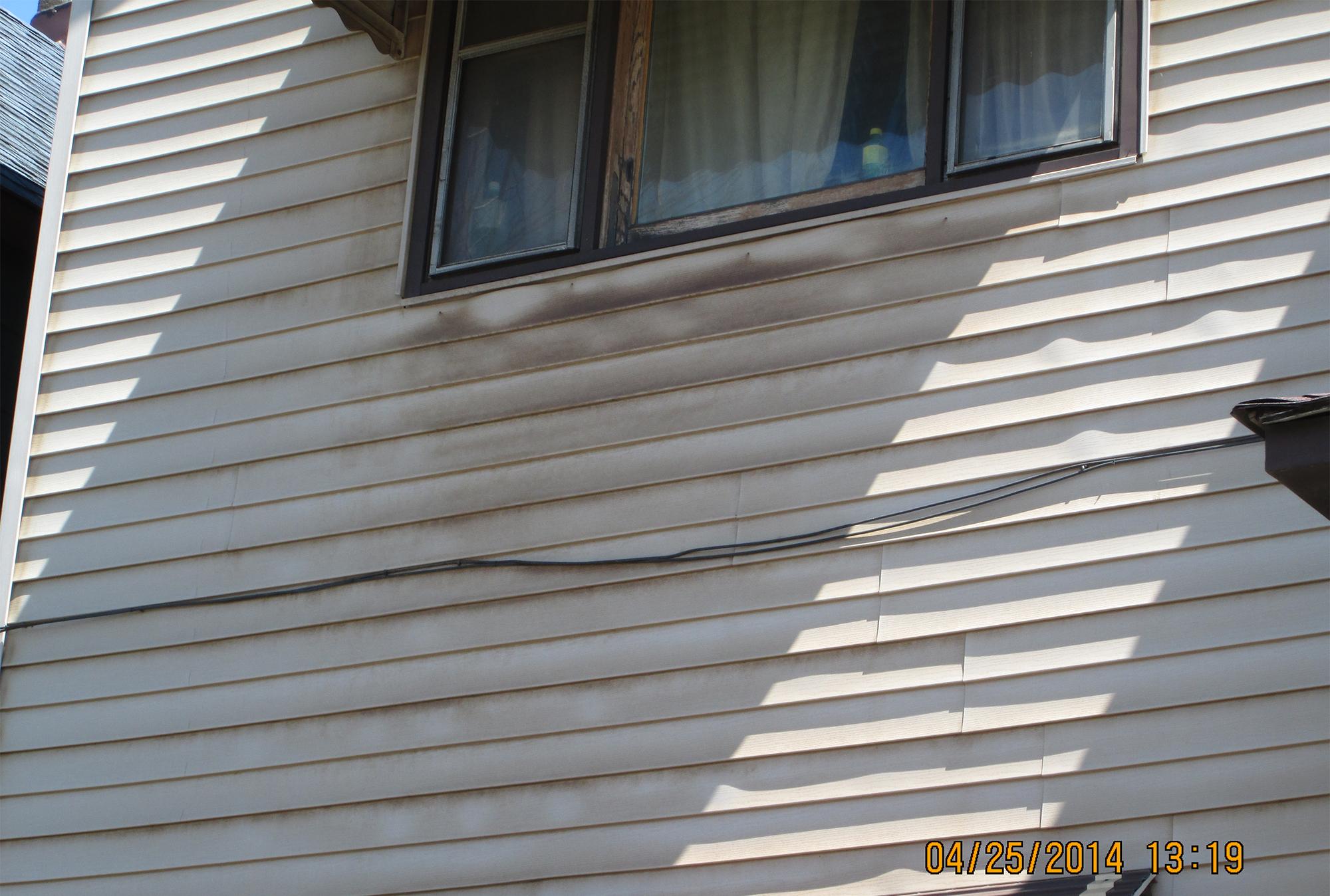 In 2014, the EPA documented rust-colored dust on homes near S.H. Bell and considered it evidence of "fugitive dust" migrating from the company's facility. (EPA)
At least one other facility in the area handles manganese. In December, the city denied that company's request to waive a requirement that it install air monitors to track levels of manganese and other metals.
The facility, operated by Watco Transloading, is larger than S.H. Bell and a potentially bigger source of manganese. 
"Currently S.H. Bell is the only facility measuring for manganese in the area even though our data shows manganese is blowing onto our facility," S.H. Bell said in a statement Wednesday. "While we are still reviewing this proposed ordinance, we are concerned it does not appear to require other companies that handle manganese to monitor for manganese."
The proposed ordinance would, however, require companies to provide the city quarterly reports showing amounts of manganese shipped and received.
Southeast Side residents have been calling on action from the city for months, including more details about its ongoing study of manganese sources. CDPH said last year that the study would be complete by early 2018.
In a letter sent to city officials in December, environmental groups and residents called for a moratorium on manganese stored outdoors pending completion of the city's study. The letter was signed by representatives from a handful of organizations including the Southeast Side Coalition to Ban Petcoke, Southeast Environmental Task Force and Natural Resources Defense Council.
"NRDC and the community appreciate this initial step by the city addressing manganese using its regulatory powers," said Meleah Geertsma, a Chicago-based attorney with NRDC who has monitored the issue. "We believe that the city has the authority to do more, and we believe that more action is needed. We look forward to working with the city to make sure the manganese and the soup of pollution on the Southeast Side is addressed to ensure that the health and wellbeing of the community is protected."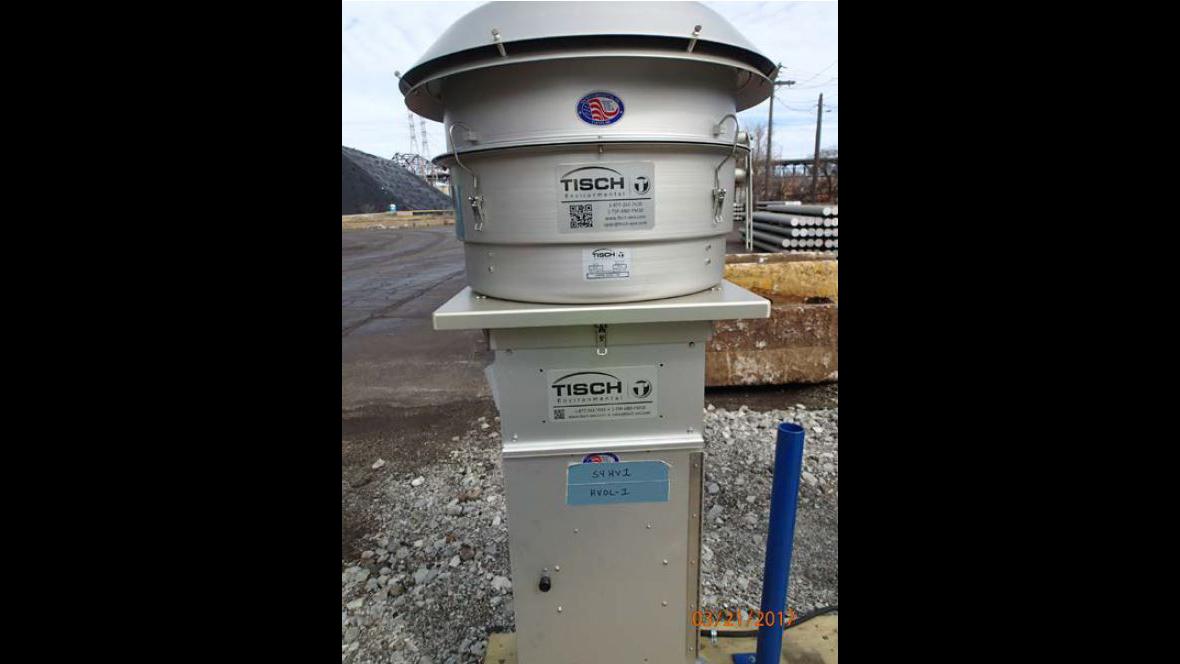 Air quality monitors were installed last spring at S.H. Bell. (EPA)
Last weekend, Southeast Side organizers held an event with community leaders and residents to educate them about the public health concerns involving manganese, especially in light of new research that calls into question the adequacy of existing limits on manganese.
A recently published study of children in Ohio found a significant link between higher concentrations of manganese in hair samples and declines in IQ, mental processing speed and working memory. The peer-reviewed study examined manganese exposure in children in East Liverpool, Ohio, where S.H. Bell operates its largest facility.
Preliminary results from an ongoing study of toxic metals on the Southeast Side found that children there had higher levels of manganese in their toenails than children in other parts of the city. The University of Illinois at Chicago researchers behind the study said in December that it was too early to draw conclusions about the link between manganese exposure and health issues among the study's subjects.
"This barely starts to scratch the surface," said Olga Bautista, a resident and leader of the advocacy group Southeast Side Coalition to Ban Petcoke, about the proposed ordinance. "Now we want to start repairing the harm that's been caused in the community."
Geertsma said that while prohibiting future sites from storing manganese is a start, the city could take additional steps to protect residents by requiring existing facilities to enclose manganese-containing materials. The city could also update its rules for bulk storage facilities to require continuous monitoring of emissions from toxic heavy metals, she said.
Contact Alex Ruppenthal: @arupp | [email protected] | (773) 509-5623
---
Related stories: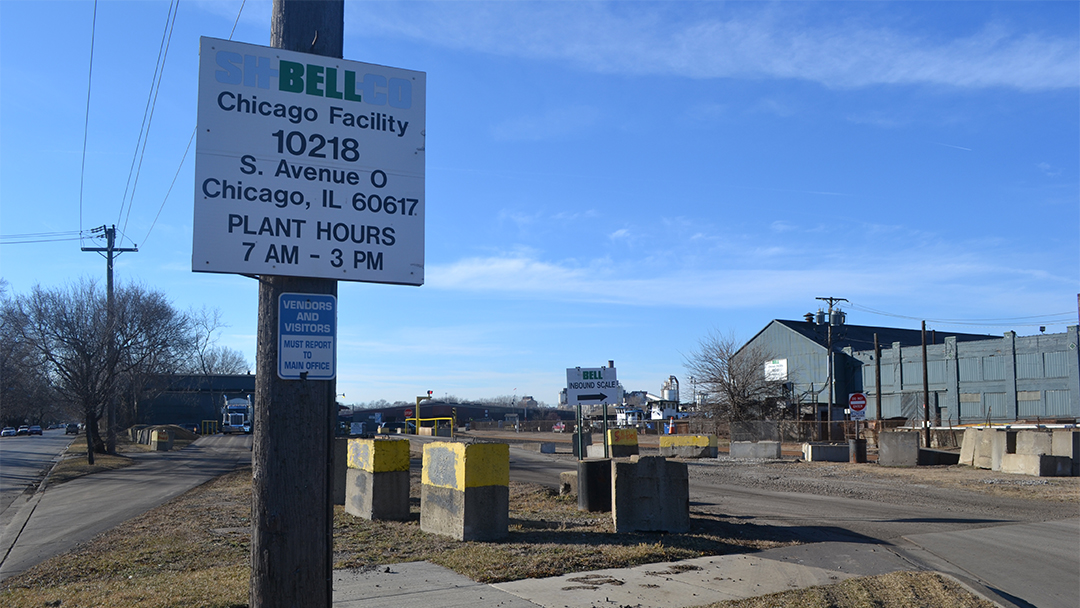 S.H. Bell's Manganese Dust-Control Plan OK'd by City
Jan. 2: Chicago public health officials have signed off on a Southeast Side company's updated plan to cut emissions of brain-damaging manganese dust that regulators say pose a health risk to nearby residents.
---
Chicago Will Require Storage Company to Install Air Monitors
Dec. 22: A Southeast Side company must install air monitors to detect levels of dust emissions from heavy metals processed on-site, according to a letter issued by the city this week.
---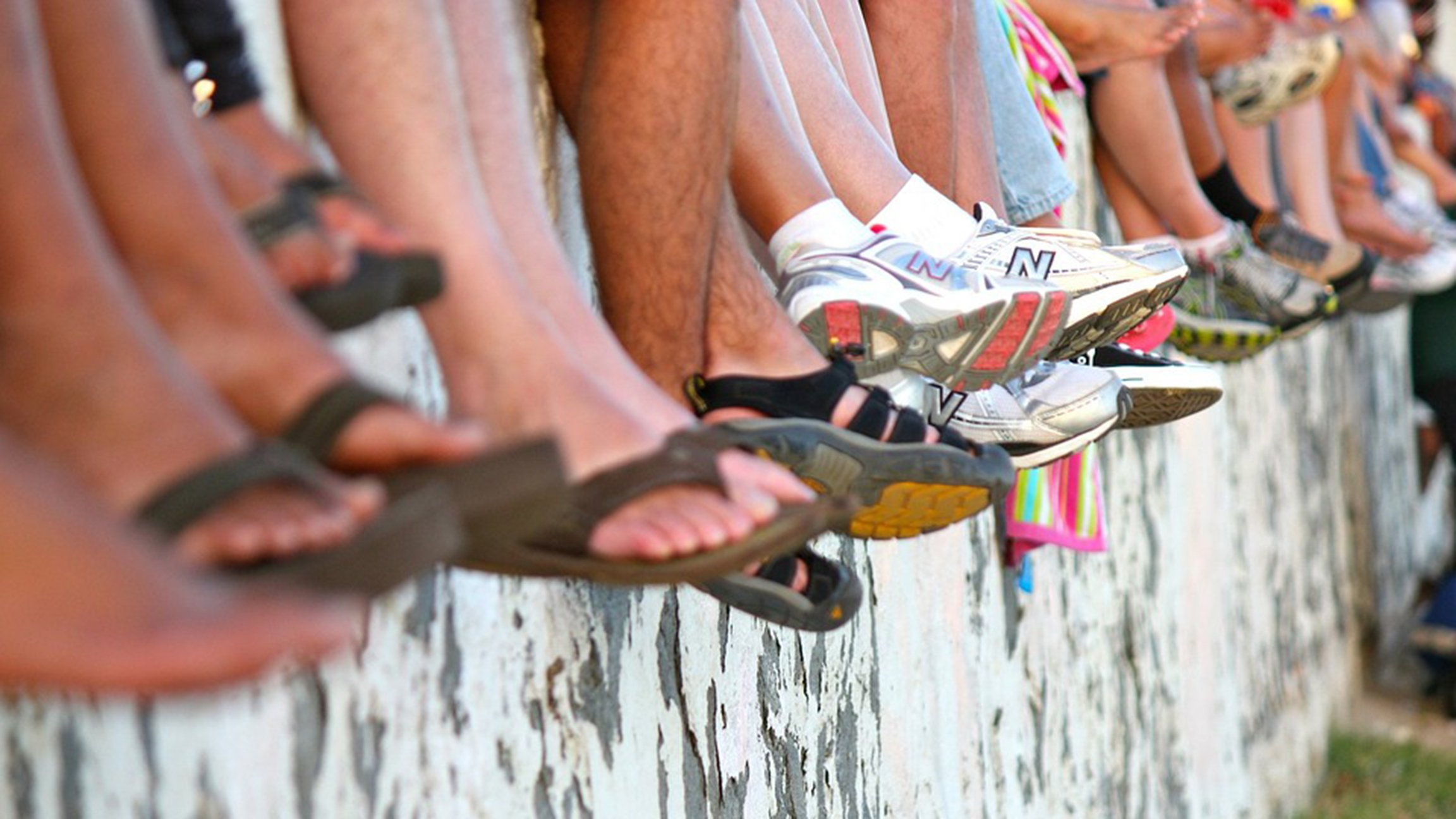 High Manganese Levels Found in Children's Toenails on Southeast Side
Dec. 21: Children on Chicago's Southeast Side have higher levels of manganese in their toenails than children in other parts of the city, according to preliminary results of a study aiming to measure the impact of toxic metals on children's health.
---