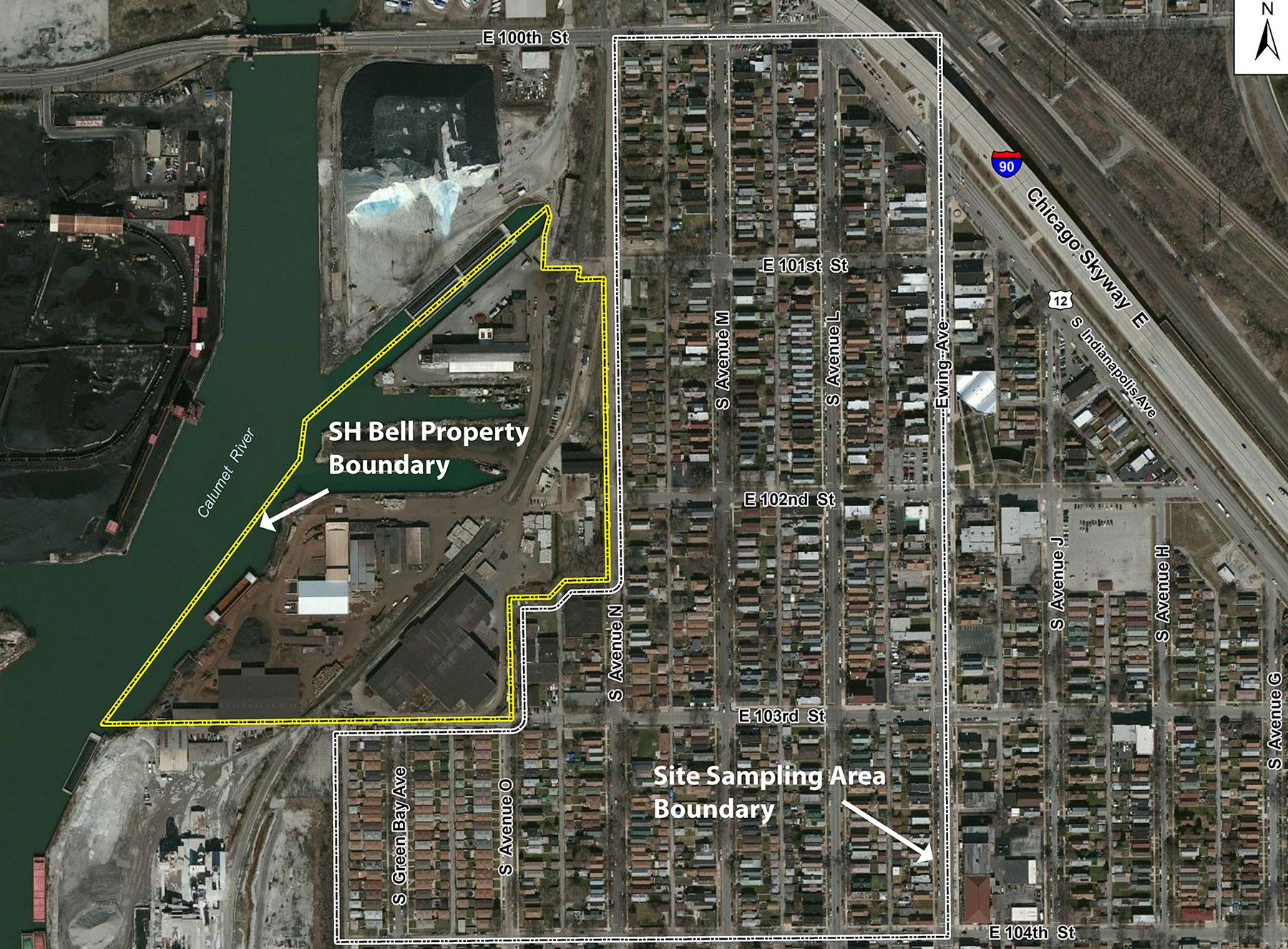 The EPA collected soil samples from properties near S.H. Bell's facility on the Southeast Side to assess levels of manganese and other toxic metals. (U.S. Environmental Protection Agency)
The U.S. Environmental Protection Agency plans to remove soil contaminated with brain-damaging manganese at up to 15 homes neighboring a Southeast Side industrial facility.
The cleanup effort is projected to cost nearly $1.3 million and will address conditions that "present an imminent and substantial threat" to public health and the environment, according to a document outlining the agency's cleanup plans.
The EPA began collecting soil samples in May 2018 after tests conducted by Chicago's Department of Public Health showed high levels of manganese at homes near S.H. Bell, a Pittsburgh-based company that stores manganese and other materials along the Calumet River.
Of the 104 homes tested by the EPA, it found five with manganese levels exceeding a federal emergency action level of 5,500 parts per million. In addition to those properties, the agency is expected to remove soil from homes that border right of ways where city officials measured manganese levels as high as 13,000 parts per million.
The EPA identified 35 other homes with manganese soil levels above a more stringent screening level used by the Illinois EPA to assess health risks, but the agency's cleanup will not cover those properties.
Manganese is a heavy metal that is essential to steelmaking but has been shown to cause Parkinson's-like symptoms after prolonged exposures. A recently published study of children in Ohio found a significant link between higher concentrations of manganese in hair samples and declines in IQ, mental processing speed and working memory.
Nearly 20,000 people live within a mile of S.H. Bell's facility in predominantly minority, low-income neighborhoods. Of those residents, more than 6,000 are children, according to EPA data.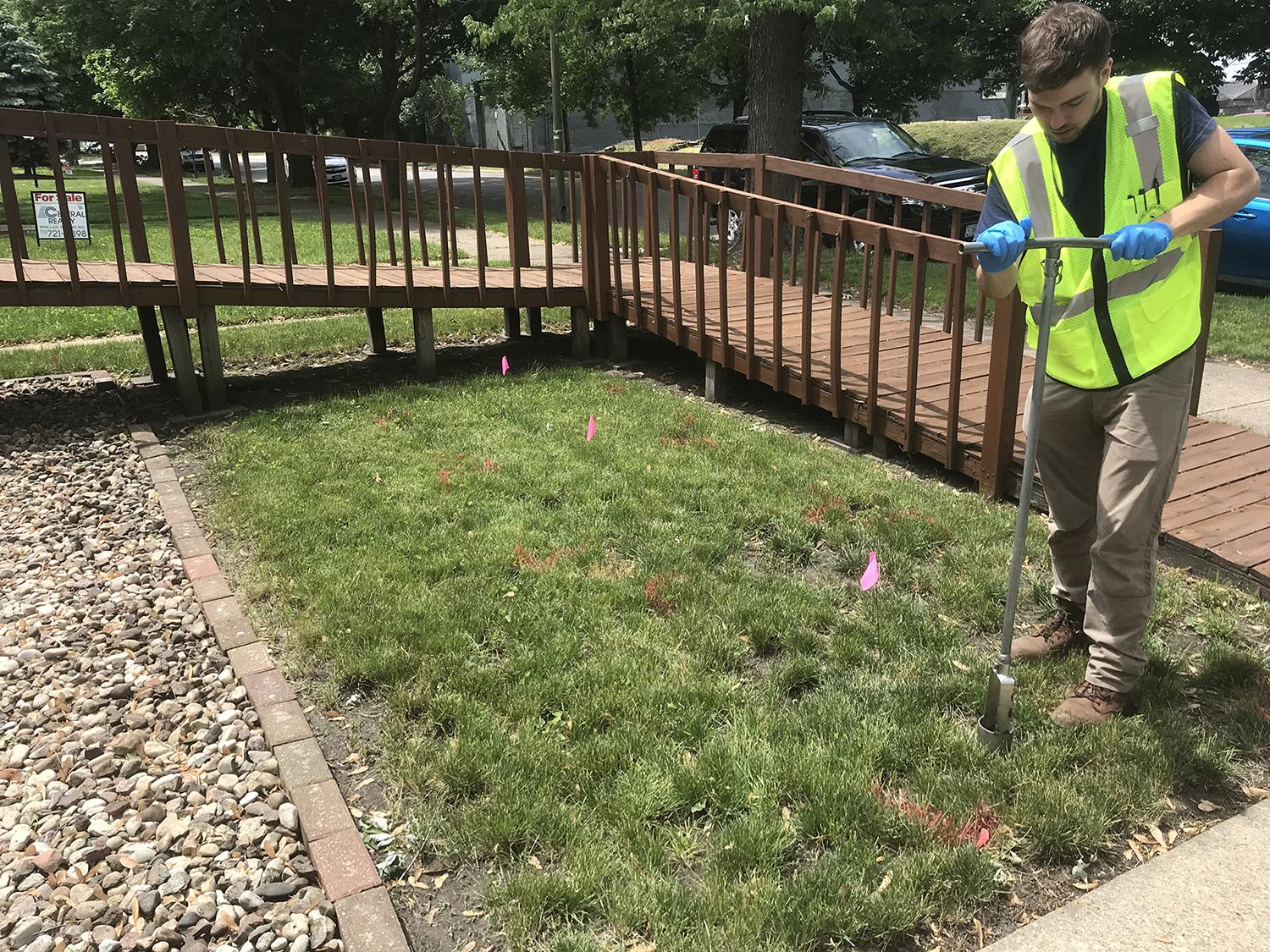 EPA workers began sampling residential yards near S.H. Bell last year to measure levels of manganese, lead and other heavy metals in the soil. (Courtesy U.S. Environmental Protection Agency)
The agency said exposure to manganese via contaminated soil can occur from ingesting or inhaling the soil or from soil tracked on shoes.
The EPA's testing also revealed more than 40 homes with levels of lead contamination that exceed federal cleanup standards for sites where children are present. The agency's cleanup plan states that lead "appears to be widespread throughout the sample area," but it will not address lead contamination as part of the manganese cleanup, according to the document.
No amount of lead exposure is safe for children, according to both the EPA and the Centers for Disease Control and Prevention.
"EPA's decision to remediate some properties near S.H. Bell is an important start," said Debbie Chizewer, an attorney at Northwestern Law's Environmental Advocacy Center who works with Southeast Side groups and residents. "It can't be the only thing EPA does because there are many more properties with manganese and lead contamination that require attention."
In the agency's cleanup plan, the EPA says its soil remediation will address "manganese-contaminated particles released from the S.H. Bell facility … into the adjacent neighborhood."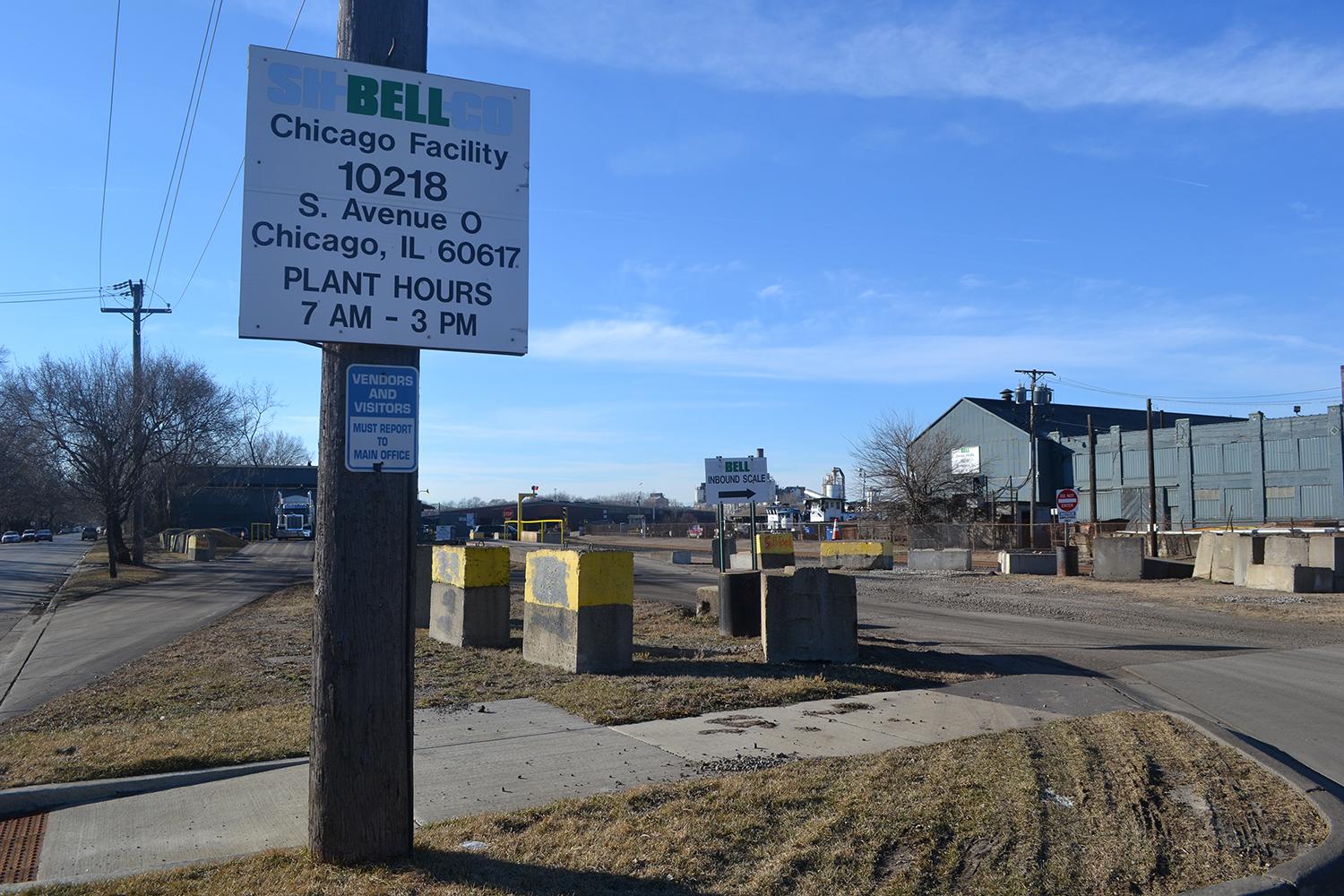 S.H. Bell's bulk storage facility along the Calumet River on Chicago's Southeast Side. (Alex Ruppenthal / Chicago Tonight)
The company disputes that it is the cause of the contaminated soil, noting that other nearby companies also handle manganese.
"There is absolutely no evidence that the manganese found in the U.S. EPA soil samples is from the S.H. Bell facility," the company said in a statement.
S.H. Bell also claims that manganese levels found in the soil near its facility pose "no health risk" to residents, citing an analysis by Gradient, an environmental consulting firm hired by the company.
In 2017, the EPA cited S.H. Bell last year with violations of the Clean Air Act for releasing high levels of manganese dust into the surrounding neighborhood. The company was also required to install air monitors as part of a settlement reached with the EPA over previous Clean Air Act violations.
Prior to announcing its plan to remove manganese-contaminated soil at homes near S.H. Bell, the EPA sent a letter to the company as a general notice of potential liability. The agency is expected to pursue a settlement with the company in order to recoup costs of the cleanup, Chizewer said.
The effort will involve replacing up to 2 feet of contaminated soil at the properties identified for remediation, according to the EPA document. The cleanup is expected to take 80 working days.
An EPA spokesperson said the cleanup is scheduled to begin within the next couple weeks. 
Contact Alex Ruppenthal: @arupp | [email protected] | (773) 509-5623
---
Related stories:
Congressional Members Urge EPA to Crack Down on Chicago Manganese Polluter
EPA to Remove Manganese-Contaminated Soil on Southeast Side
Southeast Side Facility to Stop Handling Bulk Amounts of Brain-Damaging Manganese
Chicago Adopts Stricter Rules for Manganese, Other Pollutants
---