An overhead view of Watco's storage terminal at 2926 E. 126th St. in Chicago. (Google)
A Southeast Side industrial facility plans to stop handling bulk amounts of brain-damaging manganese. The move comes amid pushback from nearby residents who fear they are being exposed to the neurotoxin, which has been linked with declines in IQ and mental processing speed in children.
An executive from Watco Transloading said Friday that the company will no longer process materials with high concentrations of manganese at its Chicago storage terminal located along the Calumet River at 2926 E. 126th Place.
Laura McNichol, Watco's senior vice president for government and industry relations, said the company reached the decision Thursday, the same day environmental advocates issued a press release calling attention to new data showing continued high levels of manganese near Watco's facility.
"After talking to the city and talking to the EPA and listening to the community's needs, we decided the right thing to do is no longer handle bulk manganese at [Watco's Chicago site]," McNichol told WTTW. "We've already begun working with our customers to develop a new supply chain."
Watco's surprise announcement comes as three of Illinois' Congressional representatives – U.S. Sens. Tammy Duckworth and Dick Durbin, and U.S. Rep. Robin Kelly – sent a letter Friday to EPA Region 5 Administrator Cathy Stepp urging the agency to "take immediate action" to stop Watco from releasing unsafe levels of manganese, a heavy metal that is essential to making steel.
---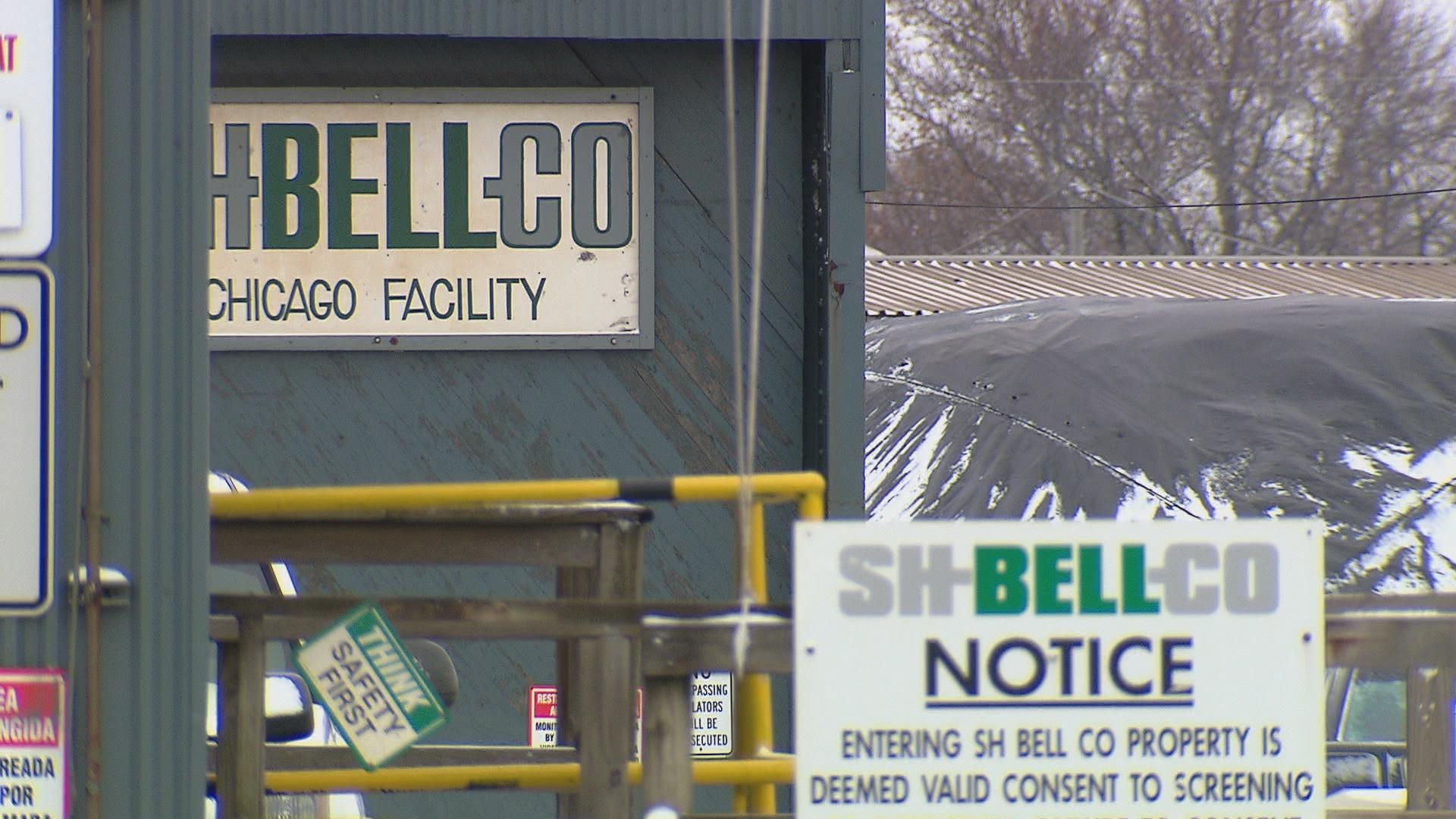 More: Read our full series on manganese on Chicago's Southeast Side
---
The letter was in response to new EPA air monitoring data published this month that shows average manganese concentrations at Watco in November were nearly twice the federal health safety limit for manganese. The data also indicated a three-month average above the federal limit from October through December.
The new data would have been published in January, but its release was delayed by the 35-day partial federal government shutdown over President Donald Trump's proposed border wall.
A previous round of air monitoring data showed high levels of manganese near Watco in September and October, prompting both the EPA and Chicago's Department of Public Health to issue violations against the company.
After the crackdown, McNichol said Watco recorded lower manganese levels at its Chicago site in December and January. Average concentrations of manganese were below the federal health limit for both months, McNichol said.
Kansas-based Watco purchased the facility in 2017, but McNichol said manganese has been stored at the site for more than 45 years.
McNichol said she did not know exactly when Watco would stop receiving bulk shipments of high-concentration manganese, but that the company was working on a plan to make the change. She also said she didn't know where the company would handle bulk amounts of manganese in the future but said it would continue supplying materials to steelmaking facilities across the region, including those in Kankakee and Northwest Indiana.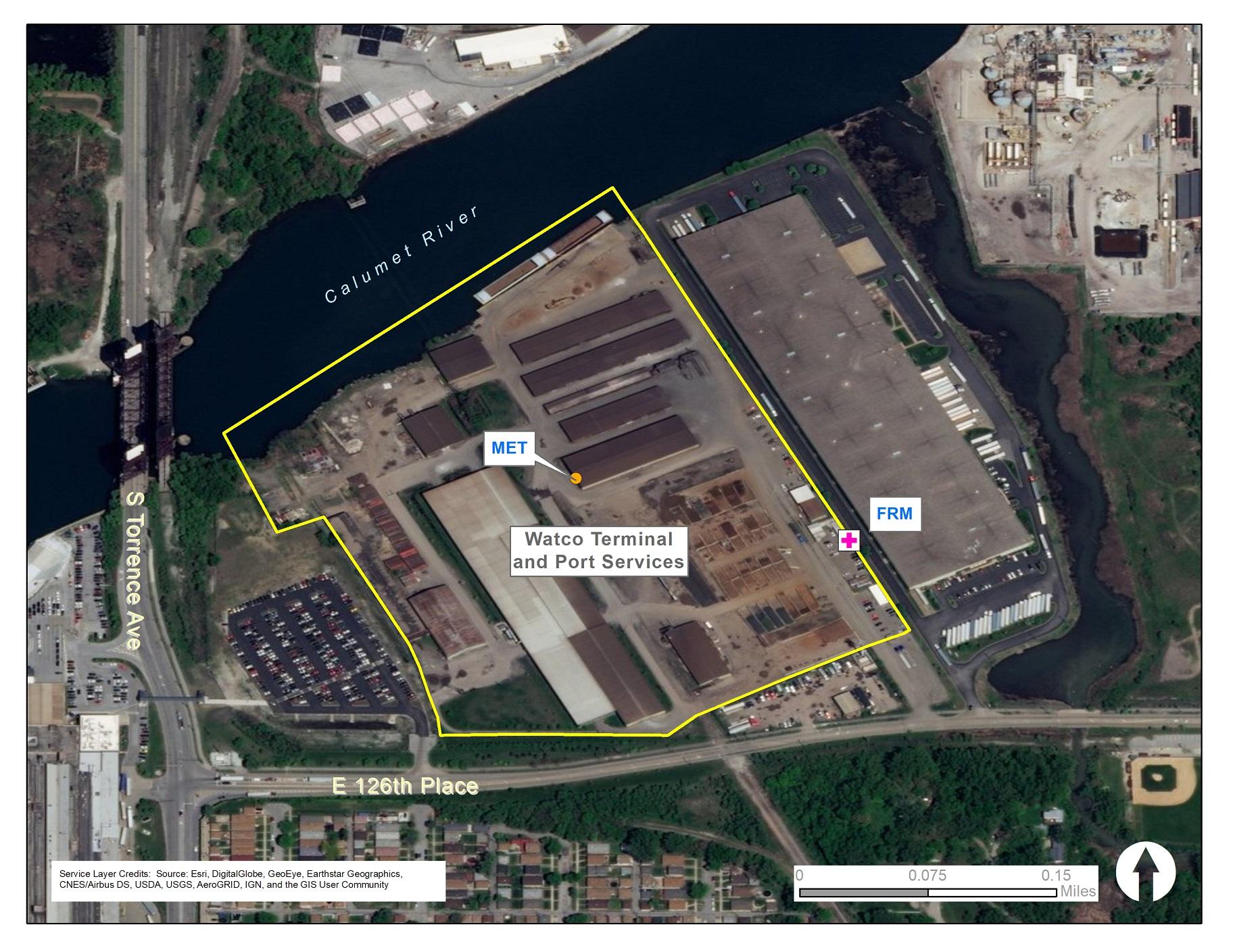 An aerial image showing the location air monitors at Watco's Chicago storage facility (U.S. Environmental Protection Agency)
Watco will continue to handle materials containing "trace amounts" of manganese at its Chicago site, McNichol said. Those materials are comprised of about 1 to 2 percent of manganese, she said.
"This is about doing what's right [and] listening to the communities," she said. "This is what the communities have asked for, and we are listening."
Olga Bautista, a Southeast Side parent and community organizer who leads the advocacy group Southeast Side Coalition to Ban Petcoke, said that while the news is positive, the city still needs to conduct soil testing near Watco's facility to identify residents whose properties could have high levels of manganese and other metals in the soil.
Bautista said the city must also facilitate health testing for those who might have been exposed to manganese, including kids who play baseball at the Little League field across the street from Watco's facility.
"We need to triage the potential problems that are happening," she said. "We don't know who's been exposed. We don't have a plan to give them care."
In response to questions for this story, an EPA spokesperson said the agency's Superfund program would coordinate with the city to conduct soil sampling near Watco's facility.  
Debbie Chizewer, an attorney at Northwestern Law's Environmental Advocacy Center who works with Southeast Side groups and residents, said Watco's decision was a welcome one but that regulators would need to evaluate the facility to ensure that manganese is no longer being released, posing a potential health threat to nearby residents.
In 2017, city inspectors found that Watco had failed to control dust emissions of manganese and other metals, resulting in a violation against the company. EPA inspectors also documented uncontrolled dust in several areas of Watco's facility, noting that "dust was escaping into the environment through the exit doors."
According to the EPA, 3,780 people live within a mile of Watco's facility, including nearly 1,000 residents under the age of 18, and 234 children ages 5 and younger.
A recently published study of children in Ohio found a significant link between higher concentrations of manganese in hair samples and declines in IQ, mental processing speed and working memory.
The heavy metal has also been shown to cause Parkinson's-like symptoms after prolonged exposure.
"Hopefully other companies will follow Watco's lead and recognize the harm posed by handling a neurotoxin in close proximity to a densely populated residential area," Chizewer said. "As Southeast Side residents have said, manganese handling does not belong in this community."
At least two other facilities in the area handle manganese. One of them, operated by Pittsburgh-based S.H. Bell Co., has been cited by the EPA for violating the Clean Air Act for excessive emissions of manganese. The EPA sent the company a letter late last year indicating that it plans to excavate contaminated soil from a handful of properties with high manganese levels.
Earlier this year, Chicago's Department of Public Health published new rules for so-called bulk materials sites that require stricter monitoring and data collection. Despite the new rules – and an ordinance passed last year that prohibits new facilities from storing or handling materials containing more than trace amounts of manganese – public health advocates and residents continue to call for an all-out ban on manganese in the city.
Note: This story has been updated with additional info from the U.S. EPA. 
Contact Alex Ruppenthal: @arupp | [email protected] | (773) 509-5623
---
Related stories:
EPA Issues Violation Against Southeast Side Manganese Polluter