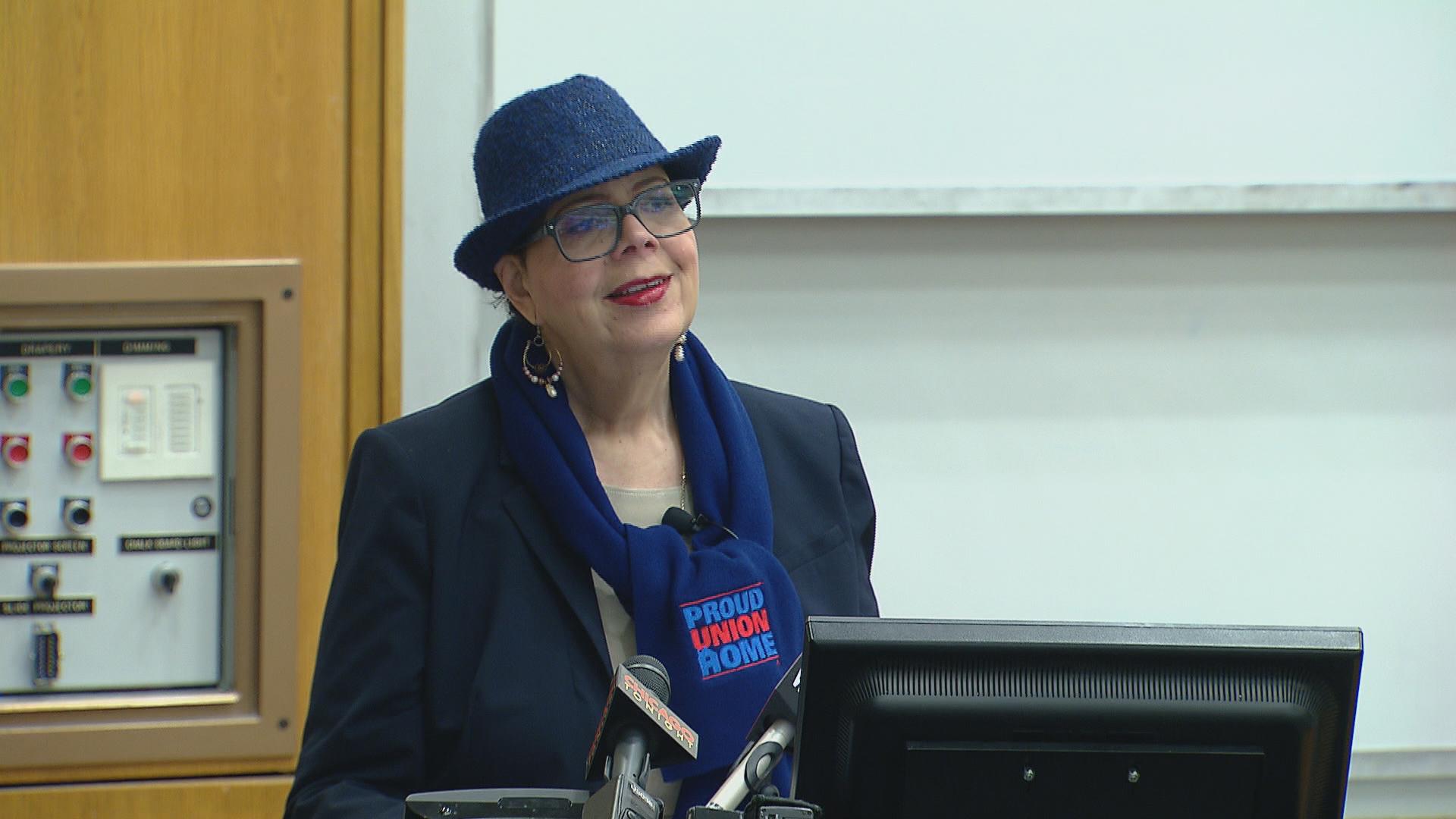 Chicago Teachers Union President Karen Lewis spent an hour Wednesday afternoon lecturing students and taking questions on education policy at the University of Illinois-Chicago. (Chicago Tonight)
With labor negotiations finished and a new contract finalized, Chicago Teachers Union President Karen Lewis is now calling for an end to the "explosion" of charter school chain growth across the city and expressed concerns over what impacts the next federal education secretary could have on local policies.
After spending more than a year working toward a new labor deal with Chicago Public Schools, Lewis gave what amounted to her state of the union address on public education at the city, state and national level Wednesday afternoon in a lecture hall on the University of Illinois-Chicago campus.
Her biggest concern, she told students, faculty and media, is being able to enforce her union's contract, specifically a cap included in that deal limiting the number of charter schools the district can create over the next three years.
But that challenge could become more difficult with billionaire Besty DeVos – President-elect Donald Trump's choice for education secretary and a staunch proponent of charter growth – taking over at the federal level.
"Why do billionaires know what's best for poor kids?" Lewis said. "Where does that come from? I am still confused by this notion that the billionaires and the millionaires know what's best for kids."
Despite the inclusion of a cap in the new labor agreement, CPS does still have some room to add more charter schools before it reaches that cap level.
Voters in Massachusetts shot down a proposal to expand charter growth on the November ballot by an almost two-to-one margin. Lewis referenced that result Wednesday, saying the measure was defeated because people realize it's "kind of a scam."
She called DeVos "a nightmare," and expressed apprehension that the Michigan philanthropist could attempt to override the Chicago charter cap and expand school voucher systems, which Lewis said bleeds money and resources away from district schools.
"School choice is a joke … if you're competing for crumbs, what are you getting?" she said. "Or if you're competing to take the best kids out, then what are you leaving behind? School choice is a misnomer. There is no such thing."
Instead of encouraging students to choose better schools, she said there should be a focus on improving neighborhood schools so children don't have to go somewhere else to get a quality education.
DeVos, who has no background in public education, has spent years promoting school choice in Michigan and has long been a supporter of "unlimited, unregulated" charter school growth. In a Q&A posted on her website, DeVos said she's been involved in education issues for 28 years and has been "on the front lines fighting to make educatoin better for all children."
Lewis' comments don't come as much of a surprise after union leaders at the state and federal level criticized DeVos' credentials shortly after her appointment to head the Department of Education last week.
While she called for an end to for-profit charter network growth, Lewis did highlight a pair of local charters – Betty Shabazz International and Namaste – she feels have created a unique vision for their students.
"If you go there, you see a completely different culture," she said. "There's a culture of support, there's a culture of pride and there's a culture of community. These are the things that are missing from many of our schools right now."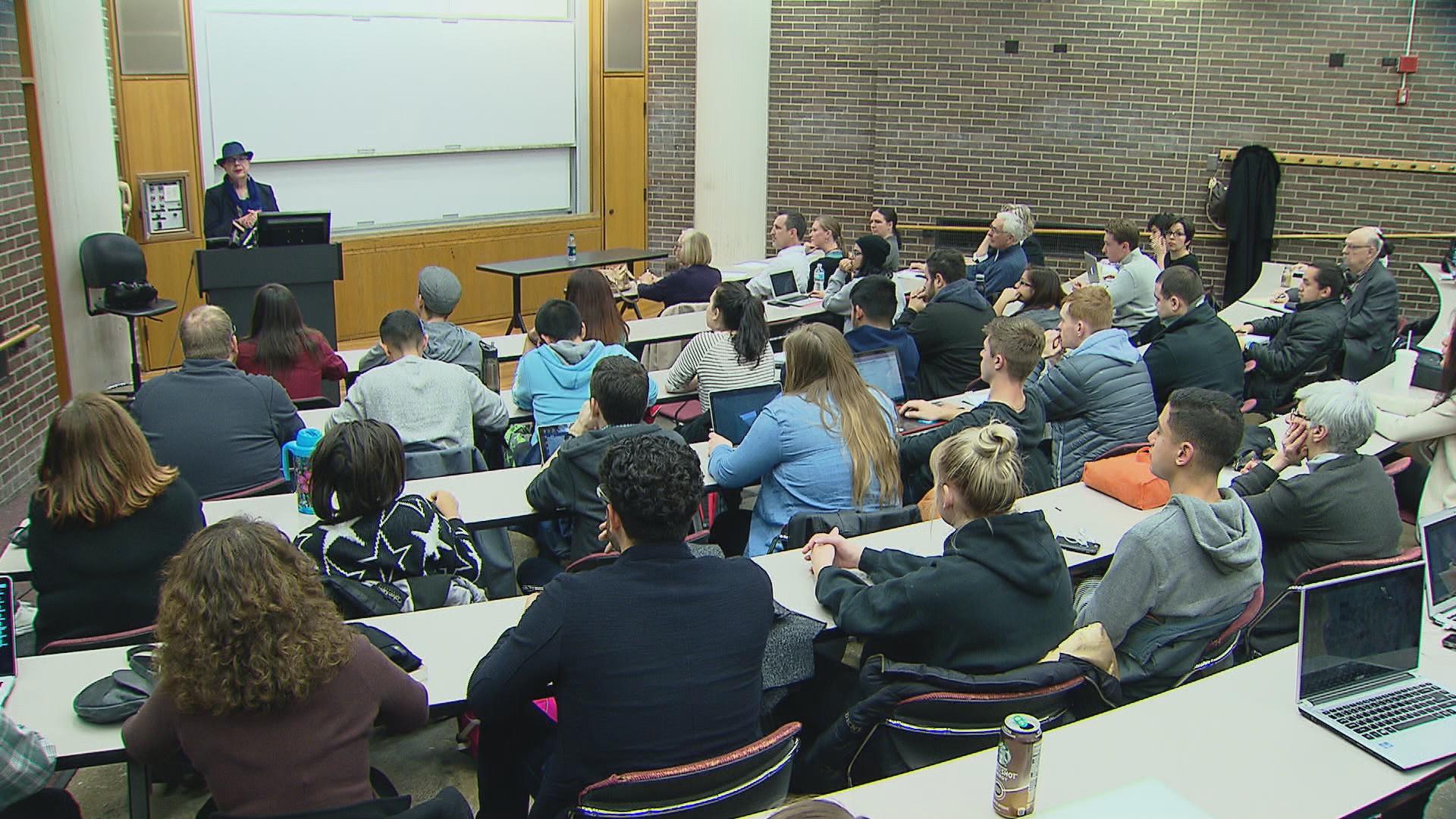 (Chicago Tonight)
Wednesday's speech is the latest in UIC's ongoing "Future of Chicago" lecture series and was held in memory of G. Alfred Hess Jr., a former research professor at Northwestern who also worked to help draft the Chicago School Reform Act of 1988.
During her speech, Lewis again called for an elected Chicago Board of Education and said she's hopeful Gov. Bruce Rauner will approve $215 million in pension relief funds for CPS.
The district's fiscal year 2017 budget is dependent on that funding, but it remains unclear whether or not it will come to fruition. Earlier this week, board President Frank Clark said he too is optimistic about receiving those funds, but Rauner still has until January to make up his mind.
Lewis also suggested CTU could put forth some of its own bills at that time, but declined to get into specifics to avoid tipping off any newly elected legislators heading into office.
"I want to wait and see who's there and how they're acting and voting and how we build our new relationships," she said. "I'm not giving you extra stuff ahead of time."
Follow Matt Masterson on Twitter: @ByMattMasterson
---
Related stories: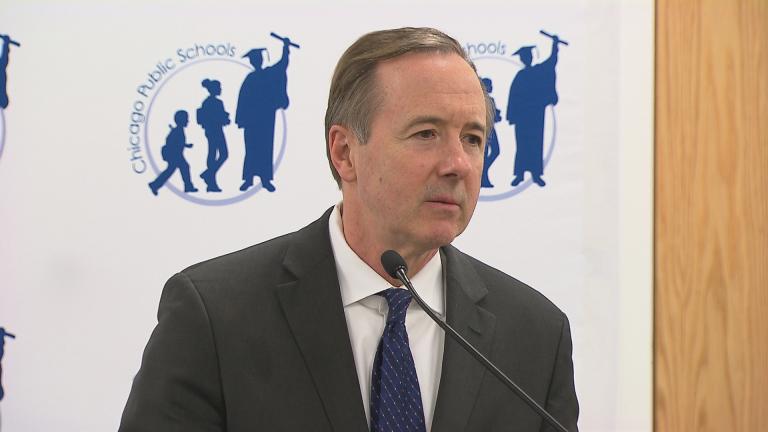 Cash-Strapped CPS Files Motion, Threatens Shorter School Year
Feb. 27: Chicago Public Schools students could be in for a shorter school year.
---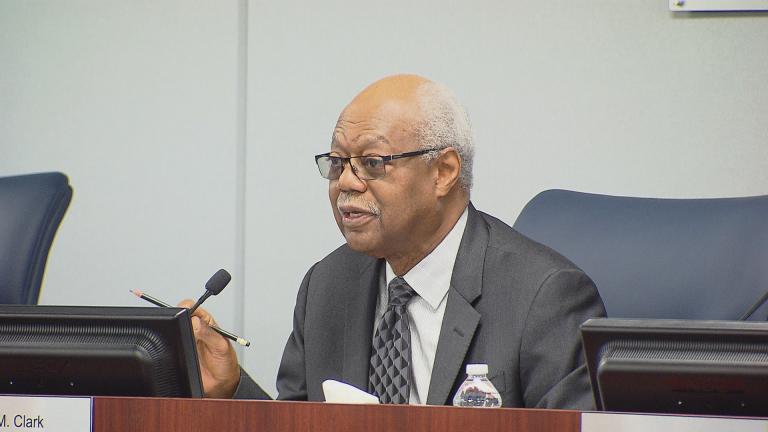 Public Voices Concerns Over Special Education in Revised CPS Budget
Nov. 28: Speakers raise questions over special education cuts and $215 million in state funding that has not yet been provided to Chicago Public Schools during dual hearings Monday.
---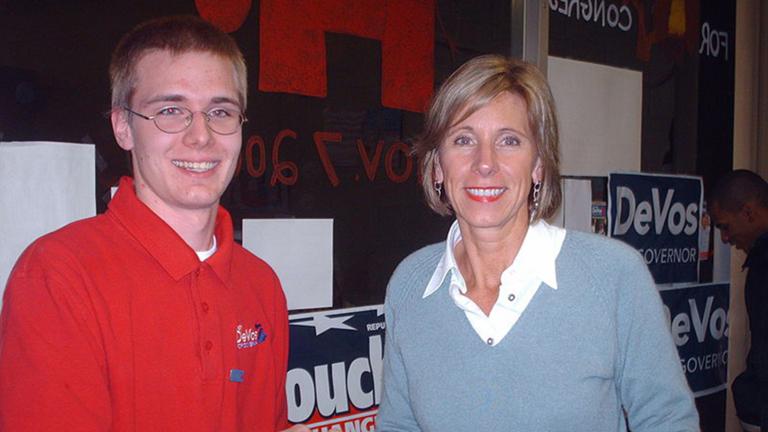 Teachers Union Leaders Blast Trump's Pick for Education Secretary
Nov. 23: President-elect Donald Trump on Wednesday tabbed billionaire donor and school choice activist Betsy DeVos as the next federal Secretary of Education, a move the head of the Illinois Federation of Teachers immediately called "hugely troubling."
---