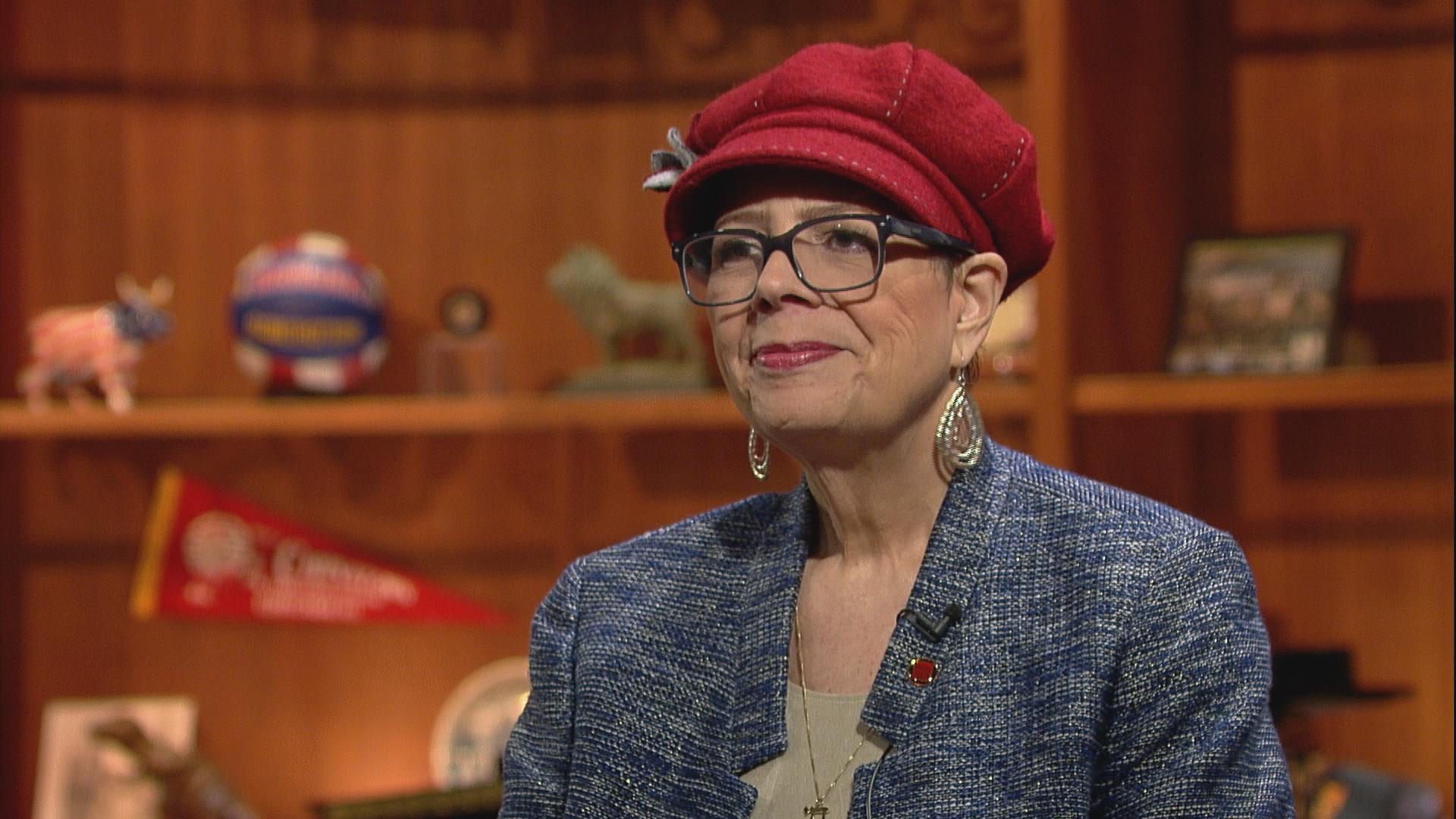 Karen Lewis appears on "Chicago Tonight" in March 2016.
As Chicago Public Schools teachers return to the classroom this week, many will have a new leader at the top of their union.
Since retiring and stepping down as president of the Chicago Teachers Union, Karen Lewis has become CTU president emerita. Monday morning, she sent a letter to members.
"It has been a tremendous honor and privilege to serve in a leadership capacity and to join each of you on the battlefield for justice and equity in public education," she wrote.
CTU Vice President Jesse Sharkey will continue to lead the union, as he has assumed her duties off and on since her initial brain cancer diagnosis in the fall of 2014. Officers Michael Brunson and Maria Moreno will continue in their roles as recording secretary and financial secretary, respectively.
"As Jesse's role as president is formalized, the vice presidency now becomes vacant, and it is my hope that members will value the addition of CTU Political Director Stacy Davis Gates in that role," Lewis wrote in the letter.
A union spokesperson says the House of Delegates meets Sept. 5 to finalize leadership. The union's next election isn't scheduled until 2019, the same year its contract with the district expires.
Lewis announced her retirement in late June, ahead of her 65th birthday. Earlier that month, she revealed that her brain cancer had returned and she would be undergoing surgery. She has been mostly out of public view since then.
A party in her honor scheduled for Aug. 25 was postponed several days beforehand. CTU says it's aiming to reschedule the party for late October in hope that Lewis will be feeling better and able to attend.
Though she acknowledged in the letter that "CPS may always be a hot mess," Lewis encouraged teachers to continue their campaign for an elected school board and to resist "detractors, naysayers and union busters." Her letter also touted the organization's accomplishments since her election as president in 2010, including limiting expansion of non-unionized charter schools, sending several educator/members to elected office and negotiating an investment in community schools for the district.
"Yet as great as the enemy as this system has been, I had no way of knowing that all of this was preparing me for the biggest foe of them all," she wrote. "Yet, I am not afraid."
Follow Brandis Friedman on Twitter @BrandisFriedman
---
Related stories:
CTU President Karen Lewis to Retire
Karen Lewis Undergoes Brain Surgery, Source Says
CTU President Karen Lewis, Brain Cancer Survivor, Reveals Stroke
---