Jesse Sharkey, who guided the Chicago Teachers Union through a two-week strike in 2019 and has been a frequent critic of Chicago Public Schools' pandemic strategies and mitigations, is not running for reelection as union president.
After more than three years as head of the CTU, Sharkey will be stepping down at the conclusion of his current term on June 30, he announced Wednesday.
"Between now and then I will continue to work as hard as I'm capable of," he told reporters during a Zoom call. "I'll keep advancing the interests of the CTU, I'll do my best to maintain our public goodwill and the unity of our membership, but to repeat, I'm not going to seek another term."
Sharkey has been with the union for more than two decades. He began serving as its vice president under Karen Lewis in 2010, and then became president after Lewis retired in 2018.
He was then reelected as president the following year, months before the union began its first strike in seven years after contract negotiations between the CTU and the city failed.
During Wednesday's call, Sharkey said he feels it's time for him to "do something different." He said his decision is "partly personal" based on the toll taken by his "difficult job." Following the end of his term, he plans to resume working as a teacher. He also pointed to Lewis, who died last year after a lengthy battle with brain cancer, saying she has "been on my mind a lot lately."
Sharkey's surprise announcement comes just weeks after the CTU completed a labor action that saw Chicago schools closed for five days while union members pushed for stronger COVID-19 protections for students and staff. While union leaders insisted this was not a strike, Mayor Lori Lightfoot repeatedly referred to it as an "illegal work stoppage."
Sharkey said he's proud of many of the accomplishments the union has won during his tenure, from building and moving into a new union hall on the Near West Side, to securing enforceable class size limits and guaranteeing a nurse and social worker in each school through its 2019 contract.
CTU Vice President Stacy Davis Gates went further, saying Sharkey and Lewis changed the culture of the union, giving teachers "our dignity back."
"This union has achieved a lot under his leadership," she said. "He and Karen walked into leadership at a time when we did not have a lot of hope. Karen and Jesse changed that."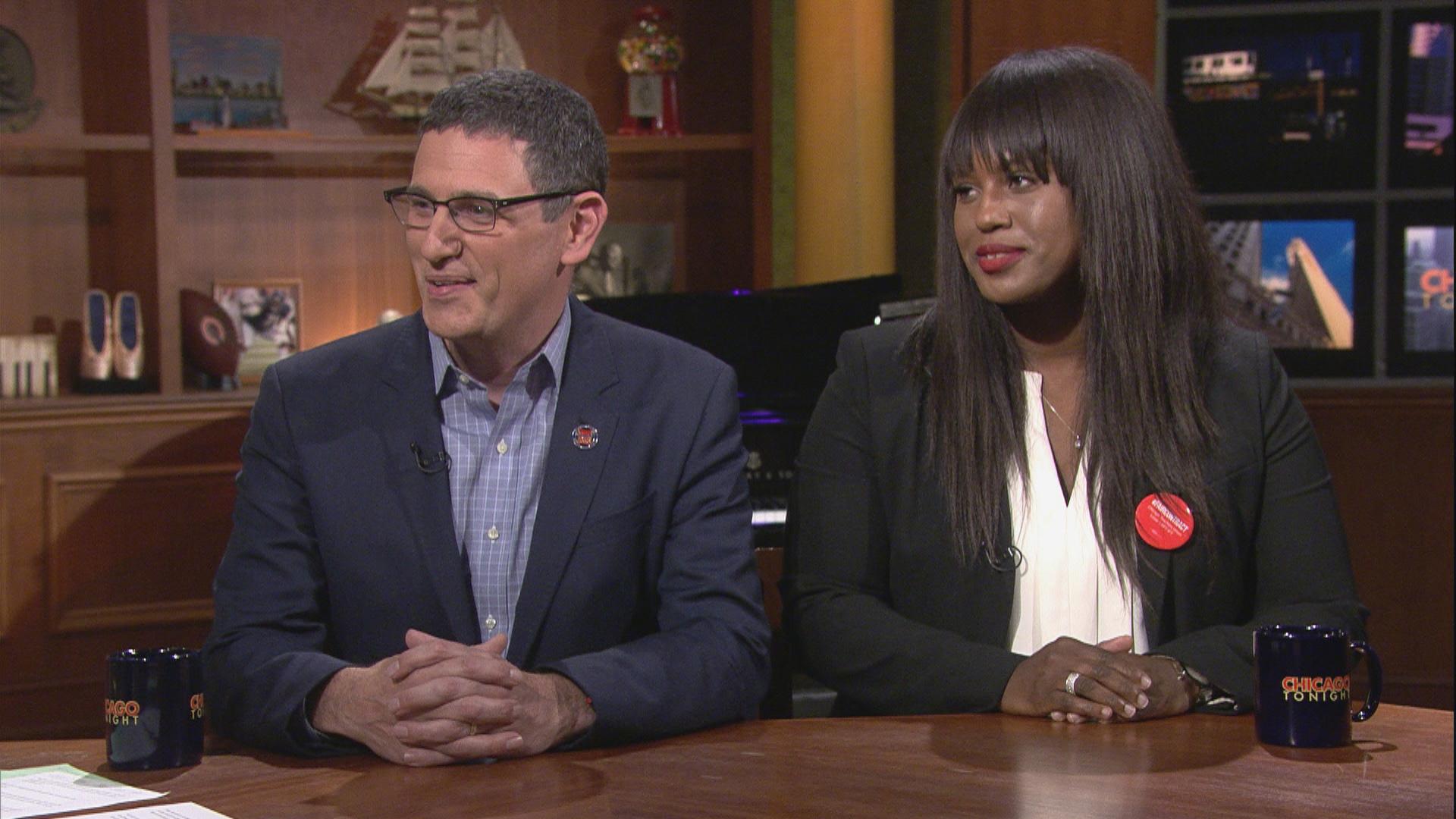 Chicago Teachers Union President Jesse Sharkey and CTU Vice President Stacy Davis Gates appear on "Chicago Tonight." (WTTW News)
But recently, some within the union have called for Sharkey's ouster. The Members First caucus, a group within the union, has begun campaigning to unseat Sharkey and Gates, the latter of whom is seen as a potential mayoral candidate.
Members First has criticized union leadership, stating they see "work stoppages and strikes as the first step and not the last one." Sharkey and Gates are part of the Caucus of Rank-and-File Educators, or CORE caucus, that has been in power since 2010.
While it will be up to rank-and-file union members to vote on a new president later this year, Sharkey on Wednesday endorsed Gates, saying she's the union's most effective spokesperson and "someone who has earned my trust as a capable leader."
"I'm very confident that we have leadership in the CTU that is capable of not only taking over the CTU," he said, "but taking it to new heights and new levels."
Amanda Vinicky contributed to this report.
Contact Matt Masterson: @ByMattMasterson | [email protected] | (773) 509-5431
---