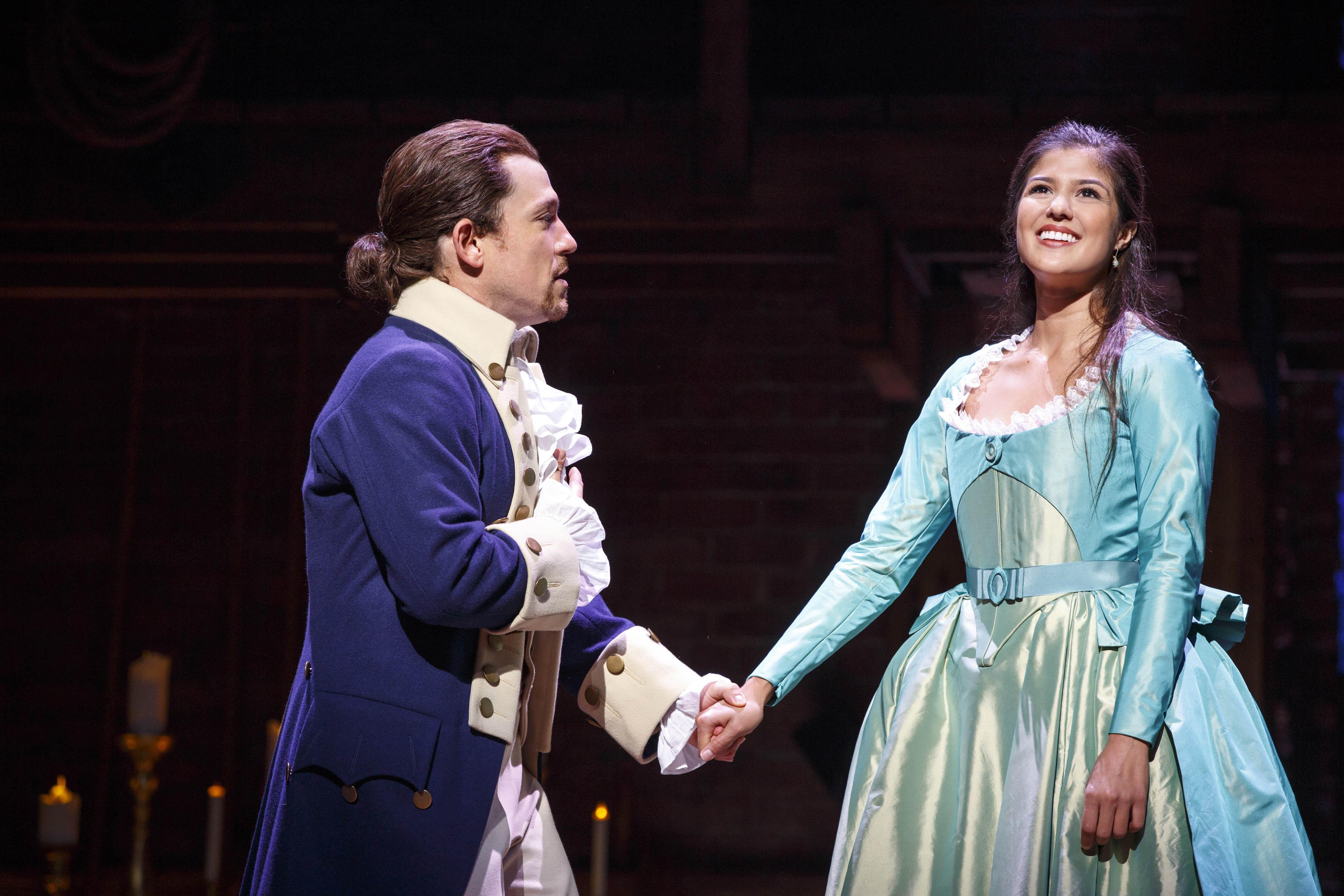 Miguel Cervantes and Ari Asfar in the Chicago production of "Hamilton: An American Musical." (Joan Marcus / Broadway in Chicago)
The Chicago production of "Hamilton" was officially mum on the uproar over the New York cast's response to the presence of Vice President-elect Mike Pence in the audience Friday night.
But on Saturday, actor Miguel Cervantes, who plays the title role in the Chicago company of "Hamilton: An American Musical," tweeted the following quote and comment:
#HamiltonBway - "We thank you and welcome you sir" Condemned and apology demanded. Swastikas and racist hate, SILENCE. What is happening https://t.co/YWD164dDAY

— Miguel Cervantes (@MiggstaC09) November 19, 2016
---
The quote came from the words of New York "Hamilton" cast member Brandon Victor Dixon to Pence following the Friday performance. Dixon, who plays Vice-President Aaron Burr on Broadway, also said to Pence, "We are the diverse Americans who are alarmed and anxious that your new administration will not protect us."
Dixon's address followed jeers by audience members, who booed the politician's presence in the theater before and after the show. Dixon twice admonished his audience: "There's nothing to boo. We're all here sharing a story of love."
On Saturday, President-elect Donald Trump tweeted back a demand: "Apologize!"
The Theater must always be a safe and special place.The cast of Hamilton was very rude last night to a very good man, Mike Pence. Apologize!

— Donald J. Trump (@realDonaldTrump) November 19, 2016
---
Cervantes' tweet also referenced the vandalism of a Brooklyn park renamed for the late Beastie Boys rapper Adam Yauch (who was Jewish) with anti-Semitic, pro-Trump graffiti. The President-elect has not commented on the defacement of the children's playground. Protestors at a rally against hate in New York City on Sunday carried signs asking, "Where's Your Anti-Nazi Tweets?"
The Southern Poverty Law Center on Friday announced they've counted 701 incidents of "hateful harassment and intimidation" following the election.
Trump's tweet also said "The theater must always be a safe and special place." He was independently backed up by a surprising voice: longtime left-leaning musician, guitarist Steve Van Zandt of the E Street Band, who tweeted, "Audiences shouldn't have to worry about being blindsided like that. Theater should be sanctuary for Art to speak." Van Zandt also called Lin-Manuel Miranda a "genius" and urged the actor in his show to apologize. "You protect your guests. Don't embarrass them."
Hamilton made a mistake. Audiences shouldn't have to worry about being blindsided like that. Theater should be sanctuary for Art to speak.

— Stevie Van Zandt (@StevieVanZandt) November 19, 2016
---
While it's not unusual for a politician to be booed in public, it more often happens at sporting events. Direct address by a member of a cast or team is almost unheard of.
Speaking Sunday on Fox News, Pence said he was not offended by the words from stage. And Dixon told "CBS This Morning" that he has "nothing to apologize for."
Playbill reported that a Saturday night performance of "Hamilton" in Chicago was disrupted by a Trump supporter "yelling at actors onstage" who was then escorted from the theater. The incident echoes what has crept into some Second City performances in recent months, where the majority of the cast recently left the revue "A Red Line Runs Through It." Cast member Peter Kim later told "Chicago Tonight" that the crude talkback from the crowd "didn't just happen once, but over and over. It got increasingly nasty," he said.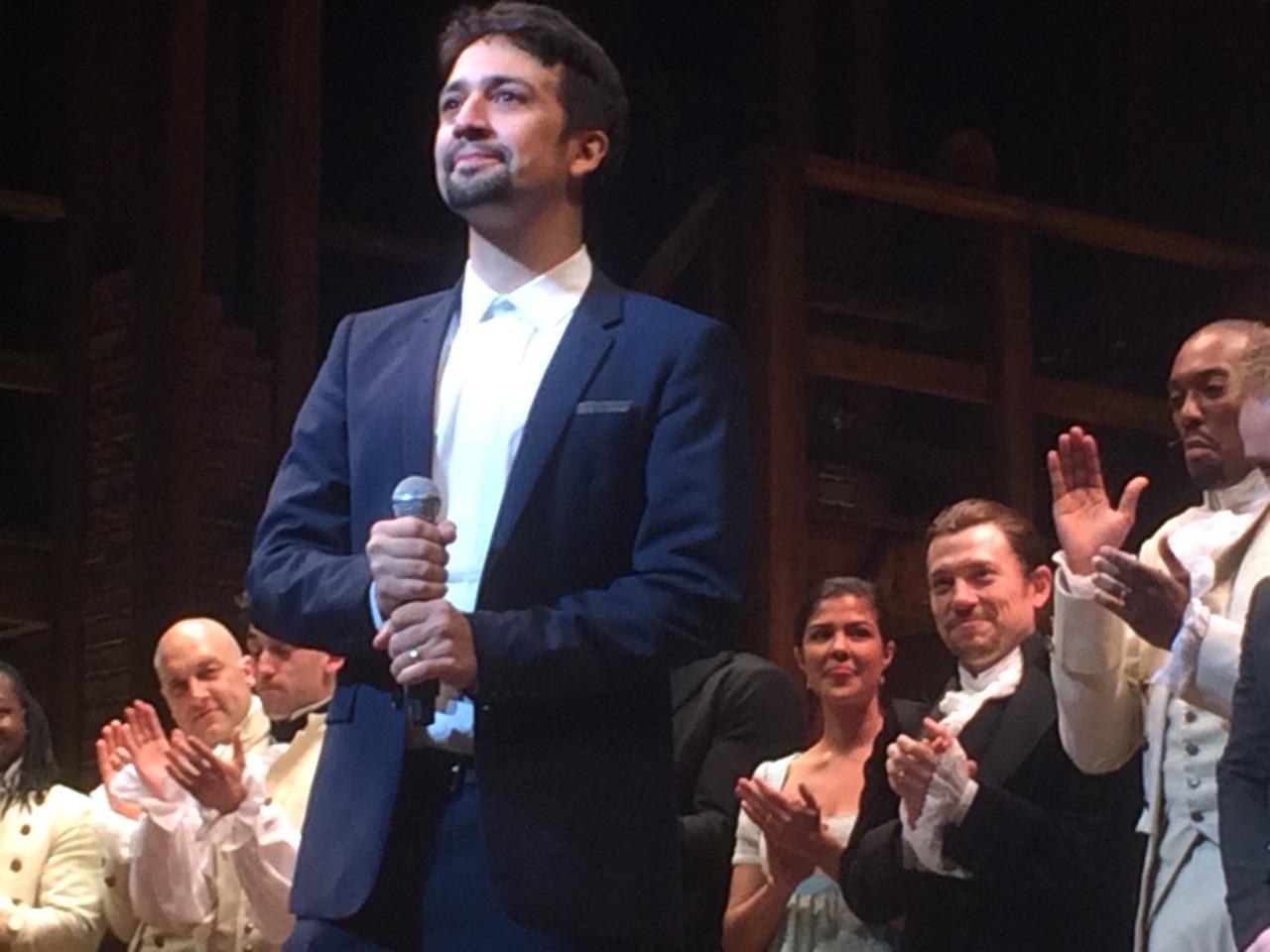 Lin-Manuel Miranda appears on stage at the opening night of "Hamilton" in Chicago on Oct. 19. Actor Miguel Cervantes appears in the background, at right, in black. (Marc Vitali / Chicago Tonight)
Miranda, who is in London making a new "Mary Poppins" movie, also tweeted the following before tweeting on dozens of unrelated topics.
Proud of @HamiltonMusical. Proud of @BrandonVDixon, for leading with love.
And proud to remind you that ALL are welcome at the theater.

— Lin-Manuel Miranda (@Lin_Manuel) November 19, 2016
---
Miranda spoke with "Chicago Tonight" in September about everything from "Sesame Street" to the Humboldt Park neighborhood. When asked about what's at stake in the upcoming election, he said, "I think you know what's at stake. I think it's a guy who wants to build a wall versus someone who wants to build bridges. I think the choice is very clear."
---
Over the weekend, the president-elect also took umbrage again with NBC's "Saturday Night Live," requesting "equal time" from the long-running comedy series.
The Guardian on Sunday posited that Trump used the "Hamilton" incident to distract from the announcement on Friday of his payout of $25 million to settle claims he defrauded students enrolled at Trump University, and to distract from questions of blending his business interests with cabinet-building.
David Frum, one-time speechwriter for George W. Bush wrote, "The controversies will divert you from the scandals." Former Obama aide Dan Pfeiffer added, "If your media outlet is focused on Trump vs. Hamilton instead of Trump's $25m fraud settlement, you are a sad pawn in Trump's game."
Chicago's "Hamilton" seemed to concur. Miguel Cervantes also retweeted a joke by Broadway music director Vadim Feichtner ("Falsettos"):
PENCE: I hope you admitting to fraud doesn't get too much play in the media.
TRUMP: It won't. We're sending your homophobic ass to Hamilton

— Vadim Feichtner (@shaftshaft) November 19, 2016
---
The culture wars are heating up again, one duel at a time.
---
Related stories: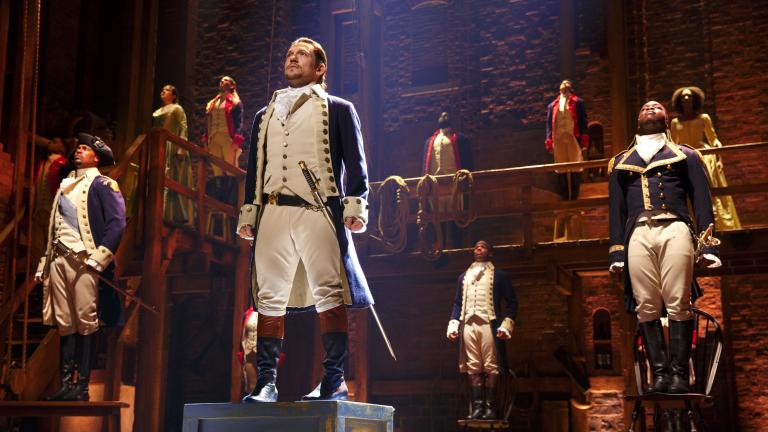 'Hamilton' Inspires New Courses at Northwestern University
Nov. 14: New courses at Northwestern University delve into the true history of Alexander Hamilton and the cultural phenomenon that is the hit musical.
---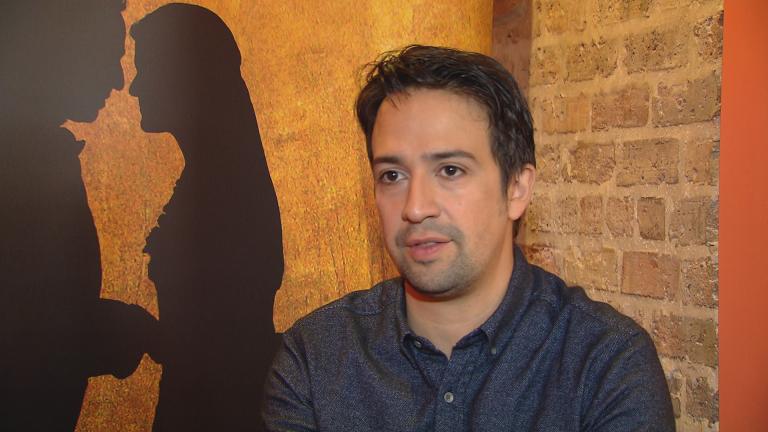 'Hamilton' Creator Lin-Manuel Miranda: Chicago is Best Theater Town
Sept. 22: "Hamilton" creator Lin-Manuel Miranda talks about Chicago, "Sesame Street" and his theatrical blockbuster.
---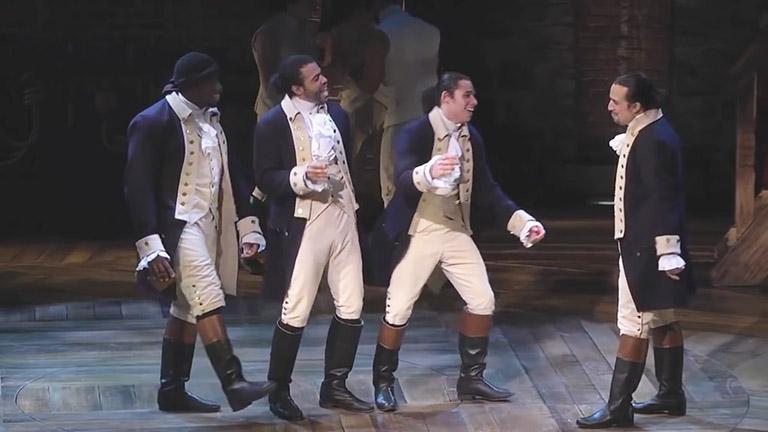 'Color-Conscious' Casting: Putting Diversity in the Spotlight
April 5: A controversial casting notice for the mega-hit Broadway show "Hamilton" has ignited a firestorm in the theater world. Has the show's nontraditional casting become reverse discrimination?
---