Just over three years ago, Chicago audiences were introduced to the smash hit musical "Hamilton."
After New York, Chicago was the first city in the country to receive the production. And when the show ends its local run in January, more fans will have it in Chicago than on Broadway – though there's no end date in sight for the NYC production.
That's more than 2.6 million Chicago audience members over 1,341 performances in 171 weeks.
Each night as the CIBC Theatre sits empty just moments before the show a throng of fans wait – not so patiently – to get inside.
"We came all the way from Alaska to see it," Bill and Sandy Ingaldson said on their way into the theater.
"I read everything I could about it," said Stephanie Njeru, a freshman at the University of Illinois at Chicago. "And now I'm here to actually witness it!"
"I've seen it six [times] before this. This makes seven!" said Sarah Luchs, who came  to see it alone because she can't always find a friend to join her – again. "I'm seeing it in December before it goes away!"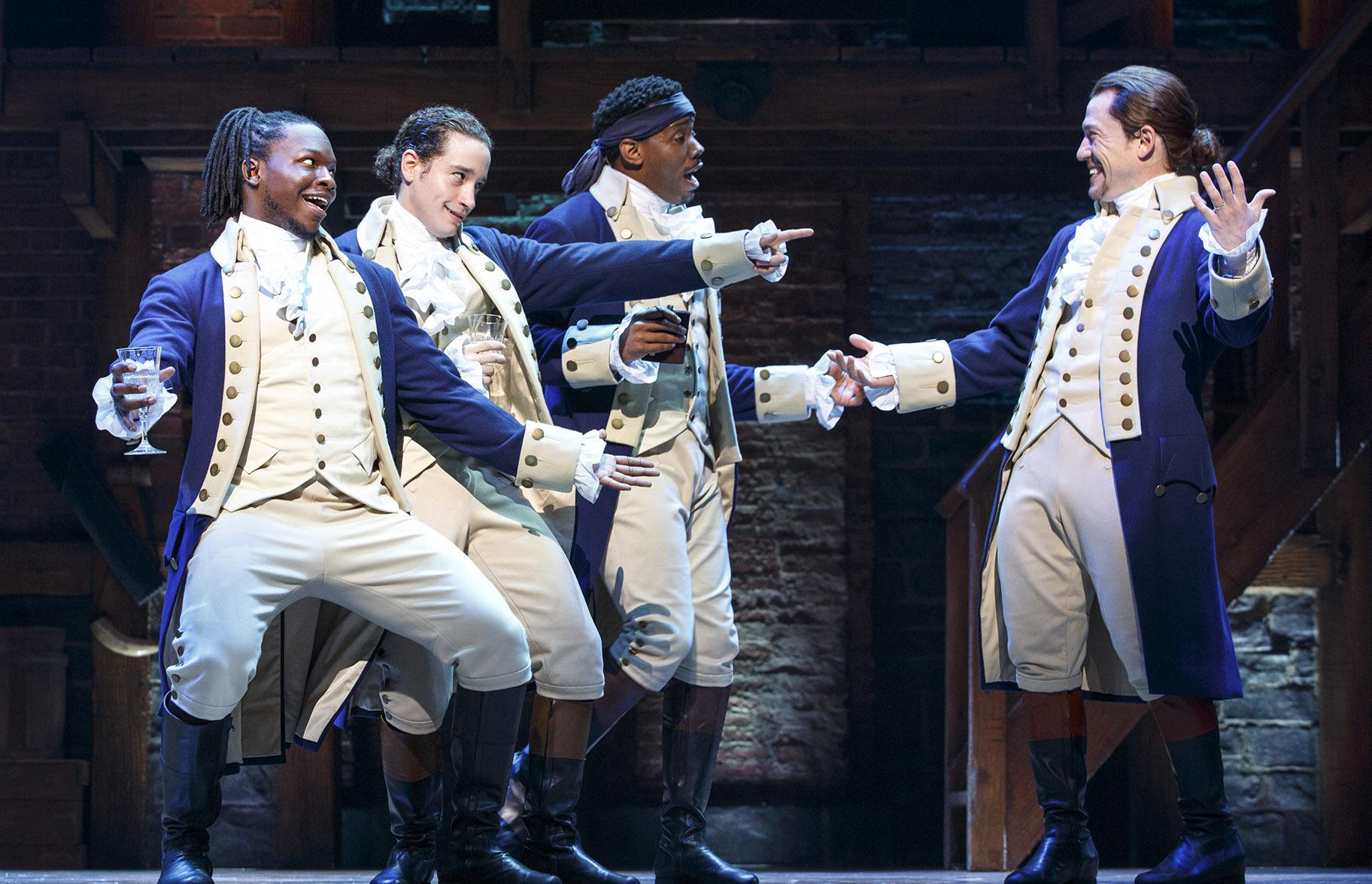 From left: Chris De'Sean Lee, Jose Ramos, Wallace Smith and Miguel Cervantes in "Hamilton." (Courtesy of Joan Marcus)
Stella Bachmann's parents surprised her with tickets as they approached the theater during what she thought was just a regular stroll.
"I'm freaking out right now! I didn't cry, I was close," Bachmann said.
And once they get into the ornate room, they embark on a three-hour journey through the life of America's founding father, Alexander Hamilton, brought to life by the man who's played the role since opening night: Miguel Cervantes.
"It's a huge responsibility that I put on myself, to make sure all the people sitting there get what they came here for. And I have been given this honor, privilege to be the guy that says all these words," Cervantes said during a rare on-stage interview. "I want everyone to think I left it all out there on the stage."
When he learned he got the role of Hamilton, Cervantes says he had no expectations of how long the show would last in Chicago. Who knew that it would – to quote a Hamilton number – "blow us all away"?
He says he'll miss connecting with the show's fans the most.
"Standing outside the theater every night, and if someone is crying or shaking or so excited, or moved, or recounting their emotional experience in theater, that's a powerful exchange that we've had," he said. "I'm thankful that we've gotten to share this moment."
On stage with Cervantes every night is Aubin Wise, who plays the third, often-forgotten Schuyler sister, Peggy, in the first act. She also plays Maria Reynolds, the seductive woman Hamilton can't say no to in the second act.
Aubin Wise (Courtesy of Aubin Wise)
Wise laughs when recalling some of the show's funnier moments that audiences didn't notice.
"I did this show until I was seven months pregnant!" she said. "Where it started to get edgy was with me going down on my knees for 'Say No to This.' Every night, I would hold on tighter and tighter to Miguel so he would slowly let me down on the ground," she said, smiling.
But she's also played backup for other leading roles: the other two Schuyler sisters. Meaning, if one actor is out that night, Wise is in.
It might seem like a lot of work.
"I never knew who I was going to play that night," Wise said. "I had to think of harmonies and blocking and all the moving parts of covering the sisters."
But the people in these seats would never know it.
"I try to find new moments in the show," she said. "We have an entire alternate cast backstage. Anytime somebody steps in for a role, it flips the energy a little bit, so it keeps it exciting."
Tickets for that last performance on Jan. 5, 2020 are already sold out.
Once the curtain does fall, Cervantes says he plans to go out to dinner and enjoy the city's restaurants – something he hasn't been able to do much of in the last three years.
Note: This story was originally published Sept. 25, 2019. It has been updated.
Follow Brandis Friedman on Twitter @BrandisFriedman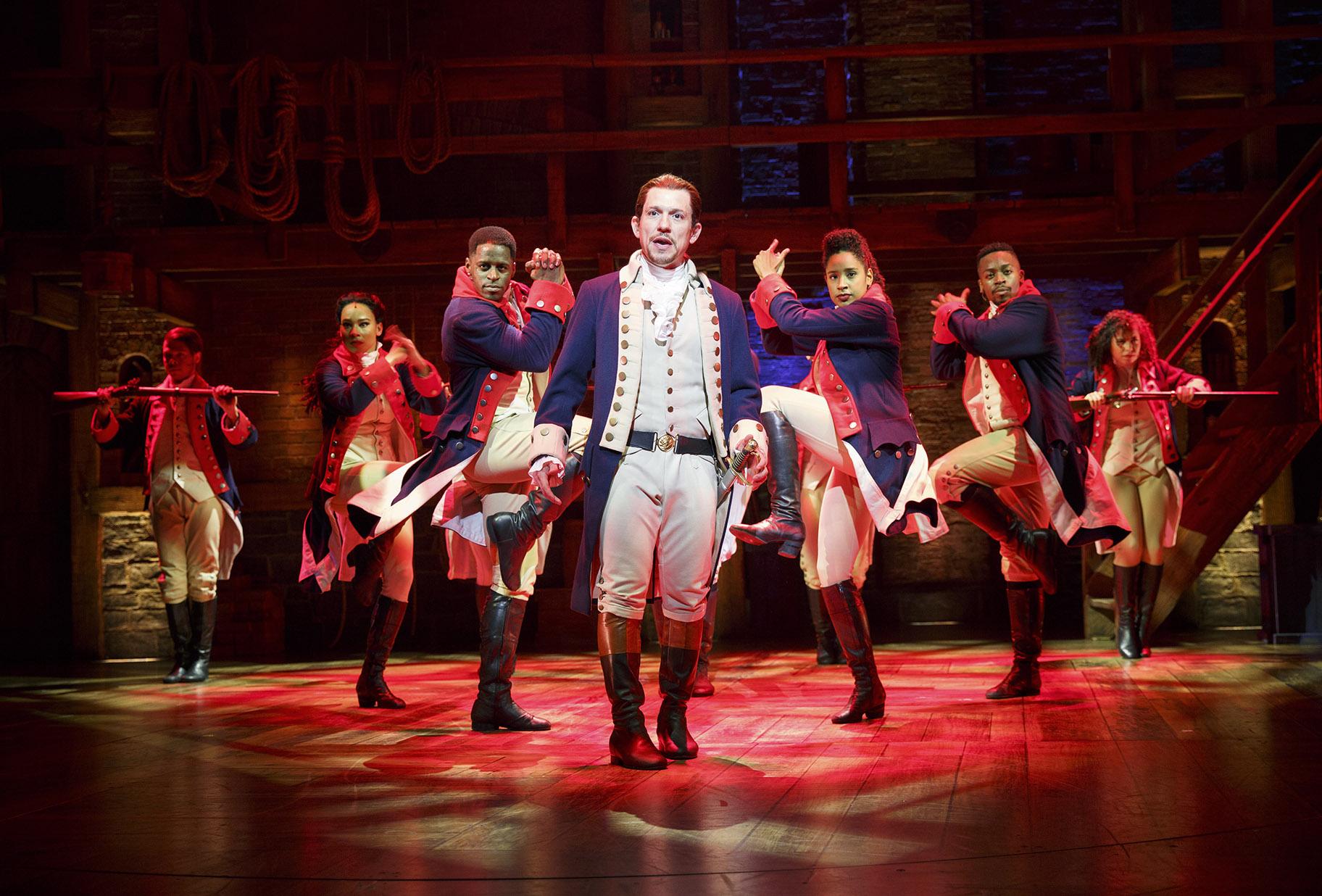 The company of "Hamilton." (Courtesy of Joan Marcus)
Related stories:
'Hamilton' Exhibition Brings 18th Century Life into 2019 Reality
'Hamilton' Star Begins 'My Shot at Epilepsy' to Raise Awareness, Funds
Lin-Manuel Miranda Visits Chicago, Pleads for Help for Puerto Rico
'Color-Conscious' Casting: Putting Diversity in the Spotlight
---