From your first steps into "Hamilton: The Exhibition," you can't help but take a cue from the songbook and look around, look around.
Lin-Manuel Miranda, the creative force behind "Hamilton: An American Musical," says every room of the exhibit tells stories he couldn't fit into the Broadway hit.
"I only have two and a half hours of your time, and I'm trying to make it all rhyme. That limits the amount of subjects I can cover with any complexity," he told WTTW News. "The example I like to use is, I never could crack how to turn Hamilton's manufacturing plan into a compelling rap battle, but [exhibition designer David Korins] physicalized it and made it an incredible room and you get it!"
Like the musical, the exhibition tells the story of Alexander Hamilton's life.
Miranda admits he never thought his hip-hop musical would turn into such a phenomenon.
"I was hoping school groups would come to the show," he laughs, "and we'd have a good solid year – a good half-year off-Broadway, maybe a year on Broadway. I could never have anticipated the hunger it's awakened in all generations for stories about our founding."
Korins, Miranda's "right-hand man," says the exhibition feeds that hunger by bringing Hamilton's 18th century life into a 2019 reality.
"What was it like and what did he actually do in St. Croix? What was his job? Also, one of big questions: Why do I care in 2019? Why do I care?" Korins said. "He created border control, the financial system, the electoral college. This guy loomed so large – credit – you ask yourself, 'Why do I care now?' How can you not care?"
It takes about 90 minutes to tour the 18 galleries, from Hamilton's birth in St. Croix, to Hamilton's New York, George Washington's war room and eventually, Hamilton's deadly duel with Aaron Burr. Audio recordings, narrated by the cast members of the original Broadway production, including Miranda, guide visitors.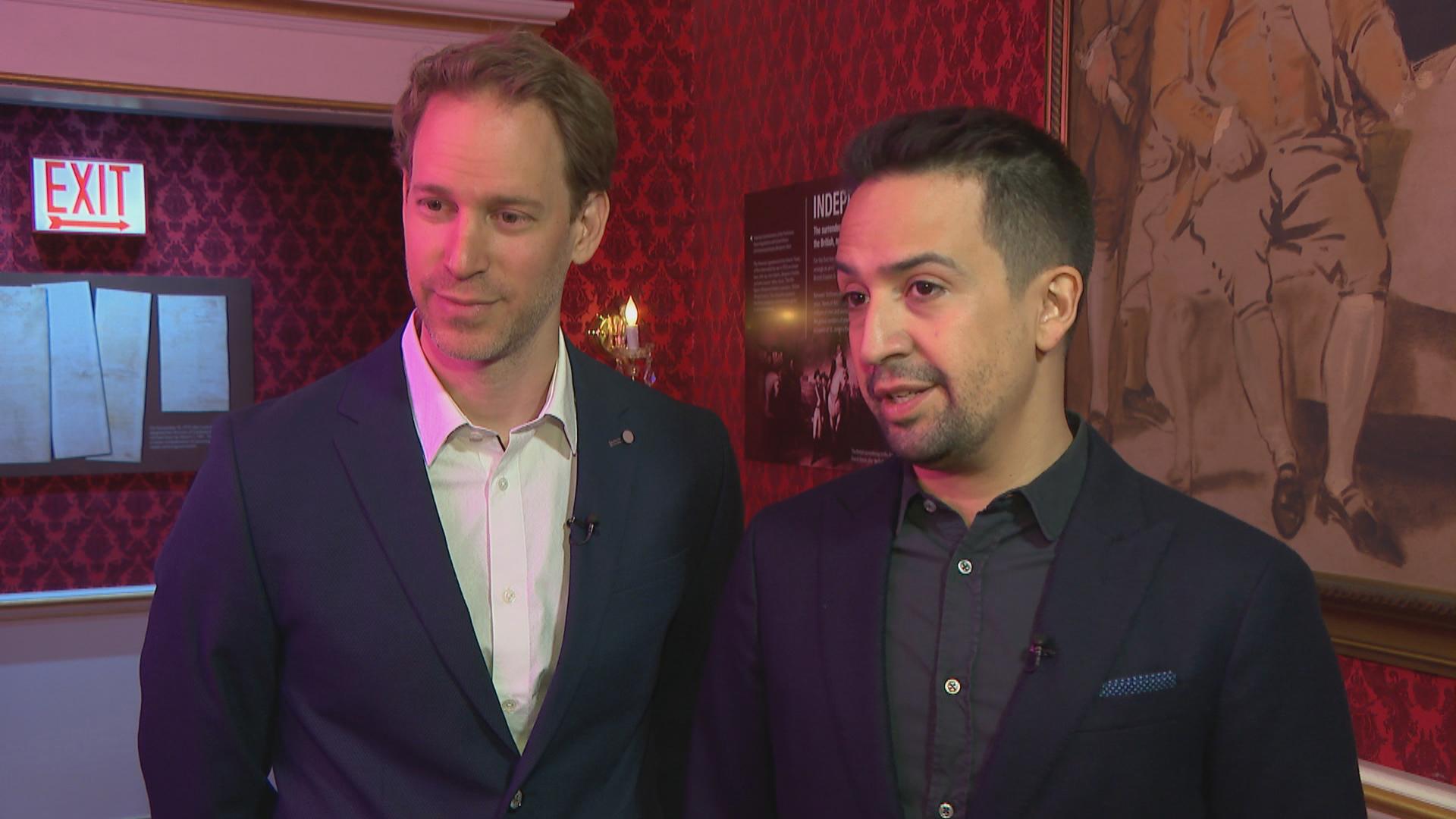 "Hamilton" creator Lin-Manuel Miranda, left, and exhibition designer David Korins speak with WTTW News at "Hamilton: The Exhibition."
"The narrator of a given song is the one that's close to the action. In the battle of Yorktown, George Washington is taking you through," Miranda explains. "When you're hearing Hamilton's letter about the hurricane of St. Croix, it's me reading that letter. It's also a fun mirror of the way we structure narration of the musical."
Additionally, each room has a new symphonic rendition of the music from the stage production.
To finish the exhibit in time for its opening, crews were working up to the last minute.
"You hear that work?" Miranda asked to the tune of buzz saws. "Hamilton got more work done than most of us do in our lifetimes. And I think just telling that story forces you to go back home and think, 'What am I doing with my life?' I think on the simplest level, it asks, 'What do we do with our time on this earth?' On another level, it engages the fights he's having, that are the fights we still have as a country."
Chicago – or as some might call it, "the greatest city in the world" – is the first stop on the exhibition's nationwide tour.
And creators hope that once you've been in the room where it happened, you'll be back.
"Hamilton: The Exhibition" is on display in Chicago through Aug. 25. It had initially been scheduled for a September closing date.
Note: This story was originally published on May 1, 2019. It has been updated.
Follow Brandis Friedman on Twitter @BrandisFriedman
---
Related stories:
'Hamilton' Star Begins 'My Shot at Epilepsy' to Raise Awareness, Funds
Lin-Manuel Miranda Visits Chicago, Pleads for Help for Puerto Rico
'Color-Conscious' Casting: Putting Diversity in the Spotlight
---