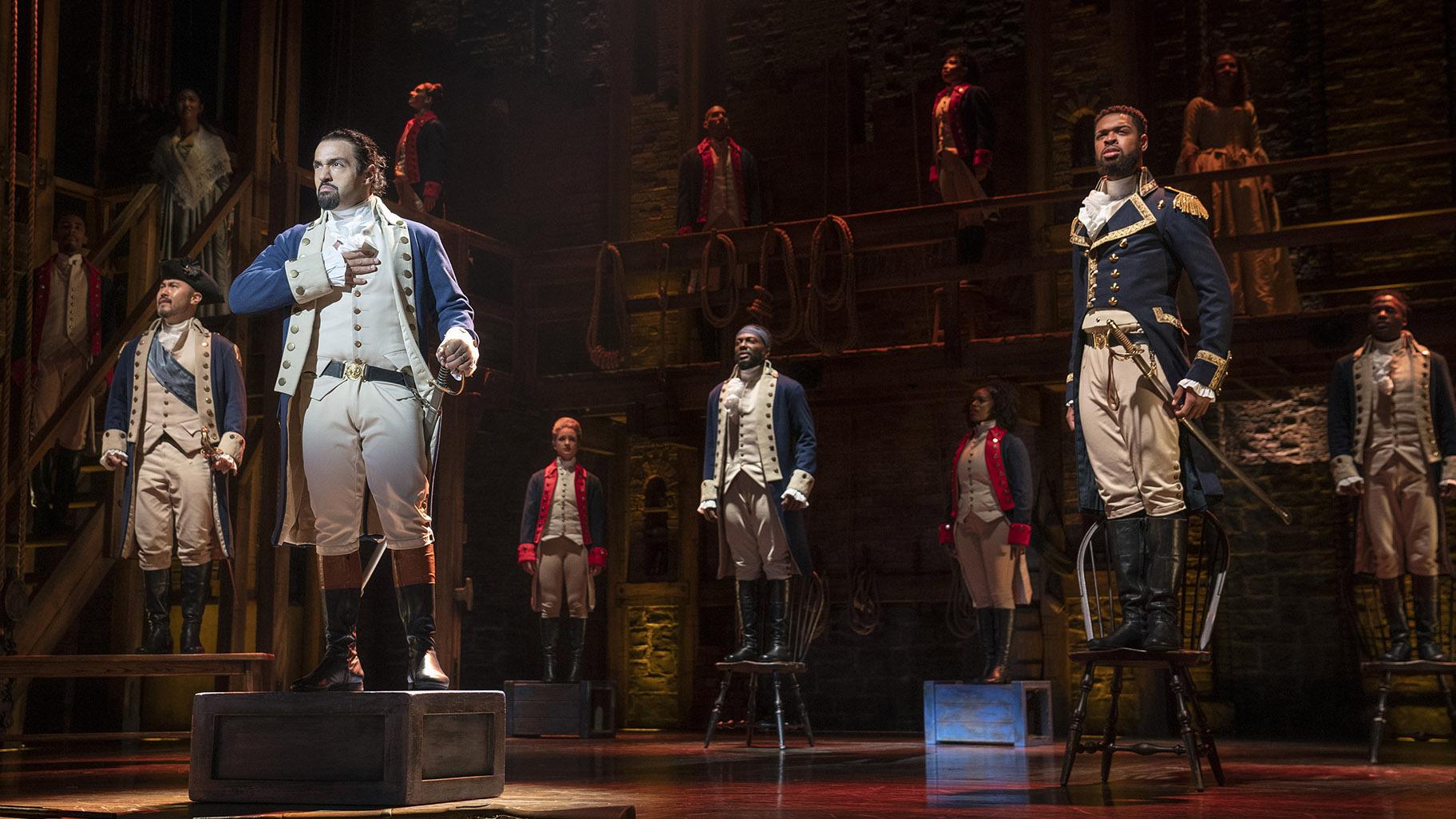 The cast of the touring company of "Hamilton" will perform at the Nederlander Theatre in Chicago. (Credit: Joan Marcus)
His name is Alexander Hamilton. No doubt about it. And it's a good bet that you are already singing his name (rather than just speaking it) in the irresistibly rhythmic way devised by Lin-Manuel Miranda, the writer, composer and lyricist whose musical moved from Off Broadway to Broadway in one fell swoop in 2015.
In the years since, "Hamilton" has gone on to become a monumentally successful and award-winning show throughout the U.S. and beyond.
The musical's latest visit to Chicago, which will run through December at the Nederlander Theatre, is as grand-scale and exuberant as ever, with its book, music and lyrics by Miranda (inspired by Ron Chernow's biography of Hamilton), its vast, high-energy cast directed by Thomas Kail, its terrific choreography by Andy Blankenbuehler, the original massive scenic design of David Korins, costumes by Paul Tazewell, and a strong (if somewhat overly amplified) orchestra — with orchestrations by Alex Lacamoire — led by conductor/keyboardist Emmanuel Schvartzman.
One of the most intriguing aspects of this particular production (which I was seeing for the fourth time), is that in many ways it emphasized the seriously flawed aspects of the early "politicians" who were seeking to form and lead this country as it broke free of its colonial control by the British by way of the Declaration of Independence in 1776, and the surrender of British forces in 1782. And in that respect. the show felt very much like a portrait of this moment in our country's history.
Miranda's score (a terrific mix of rap, hip-hop, classic Broadway and more) is sensational, but (at least on its opening night) many of the crucial lyrics in the show's first act got lost in the overly high-powered sound of the orchestra.
As Hamilton, Pierre Jean Gonzalez captured the super smart and ambitious young immigrant from a Caribbean island. And he was matched by an equally sharp turn by Deon'te Goodman as Aaron Burr, Hamilton's strongest competitor — the man who became vice president under Thomas Jefferson, and ultimately shot Hamilton to death in 1804.
Hamilton had been something of a favorite of George Washington who is played here by Marcus Choi. And along the way, one of the show's most entertaining characters is the witty, acerbic and somewhat foppish King George III of Britain, played ideally by Neil Haskell.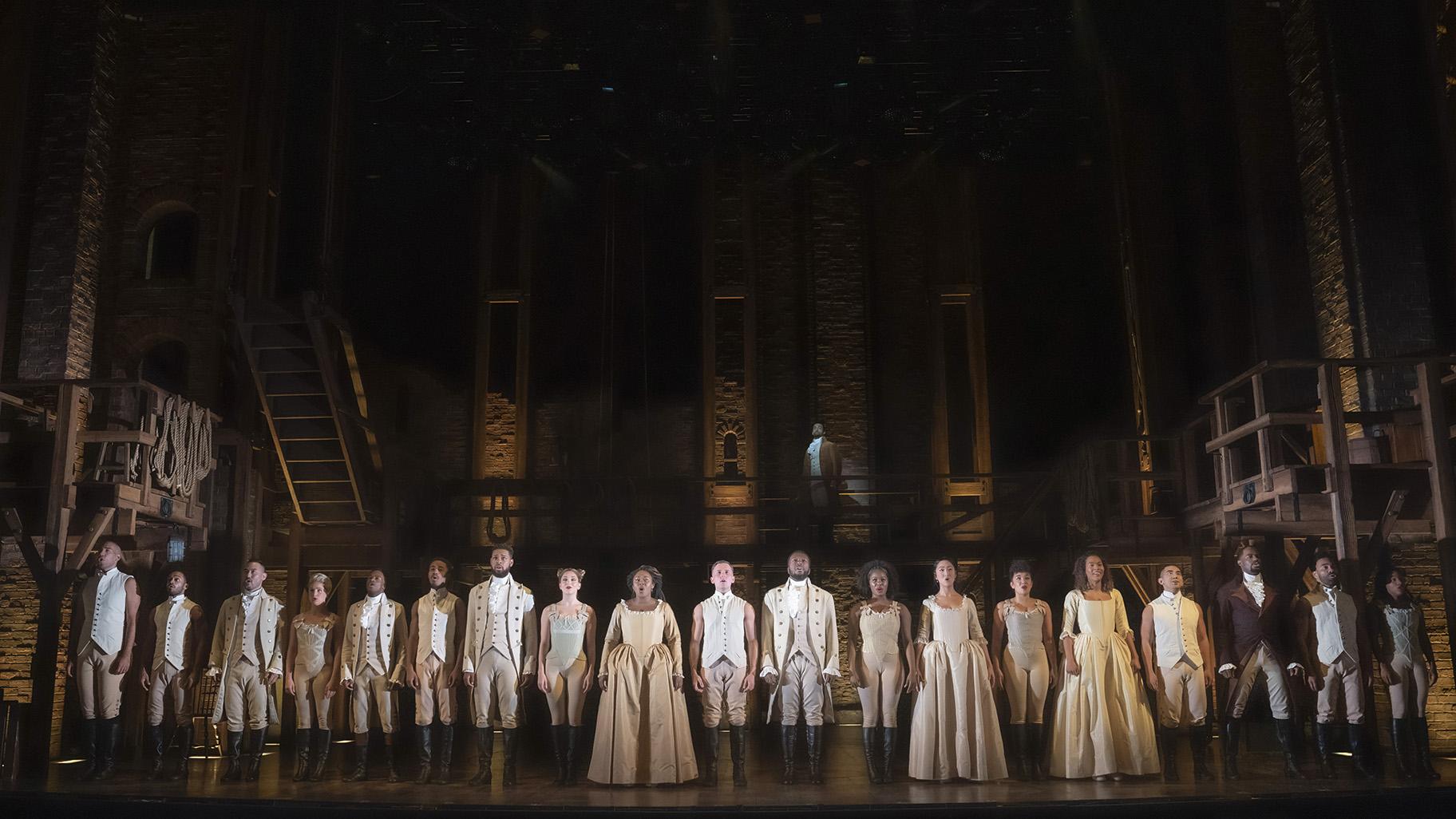 The cast of the touring company of "Hamilton" will perform at the Nederlander Theatre in Chicago. (Credit: Joan Marcus)
Then there are the women — the notably free-spirited and wealthy Schuyler sisters. Hamilton marries one of them - Eliza (winningly played by Nikisha Williams). But he also is drawn to her sister, Angelica (Lencia Kebede), who moves to France, as well as to another woman. Yet in the years after he is killed it is Eliza who makes sure that his legacy is kept alive.
This production is not without its faults, and some of the personal and political interplay can surely get a bit confusing for first-time audiences. But Miranda's score (a brilliant mix of rap, hip-hop, classic Broadway and more) is both exceptionally witty in its wordplay and intensely catchy. And if you read about the history of the period before seeing the show you are bound to enjoy it even more.
And that inspired one additional thought: If you read about Hamilton's early years, before his arrival in New York, and get a sense of his roots (a few surprises there), as well as his innate intelligence, you might wish that Miranda will someday create a brief prologue for the show.
"Hamilton" will run through Dec. 30 at the Nederlander Theater, 24 W. Randolph. For tickets visit BroadwayInChicago.com.
Follow Hedy Weiss on Twitter: @HedyWeissCritic
---