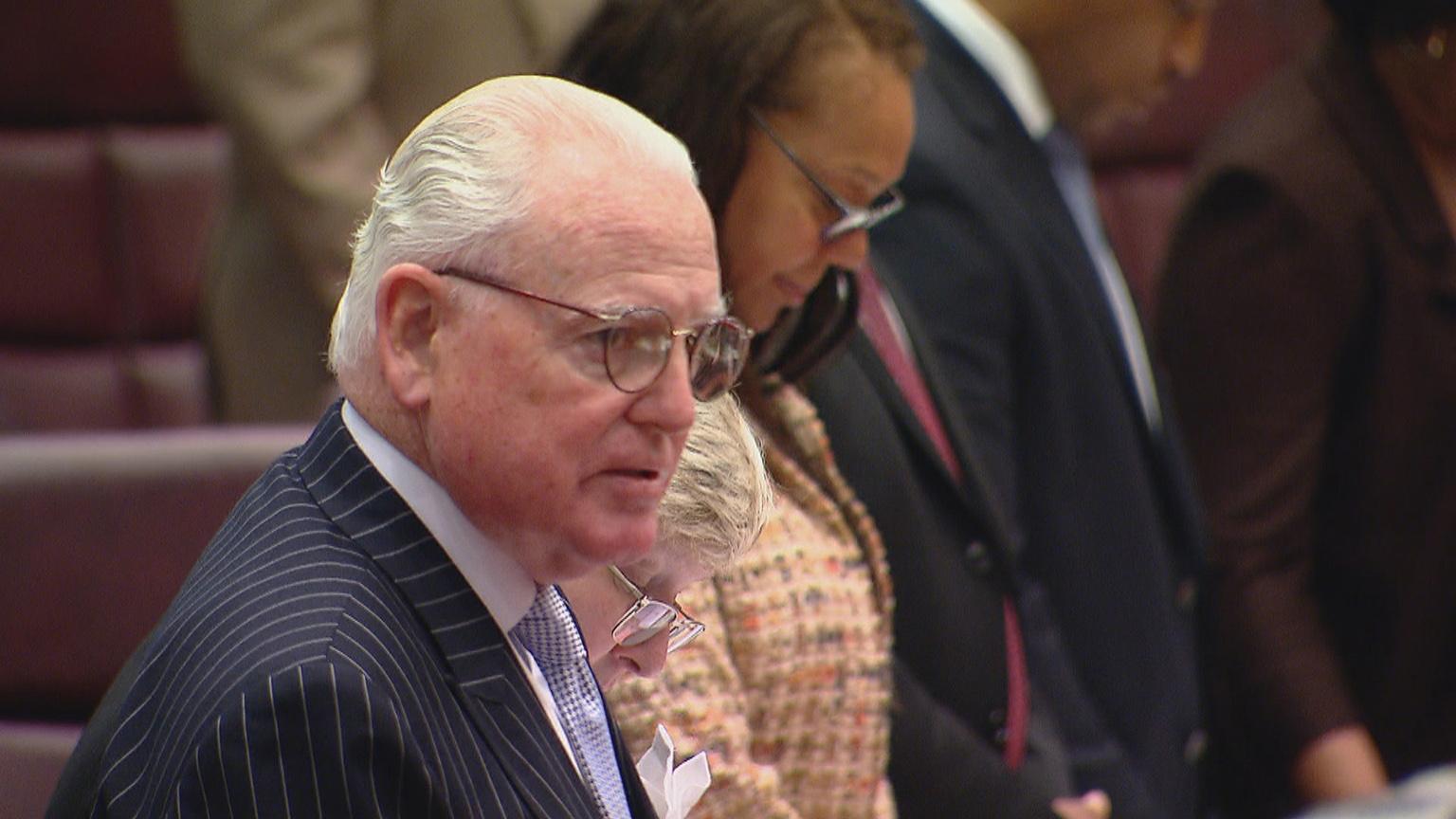 Former Ald. Ed Burke is pictured in a file photo. (WTTW News)
When former Chicago alderperson Ed Burke walks into court this month for his trial on charges of racketeering, bribery and extortion, he'll be the latest Illinois politician and powerbroker to face accusations of corruption — but far from the first in recent years.
Burke, the longest serving alderperson in Chicago's history who ran the 14th Ward and chaired the City Council's Finance Committee for decades, is set to go to trial Monday, more than four years after he was indicted on several charges alleging he used his powerful positions in an attempt to enrich himself.
He'll soon become the latest in a long line of Chicago and Illinois politicians brought to the Dirksen Federal Building, not as a legislator, but as a defendant.
After naming Chicago the most corrupt city in the U.S. for a fourth consecutive year, a University of Illinois at Chicago report published this week noted that Illinois residents "are used to being suspicious of their elected representatives and surely, that suspicion is often justified."
According to that report, the Northern District of Illinois has seen a total of 1,824 federal public corruption convictions from 1976 to 2021, the most of any district in the country. There have been 339 such convictions in Chicago from 2010 to 2021.
"It's distressing that Chicago has not, and seems unable to, shed its image of public corruption," U.S. District Judge Edmond Chang said in 2017 as he sentenced ex-Chicago Public Schools CEO Barbara Byrd-Bennett following a wire fraud conviction. "I mean 25 years, 50, 100 years from now will there be another sentencing like this? And the only way to stop that from happening is to send a general deterrent."
The following is a list of some of Chicago's most notable recent corruption cases.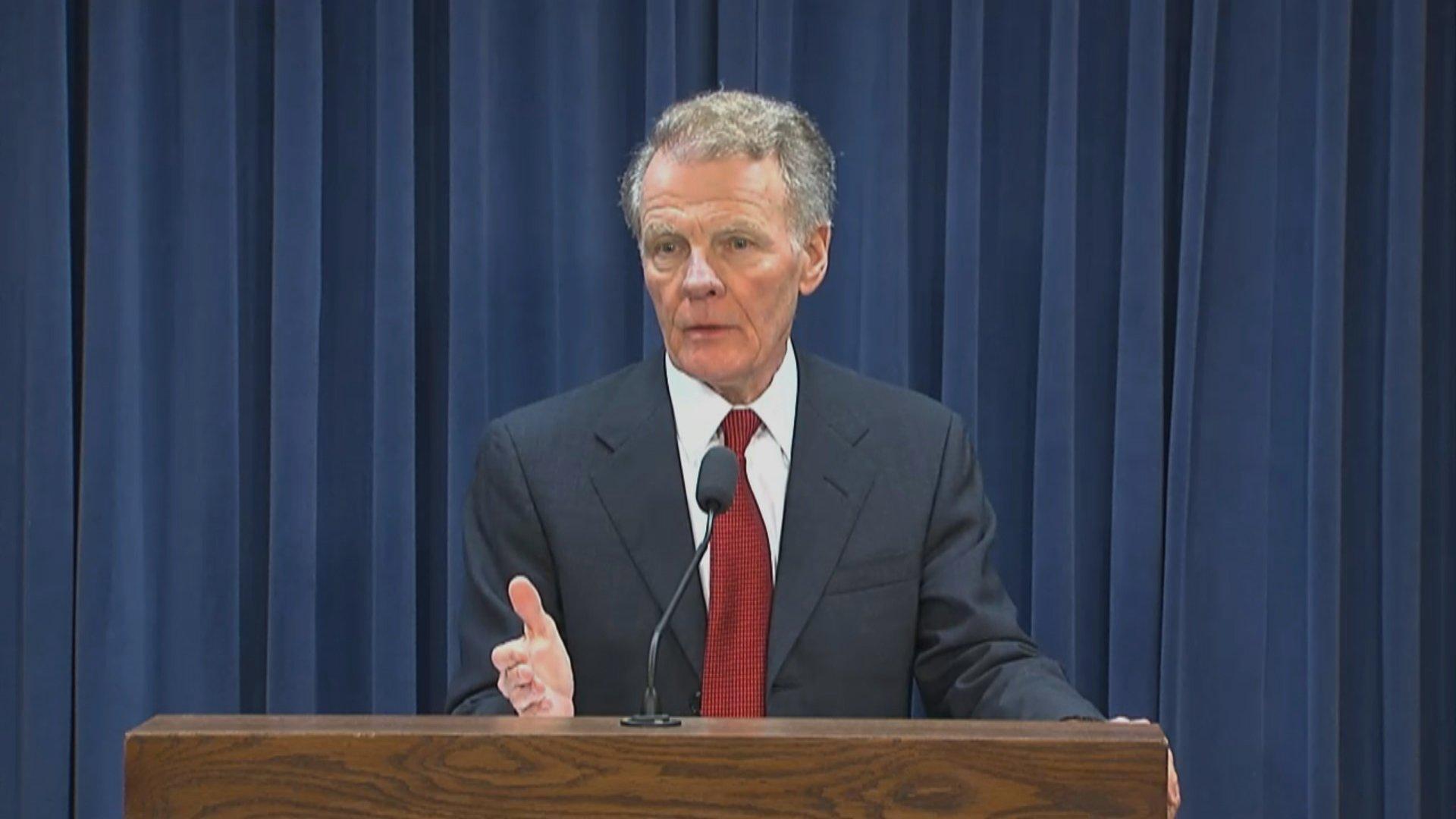 Michael Madigan (WTTW News)
State Officials
Michael Madigan
Charges: The longest serving leader atop any legislative body in the country, Madigan ruled Illinois politics for nearly four decades. But that power began to dwindle in December 2020 when Commonwealth Edison officials admitted the utility giant had arranged jobs, contracts and payoffs for Madigan's associates in order to try to win Madigan's legislative support.
He was ultimately indicted in connection with that scheme in 2022, when he was indicted along with his longtime confidant Michael McClain on charges including racketeering conspiracy. Since then, McClain and other ComEd officials have been separately convicted on bribery and conspiracy charges.
Madigan is also accused of illegally steering business to his private property tax law firm. He has pleaded not guilty to all charges.
Status: Madigan and McClain are currently awaiting trial, which is scheduled to begin in April 2024.
Luis Arroyo
Charges: Arroyo, a state representative who served for more than a decade, was indicted in a bribery scheme in 2019 after he offered to pay state Sen. Terry Link $2,500 per month — telling him these payments were "the jackpot" — in exchange for Link's support of a bill that sought to legalize sweepstakes gambling machines.
Prosecutors said Arroyo accepted thousands of dollars in bribes from a gaming company in 2018 and 2019, and in exchange, he promoted legislation in the House of Representatives related to the sweepstakes industry.
He resigned his 3rd District seat a month after he was charged.
Status: Arroyo pleaded guilty in 2021 and was sentenced to 57 months in prison.
Terry Link
Charges: Another politician-turned-mole, the longtime state senator from Vernon Hills was charged with income tax evasion in 2020 after he underreported his income on his tax returns from 2012 through 2016.
In 2016 alone, he underreported more than $93,000, the majority of which was money from a campaign fund that Link spent on personal expenses.
Link later resigned his seat in 2020. This year, he testified in the trial of James Weiss, and admitted under oath that he wore a wire for the government to record his conversations as he sought a bribe from Luis Arroyo.
Status: Link pleaded guilty to one count of filing a false tax return. He is scheduled to be sentenced in March 2024.
Martin Sandoval
Charges: The state senator from Cicero who chaired the Senate's Transportation Committee was indicted in early 2020 on bribery and tax charges after he took payments in exchange for supporting red-light camera programs across Illinois.
Sandoval accepted more than $70,000 in payments from a representative from Chicago-based SafeSpeed, LLC. In all, he was accused of accepting $250,000 in bribes.
In one instance, Sandoval told an individual, who he did not know was cooperating with investigators: "I'm not trying to be dramatic, but I'm telling you the vultures would be all over that s--- (red-light cameras) if you had the wrong person there. ... I think the protector aspect, it never changes. If there's a … bill or something like that, if you set a fee, a protector fee, unless there's something really f---ing extraordinary."
Status: Sandoval pleaded guilty and admitted wrongdoing. He died of COVID-19 in December 2020 before he was sentenced.
Tom Cullerton
Charges: The Villa Park Democratic state senator was indicted by a federal grand jury in 2019 on embezzlement charges for fraudulently receiving salary and benefits from a labor union.
Cullerton was hired by Teamsters Joint Council 25 in 2013 as a purported union organizer. While he received a salary, car and telephone allowances, bonuses and health and pension funds, he did not do any work for the union.
Status: Cullerton pleaded guilty in 2021 and was sentenced to a year in prison.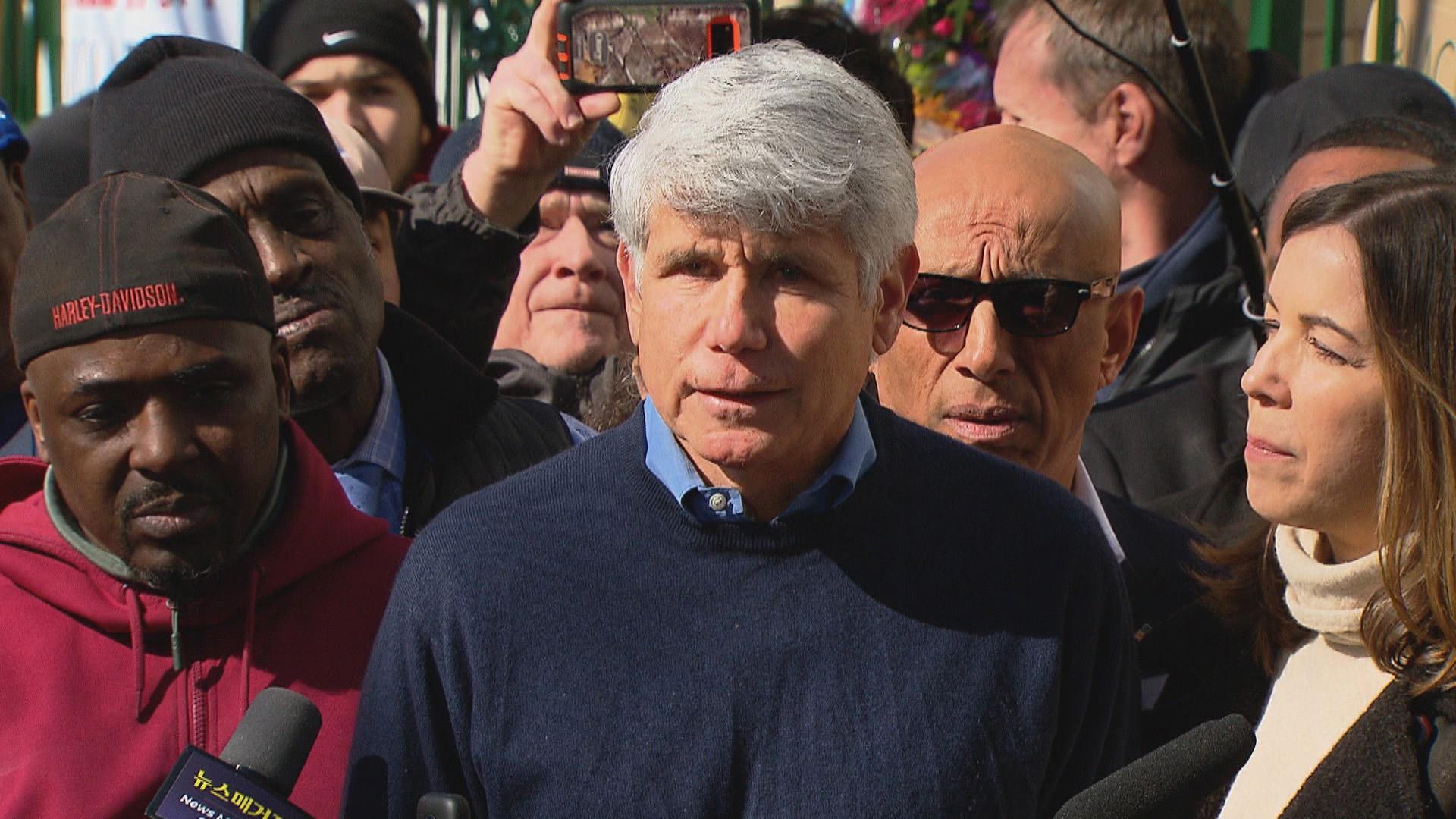 Former Illinois Gov. Rod Blagojevich speaks to the media on Wednesday, Feb. 19, 2020. (WTTW News)
Rod Blagojevich
Charges: The 40th governor of Illinois had been in office for nearly six years when he was arrested at his home in the early morning hours of Dec. 9, 2008, on corruption charges after he attempted to sell the U.S. Senate seat that had been vacated by President-elect Barack Obama.
On one phone conversation that was secretly recorded by federal investigators, Blagojevich infamously stated "I've got this thing, and it's f---ing golden. I'm just not giving it up for f---ing nothing." He allegedly sought campaign funds, an ambassadorship and a salaried position for himself, among other things, in exchange for an appointment to the vacant seat.
He was impeached early the following year and barred from ever holding public office in Illinois again.
Status: Blagojevich was convicted on one count in a 2010 trial and 17 counts — including charges of wire fraud, attempted extortion, bribery and conspiracy — in a subsequent re-trial the following year. He received a 14-year sentence and became the fourth Illinois governor to serve time in a federal prison, where he remained until his sentence was commuted by President Donald Trump in 2020.
---
Chicago City Council
Patrick Daley Thompson
Charges: Daley Thompson — the grandson of former Mayor Richard J. Daley, and the nephew of former Mayor Richard M. Daley and Cook County Commissioner John Daley — was indicted in 2021 on seven counts of lying to federal bank regulators and filing false tax returns.
The 11th Ward alderperson was accused of repeatedly lying to get out of repaying a $219,000 loan he took from Washington Federal Bank for Savings. The Bridgeport bank failed in 2017, and federal bank regulators began working to collect that debt from the alderperson.
Status: He was convicted on all seven counts and sentenced to four months in prison.
Ricardo Muñoz
Charges: The 22nd Ward alderperson was charged in April 2021 with 15 counts of wire fraud and one count of money laundering after he was accused of embezzling nearly $38,000 in city money over the course of approximately three years.
Muñoz took funds from the Chicago Progressive Reform Caucus and used them to pay for trips, jewelry, iPhones and tickets to sporting events. In doing so, federal prosecutors said he "abused his public position and betrayed the public trust."
Status: Muñoz pleaded guilty and was sentenced in 2022 to 13 months in prison.
Ald. Danny Solis (25th Ward) appears on "Chicago Tonight" on Nov. 26, 2018. (WTTW News)
Daniel Solis
Charges: The lynchpin in both the Burke and Madigan prosecutions, the former 25th Ward alderperson was charged in 2022 with one count of bribery — years after he left public office and operated as a mole for the federal government.
Solis was accused of taking money from an unidentified real estate developer in return for an official action when he was head of the City Council Zoning Committee in 2015.
But prosecutors argued he deserved an "unprecedented deal" after working with the government for six years, secretly recording numerous conversations with both Burke and Madigan that helped build the respective corruption cases against them.
Assistant U.S. Attorney Amarjeet Bhachu called Solis one of the most significant government informants and witnesses of the last several decades.
Status: Solis entered into a deferred prosecution agreement with prosecutors, who plan to dismiss the bribery charge against him after three years in exchange for the substantial assistance he provided in the other cases. While his recordings will be used in the trials of both Burke and Madigan, it's unclear whether Solis himself will be called to testify in either case.
Carrie Austin
Charges: The 34th Ward alderperson was charged in 2021 with one count of bribery conspiracy, two counts of using interstate facilities to promote bribery and one count of lying to the FBI.
Austin allegedly took bribes in the form of home improvements from a construction company that sought to build a nearly $50 million residential development in Austin's ward. She also lied to FBI agents investigating the alleged bribes, saying she got nothing from the developer "other than a cake," according to the indictment.
Status: Austin has pleaded not guilty, and her case remains pending. She left the City Council in 2023 and continues collecting a city pension of more than $114,000 per year.
Willie Cochran
Charges: The 20th Ward alderperson was hit with a 15-count indictment in 2016 — which he learned of during a City Council meeting — that included federal charges of wire fraud, extortion and bribery.
Cochran was accused of defrauding donors to the 20th Ward Activities Fund, which was intended to help families and children in his ward. Instead, he allegedly used $5,000 from the fund to pay for his daughter's college tuition.
Status: He pleaded guilty to one felony count of wire fraud, while the other charges were dropped. He was sentenced to a year and a day in federal prison.
---
Others
Timothy Mapes
Charges: Mapes, Madigan's longtime chief of staff and a member of the speaker's inner circle, was accused of lying to a federal grand jury in 2021 during its investigation into his boss and Michael McClain.
Prosecutors alleged Mapes lied under oath during that proceeding at least seven times in an attempt to minimize the relationship between Madigan and McClain, who were being investigated for allegedly working to illegally obtain jobs, contracts and monetary payments from ComEd.
Status: Mapes was convicted on charges of making false declarations and attempted obstruction of justice in 2023. He is currently awaiting sentencing.
"ComEd Four"
Charges: Four former Commonwealth Edison officials were indicted in 2020, accused of illegally currying favor with Madigan by providing his allies with lucrative contracts and no-work jobs in order to further the utility company's legislative agenda in Springfield.
Ex-ComEd CEO Anne Pramaggiore, former ComEd lobbyist Michael McClain, retired ComEd executive John Hooker and ex-City Club of Chicago president and former ComEd consultant Jay Doherty were each charged with bribery conspiracy, bribery and willfully falsifying ComEd books and records.
Status: All four were convicted on every charge they faced. They are currently awaiting sentencing. Months after their trial, a judge dismissed a bribery charge levied against ComEd, which had agreed to pay a $200 million fine as part of a deferred prosecution agreement.
James Weiss
Charges: While not a politician himself, prosecutors alleged the politically connected businessman was the one bribing Luis Arroyo, making payments to the state senator in exchange for his support of sweepstakes-related legislation.
Weiss — the owner of a sweepstakes business and the son-in-law of former Cook County Democratic Party chair Joe Berrios — was charged with three counts of honest services wire fraud, two counts of bribery, one count of honest services mail fraud and one count of making false statements to the FBI.
Status: Weiss went to trial in 2023 and was convicted on each charge he faced. He was sentenced in October to more than 5 years in prison.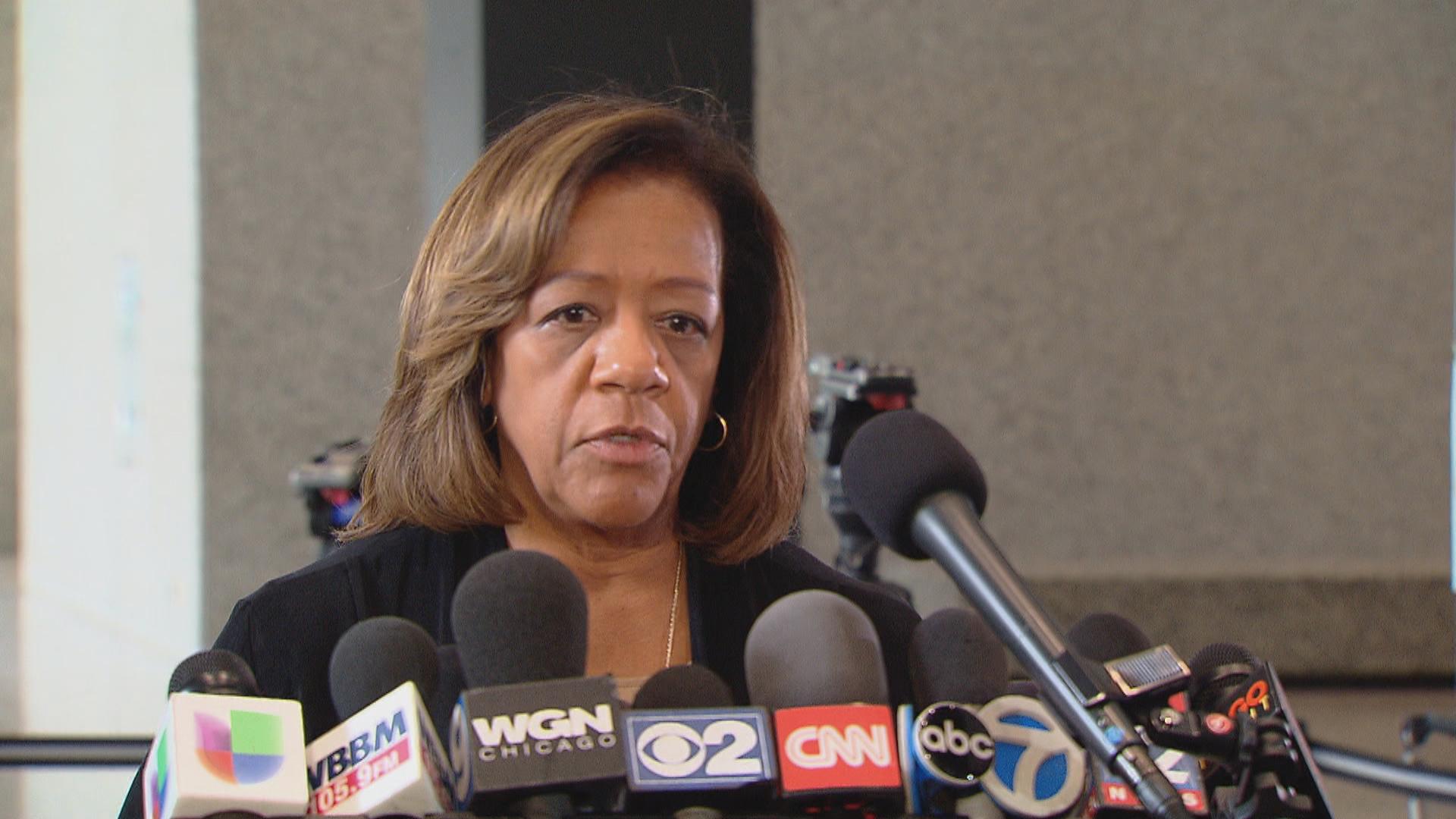 Former Chicago Public Schools CEO Barbara Byrd-Bennett (WTTW News)
Barbara Byrd-Bennett
Charges: The former head of Chicago Public Schools, Byrd-Bennett resigned in 2015 amid an investigation into allegations she steered a no-bid district contract worth more than $23 million to her former employer, the SUPES Academy.
She was charged with doing just that months later when federal prosecutors hit her with 15 counts of mail fraud and five counts of wire fraud. Two other SUPES officials, Gary Solomon and Thomas Vranas, were also charged.
Status: Byrd-Bennett quickly pleaded guilty to a single count of wire fraud, and her two co-defendants followed suit. She was sentenced to 54 months in prison.
---