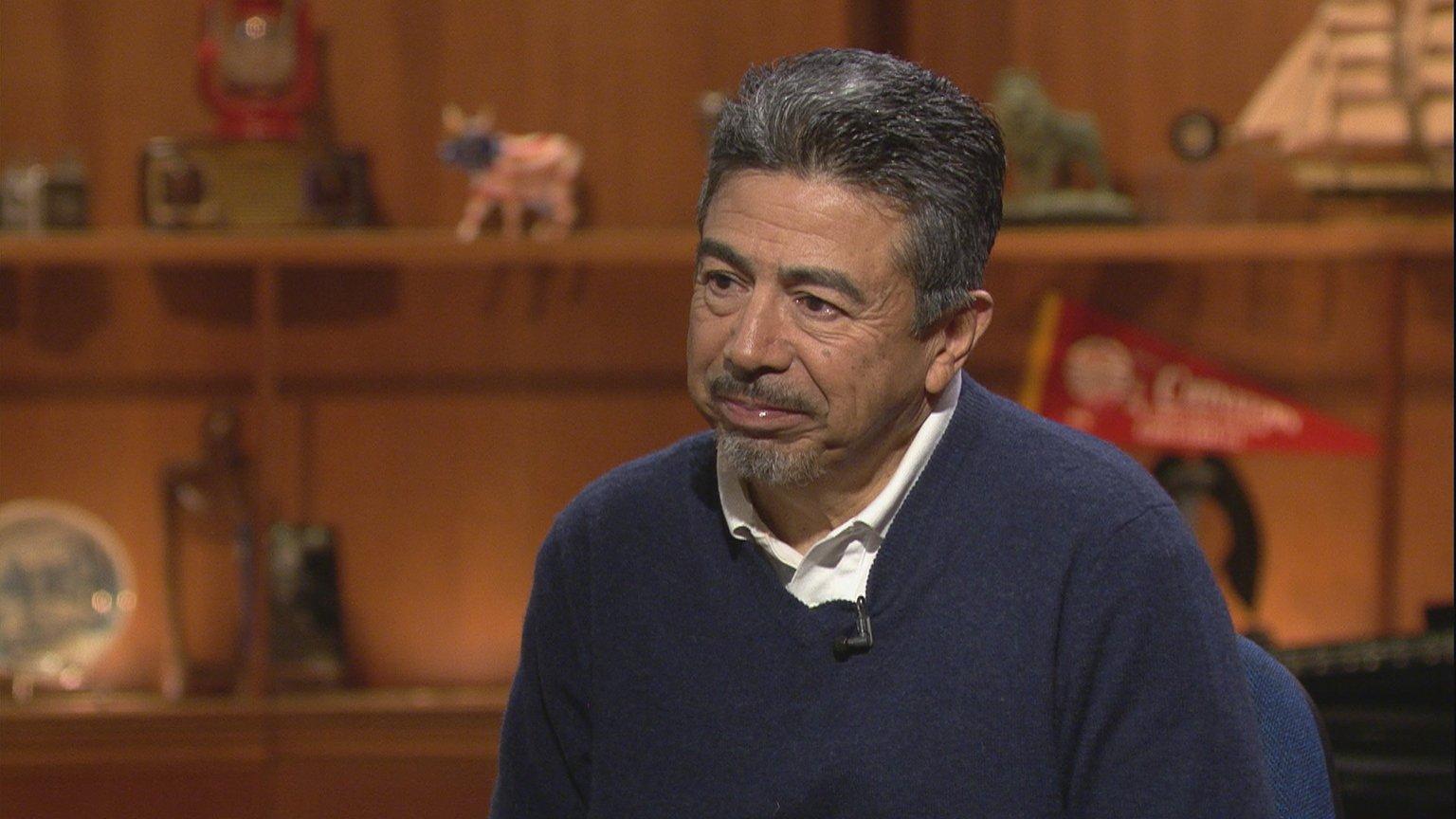 Ald. Danny Solis, 25th Ward, appears on "Chicago Tonight" on Nov. 26, 2018.
Disgraced former Ald. Danny Solis — who admitted taking bribes as the powerful chair of Chicago's Zoning Committee — deserves an "unprecedented" deal that will likely mean he will avoid prison and keep his city pension, an assistant U.S. Attorney told a federal judge Thursday.
Seven days after Mayor Lori Lightfoot said the city planned to intervene in the criminal case facing Solis, city officials abruptly dropped that effort, saying only that "productive conversations" with the U.S. Attorney Office prompted the complete reversal.
That left only a two-page letter from Ald. Byron Sigcho Lopez (25th Ward) for Judge Andrea Wood to consider as she weighed whether to start the clock ticking on a deferred prosecution agreement that means Solis will avoid a trial and could result in the dismissal of the lone bribery charge he faces on April 8, 2025.
In a letter, Sigcho Lopez said Solis caused "generational" harm to Chicago and residents of the 25th Ward, and urged the judge to hold him accountable.
Assistant U.S. Attorney Amarjeet Bhachu delivered a lengthy and at times impassioned defense of the agreement with Solis, acknowledging that it was a deal that had "little precedent" despite the deep and entrenched history of corruption in Illinois.
"What Mr. Solis did also was with little precedent," Bhachu said during the hearing conducted by phone. "He didn't just talk. He took action. He worked with the federal government for six years to expose corruption."
After he was confronted by federal agents probing him, Solis agreed to work as a government informant and recorded hundreds of hours of conversations as part of other investigations, Bhachu said. Solis is expected to testify against former House Speaker Michael Madigan and Ald. Ed Burke (14th Ward), both of whom have pleaded not guilty after being charged with corruption, bribery and extortion.
Solis, 72, could have chosen an easier path, and fought the criminal allegations against him, Bhachu said. Solis did not speak during Thursday's hearing.
"Mr. Solis chose a more difficult path, judge," Bhachu said. "When we asked him to meet, he did so. When he was asked to make a recording with a third party, he did it."
That makes Solis one of the most significant government informants and witnesses of the last several decades, Bhachu said.
"A lot of people talk about cleaning up corruption, and often all it amounts to is talk," Bhachu said. "It's rare when someone actually delivers, and in this regard, Mr. Solis delivered."
Bhachu also pushed back against Sigcho Lopez's suggestion Solis was not being held accountable for his criminal wrongdoing. Solis' agreement required that he not run for re-election in 2019, and will prevent him from running for public office ever again. Solis has also been "shunned" by those he worked with as an alderperson for 23 years.
"Life is never going to be the same for him again," Bhachu said. "These are all real consequences."
Woods said there was no evidence to suggest the agreement with Solis was legally flawed, which was the only basis she could have cited to reject the deal.
However, Woods said she examined Sigcho Lopez's argument very carefully, and suggested that his concerns about the harm caused by Solis would be relevant when — and if — Solis is sentenced.
Solis admitted taking a total of $15,000 from three executives of an unidentified firm in August and September 2015, shortly before and after he supported the zoning change they requested and shepherded it through the City Council. He also demanded that the executives attend fundraisers for his campaign, and solicit contributions from other people.
Those details match the Michigan Avenue Real Estate Group's efforts in 2015 to win Solis' approval for a $40 million apartment complex on what was once Carmichael's steakhouse, approximately a mile from the United Center, as detailed by the Sun-Times in October 2019.
That development was approved by the Chicago City Council in September 2015, with Solis' support. Such a change would likely have failed to advance to the full City Council without the powerful alderperson's support, since the unwritten tradition of aldermanic prerogative gave Solis a veto over the proposal.
Court records make it clear that Solis played a key role in the federal probe of Burke. A 14-count indictment made public in May 2019 alleges Burke repeatedly — and brazenly — used his powerful position at City Hall to force those doing business with the city to hire his private law firm by the Department of Justice.
Burke, who has represented the 14th Ward for 53 years, has pleaded not guilty to charges of racketeering, bribery and extortion. Racketeering charges — usually brought against members of the mob or street gangs — allege a pattern of corruption unknown to its victims.
At the same time, Solis was also recording Madigan, who served as speaker of the Illinois House for 36 years and led the Illinois Democratic Party for 20 years, according to a 22-count indictment made public March 2.
Madigan is charged with participating in a bribery scheme with Commonwealth Edison and illegally steering business to his private property tax law firm amid efforts to turn a vacant piece of land in Chinatown into a commercial development.
Contact Heather Cherone: @HeatherCherone | (773) 569-1863 | [email protected]
---