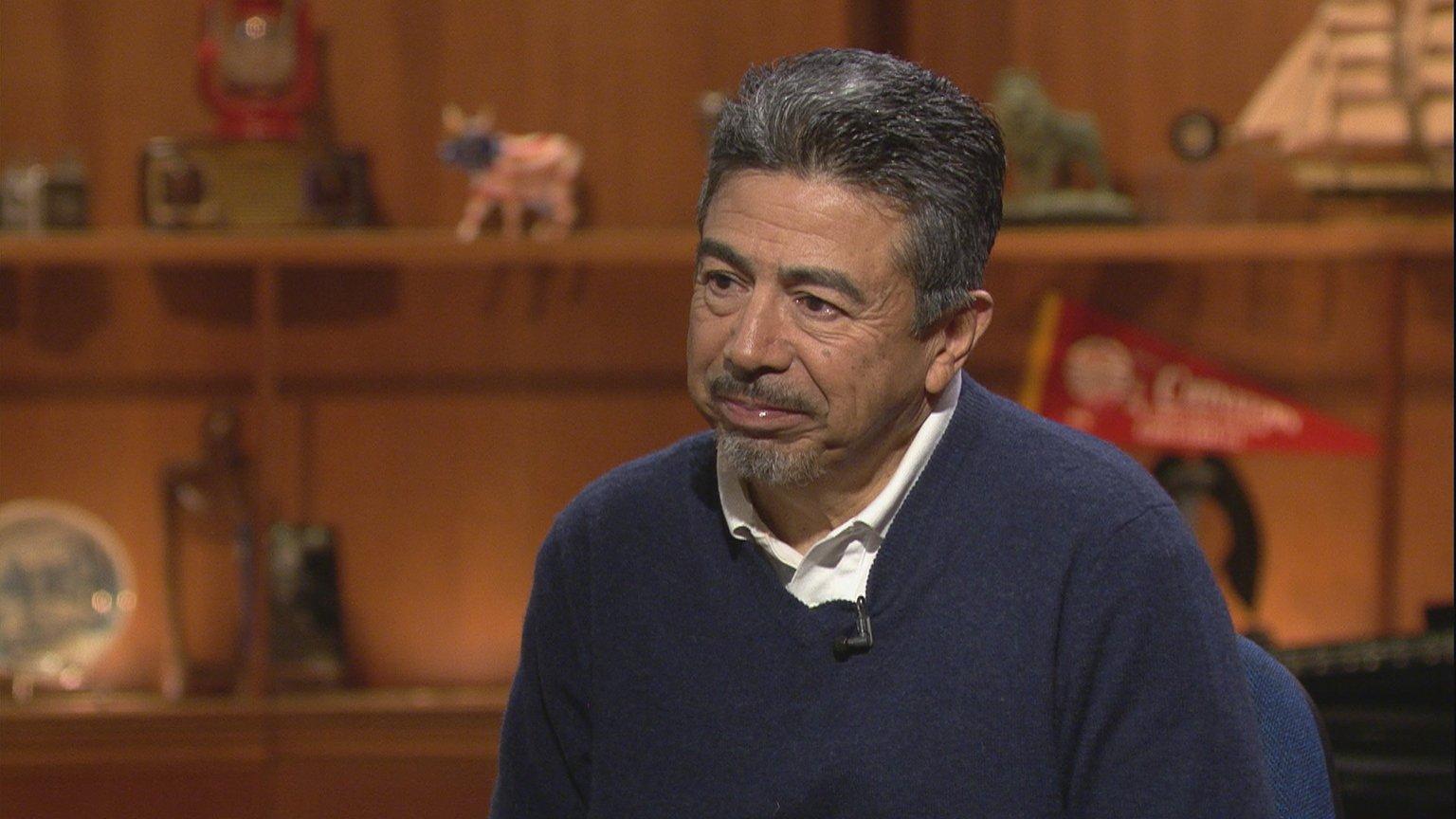 Ald. Danny Solis, 25th Ward, appears on "Chicago Tonight" on Nov. 26, 2018.
Disgraced former Ald. Danny Solis — the powerful chair of Chicago's Zoning Committee turned government informant who wore a wire during federal probes of former House Speaker Michael Madigan and Ald. Ed Burke — was charged Friday with one count of bribery.
Solis, who did not run for reelection to the City Council in 2019, was charged with taking money from an unidentified real estate developer in return for an official action when he was head of the City Council Zoning Committee in 2015 in the brief court filing made public late Friday.
Solis' arraignment has not yet been set, officials said.
Lisa Noller, Solis' attorney, could not immediately be reached for comment Friday.
It has been more than three years since the news that Solis secretly recorded Burke for the FBI rocked City Hall. At the time federal officials allege they were both taking bribes, the two alderpeople were among the most powerful officials at City Hall, with Solis leading the Zoning Committee and Burke controlling the Finance Committee.
Court records make it clear that Solis played a key role in the federal probe of Burke. A 14-count indictment made public in May 2019 alleges Burke repeatedly — and brazenly — used his powerful position at City Hall to force those doing business with the city to hire his private law firm by the Department of Justice.
Burke, who has represented the 14th Ward for 53 years, has pleaded not guilty to charges of racketeering, bribery and extortion. Racketeering charges — usually brought against members of the mob or street gangs — allege a pattern of corruption unknown to its victims.
At the same time, Solis was also recording Madigan, Michael Madigan, who served as speaker of the Illinois House for 36 years and led the Illinois Democratic Party for 20 years, according to a 22-count indictment made public March 2.
Madigan is charged with participating in a bribery scheme with Commonwealth Edison and illegally steering business to his private property tax law firm amid efforts to turn a vacant piece of land in Chinatown into a commercial development.
Solis played a key role in the discussions of the Chinatown property because as Zoning Committee chair, he had the power to speed the necessary approvals through the City Council. The indictment of Madigan alleges that Madigan suggested to Solis that he could arrange for Gov. J.B. Pritzker to appoint Solis to a state position, and did not have to put anything in writing to get it done.
Pritzker's communications director Emily Bittner said Madigan never approached Pritzker.
"The governor does not recall Michael Madigan ever asking him to consider Danny Solis for any position," Bittner said. "The administration has no record of Solis being recommended by Madigan. In addition, he was never vetted, appointed or hired for any role in the administration."
In an August 2020 court filing, lawyers for Burke revealed Solis had entered into a deferred prosecution agreement that will likely mean Solis will not spend even one day in jail — and keep his city pension — in return for his extraordinary role in the prosecution of both Burke and Madigan.
That agreement has not been confirmed by the U.S. Attorney's Office.
Solis flipped and agreed to help investigators after he was accused by federal agents of accepting sex acts, Viagra, free weekend use of an Indiana farm once owned by Oprah Winfrey and a steady stream of campaign contributions in return for City Council actions, as first reported by the Chicago Sun-Times.
Ald. Byron Sigcho Lopez (25th Ward), who replaced Solis, said his predecessor should have been held accountable years ago.
"It has been a long time coming," Sigcho Lopez said. "The community is still dealing with the aftermath of rampant corruption."
Contact Heather Cherone: @HeatherCherone | (773) 569-1863 | [email protected]
---