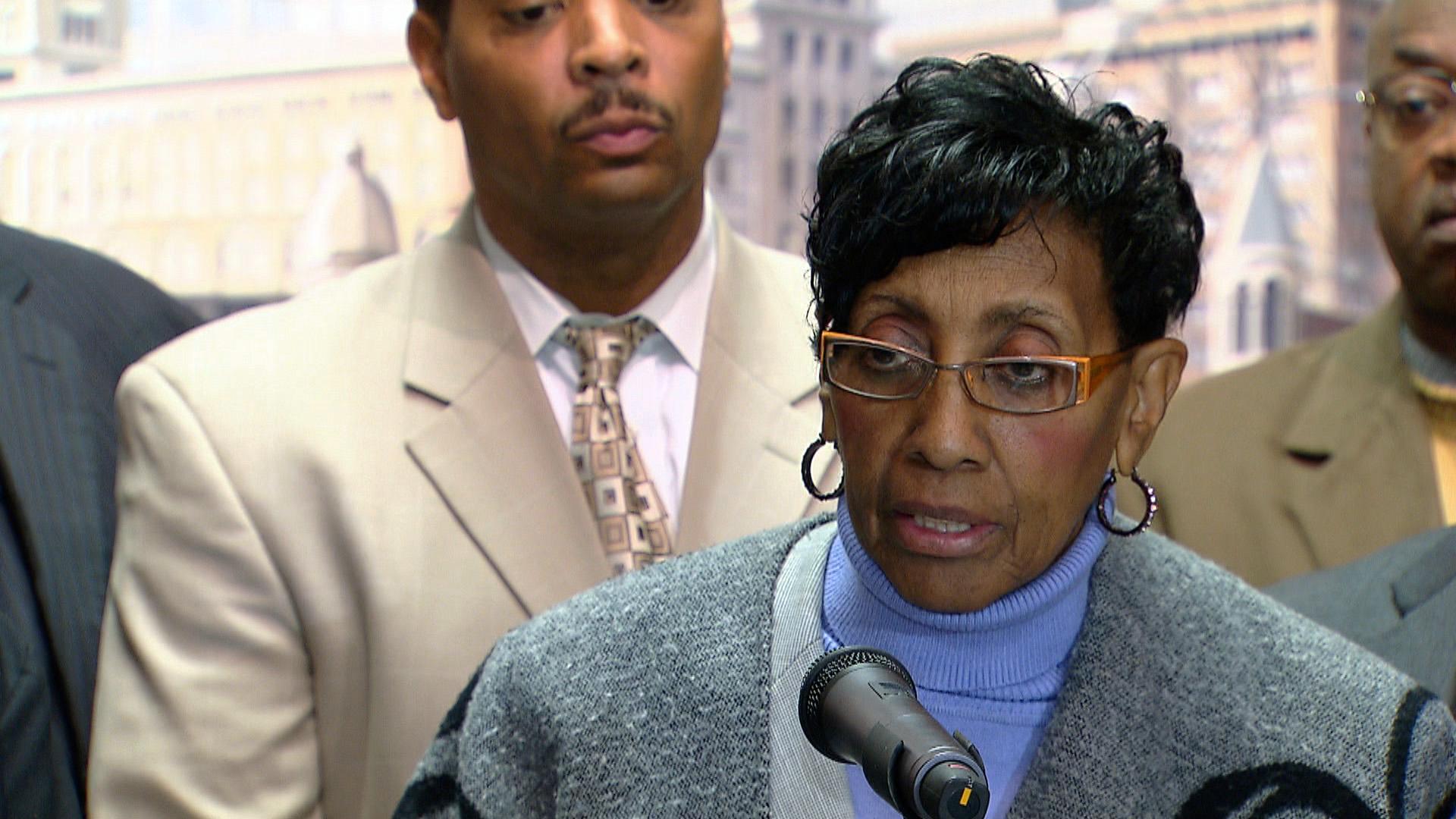 A file photo shows 34th Ward Ald. Carrie Austin. (WTTW News)
Ald. Carrie Austin (34th Ward) was indicted Thursday on four charges that she took bribes in the form of home improvements including new kitchen cabinets and granite countertops from a developer and lied to Federal Bureau of Investigation agents.
Austin, 72, is the third sitting member of the Chicago City Council to be charged with federal crimes. Ald. Ed Burke (14th Ward) has pleaded not guilty to 14 counts of corruption and Ald. Patrick Daley Thompson (11th Ward) has pleaded not guilty to seven charges in connection with a failed Bridgeport bank.
Austin is the second-longest serving member of the City Council. She faces one count of bribery conspiracy, two counts of using interstate facilities to promote bribery and one count of lying to the FBI.
The indictment also charges Austin's chief of staff Chester Wilson Jr., 55, with bribery conspiracy, two counts of using interstate facilities to promote bribery and one count of theft of government funds.
Neither Austin nor Wilson could be immediately reached for comment at the 34th Ward office. Their arraignment has not yet been scheduled.
The bulk of the charges unveiled Thursday involve the firm that began building a $49.6 million redevelopment in Austin's Far South Side ward that includes Roseland in 2014. The firm involved was not named in the indictment.
That development was eligible for $10 million from the area's tax increment financing district as well as money from the "aldermanic menu" fund controlled by Austin to be used for infrastructure projects in the ward, including road resurfacing, according to the indictment.
Austin accepted new kitchen cabinets — worth $5,250 — in June 2017 from the developer. The next month, the firm gave Austin two "brand new" and "expensive" sump pumps and had a representative of the firm buy and install a new dehumidifier in her home, according to the indictment.
Austin also asked the developer to install new "bathroom tiles in white or vein white," in her home according to the indictment.
The first indication that Austin was under investigation by federal officials came on June 19, 2019, when the FBI raided her ward office, hauling away boxes and files. After the raid, Austin denied wrongdoing.
Austin lied to the FBI that very day, according to the indictment. When agents told her that the developer had installed a dehumidifier at her house, Austin replied "not to me," according to the indictment. Austin said she got nothing from the developer "other than a cake," according to the indictment.
In October 2017, the firm agreed to pay for a portion of a new heating and air conditioning system at Wilson's property because as one unnamed individual told Wilson "you help me a lot, and I'll help you," according to the indictment. Another unnamed individual said "[If] I get what I want next week, it's worth it" to pay for the upgrades to the property owned by Wilson, according to the indictment.
Wilson and Austin also had granite countertops installed at their properties as part of the scheme, according to the indictment.
"Austin and Wilson authorized the expenditure of aldermanic menu funds to benefit the construction company for infrastructure within the development, and that on multiple occasions in 2017 and 2018 Austin coordinated with the construction company owner to seek the city's release of TIF and other payments," according to the indictment.
Wilson is also charged with theft in connection with a scheme to purchase Supplemental Nutrition Assistance Program benefits at a discount. 
"Wilson, who was not eligible for SNAP benefits due to his city of Chicago salary, allegedly obtained a card containing SNAP benefits by paying cash to the recipient in an amount below the face value of the card," according to a statement from the U.S. Attorney's Office for the Northern District of Illinois.
At the time of incidents described in the indictment, Austin was the chair of the City Council's Budget and Government Operations Committee, charged by former Mayor Rahm Emanuel with crafting the city's approximately $10 billion budget. She held that post from 2007 to 2019.
Austin was ousted from that powerful position when Mayor Lori Lightfoot took office in May 2019. Austin supported Cook County Board President Toni Preckwinkle in the election, and was standing next to U.S. Rep. Bobby Rush (D-Chicago) when he said the "blood of the next young black man or black woman" killed by police would be on the hands of Lightfoot supporters if she was elected.
As an olive branch, Lightfoot made Austin chair of the newly created Committee on Contracting Oversight and Equity. That committee has not met in 2021 and met only six times in more than two years.
When Burke was charged in January 2019, he was forced to step down as chair of the Finance Committee. A spokesperson for Lightfoot did not respond when asked if the mayor would demand Austin's resignation as chair of Contracting Oversight and Equity.
Austin served as the 34th Ward Democratic ward committeeperson from 1995 to 2019, when she failed to gather enough valid signatures to qualify for the ballot and was replaced by Preston Brown Jr.
In July 2020, Austin became the first elected Chicago official to be diagnosed with the coronavirus. She missed several City Council meetings before recovering.
Appointed by Mayor Richard M. Daley to represent the 34th Ward on the Far South Side after the 1994 death of her husband, Ald. Lemuel Austin, Austin won her first full term in 1996, and was reelected to a sixth term in February 2019 with 54% of the vote. Austin is second in seniority on the City Council only to Burke.
The Chicago Board of Ethics fined Austin $145,500 in January for accepting $48,500 in excessive contributions from a person doing business with the city, in violation of city law. That fine was later reduced to $5,000, but Austin did not pay it by the deadline set by the board.
Contact Heather Cherone: @HeatherCherone | (773) 569-1863 | [email protected]
---