Instead of spending Tuesday in Springfield for the start of Illinois' 2020 legislative session, former state Sen. Martin Sandoval – who stepped down on Jan. 1 – spent it in federal court in Chicago, pleading guilty to bribery and tax fraud.
Sandoval, a Democrat from Cicero, admitted to taking a quarter of a million dollars in bribes. While it's unclear where the bulk of that came from, the plea agreement details how Sandoval used his position as chair of the Senate's Transportation Committee to protect and advance the red-light camera industry.
"I take full responsibility for my actions," Sandoval told reporters in a brief statement. "I'm ashamed and I'm sorry. I want to apologize to the people of Illinois and to my constituents. I intend to fully cooperate with the government and because of that I can no longer provide any further comments."
He did not respond to journalists' questions.  
The 27-page plea agreement spells out how, in often brazen fashion, Sandoval negotiated for a company (identified in court paperwork only as Company A, but which Sandoval referred to as Chicago-based SafeSpeed, LLC) to pay him $70,000 or more in campaign contributions, monthly stipends and cash bonuses.
According to the agreement, Sandoval negotiated his fee with individuals who were in fact cooperating with the feds, in one exchange telling them, "I'm not trying to be dramatic, but I'm telling you the vultures would be all over that s*** [red-light cameras] if you had the wrong person there…I think the protector aspect, it never changes.  If there's a … bill or something like that, if you set a fee, a protector fee, unless there's something really f****** extraordinary."
Sandoval also pleaded guilty to filing false tax returns, reporting about $126,000 in income, when he "knew that the total income substantially exceeded that amount."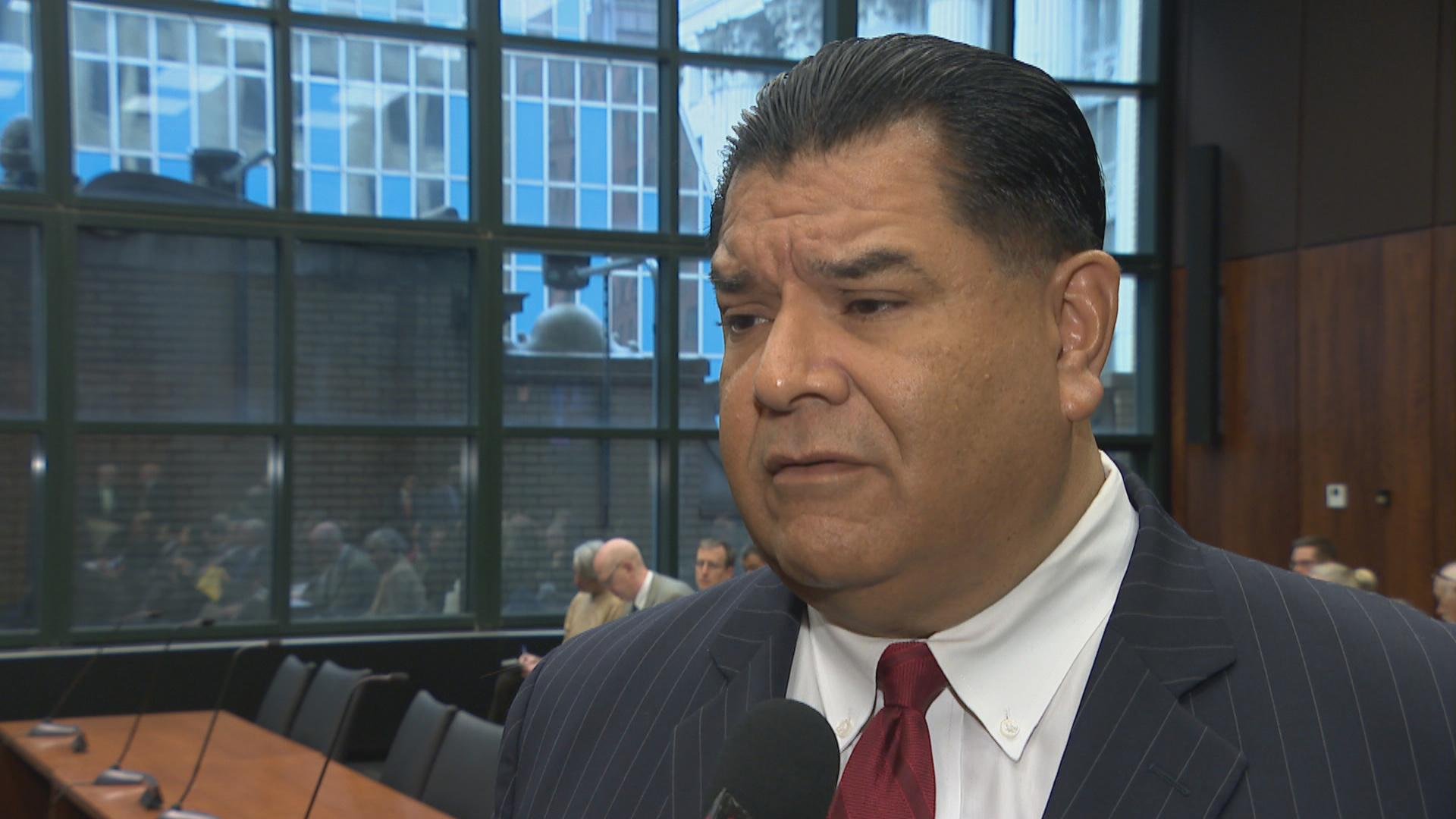 In this file photo, state Sen. Martin Sandoval speaks with WTTW News.
Sandoval could face more than a dozen years in prison, though he may get a lesser sentence given his cooperation with the government.
It's clear that other politicians are involved; $250,000 in bribes was "part of criminal activity that involves more than five participants," according to the plea agreement. According to court documents, Sandoval "engaged in corrupt activities with other public officials."
What's not clear is who those may be, and what else Sandoval may know and share as he seeks mercy from the justice system.
"Our investigations are continuing, and to that end we strongly encourage people who have information that might be helpful to our efforts to root out corruption to bring that information to our attention," U.S. Attorney John Lausch said.
The fact that the court hearing came on the same day legislators returned to Springfield doesn't seem like coincidence, according to House Minority Leader Jim Durkin, who said that ethics reform is one of Republicans' top priorities for the year.
"The rumors around this building about Sen. Sandoval have been here forever and when the search warrant came out, most people said, 'Why did it take so long?' That's not enough. He needs to pay his debt to society and I'm glad he's indicated that he is cooperating to ... bring (other offenders) to justice," Durkin said. "They should be looking over their shoulder and every person that was mentioned or referenced in the Sandoval search warrant, whether by name or by letter or by number should be very concerned about their future."
Follow Amanda Vinicky on Twitter: @AmandaVinicky
---