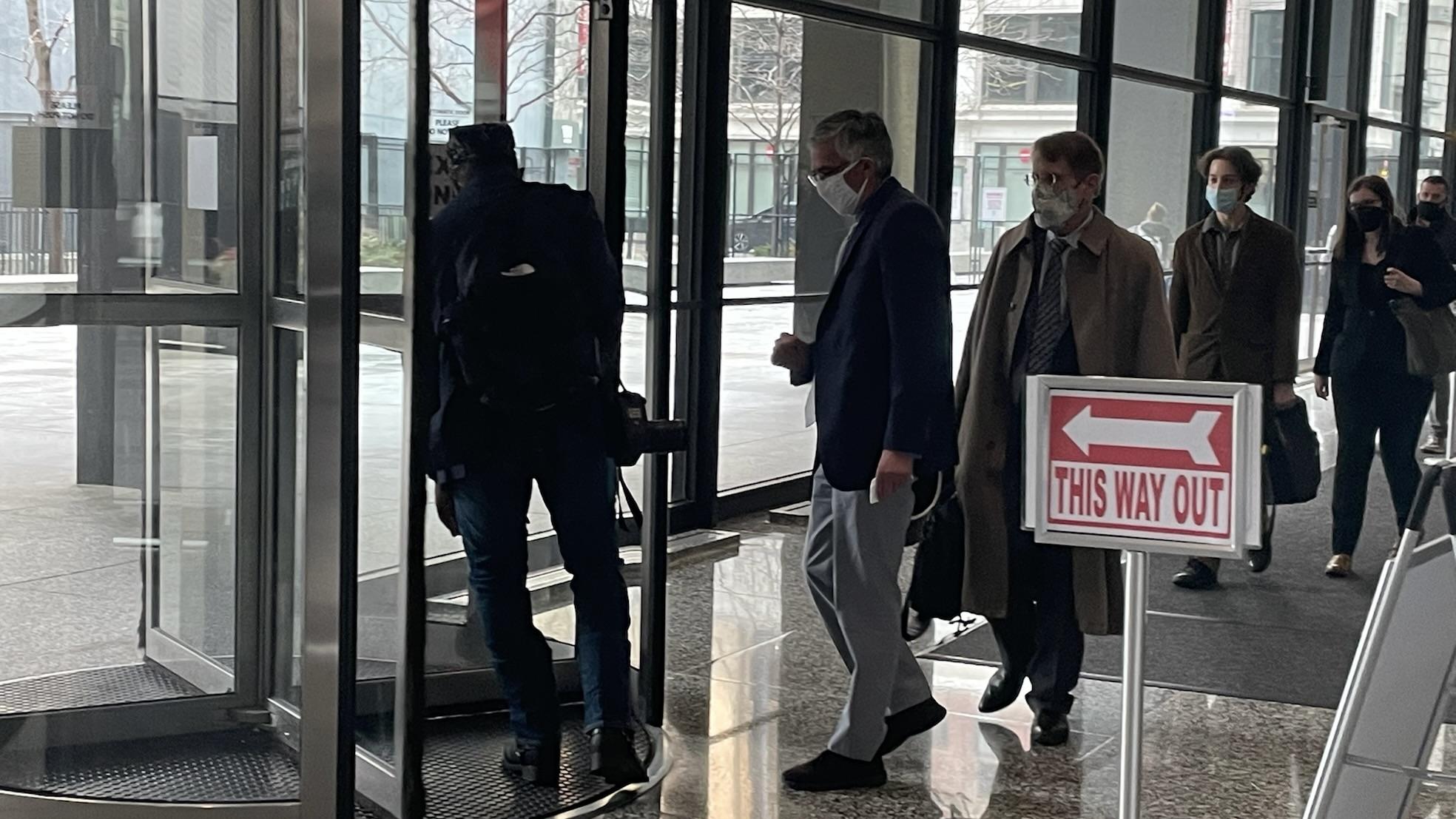 Former Ald. Ricardo Muñoz, center, leaves the Everett M. Dirksen U.S. Courthouse on March 17, 2022. (Heather Cherone / WTTW News)
A federal judge on Thursday sentenced former Ald. Ricardo Muñoz (22nd Ward) to 13 months in prison after he pleaded guilty to charges that he drained $16,000 from the bank account of the City Council's Progressive Reform Caucus and used those funds to pay for a relative's college tuition.
Muñoz, 56, had asked U.S. District Judge John F. Kness to sentence him to probation, pointing to his decades of public service and the fact that the former Little Village alderperson was less corrupt than other Illinois politicians — like former Gov. Rod Blagojevich — sent to prison.
The sentencing hearing was delayed for nearly six months by the surge of COVID-19 driven by the omicron variant.
Federal prosecutors urged Kness to incarcerate Muñoz and send a message to other politicians who may be tempted to engage in corrupt acts. The U.S. Attorney's Office asked that Muñoz be sentenced to one year and one day in prison.
Muñoz asked to serve his sentence in a federal prison in Duluth, Minnesota, and is scheduled to surrender on June 1.
Muñoz appeared deeply shaken by the stiffer-than-expected prison sentence.
"If I were to sentence you to probation, I think the community would draw the wrong conclusion," Kness told Muñoz.
Kness said that Muñoz violated the trust placed in him by the voters of the 22nd Ward by helping "yourself to money you had no right to" as part of a three-year scheme.
"I don't agree with the argument that because public corruption is ongoing and persistent, apparently that I should just throw up my hands and not sentence you to a term of imprisonment because it won't do any good," Kness said.
Before he was sentenced, Muñoz pleaded with the judge for leniency.
"What I did was wrong and I am ashamed," Muñoz told the judge. "You do not know how much remorse I have."
Assistant U.S. Attorney Morris Pasqual called Muñoz the "latest in a long line of Chicago city aldermen convicted of using their public office for private gain" and asked the judge to incarcerate the former alderperson for one year and one day.
Muñoz is guilty of public corruption and knowingly chose to break the law to enrich himself and his friends and relatives, Pasqual said.
"The public has a right — society has a right — to demand a higher standard from public officials," Pasqual said.
Muñoz is not guilty of "impulsive, one-off conduct" that broke the law, but carefully executed a plan to use funds raised by the Progressive Caucus for his personal benefit, Pasqual said. 
"There have to be serious consequences" for the "serious, substantial and significant" wrongdoing committed by Muñoz, Pasqual said.
Attorney Richard Kling, representing Muñoz, told the judge the former alderperson acted out of greed but urged him to consider Muñoz's decades of service to the 22nd Ward, which includes Little Village and North Lawndale.
"Sometimes good people do foolish, thoughtless, stupid things," Kling said, telling the judge it was punishment enough that Muñoz would be a convicted felon for the rest of his life.
Muñoz agreed to pay back an additional $6,800 to the progressive caucus as part of the resolution of his court case.
Two members of the Chicago City Council are under indictment. Former Ald. Patrick Daley Thompson (11th Ward) was convicted Feb. 14 on seven counts of lying to federal bank regulators and filing false tax returns, forcing his resignation.
Muñoz's prison sentence for stealing funds from his closest allies on the Chicago City Council capped a political career spanning a quarter century that began when former Mayor Richard M. Daley appointed him to the Chicago City Council in 1993.
Muñoz announced in July 2018 he would not run for reelection, saying he wanted "to make some real money."
Muñoz was removed from the Progressive Caucus — formed to oppose former Mayor Rahm Emanuel — in January 2019 after being charged with misdemeanor domestic battery. He entered treatment for alcoholism soon after.
Police said Muñoz hit his wife during an argument, but he was acquitted by a judge.
Ald. Scott Waguespack (32nd Ward), then chair of the Progressive Reform Caucus, announced the questionable spending by Muñoz and notified authorities in April 2019.
It is against the law for politicians to use campaign funds for personal expenses.
Muñoz was replaced on the City Council by his one-time ally, Ald. Mike Rodriguez (22nd Ward).
The indictment alleged Muñoz used funds contributed to the caucus to support progressive initiatives to cover a variety of expenses, including $4,000 for jewelry and skydiving trips. The indictment also alleges Muñoz used the caucus' campaign funds to spend $161 at a suburban Lover's Lane.
The fraud began in 2016 and ended in 2019, according to the indictment.
Muñoz withdrew cash from the caucus' bank account and used the fund's debit card more than a dozen times, according to the indictment. In other instances, Muñoz withdrew funds from the caucus' bank account and then transferred it to his personal campaign account, Citizens for Muñoz, and then to his personal checking account, according to the indictment.
Had Muñoz been convicted of both of the charges he pleaded guilty to, he could have faced a maximum of 30 years in prison and a $500,000 fine, even as sentencing guidelines called for a lesser penalty.
Contact Heather Cherone: @HeatherCherone | (773) 569-1863 | [email protected]