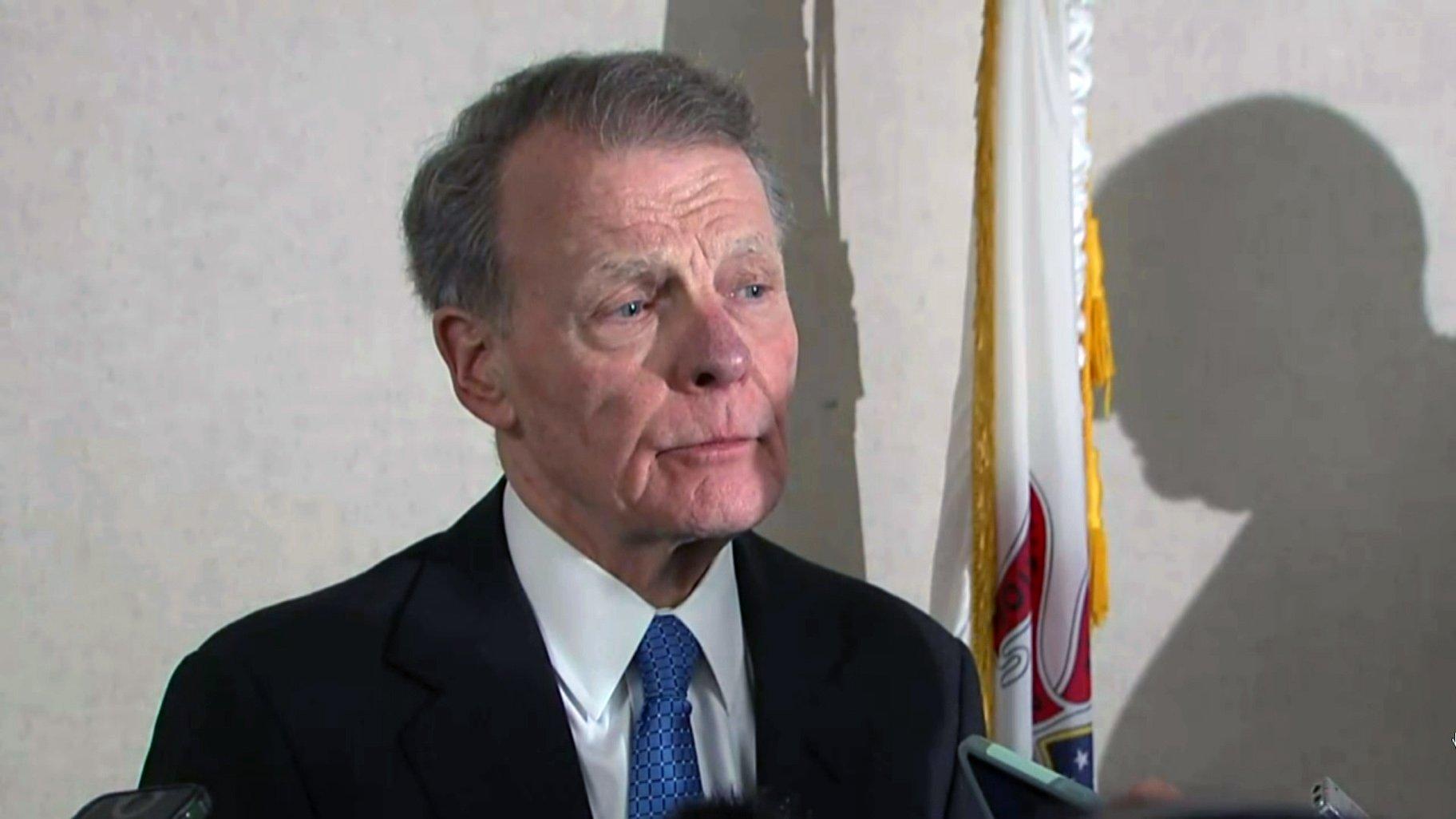 (WTTW News)
Former Illinois House Speaker Michael Madigan is set to stand trial on April 1, 2024, on 23 counts alleging that he participated in — and benefited from — a variety of corruption schemes, nearly two years after he was indicted.
The trial is scheduled to last six to seven weeks, attorneys told U.S. District Court Judge John Blakey during a brief hearing that took place by phone Monday. 
Madigan, 80, was not present during the hearing, and has not yet appeared in person in federal court after his March 2022 indictment. The former speaker is set to be tried alongside Michael McClain, one of his closest aides and confidants. Both have pleaded not guilty to all charges.
Efforts to set a trial date for Madigan were delayed by the massive amount of evidence marshaled by the federal government against the former powerbroker and restrictions put in place to stop the spread of COVID-19. Madigan is set to celebrate his 82nd birthday while on trial.
Madigan represented the 22nd District on Chicago's Southwest Side for 50 years and led the Democratic Party of Illinois for 20 years before he was forced from power in early 2021, his career ending amid scandal despite his carefully cultivated reputation as the "Velvet Hammer," the state's most powerful politician and enforcer of party discipline.
Madigan's decades-old grip on power began to erode in December 2020 when Commonwealth Edison officials admitted the utility giant arranged jobs, contracts and payoffs for Madigan's associates to win Madigan's crucial support.  
With Madigan's backing, state lawmakers allowed ComEd to hike electricity rates.
As part of a deferred prosecution agreement, the firm agreed to pay a $200 million fine to resolve federal corruption charges.
McClain is accused of orchestrating the scheme to bribe ComEd.
McClain was also charged in November 2020 along with ComEd and Exelon executive Anne Prammagiore, former ComEd government relations vice president and later lobbyist John Hooker, and former City Club of Chicago president Jay Doherty in connection with that scheme. All have pleaded not guilty, and are scheduled to stand trial on March 6.
Madigan is also charged with engaging in a similar scheme with the leaders of telecommunications giant AT&T. 
AT&T Illinois admitted that in 2017 it arranged for a Madigan ally to receive $22,500 in payments from the company, which would be paid out through an intermediary — a lobbying firm that performed services for AT&T Illinois, according to prosecutors.
AT&T Illinois paid a $23 million fine as part of a deferred prosecution agreement that will resolve the charges.
Former AT&T Illinois president Paul La Schiazza pleaded not guilty in October to six charges stemming from the firm's efforts to win Madigan's backing by hiring his friends and associates.
Apart from the ComEd and AT&T bribery schemes, Madigan is also charged with illegally steering business to his private property tax law firm amid efforts to turn a vacant piece of land in Chinatown into a commercial development.
Contact Heather Cherone: @HeatherCherone | (773) 569-1863 | [email protected]
---