Update: Ex-Gov. Blagojevich Released from Prison After Trump Pardon
After multiple media outlets reported that President Donald Trump planned on commuting the 14-year prison sentence of former Illinois Gov. Rod Blagojevich, the president confirmed the news himself.
"I did commute his sentence," Trump told reporters Tuesday afternoon while speaking at the Joint Base Andrews in Maryland.
Citing multiple high-level administration sources, ABC News on Tuesday first reported that the president was planning to follow through on a long-rumored move to free Blagojevich more than four years before his release date. The New York Times later reported Trump had indeed commuted Blagojevich's sentence and was "planning on announcing it soon."
Blagojevich was convicted in 2011 on charges including wire fraud, attempted extortion, bribery and conspiracy for attempting to sell the Senate seat vacated by President Barack Obama.
The 63-year-old Democrat exhausted his last appellate option in 2018 and had seemed destined to remain behind bars until his projected 2024 release date. His wife, Patti, went on a media blitz in 2018 to encourage Trump to step in, praising the president and likening the investigation of her husband to special prosecutor Robert Mueller's investigation into Russian meddling in the 2016 election — a probe Trump long characterized as a "witch hunt."
"I want to see the specifics," Mayor Lori Lightfoot told reporters after learning of the commutation. "I think there's a lot of people who oppose this action, given what Blagojevich did during his time in office. But let me find out more particulars before I comment further."
Prosecutors have balked at the notion long fostered by Blagojevich that he engaged in common political horse-trading and was a victim of an overzealous U.S. attorney, Patrick Fitzgerald. Fitzgerald said after Blagojevich's arrest that the governor had gone on "a political corruption crime spree" that would make Abraham Lincoln turn over in his grave.
Mueller – a subject of Trump's derision – was FBI director during the investigation into Blagojevich. Fitzgerald is now a private attorney for another former FBI director, James Comey, whom Trump dismissed from the agency in May 2017.
The federal legal team that convicted Blagojevich – Reid Schar, Chris Niewoehner, Carrie Hamilton and Fitzgerald – issued a joint statement following Trump's announcement, noting that while the former governor's sentence may have been shortened, "the fact remains that (he) was convicted of very serious crimes."
"Although the President has exercised his lawful authority to commute the remaining portion of Mr. Blagojevich's prison sentence, Mr. Blagojevich remains a felon, convicted of multiple serious acts of corruption as governor," the statement reads.
He was originally convicted on 18 counts, but the 7th U.S. Circuit Court of Appeals in Chicago in 2015 tossed five those convictions, including ones in which he offered to appoint someone to a high-paying job in the Senate.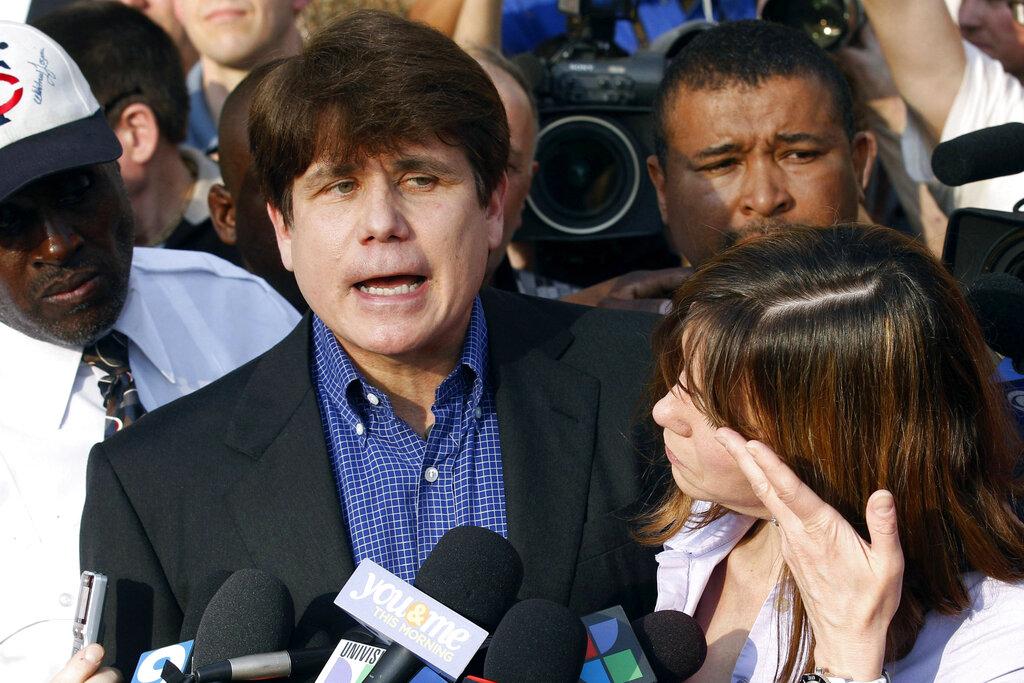 In this March 14, 2012, file photo, former Illinois Gov. Rod Blagojevich speaks to the media outside his home in Chicago as his wife, Patti, wipes away tears a day before reporting to prison after his conviction on corruption charges. (AP Photo / M. Spencer Green, File)
The appeals court ordered the trial judge to resentence Blagojevich, but suggested it would be appropriate to hand him the same sentence, given the gravity of the crimes. Blagojevich appeared via live video from prison during the 2016 resentencing and asked for leniency. The judge gave him the same 14-year term, saying it was below federal guidelines when he imposed it the first time.
Trump has previously floated the idea of using his presidential clemency powers to help Blagojevich multiple times, including last August, when he said he was thinking "very seriously" about commuting his sentence.
In a statement, Gov. J.B. Pritzker said Trump had "abused" his pardon power, sending "the wrong message at the wrong time."
"Illinoisans have endured far too much corruption," he said, "and we must send a message to politicians that corrupt practices will no longer be tolerated."
Illinois House Minority Leader Jim Durkin also said he strongly disagreed with the commutation, stating that Blagojevich's actions distract from an ongoing federal corruption probe throughout the state.
"(There are) more deserving people in the federal Bureau of Prisons who could use relief from this president other than Rod Blagojevich," he said.
Blagojevich served his sentence at the Englewood federal prison in Littleton, Colorado. His release date had been scheduled for March 13, 2024.
The Associated Press contributed to this report.
---