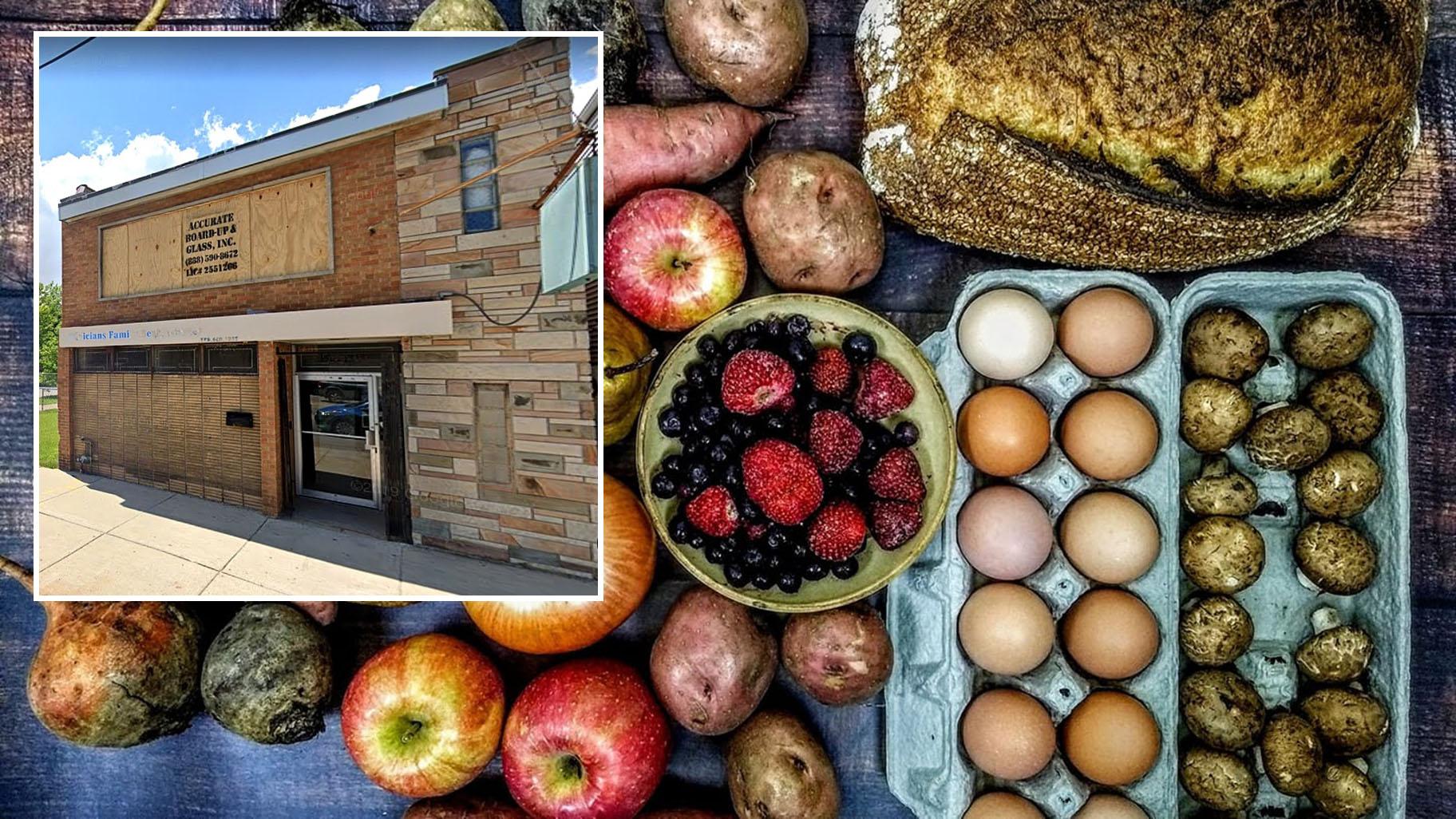 Star Farm has purchased the building at 5256 S. Ashland Ave., with plans to transform it into a local foods co-op. (Background image: Star Farm; inset: Google Streetview)
Like a lot of urban growers, Stephanie Dunn, the founder and owner of Star Farm in Back of the Yards, sells her produce at farmers markets around Chicago.
Now she's about to start up a different kind of farmer's market, her own brick-and-mortar food co-op housed in a building Dunn is preparing to renovate thanks to a grant from the Neighborhood Opportunity Fund.
Dunn's plan for the long-vacant property at 5256 S. Ashland Ave., within walking distance of two of her growing sites, is an ambitious one: to create an oasis in a food desert.
For far too many of her neighbors in Back of the Yards, food pantries and liquor stores are the closest thing they have to a "grocer," she said. Dunn's Star Farm Fresh Market will offer fresh fruits and vegetables from farm partners; preserves, honey, bread and other foods from local producers; and organic items at an affordable price.  
While she rehabs the building, Dunn aims to have an outdoor version of the market up and running in the property's side yard in late 2021, and that's just a taste of what's to come.
Her vision goes well beyond the market. It also encompasses the construction of a shared kitchen, both for use by budding entrepreneurs and for cooking demonstrations; a community space where neighbors can gather (once gathering is something neighbors can do again); and shared offices for other South Side farmers.  
Until Star Farm received word it had received the grant — to the tune of $240,000 — Dunn wasn't sure how much of her master plan would come to fruition. Though the building has good bones, it needs a ton of work, Dunn said. The purchase price alone sapped her reserves, leaving little in the way of a budget for anything more than the bare minimum in repairs required to open the food co-op.
"We would have been chipping away at the rest for years. We'd have to sell a lot of tomatoes," she said. "Now we have the money to rehab it, and that's amazing. It's just exciting to create something positive. We hear it every day, how happy people are for this good news."
Dunn is collaborating on the building's design with architect Maria Bergh, whose firm, We Build Agency, is also based in Back of the Yards and has a social justice bent. 
They'll be "deconstructing" the building, salvaging and reusing materials as much as possible, partly out of thrift, partly to minimize waste and partly out of necessity.
Wood is "super marked-up" at the moment due to fires in California that destroyed tree farms, Dunn said, and it's also a scarce commodity as a result of mills shutting down during the coronavirus pandemic, as well as folks taking on home improvement projects while housebound. 
"There's probably $10,000 of lumber in those walls," Dunn said of the Ashland structure. "We'll use it to rebuild and in the garden."
She estimates she'll need to raise another $50,000 to completely fund all the "goodies" that will go into the shared kitchen, but is moving full steam ahead in terms of activating the space sooner rather than later.
Ultimately, Dunn said she'd like to open a string of fresh markets under the Star Farm brand, maybe as many as five, and has already identified a potential location in Bridgeport.
While she's willing to rent properties for future markets, Dunn said it was important to her to buy the Back of the Yards building outright for the sense of security and permanence it brings. She is, after all, investing her heart in the space.
"It's a beautiful project," Dunn said. "I don't want a bank to own it." 
Contact Patty Wetli: @pattywetli | (773) 509-5623 |  [email protected]
---