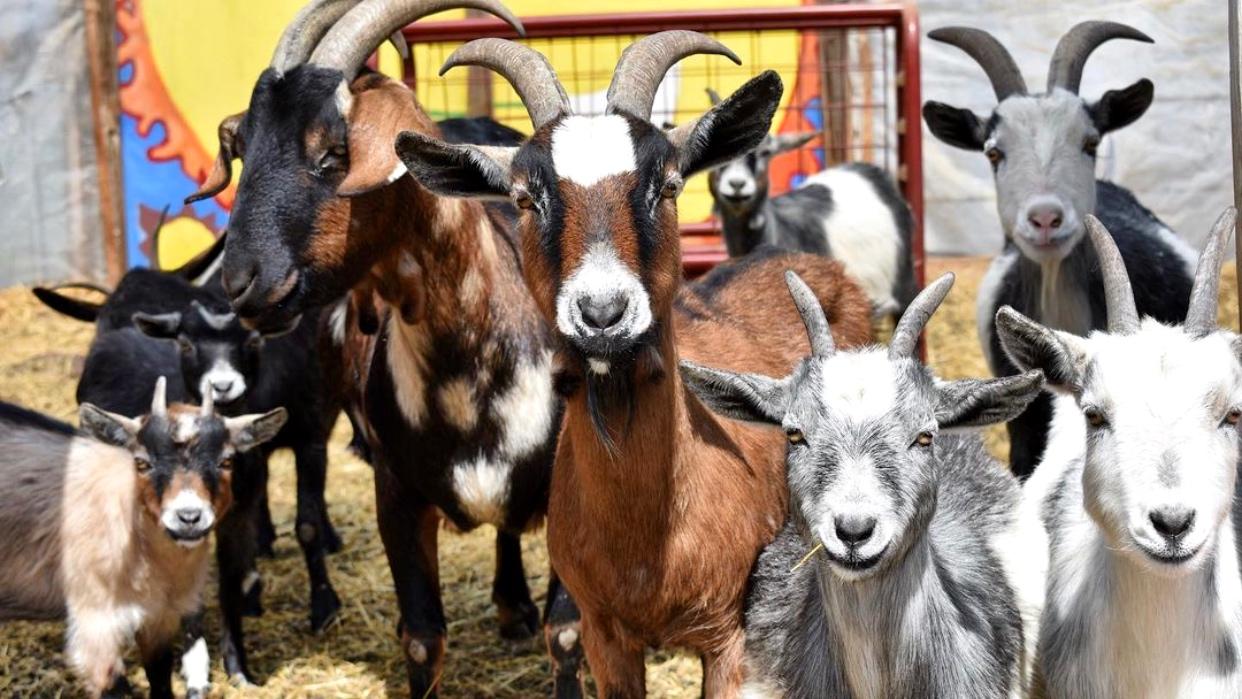 Urban Growers Collective maintains a herd of 17 goats at its South Chicago farm. (Courtesy of Urban Growers Collective)
If you thought hailing a pedicab to haul away your dried-up husk of a Christmas tree was an unconventional mode of recycling, well, we can top that.
There's a herd of goats on the South Side that keeps the holiday trees out of landfills by eating them, chowing down on discarded pines and firs for breakfast, lunch and dinner.  
"They just love chewing on the bark. It's food and it's also something for them to do," said Laurell Sims, co-founder and CEO of financials and self-professed "goat mama" for Urban Growers Collective, a nonprofit that operates eight urban farms in Chicago.
READ: Don't Trash Your Tree. Chicago's Christmas Tree Recycling Program Starts Jan. 9
Though goats are known for being voracious, indiscriminate garbage disposals, Urban Growers' herd of 17, which makes its home at UGC's South Chicago farm, is actually quite picky. They've been spoiled by a diet of fresh fruits and vegetables, as well as weeds, Sims said, so she was surprised to see them devour trees. She wasn't even sure it was healthy until her research confirmed that goats eating Christmas trees was indeed a thing.
For the past 6 or 7 years, the farm has accepted Christmas tree leftovers on behalf of the goats, but has never approached maxing out on the 15 to 20 trees the goats could stomach. (Staff parcels them out, a few branches at a time.) If folks are still looking to unload their tree, Sims said a drop-off can be scheduled at the farm, 9000 S. Mackinaw Ave., by emailing [email protected].
It's a great way to get out of the house, experience the farm and meet the goats, who "love being the center of attention," Sims said.
Due to the coronavirus pandemic, the goats have been lonelier than usual, with fewer visitors and volunteers allowed at the farm. In a typical year, Sims said, the herd is the star attraction at one of UGC's most popular fundraising events: goat yoga sessions.
"We do an hour class on the farm and bring a crew of the goats over. Not a lot of yoga gets done, it's complete chaos," said Sims. "It's a fun and easy way to introduce people to the work we do."
In 2021, plans are to build "playground" equipment for the goats, structures for the herd to climb and explore while charming guests.
Apart from their role as PR ambassadors, the goats serve a practical purpose, Sims said.  
The teens who participate in the farm's youth job training program care for the goats when they're on site, feeding the animals and cleaning their pens. 
"Our youth also create products from what they grow — teas, dried herbs, herbal beauty scrubs, honey, and herb-infused cooking salts. We are hoping to add goat's milk soap to this year's entrepreneurial product offerings," said Sims.
Perhaps scented with a hint of pine. 
Contact Patty Wetli: @pattywetli | (773) 509-5623 |  [email protected]
---