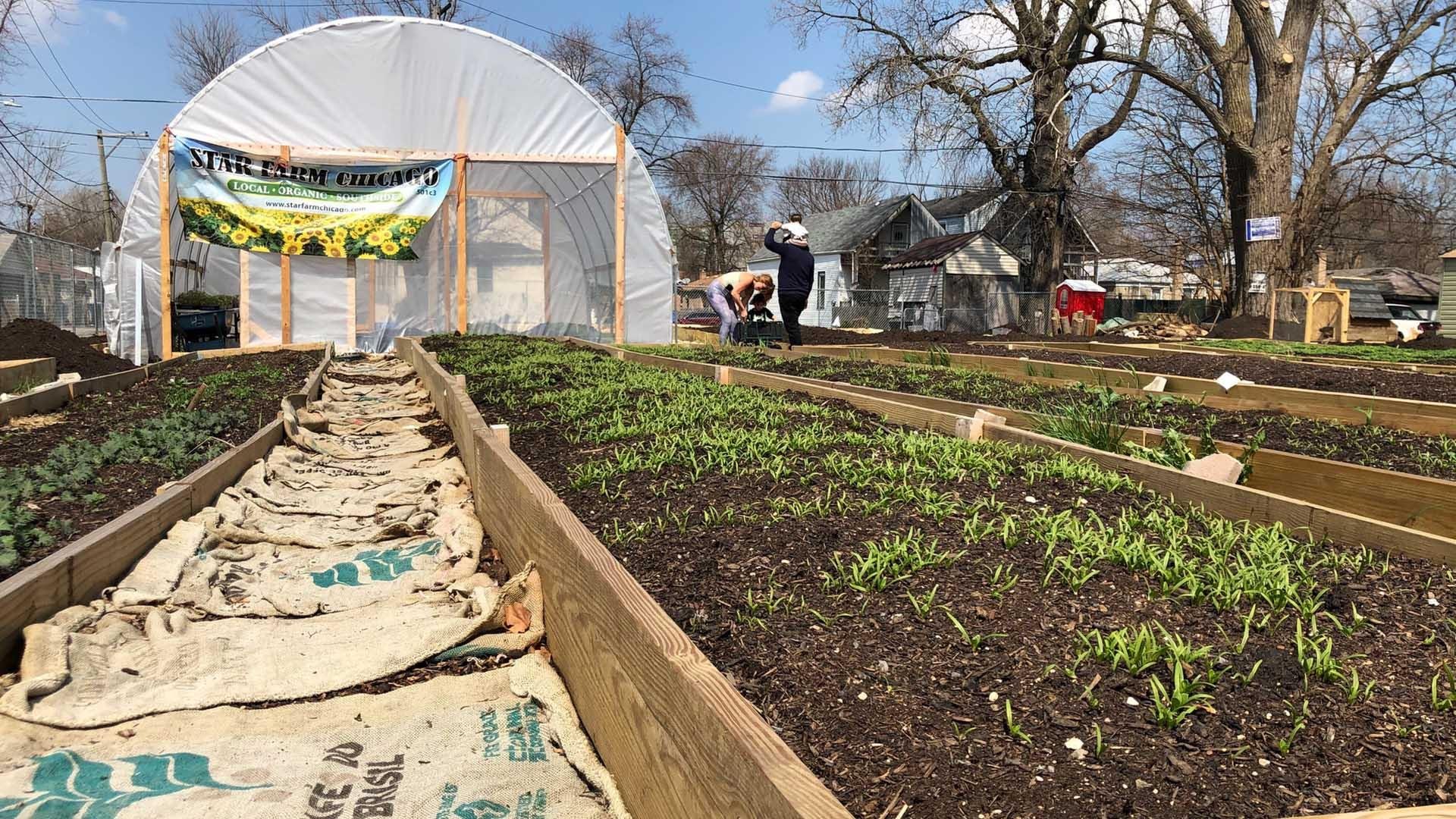 Star Farm in Back of the Yards makes up for in ambition what it lacks in size. (Patty Wetli / WTTW News)
With less than an acre of land split among three sites, Star Farm is smaller than some folks' yards.
But what the farm lacks in size, founder Stephanie Dunn makes up for in ambition.
Dunn, who has a background in education and advocacy in addition to her master gardener and farming credentials, established the nonprofit Star Farm in 2016 in Back of the Yards as a hybrid agricultural-social service enterprise. Her mission: to use urban agriculture to bring transformational change to the neighborhood that meatpacking built. 
If she succeeds, the result will be a healthier community in every sense of the word. 
Back of the Yards' relationship with food is a complicated one. Originally populated by members of the labor force that toiled at the nearby Union Stock Yards, the area has long been associated with industrial food production, and yet residents are hard-pressed to find a tomato or carrot within walking distance.
"There's people in the neighborhood who have to walk 2 miles round trip to go to the grocery store. So a lot of people, especially if they don't have a car, they tend to just rely on the closest food source to them," said Dunn, who both works and lives in the neighborhood. "Here on 51st to 55th (streets), it's most likely going to be a corner store, a gas station or a liquor store even. And those don't have the healthiest options."
Surveying Back of the Yards' vacant lots, Dunn saw disinvestment but also an opportunity to create resiliency and self-sufficiency. She constructed raised beds, hoop houses and chicken coops on this empty land, bringing the food supply to the people.
Dunn's fresh produce makes its way from the farm to neighbors' tables in a variety of ways, from Star Farm's participation at area farmers markets to pop-up booths at block parties to Community Supported Agriculture subscriptions, in which customers sign up for weekly or bi-monthly deliveries. Star Farm also donates produce to one of the neighborhood's food pantries, and fundraising efforts allow Dunn to provide CSA subscriptions for free to single moms and seniors, typically referred to her by social service agencies. (A $100 donation translates into 10 weeks of produce.)
In the spirit of "teach a man to fish," Star Farm and its partners also build residential gardens and chicken coops — a soup-to-nuts service that includes materials, construction, growing advice and, in the case of coops, even the chickens.
"We love that people want to participate in growing their own food and we want to support that as much as possible," said Dunn.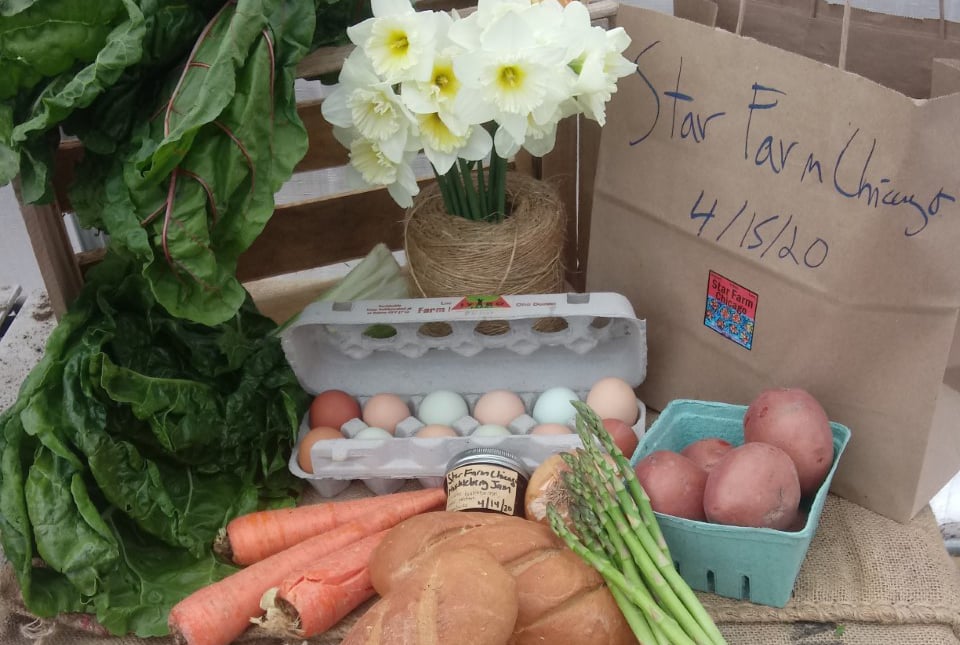 Star Farm was poised for what Dunn called a "breakthrough" year in 2020, with some significant corporate fundraisers on the books. 
Then came the coronavirus outbreak and Dunn, like pretty much every other entrepreneur, had to rethink her business model — only the stakes in her case were even higher.
Dunn was already well aware of the negative effects a lack of access to nutritional food could have on a person's physical well-being and life expectancy.
"Too many people we meet, they're my age, and they're 32 and they're the oldest person in their family," Dunn said of her neighbors. 
Many of them suffer from ailments linked to a poor diet like diabetes, hypertension and heart disease, which also happen to increase the risk of succumbing to COVID-19.
And that makes getting fresh produce onto the plates of neighbors all the more important.
"We want people to be healthy and live long," Dunn said.
So she had to get creative with her distribution channels.
Under normal circumstances, the Star Farm sites are open to neighbors, who are encouraged to visit and harvest their own produce. With social distancing guidelines in place due to the pandemic, Dunn has instead established set hours, beginning May 6, for when Back of the Yards residents can swing by for no-contact pickup of pre-harvested fruits and vegetables, offered for free or pay-what-you-can. 
And what if public gatherings, including farmers markets, remain prohibited for the foreseeable future? Many market organizers have been proactively exploring alternatives to their regular formats, perhaps along the lines of curbside pickup, that will accommodate SNAP recipients, whose benefits can't be accepted by online vendors. A solution hit upon by Star Farm in partnership with the 61st Street Market is a "give a market box" program to deliver produce boxes to households in the Kenwood/Woodlawn area. Chicagoans in a position to do so can contribute to the fund; every $40 donated will cover the cost of getting a shipment of fruits and veggies into the hands of an individual or family in need.  
To help subsidize the produce she's either giving away or heavily discounting, Dunn has opened up Star Farm's CSA for citywide delivery, having previously limited it to South Siders. The more subscribers who invest in her mission, the more people Dunn can feed.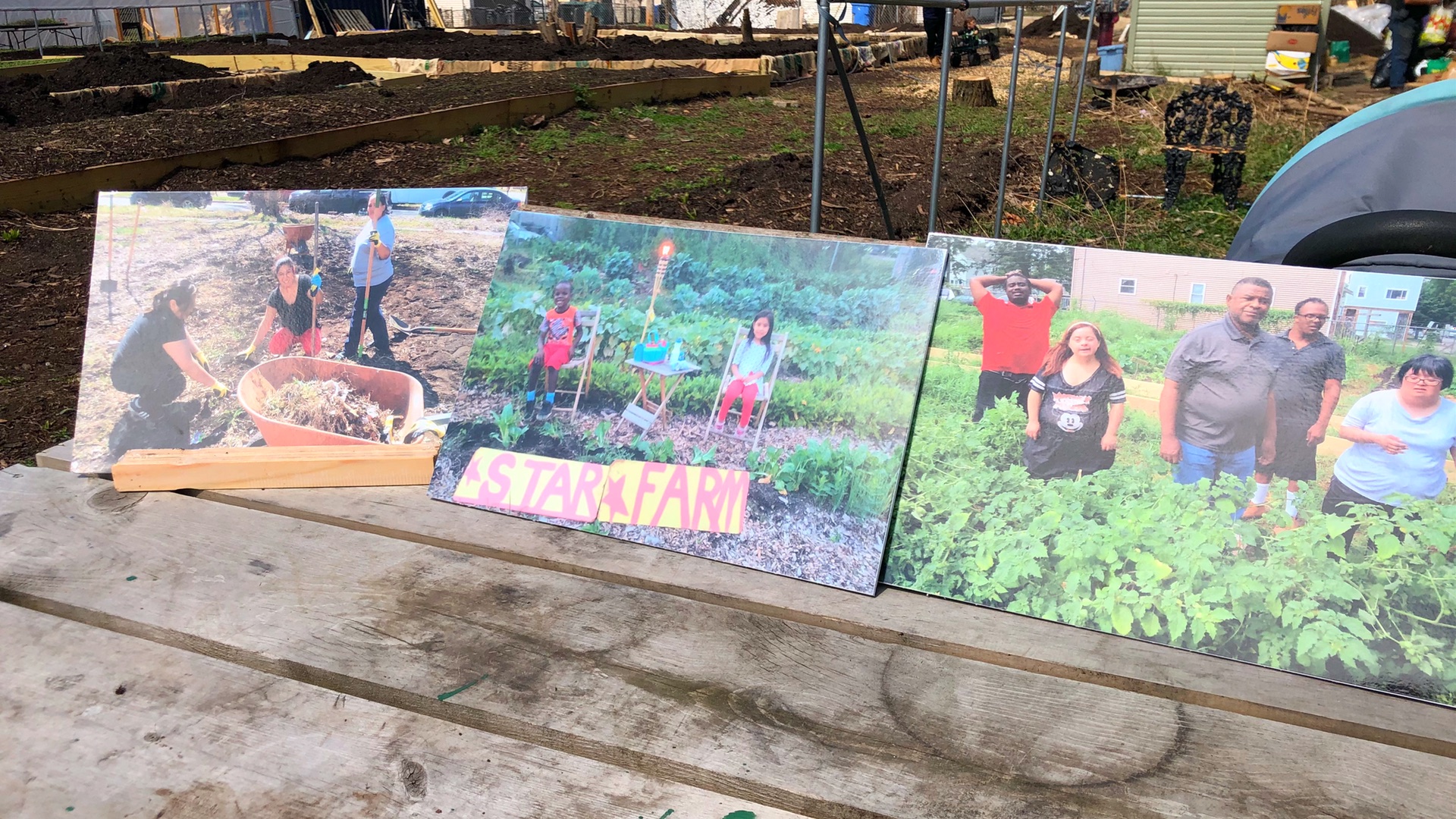 Normally Star Farm is a hub for community programming. Stephanie Dunn keeps photos on hand of participants. (Patty Wetli / WTTW)
To meet demand, Dunn has been on a "planting frenzy."
"I've just never tried to grow so much food as fast as possible," she said. 
In addition to the nutrient-dense microgreens that Star Farm cultivates year-round, Dunn has planted potatoes, onions, arugula, salad greens, kale, beets, carrots, spinach and radishes and has started hot weather crops like peppers, squash, cucumbers and tomatoes. Fruits include huckleberries and ground cherries, a perennial favorite neighbors can't seem to get enough of. 
"It's going to be so much produce," she said. "I really just want to make sure it gets out there and onto peoples' plates and makes them feel bright and alive."
Typically Dunn would be assisted on site by participants in Star Farm's community programs, which enroll neighborhood youth, women who've survived domestic abuse, and individuals with physical and developmental disabilities. 
"We're really trying to empower people using sustainability, horticulture and landscaping skills as a springboard into other employment," said Dunn, with the farm serving as a classroom and community center. "This is a whole platform for teaching customer service, nutrition, community outreach — hard skills and soft skills."
Graduates of the women-and-children program, for example, receive food service certification. Youth are often given the job of running the farm's social media accounts or handed tools to help build raised garden beds.
"They're ready to have responsibility," Dunn said. "There's a lot of talent in the neighborhood."
All of those programs, along with farm dinners, plans for a community kitchen and partnerships with neighborhood restaurants, are temporarily on hold in the midst of Gov. J.B. Pritzker's stay-at-home order during the coronavirus outbreak. 
"It's disappointing that the garden's not full of people right now. Normally there'd be laughter, there'd be mess making, there'd just be so much life happening here. It's been lonely," said Dunn.
"But we've just gotta put that aside and look forward to maybe hopefully later this year," she said. "If not, then next year."
Contact Patty Wetli: @pattywetli | (773) 509-5623 |  [email protected]
---