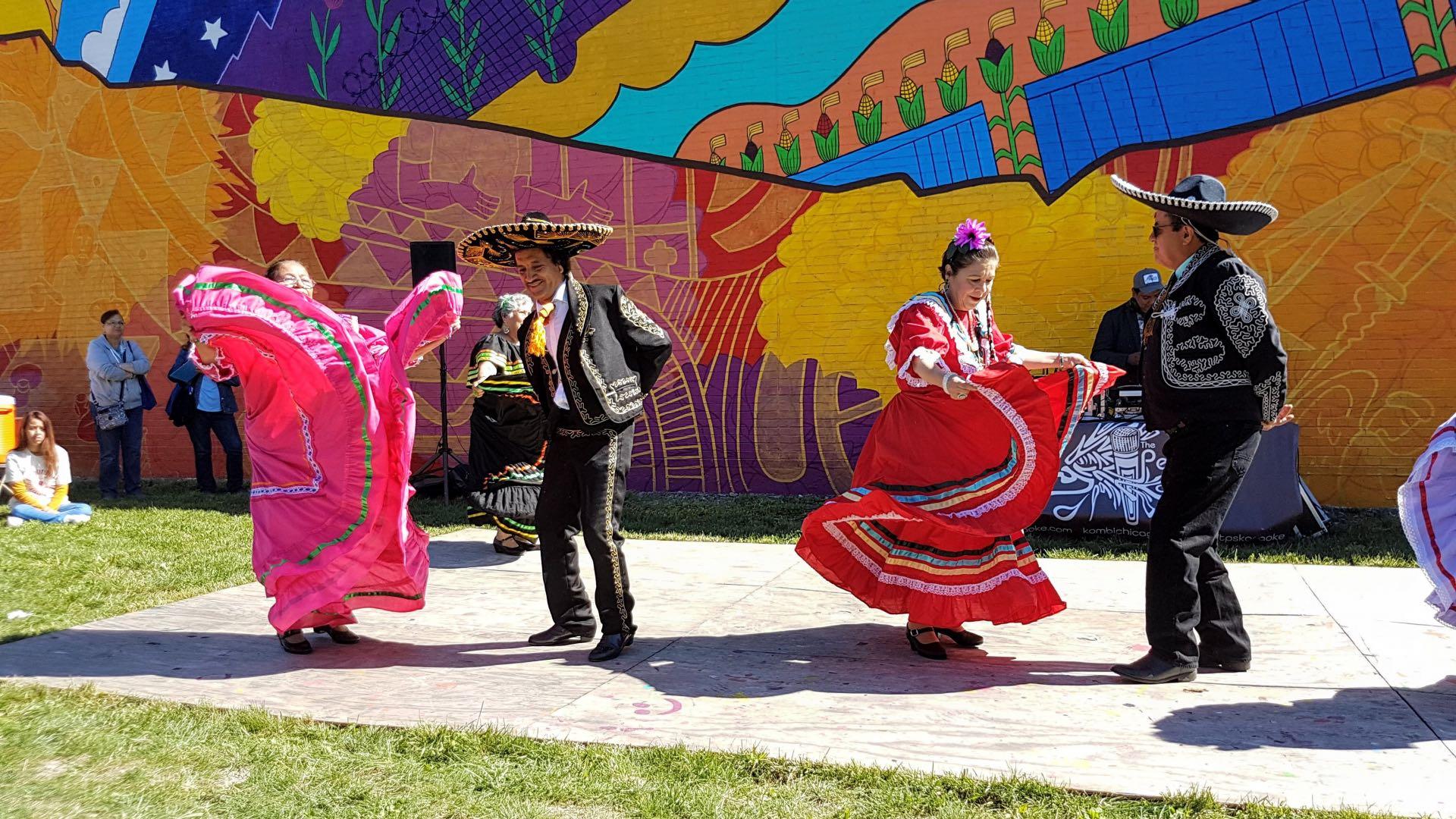 Community events and activities are as much a part of El Paseo's mission as gardening. (Courtesy of El Paseo Community Garden)
Despite a mountain of evidence to the contrary, 2020 hasn't been all bad. 
Supporters of Pilsen's El Paseo Community Garden have had plenty to cheer about this year, including a Creative Placemaking Award (and accompanying grant) from the MacArthur Foundation as well as approval from City Council in early October for a half-acre expansion.
The latter puts El Paseo's future on firmer footing amid growing concerns about gentrification in Pilsen. With the go-ahead from City Council, a vacant city-owned lot at 947 W. Cullerton St., bordering El Paseo, will be sold for $1 to the NeighborSpace land trust, which will own the property on behalf of El Paseo.
"That was seen as a huge win for the community," said Pilsen resident Paula Acevedo, who is co-director of El Paseo along with her husband Antonio. "There was a real fear of that lot becoming a luxury condo development."
Instead, the land could become a farm incubator or a nature play area or transformed into whatever other use of open space neighbors decide they want, she said.
To celebrate the expansion and other successes, the garden is hosting a self-guided open house from 2-4 p.m. Saturday at 944 W. 21st St. in lieu of its annual harvest festival, which was canceled due to the coronavirus pandemic. Masks will be required and social distancing will be enforced.
Guests are invited to explore the garden, crack open a can of Lo Rez Brewing's El Paseo Pale Ale (see sidebar, below) and enjoy highlights of El Paseo's programming and community partnerships, including all-ages yoga, dance performances and a beekeeping demonstration. A community design workshop will give neighbors an opportunity to brainstorm uses for the expanded green space. 
For Acevedo, the end-of-season event is reason to pause and not only take stock of the year's achievements — "I feel like every year, with every accomplishment we're able to extend our reach more and more," she said — but also to reflect on the work still to be done, much of which revolves around ensuring the garden's long-term sustainability.
The Acevedos, who live across the street from the garden with their toddler-aged son, became the volunteer (i.e., unpaid) co-directors of El Paseo in 2015, six years after the garden was founded on a former brownfield site. 
The land was initially set aside by the city during the development of the adjacent Casa Maravilla affordable senior housing complex. A community garden for tenants, on a strip of green sandwiched between a walkway and the new buildings, was included in the housing plan but no funding was allocated for a buildout.  
So community members bootstrapped El Paseo (originally called Growing Station), constructing raised beds — some assigned to individual gardeners, some collectively tended, some providing free produce for visitors — pushing for soil remediation and continually growing in scope. Additions over the years have included an outdoor learning classroom, public art projects, prairie plantings for pollinators, and community programs and events.
"We're not a gardening club," Acevedo said. "This is a community garden."
During the open house, guests can learn more about El Paseo's two most recent projects. The Acevedos will be joined by public officials for a ribbon-cutting ceremony signaling completion of the garden's permaculture "food forest," intended as an area for foraging, education and habitat preservation. They'll also showcase progress on El Paseo's El Convivio project, designed to increase accessibility for elderly neighbors, which is of particular importance given that the garden is next to a satellite senior center. 
The El Convivio area will incorporate amenities including planting stations constructed at table height, instead of low to the ground, and will have crushed stone paths that wheelchairs can easily traverse, as opposed to the typical wood chips.
El Convivio and the permaculture site have been funded by grants, which the Acevedos aggressively pursue along with corporate sponsorships for all major projects. Buildout, though, is entirely dependent on volunteers, led by Antonio Acevedo and other El Pasero stalwarts.
"It's grown from the community, this is not a city project," Paula Acevedo stressed. "When people are part of a bigger thing, it creates a sense of pride and ownership." 
"Ownership" of a public space is a tricky concept. For those who've invested time and sweat equity in El Paseo, turning an abandoned, polluted site into a community eden, the garden feels like theirs.
But who will El Paseo belong to or benefit if people like the Acevedos can no longer call Pilsen home? That's the question Paula Acevedo wrestles with.
An announcement in 2016 by then-Mayor Rahm Emmanuel of a proposed 4-mile Paseo Trail, designed to connect Pilsen and Little Village along a former BNSF rail line, sparked concerns that real estate prices would skyrocket along the trail just as they had along the Bloomingdale Trail. (A segment of the trail would encompass El Paseo.) 
Though plans for the Paseo have stalled, interest in Pilsen as a trendy hot spot has only intensified. In recent years, Pilsen has been dubbed one of the "coolest neighborhoods in the world," a designation Acevedo doesn't dispute.
"It is a great neighborhood," she said. But the very things that make Pilsen great, and that includes the El Paseo garden, also make it a target for gentrification. 
"We could be seen as a cause for this," Acevedo said. "We've seen real estate listings posting pictures of the garden space."
The Acevedos are among those arguing for an affordable housing plan, one that would minimize the displacement of current Pilsen residents, including themselves, in the event of a development wave.  
"For me, being Mexican, it means a lot to live in a Mexican neighborhood," said Acevedo, who grew up in the south suburbs. "We've created a community here. I don't want to live anywhere else."
It's impossible to future-proof El Paseo, but if she could, Acevedo would ensure that the garden remains inclusive, welcoming to people of all ages, cultures, languages and incomes. There's a half-acre of land now held in trust that will preserve at least the spirit of that idyll.
"The vision is there, the passion is there," Acevedo said. "We can only hope."
---
Contact Patty Wetli: @pattywetli | (773) 509-5623 |  [email protected]