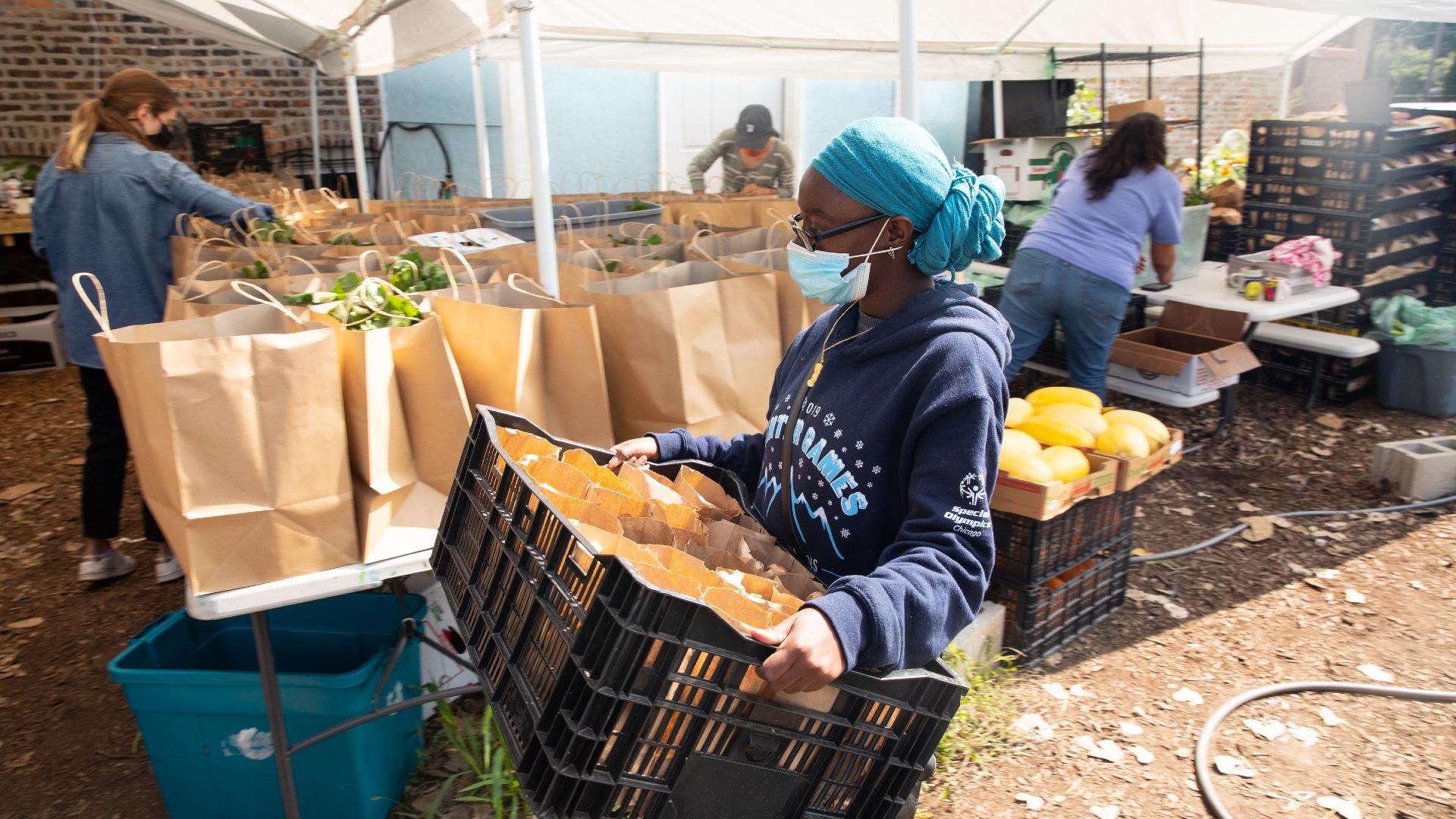 Volunteers at Star Farm pack bags of fresh produce, purchased from small farms, to be delivered for free to South Side residents through the Market Box program. (Davon Clark)
When the coronavirus pandemic hit in full force during spring, plenty of farmers already had seeds in the ground.
Crops were going to sprout regardless of stay-at-home orders or whatever reopening phase was declared by Gov. J.B. Pritzker or Mayor Lori Lightfoot. But with farmers markets on hold and restaurants closed, outlets for all that produce were scarce.
An unlikely buyer stepped up: Fellow farmer Stephanie Dunn, of Star Farm in the Back of the Yards neighborhood.
Dunn snapped up the produce on behalf of a mutual aid program hatched out of Experimental Station, a Woodlawn-based nonprofit that owns and operates out of a building of the same name. Its programs include the 61st Street Farmers Market.
The goal of the aid project was to help struggling small farmers by purchasing their produce, and in turn alleviating food insecurity among South Side residents by delivering the fruits and veggies to people for free.
The program, dubbed Market Box, was the brainchild of a coalition of Experimental Station tenants, including Build Coffee, Invisible Institute and South Side Weekly. The original, straightforward idea was to raise funds to sponsor 100 Star Farm CSA (community supported agriculture) subscriptions for South Side neighbors for up to a month. 
"In a moment when none of us could do exactly what we'd been doing, at the beginning of the pandemic, we deeply wanted to be of use. It was very natural for us to turn to each other and say, 'What can we do?'" said Hannah Nyhart, co-owner of Build Coffee. "One of the core premises of the project was that essentially your donation is acting twice because it's feeding people, but it's also directly supporting small farms."
As the crisis deepened economically and socially, growing from COVID-19 to encompass the civil unrest following the death of George Floyd, so did the partners' commitment to Market Box.
"When (Chicago Public Schools) briefly stopped their food distribution, just for one day, it was really scary for many people. When it felt like people couldn't count on that food source, there was this huge influx of support for (Market Box)," Nyhart said. "I think the impulse just is, 'We have to take care of each other.'"
Five months and more than 4,200 deliveries later, the program is entering its final weeks, pushing to raise the last $20,000 needed to finance Market Box through the end of October. (Donations to date have topped $140,000, blowing past the initial goal of $5,000.)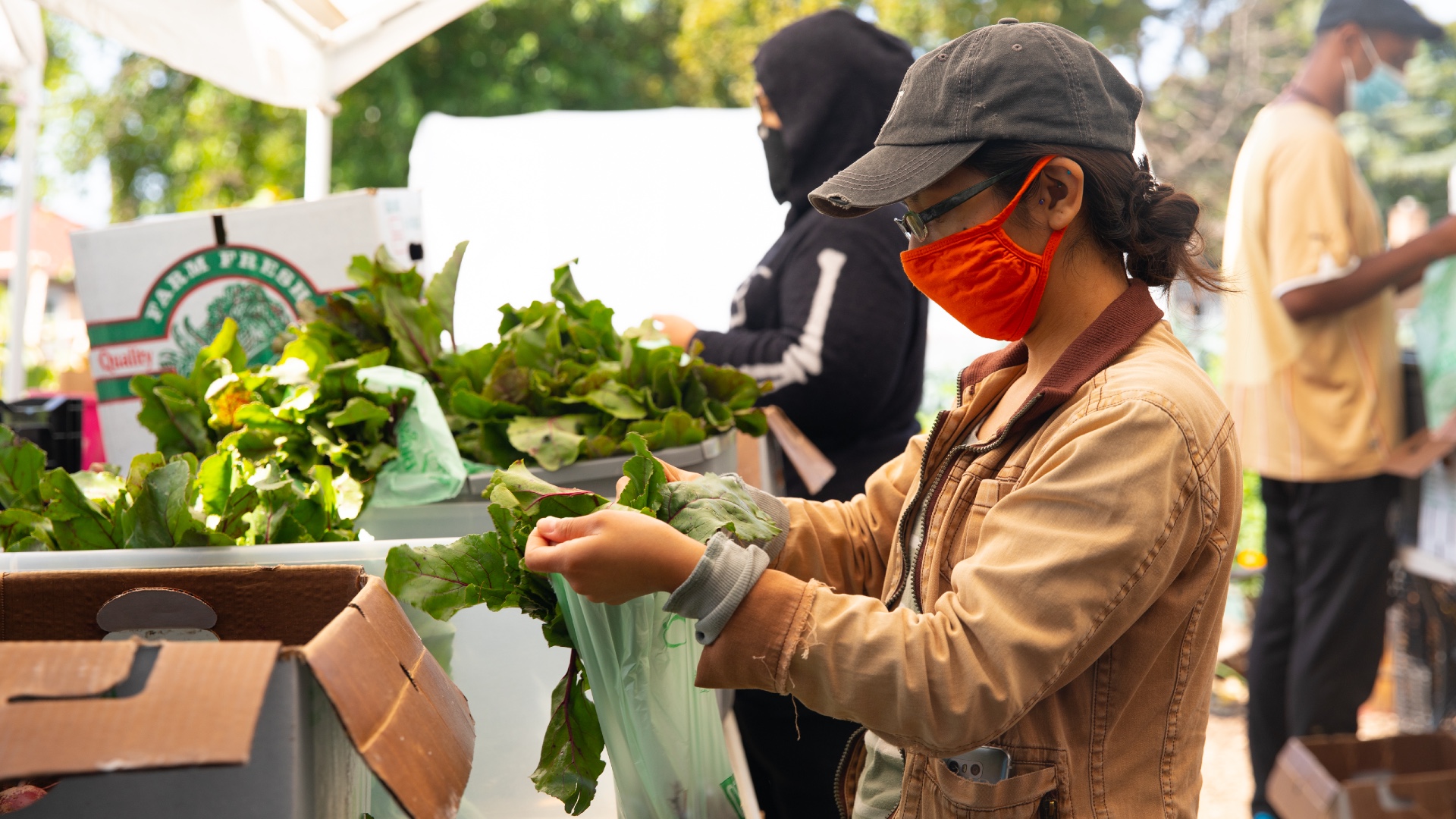 Volunteers pack bags of fresh produce, purchased from small farms, to be delivered for free to South Side residents through the Market Box program. (Davon Clark)
Dunn and her Star Farm team are responsible for sourcing and aggregating Market Box produce from more than two dozen growers, some urban, some rural. The response from farmers has been overwhelming.
"I've never had so many 'thanks.' People really were looking for ways to move their product," Dunn said. "Farmers were coming and delivering to us, sometimes for as little as $150 of product, and sometimes they would drive three hours round trip for that. They wouldn't even charge me delivery charges. I'd have to tell them, 'I'm putting $15 on here for your time.'"
Along the way, she adjusted her own crop plan so that Star Farm's contributions to Market Box would complement others, focusing on fast-growing crops like greens and high-maintenance ones like heirloom tomatoes. 
"I had to say goodbye to the purple cauliflower we all were looking forward to growing," said Dunn. "It just didn't make sense for our urban real estate because purchasing that from a grower outside of the city would be a lot less expensive."
A typical Market Box (actually a bag) contains seven to 10 varieties of produce. In recent weeks, bags have brimmed with Portobello and cremini mushrooms, sweet potatoes, fingerling potatoes, yellow onions, green beans, collard greens, kale, apples and Publican bread — all packed and delivered to individual homes by Star Farm.
It's been a heavy lift for her tiny team, Dunn said. Market Box represents a fraction of her operation — there's still a farm to run, for starters — and the pandemic meant that she couldn't rely on outside help, particularly in the program's early weeks, because of safety concerns.
"It was becoming pretty all-consuming for our staff and our operation. Our staff was getting pretty burned out working 12 hours a day in all kinds of weather conditions," she said.
By early July, Dunn was able to welcome back volunteers, which took a sizeable load off her team's shoulders. 
"In terms of credit where credit's due, Star Farm is obviously a huge force behind the project," Nyhart said. "They have risen very gracefully to the challenge."
For Dunn, the reward has been seeing produce typically earmarked for downtown or North Side neighborhoods redirected to the South Side. "People really want to step up to the demand of ending hunger. People respond to that very urgently and intrinsically," she said.
The pandemic has also brought into focus the importance of local food sources, particularly urban farms, Dunn said, pointing to the grocery stores that closed in the wake of protests and looting, some of which have yet to reopen.
"The farms are still there. Our farm stand is still up and running," said Dunn. "We're still productive."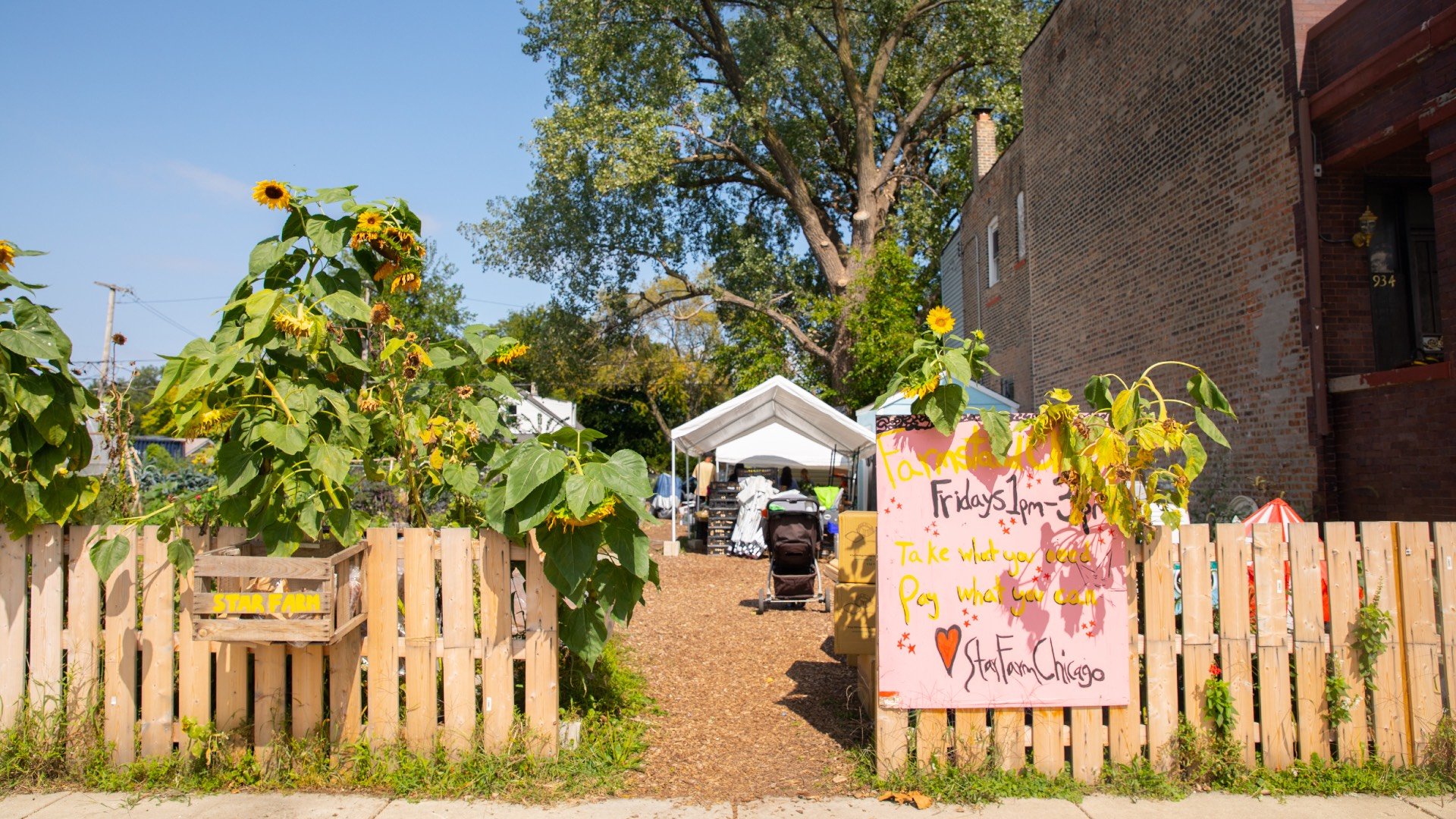 Star Farm in Back of the Yards has coordinated produce purchasing, storage, packaging and delivery for Market Box. (Davon Clark)
While Dunn handles the farm side of Market Box, the Experimental Station group has managed fundraising, communication and customer service.
Outreach in the program's early days consisted of the project's organizers tapping into their existing networks, contacting neighborhood schools, the alderman's office and community groups. Once deliveries started, though, news spread quickly through word of mouth.
"Every week there are people who are asking to sign other people up. Every week there are people that say, 'I have an elderly neighbor,' or 'My cousin just lost her husband, can I sign her up?'" said Nyhart. "A lot of the people signing up, it's other people looking out for them." 
The way the program works, Nyhart explained, is that Experimental Station maintains two lists of 200 people, and Star Farm delivers to each of those lists every other week.
Recipients are contacted via email or phone prior to a delivery to make sure they still want the food and that they'll be home to receive the delivery.
"So there's this level of connection. We and Stephanie really approached this from a place of care," said Nyhart. "We know that sometimes there is stigma around getting help. I think that having this feel like a) A thing that you can use if you're just a little bit off balance right now. And b) Something where what you're really getting is community care, has infused it with a degree of dignity.
She estimates there's 85% retention week to week, with 20 to 25 new people slotted in from a waiting list when others drop off.
"It's often people very explicitly saying, 'I want someone else to have it this week,'" Nyhart said. "I know there are folks who in the beginning of the pandemic signed up and when things stabilized or they got on unemployment were able to say, 'OK, I'm done, pass this onto somebody else.'"
People served by Market Box have ranged from folks plunged into precarity by the pandemic to those who were already in dire straits, she said. For that latter group, especially, program organizers have made an effort to provide information about additional resources.
Flyers are tucked into every Market Box, said Brigid Maniates, finance and HR administrator with Experimental Station. These might include a list of Love Fridge locations (another mutual aid program providing free food) or a COVID-19 resource finder. Deliveries also include copies of South Side Weekly, to keep people up to date on community news.
"We're trying to connect people with more than just Market Box," Maniates said.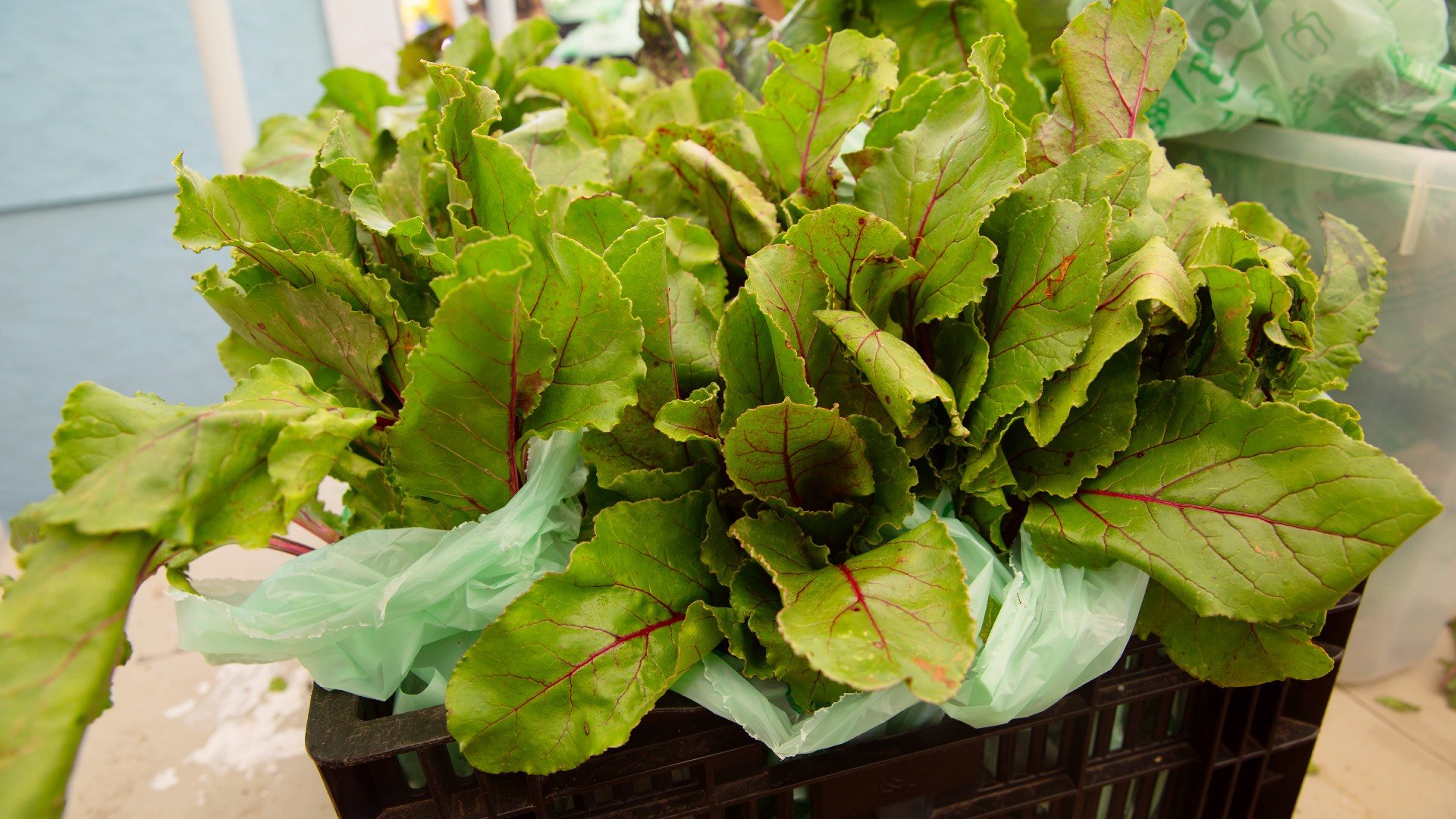 Organizers hope to revive the Market Box program seasonally, in one form or another. (Davon Clark)
The Market Box program has already been extended three times, but with many of the participating farmers winding down their operations for the year, the Experimental Station coalition made the decision to take a break at the end October. The hope is that the program can be replicated in 2021, whether by Experimental Station or someone else, Maniates said.
"This project has grown really beautifully, but it started as a seat-of-your-pants pandemic response project. I think you see that, across the board, a lot of these community-based projects, these kind ad hoc grassroots what-can-we-do-to-help-each-other projects, do get to a moment of reckoning that's sort of like, 'How do we make this sustainable long term?'" Nyhart said.
"I think that it is possible that this is a seasonal project, I do know that none of the organizations involved are going anywhere," she added. "Experimental Station is still going to be extremely active in food justice work. Star Farm is still going to be very active trying to get people food directly. Invisible Institute is still going to be working to inform their community. So much of our energy right now has been making sure that we can fund this commitment through October. We are going to need some down time to be like, 'Cool, what next?'"
Click here for information about how to donate to Market Box.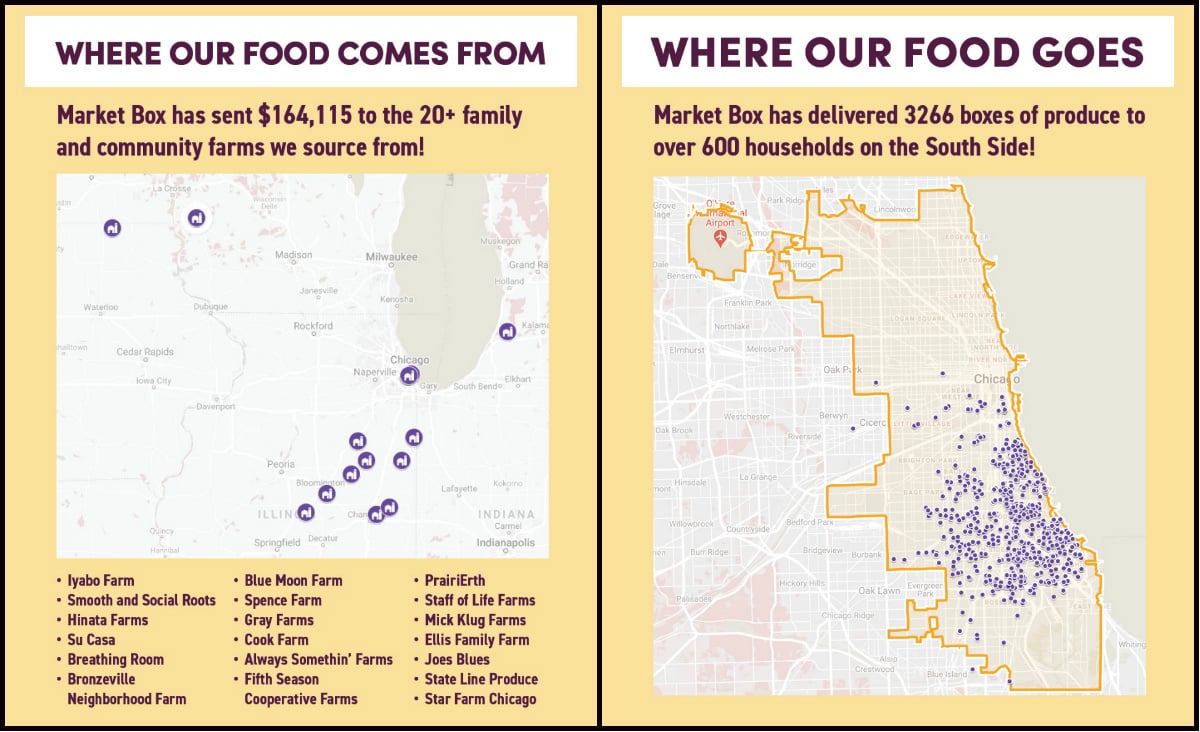 The range of Market Box's mutual aid, from participating farms to households served. (Courtesy of Experimental Station)   
---
Contact Patty Wetli: @pattywetli | (773) 509-5623 |  [email protected]