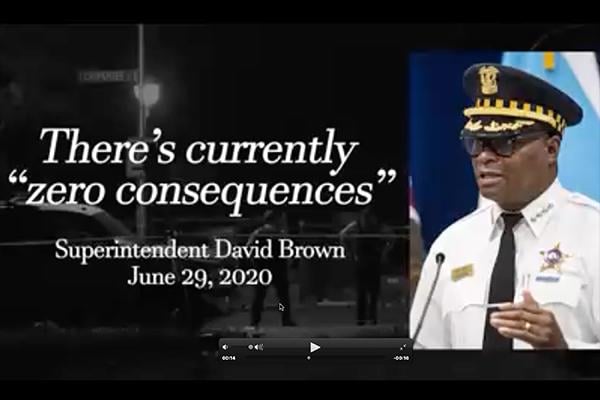 A screenshot from a campaign ad from former Cook County Judge Pat O'Brien shows a quoted phrase from Chicago police Superintendent David Brown. (Pat O'Brien for State's Attorney / YouTube)
The latest television ad from the Republican challenger running for Cook County State's Attorney uses a statement from Chicago police Superintendent David Brown to blast incumbent Kim Foxx, in an attempt to exploit tension between Foxx, Brown and his boss — Mayor Lori Lightfoot.
The 30-second advertisement from former Cook County Judge Pat O'Brien hammers Foxx for not doing enough to send those responsible for the murders of 49 Chicago children to jail, and makes its case with a June 29 statement from Brown.
Visibly angry after a violent weekend that saw three children shot to death, Brown told reporters "zero consequences" followed some gun arrests, which he said allows the "masterminds" behind gang-on-gang violence to get back on the streets quickly. 
Brown told reporters he was not blaming Foxx, but it was the first of several incidents in which the top cop — and Lightfoot — blasted the operations of the state's attorney's office for complicating their efforts to stop violent crime during the summer months.
O'Brien's ad prompted an unsolicited response on Sunday from Brown, who had the department's News Affairs office email Chicago reporters a one-sentence statement:
"As Police Superintendent I do not make political endorsements of any candidate," Brown said.
O'Brien told WTTW News on Monday that the ad did not imply that Brown had endorsed his candidacy, but appropriately made "fair use" of Brown's criticism of Foxx.
"Brown needs a state's attorney to stand with him," O'Brien said, adding that he would be the "best thing" for Lightfoot, since he would heed her call to lock up violent criminals.
However, Lightfoot has endorsed Foxx's re-election campaign and sent a tweet from her personal account on Oct. 20 blasting O'Brien, saying, "We can't go back to the bad old days. Chicago simply can't afford more of Pat O'Brien."
Lightfoot's tweet included a link to Capitol Fax, a blog that covers state politics, that highlighted $64 million in settlements paid to men who were wrongfully convicted when O'Brien served as the chief of criminal prosecutions for the Cook County State's Attorney's office.
Lightfoot said in a statement that O'Brien "took the superintendent's words out of context to make a deceptive political ad." 
"Mr. O'Brien knows he can't win on his record," Lightfoot said. "He can't defend the damage he caused to the families of these innocent men so he could look tough on crime. He can't defend the tens of millions of dollars taxpayers were forced to pay out for his mistakes because he put innocent men in jail."
However, O'Brien said his ad featuring Brown in his Chicago police uniform was no less fair than a recent ad from Foxx, which accused him of being a supporter of President Donald Trump, who is also a Republican. O'Brien said he had been a registered Democrat for most of his career.
Alex Sims, a spokesperson for Foxx, said the ad featuring Brown amounted to "more Trump-like tactics from Republican Pat O'Brien. As the mayor said — we can't go back."
Even though Foxx and Lightfoot are Democrats, Foxx is a close ally of Cook County Board President Toni Preckwinkle, whom Lightfoot defeated in the 2019 mayoral race. 
In addition, Lightfoot — a former federal prosecutor and president of the Chicago Police Board — has favored tough penalties for those convicted of violent crimes and gun crimes.
Along with Preckwinkle and Cook County Chief Judge Tim Evans, Foxx has worked to reform the county's criminal justice system to allow more defendants to go home while they await trial, instead of staying in jail.
Lightfoot and Chicago police brass have blamed those reforms as part of the reason behind Chicago's increasing violence, although the link is not clear and that claim is hotly contested by Foxx and groups that advocate for reforms.
That tension boiled over on the morning of Aug. 10, after caravans of cars headed to the Loop and North Side to loot stores and caused widespread destruction and mayhem.
Cook County State's Attorney Kim Foxx speaks to the media Monday, Aug. 10, 2020 after a night of unrest in Chicago. (WTTW News)
Lightfoot and Brown called on Cook County State's Attorney Kim Foxx to prosecute those arrested in connection with the looting. Brown said many were "emboldened" after being arrested but not charged by Foxx's office during the unrest touched off by the death of George Floyd at the end of May.
"Criminals took to the street with the confidence that there would be no consequences for their actions," Brown said.
Lightfoot called on Foxx and the Cook County courts to "put your best people on this."
"These people need to be held accountable and not cycled through the system," Lightfoot said.
Hours later, Foxx pushed back, vowing to prosecute those arrested for looting — but not those arrested for exercising their First Amendment rights.
"It does not serve us to have dishonest blame games when all of our hearts are breaking," Foxx said.
Contact Heather Cherone: @HeatherCherone | (773) 569-1863 | [email protected]
---