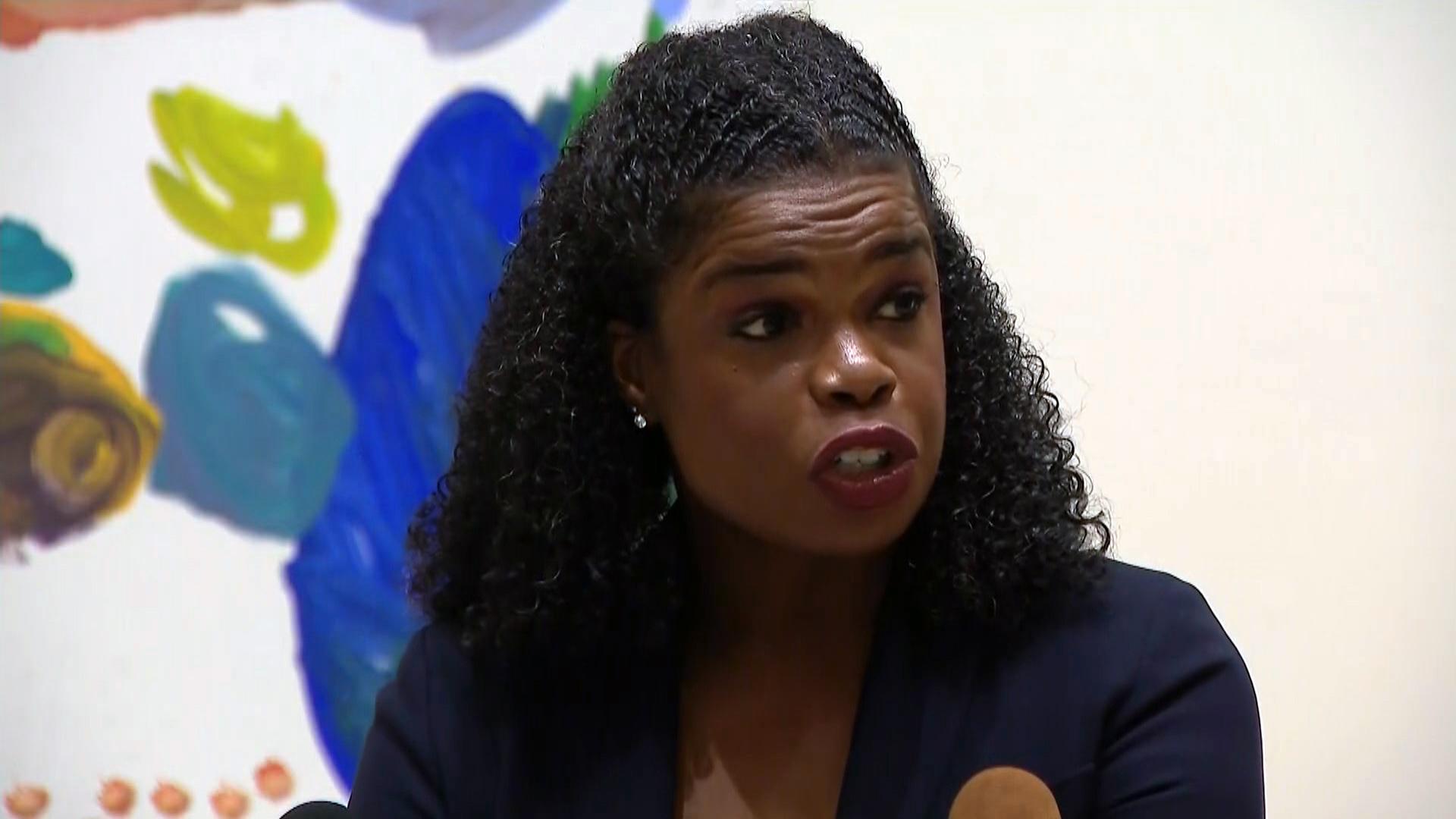 Cook County State's Attorney Kim Foxx speaks to the media Monday, Aug. 10, 2020 after a night of unrest in Chicago. (WTTW News)
Cook County State's Attorney Kim Foxx pushed back Monday afternoon on criticism from Mayor Lori Lightfoot and Chicago Police Superintendent David Brown, saying her office would prosecute people accused of looting — but not those arrested for exercising their First Amendment rights.
"It does not serve us to have dishonest blame games when all of our hearts are breaking," said Foxx, who is running for reelection in November.
The looting began when a caravan was organized on social media after a police officer shot and wounded a 20-year-old man in Englewood. Much of the city awoke Monday morning to widespread destruction and mayhem.
Brown said those who committed crimes were "emboldened" because Foxx did not charge many of those who were arrested during the unrest touched off by the death of George Floyd in Minneapolis police custody at the end of May.
More than 100 people were arrested between Sunday evening and Monday morning in connection with the looting, Brown said.
"Criminals took to the street with the confidence that there would be no consequences for their actions," Brown said. "And I for one refuse to allow these cowardly acts to hold our city hostage."
Lightfoot called on Foxx and the Cook County courts to "put your best people on this."
"These people need to be held accountable and not cycled through the system," Lightfoot said.
However, Foxx's spokesperson said the Chicago Police Department asked her office on Monday to prosecute 11 people on misdemeanor charges and 41 people on felony charges based on arrests made Sunday. Three of the felonies were related to the widespread looting, which started on the South Side, hit downtown and spread to Lincoln Park and Logan Square. 
Foxx urged Lightfoot and Brown not to conflate those arrested for committing crimes, such as looting, with those arrested for "peacefully protesting" Floyd's death, police brutality and systemic racism.
"We cannot conflate peaceful protestors with what we saw last night," Foxx said.
After unrest swept Chicago in the wake of the protests in late May and June, 71% of the cases Chicago police sent to the state's attorney's office did not allege felony offenses, Foxx said.
Between 400 and 500 people arrested by Chicago police in the wake of protests triggered by Floyd's death were engaged in "peaceful protests" when they were arrested on charges that they violated the city's curfew and for failing to disperse when ordered by police, Foxx said.
Those cases were not charged by the state's attorney's office, Foxx said.
However, charges are pending in 90% of the 300 felony cases brought to her office by Chicago police officers, Foxx said.
"When the cases are brought to us, and the facts and the evidence support it, we will charge those cases," Foxx said. "I think we owe the people of Chicago more than a simplistic narrative."
Brown's remarks were "not true," and obscure the hard work that all Chicago elected officials have to do to confront the root causes of violent crime, Foxx said.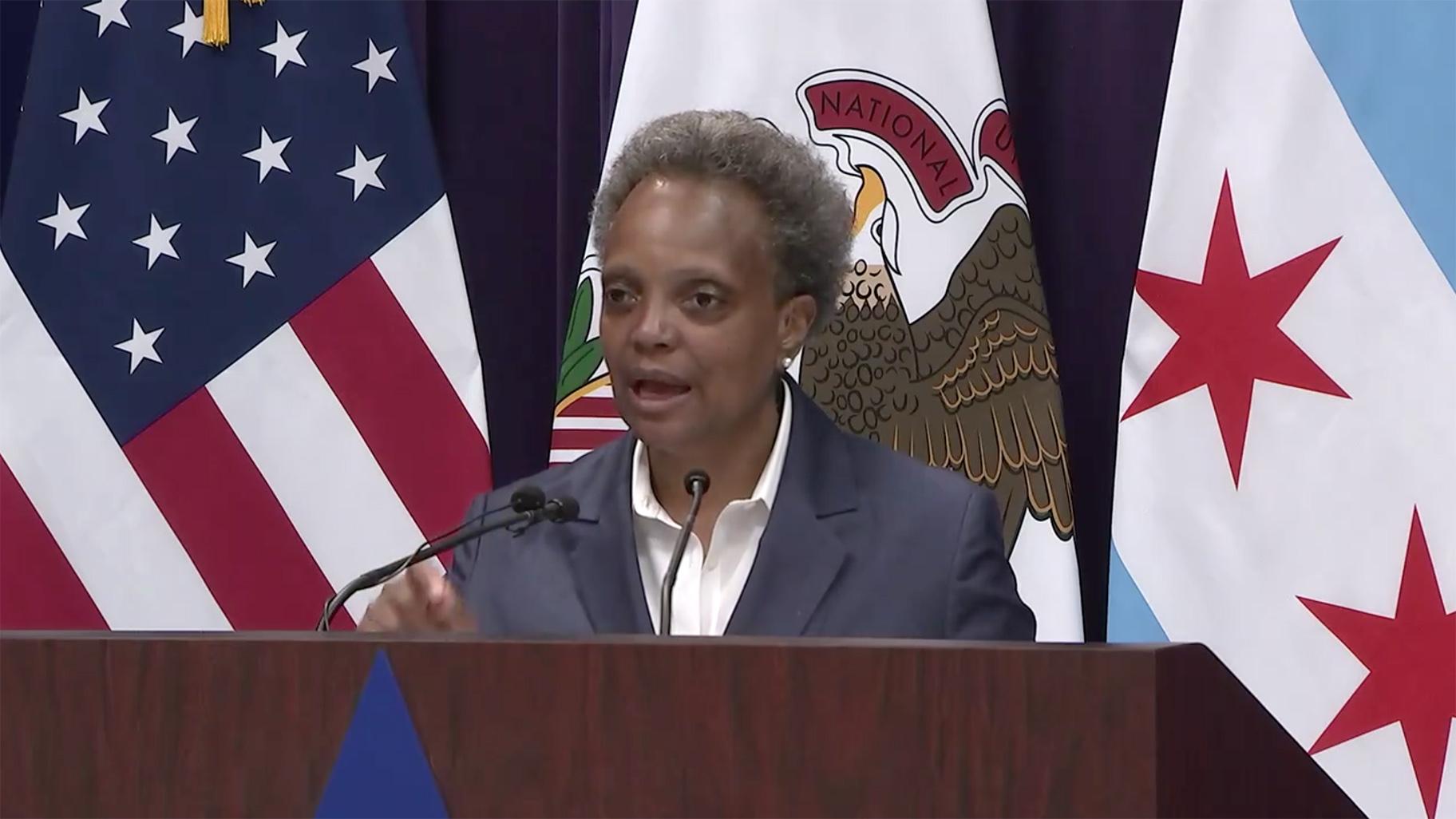 Mayor Lori Lightfoot speaks at a press conference Monday, Aug. 10, 2020. (WTTW News via @MayorLightfoot)
While Lightfoot did not mention Cook County Chief Judge Tim Evans or Foxx by name in her remarks Monday morning, her target was clear when she called for a "comprehensive, all-hands-on-deck strategy."
An all-hands-on-deck strategy "means rather than standing and pointing fingers, we work together," Foxx responded.
Evans said in a statement that the courts are working to hold those charged with crimes accountable.
"The administration of justice requires that each case be adjudicated impartially and independently based on the information presented to the court by the parties," Evans said.
Questioned about her criticism of Foxx, an angry Lightfoot warned a reporter not to "bait us." 
Lightfoot, who has endorsed Foxx's bid for reelection, added that she "values our partnership" with the state's attorney.
The conflict between Lightfoot, the Chicago Police Department and Foxx first flared last summer, amid an uptick in gun and gang violence.
The mayor said efforts by Foxx, Evans and Cook County Board President Toni Preckwinkle to reform the county's criminal justice system had resulted in too many people charged with gun possession being released from jail.
Foxx rejected that criticism, saying changes she has made to the state's attorney's office since her election in 2016 have served to ensure that poor Chicagoans are not sent to jail simply because they cannot afford to pay bail and to refocus its efforts on violent crime, rather than shoplifting and drug offenses.
Contact Heather Cherone: @HeatherCherone | (773) 569-1863 | [email protected]
---