Caravans of cars headed to the Loop and North Side to loot stores after a police officer shot and wounded a 20-year-old man in Englewood, causing widespread destruction and mayhem, Mayor Lori Lightfoot said Monday.
"We are waking up in shock this morning," Lightfoot said. "To be clear, this had nothing to do with ... First Amendment protected activity."
Access to downtown will be restricted from 8 p.m. to 6 a.m. indefinitely, and officers will work 12-hour shifts and all scheduled days off will be canceled, said Chicago Police Superintendent David Brown. 
Approximately 400 officers were sent downtown, and approximately 100 people were arrested on various charges, according to Brown
Thirteen officers were injured, including one who had his nose broken, Brown said.
A security guard and bystanders were shot during the melee and taken to the hospital in critical condition, Brown said.
Officers were also shot at by people in a passing car as they were attempting to arrest a man who was carrying a looted cash register near Michigan Avenue and Lake Street, Brown said. Officers returned fire, he said; none were injured.
"This was an assault on our city," Lightfoot said, adding that many of the stores looted Sunday night were struggling to recover from the coronavirus pandemic. "I do not care whatever justification was given for this."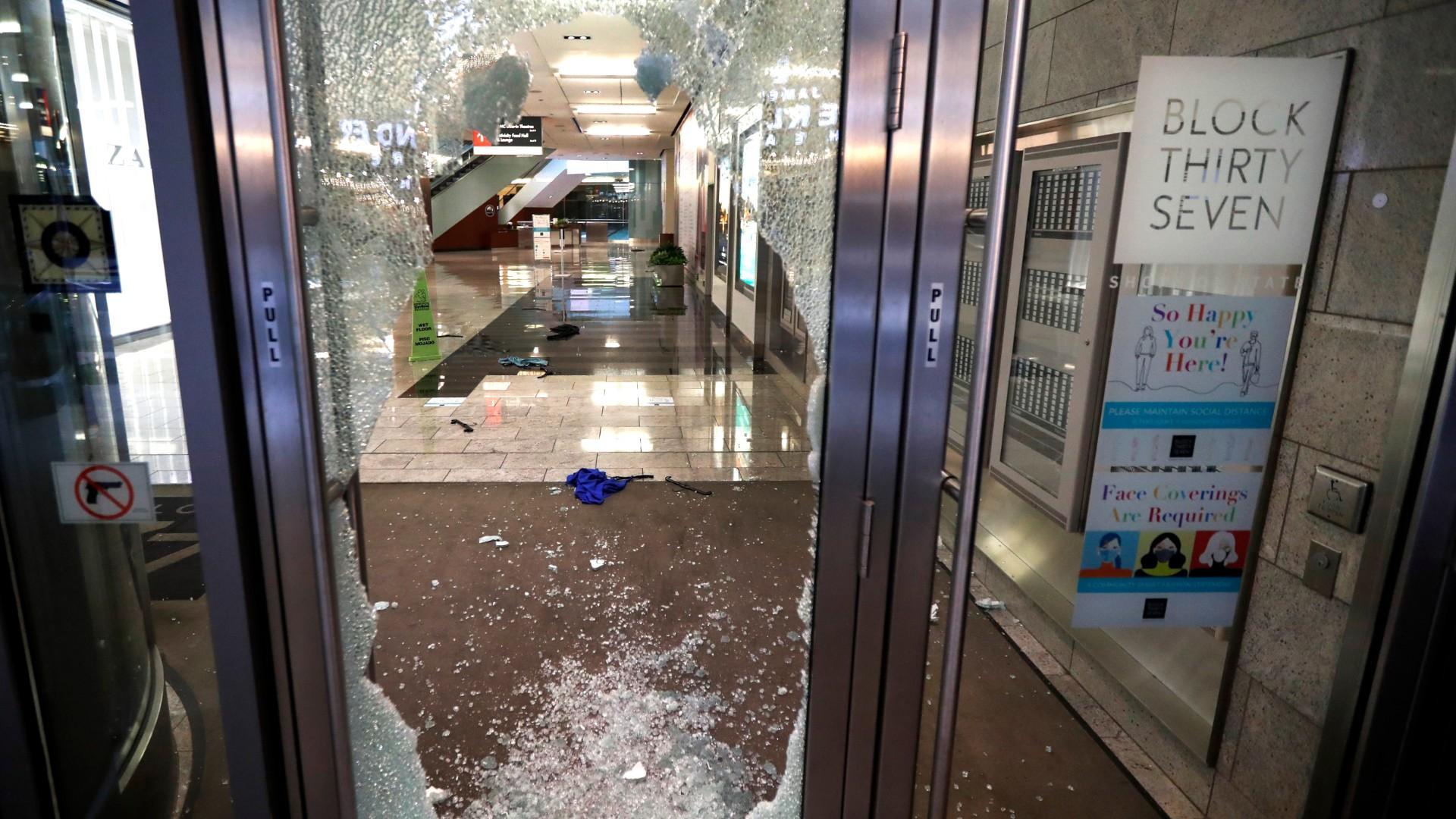 A door to the Block 37 retail building is shattered Monday, Aug. 10, 2020, after vandals struck overnight in Chicago's famed Loop. (AP Photo / Charles Rex Arbogast)
The looting was organized on social media after the shooting in the 5700 block of south Racine Avenue on Sunday afternoon. Officers responded to a call of a man with a gun, who fled from police when they attempted to stop him and fired several shots at officers, Brown said. No officers were injured, he added.
Officers shot the man, who is expected to survive, Brown said. The man, who was not identified, has four previous arrests, he added.
After the shooting, a crowd gathered in Englewood, fueled by erroneous reports that the person who was shot by police was a 15-year-old boy. Tempers flared, "fueled by misinformation," Brown said.
"This was not an organized protest," Brown said. "Rather, this was an incident of pure criminality."
The Civilian Office of Police Accountability is investigating the shooting, in which two officers fired their weapons at the man, who is in "stable condition," according to a statement from the office.
Lightfoot and Brown called on Cook County State's Attorney Kim Foxx to prosecute those arrested in connection with the looting. Brown said many were "emboldened" after being arrested but not charged by Foxx's office during the unrest touched off by the death of George Floyd at the end of May.
"Criminals took to the street with the confidence that there would be no consequences for their actions," Brown said. "And I for one refuse to allow these cowardly acts to hold our city hostage."
READ: Foxx Pushes Back on Criticism From Lightfoot, Brown After Looting
Lightfoot called on Foxx and the Cook County courts to "put your best people on this."
"These people need to be held accountable and not cycled through the system," Lightfoot said.
A special team will scour video footage to identify those who committed crimes, Brown said.
Additional police officers will patrol downtown and in the neighborhoods to ensure additional looting does not take place, Brown said.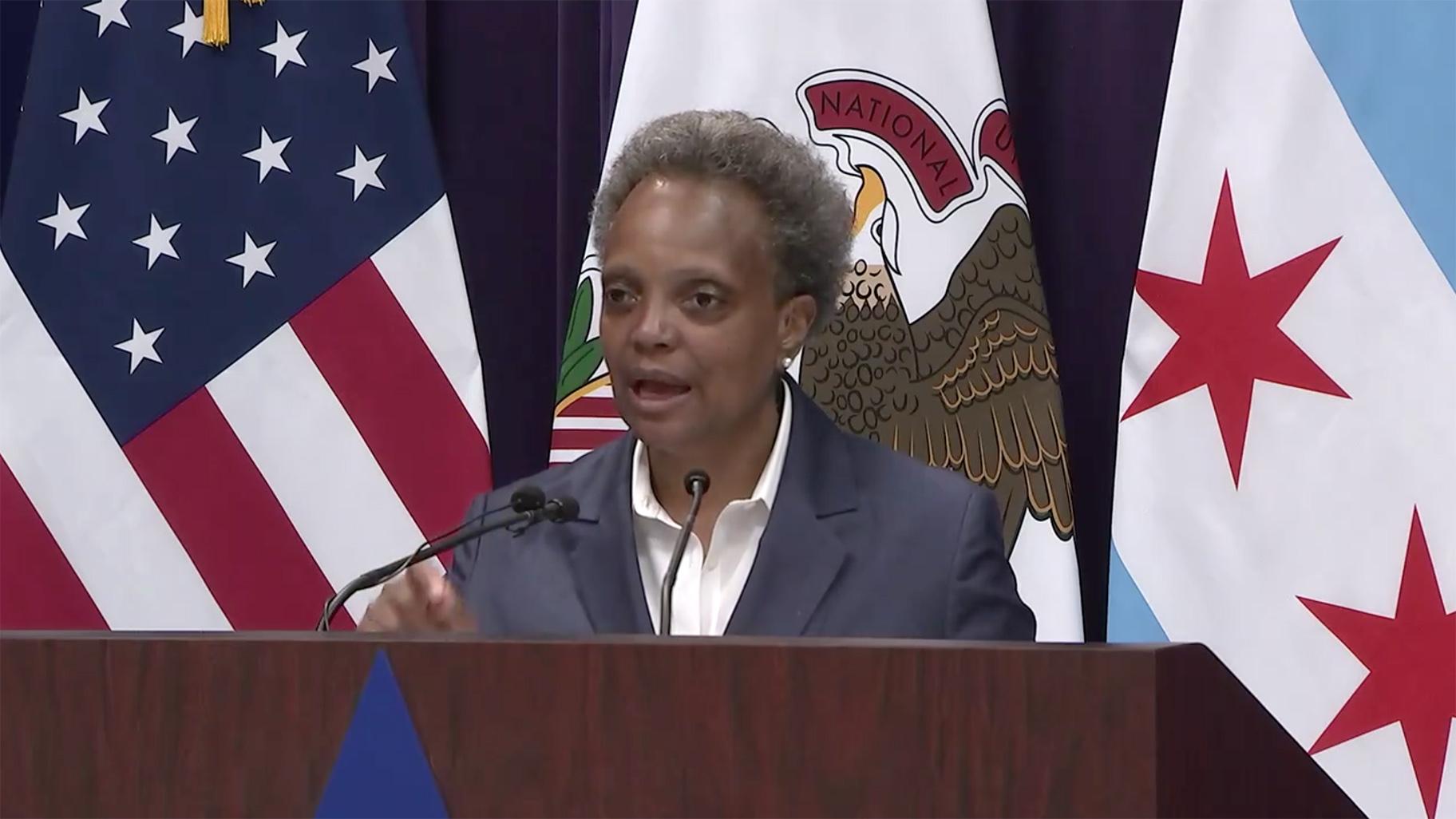 Mayor Lori Lightfoot speaks at a press conference Monday, Aug. 10, 2020. (WTTW News via @MayorLightfoot)
Lightfoot dismissed calls for the National Guard to be mobilized to respond to the looting at an unrelated mid-morning news conference alongside Gov. J.B. Pritzker.
In addition, Lightfoot appeared to brace for President Donald Trump to weigh in on the events of Sunday night and early Monday morning, telling reporters, "I'm sure the president will have his way with this incident."
Lightfoot again called on Trump to take actions designed to stop the flow of illegal guns into Illinois and Chicago.
"And, again, no, we do not need federal troops in Chicago. Period. Full stop," Lightfoot said.
Contact Heather Cherone: @HeatherCherone | (773) 569-1863 | [email protected]
---