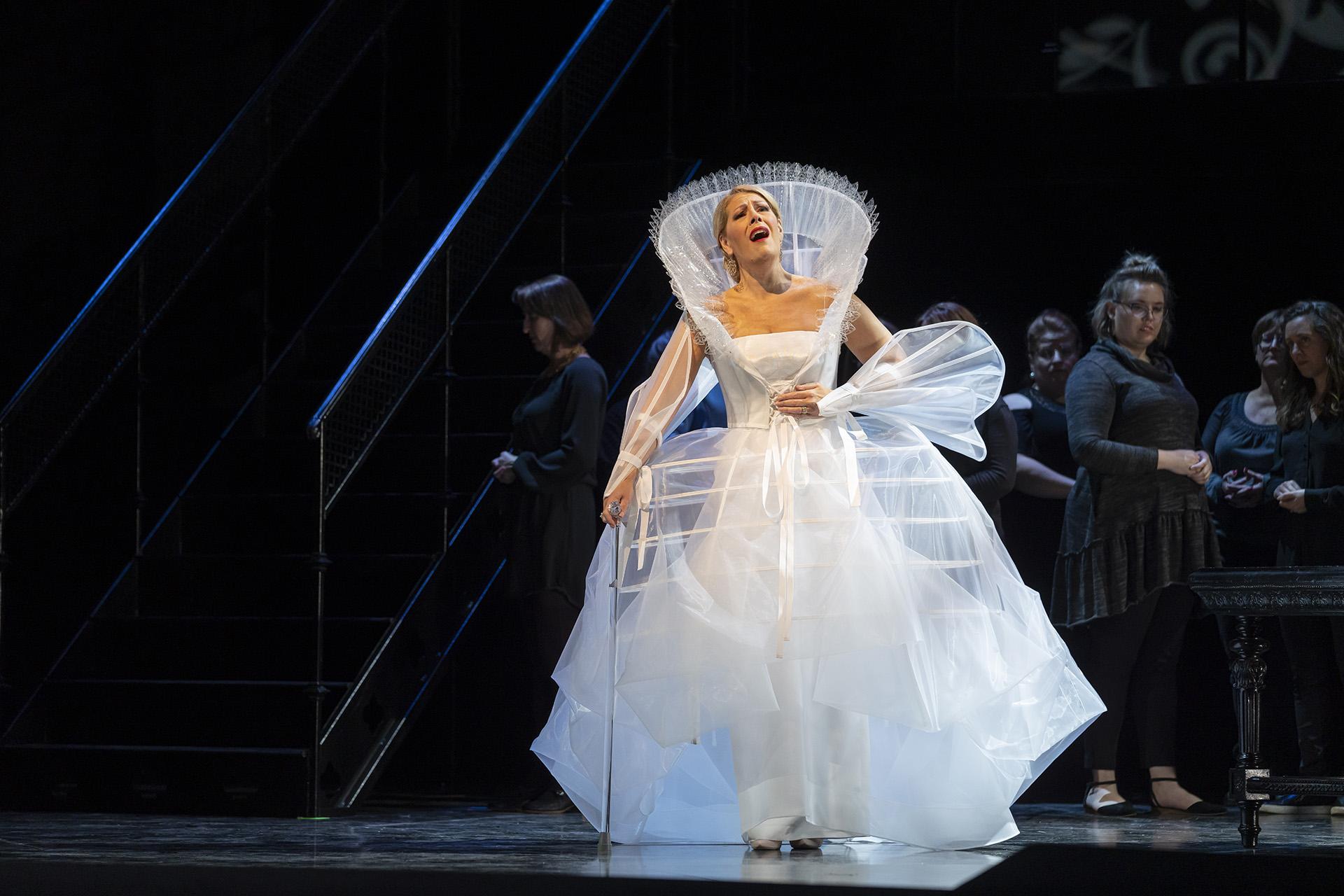 Sondra Radvanovsky in "The Three Queens." (© Todd Rosenberg Photography 2019)
The House of Windsor has been engulfed in a great deal of chaos in recent years, from broken marriages and sex scandals, to estranged brothers and a Facebook-driven obsession with a certain American-born duchess.
But consider the calamitous fates of a trio of queens who inspired three operas by Gaetano Donizetti, an early 19th century Italian master of bel canto, and you will quickly realize the royals of centuries past had a far more perilous existence. Death warrants were freely issued, and the monarchy was frequently catapulted into a state of extreme turmoil by matters of the heart.
Of course, Shakespeare told us a great deal about all this, but his emphasis was on the men who occupied the throne. Donizetti's operas not only bring a heightened emotional intensity to the royal upheavals but they also put women center stage.
In "The Three Queens," the trilogy of semi-staged excerpts now in a brief run at Lyric Opera, the virtuosic soprano Sondra Radvanovsky captures their essence to sublime vocal and dramatic effect.
This grandly theatrical trilogy, devised by conductor Riccardo Frizza and directed by Matthew Ozawa, arrives on the heels of Chicago Shakespeare Theater's production of "Six," the rousing British-bred, Broadway-bound pop-rock musical in which each of King Henry VIII's wives gets to tell her story and vent her anger and pain. And while it is radically different in musical and dramatic style, it also is a reminder that Donizetti was in many ways ahead of his time.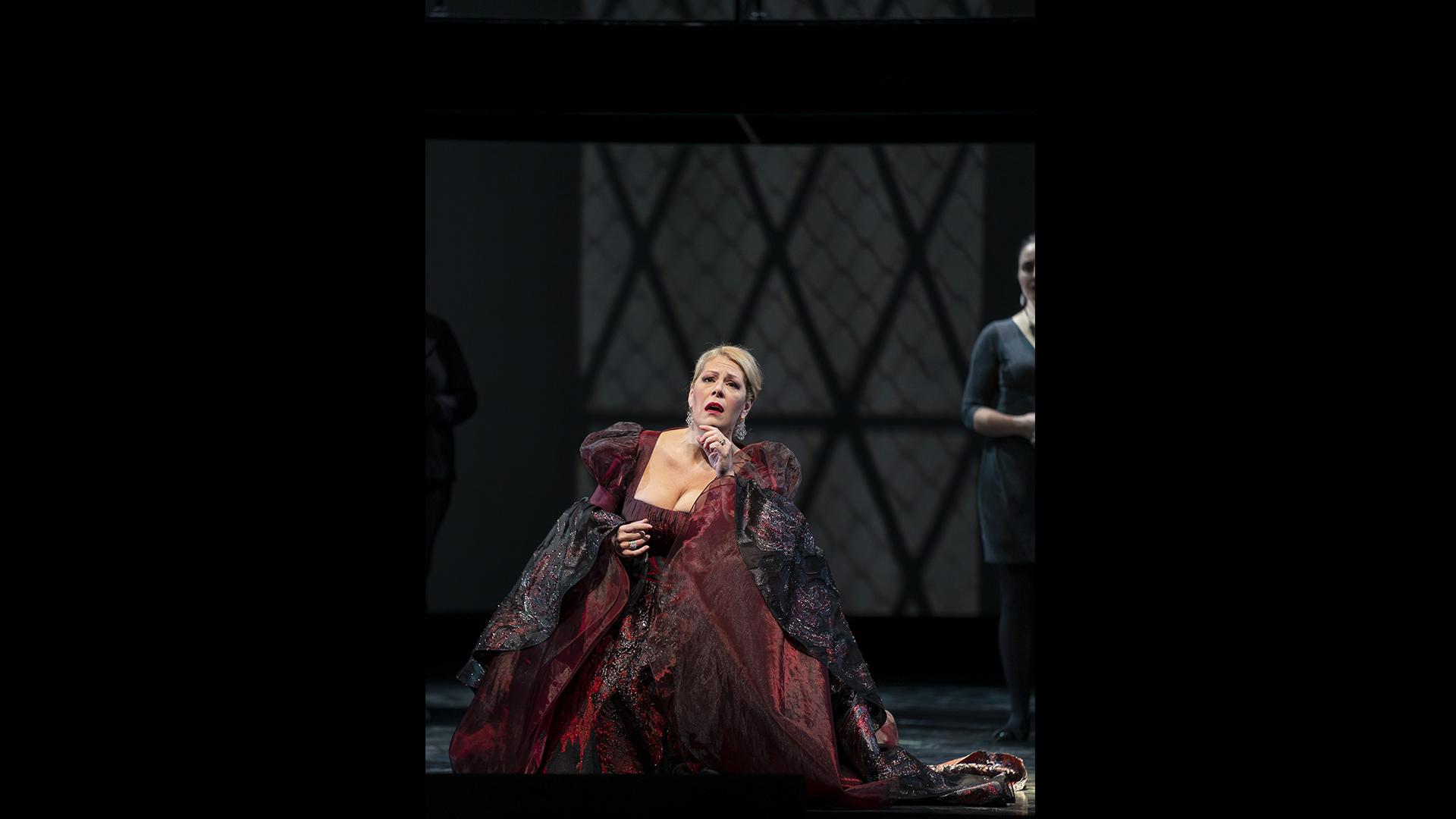 Sondra Radvanovsky in "The Three Queens." (© Todd Rosenberg Photography 2019)
"The Three Queens" includes excerpts from the immensely challenging final scenes of Donizetti's "Anna Bolena," (the story of Anne Boleyn who was Henry VIII's second wife and condemned to death by the king) and "Maria Stuarda," (the story of Mary Stuart – aka Mary, Queen of Scots – who was sent to the gallows by her archrival, Elizabeth I). It also includes excerpts of "Roberto Devereux," (in which Elizabeth I punishes herself and the much younger nobleman with whom she was in love by signing his death warrant and then, ravaged by remorse, by relinquishing her crown).
Radvanovsky, who is costumed in three elaborate, cleverly color-coded gowns by Rubin Singer (who also has designed a costume for that contemporary queen, Beyonce), deploys her wide-ranging voice and grand flair for characterization to bravura effect. Each excerpt is prefaced by the opera's overture (all beautifully played by the Lyric orchestra under the impeccable direction of Frizza), with the most concise summary of the plot projected in giant letters (the clever work of Chris Maravich).
A simple black steel bridge traverses the stage, with a stairway that leads to the gallows and chandeliers (lighting by Sarah Riffle) suggesting palatial grandeur. Throughout there is powerful support from the heavenly voices of the deftly choreographed members of the Lyric chorus (under chorus master Michael Black), who serve as the witnesses and commentators on the action. There also is an array of supporting soloists as the rare trusted friends and many betrayers of the queens.
Sondra Radvanovsky in "The Three Queens." (© Todd Rosenberg Photography 2019)
Radvanovsky's voice has all the requisite depth, range and emotional heat for this grueling showcase. She is front and center throughout, whether in the grand, blood-red and black-streaked gown of Anne Boleyn, whose ever-shifting moods and final act of forgiveness she conjures so ideally; or in a radiant green gown as Mary, Queen of Scots, who so tenderly seeks comfort from her devoted companion, Hannah (a lovely turn by Kathleen Felty) before heading to death.
In the program's second half, she soars as the elderly, crippled, angry and broken Elizabeth I. Here she is dressed in a stiffly sculptural white gown that suggests the power of the so-called "Virgin Queen," and its ultimate "unwrapping" serves as the final reminder of her vulnerability, and the fact that, as she confesses, "I am, after all, a woman" - and one not at all impervious to the betrayal of a man.
Leaving the theater you might find yourself wondering how Donizetti and his librettists would have shaped an opera about Queen Elizabeth II, 93, whose dignified reigned has lasted 71 years but has been battered by a family in tumult and a country at odds with itself and Europe.
"The Three Queens" will be performed again on Dec. 4 at 7 p.m. and Dec. 7 at 7:30 p.m. at the Lyric Opera House, 20 N. Wacker Drive. For tickets ($49-$219) call (312) 827-5600 or visit www.lyricopera.org. Running time is 2 hours with one intermission.
Follow Hedy Weiss on Twitter: @HedyWeissCritic
---
Stunning 'Don Giovanni' a Surprisingly Ideal Fit for the #MeToo Era
Revisiting the Unique Poetry of Simon & Garfunkel's Soundtrack
Chicago Opera Theater Captures Extreme Passions in Pair of Life-and-Death One-Acts
'The Wickhams' Puts a Beguiling Twist on a Jane Austen Sequel
---