Netta Walker (left) and Luigi Sottile in "The Wickhams: Christmas at Pemberley." (Photo by Liz Lauren)
No offense to the enduring delights of Charles Dickens' "A Christmas Carol," but those in search of an alternative to Ebenezer Scrooge and his ghostly visitors, and the goose and pudding served up at the Cratchit family dinner, are strongly advised to stock up on orange biscuits and head to Northlight Theatre instead. That is where you will find "The Wickhams: Christmas at Pemberley," the second (in a planned trilogy) of wonderfully sophisticated, utterly beguiling riffs on Jane Austen's "Pride and Prejudice," co-authored by Lauren Gunderson and Margot Melcon.
Like the first installment, "The Bennets: Christmas at Pemberley" – a hit at Northlight when it debuted in 2016 – the "The Wickhams" is a sequel to Austen's beloved 1813 novel about the trials and tribulations of the financially challenged Bennet family, in which five sisters must secure their futures, ideally by means of good marriages. And once again, under the fleet, slyly comic direction of Jessica Thebus, "The Wickhams" is receiving a production of immense charm and polish, with an ideal cast, some of whom are reprising their roles.
"The Wickhams," like "The Bennets," takes place at Fitzwilliam Darcy's Pemberley estate on Christmas Eve two years after the close of Austen's book. But this time the action shifts a bit from the romances and attendant tensions in the "upstairs" rooms to the chaos that cannot be kept under wraps "downstairs."
Elizabeth Bennet Darcy (Netta Walker), and her husband, the aristocratic Darcy (Luigi Sottile), are once again crucial characters in the story. As is Elizabeth's impulsive, frivolous youngest sister, Lydia (Jennifer Latimore), who ran off with scam artist and libertine George Wickham (Will Mobley), and whose marriage was generously engineered by Darcy in order to save the Bennet family's reputation and win Elizabeth's heart.
But it is the invaluable "downstairs" staff that keeps the Pemberley estate functioning. And on this particular night they must deal with George's entirely unexpected and unwelcome arrival.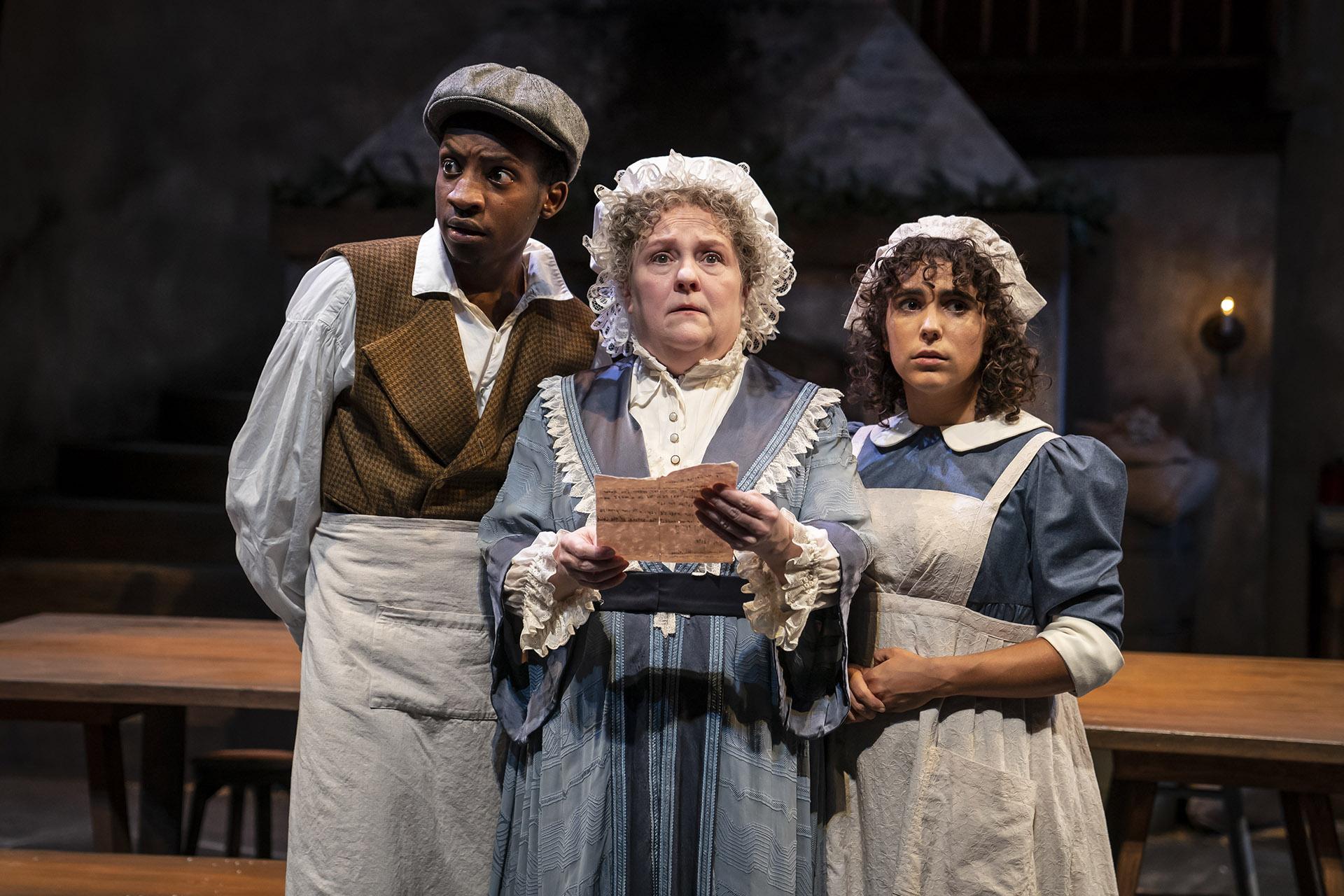 Jayson Lee (left to right), Penny Slusher and Aurora Real de Asua in "The Wickhams: Christmas at Pemberley." (Photo by Liz Lauren)
The downstairs staff is composed of a winning trio of employees, including Mrs. Reynolds (Penny Slusher), the housekeeper who has run the Pemberley estate for decades and served as a surrogate mother to George, and Brian (Jayson Lee), a young footman with a gift for crafting the most artful inventions. Rounding out the staff is Cassie (Aurora Real de Asua), the newly hired, fiercely independent young orphan who captures Brian heart, but will make him jump through many hoops before fully trusting him.
The play's dialogue has a snap, crackle and pop energy and a playfully feminist spirit that Austen would surely have appreciated, but it also remains true to its Regency era mentality. And the chemistry among the actors could not be more ideal as Gunderson and Melcon subtly but insightfully explore the many different ways in which romantic relationships can evolve and social class can shape character.
Slusher is perfection as Mrs. Reynolds, the take-charge housekeeper who runs the show at Pemberley, knows everyone's story, and still has a somewhat maternal soft-spot for Wickham, who shows up drunk, battered, on the run from creditors and in clear defiance of Darcy's demand that he never step foot in the house. She has just hired Cassie (de Asua, who winningly nails both the feistiness and insecurity of a young girl totally on her own and determined not to be taken in by a man). And while both Reynolds and Cassie are a bit hard on Brian (Lee, who moves with a dancer's grace as he captures his character's wonderfully warm, mischievous, and exceptionally ingenious nature), Cassie ultimately comes to appreciate him.
The sparklingly beautiful Latimore (whose brief but radiant presence as the formidable wife of playwright Edmund Rostand in "Bernhardt/Hamlet" instantly lit up the Goodman Theatre stage in an otherwise disappointing production earlier this season), ideally captures Lydia's adventurous, spendthrift nature, as well her refusal to face the facts about her feckless, compulsive liar of a husband. Mobley is spot-on as a man who has resented Darcy's privileged existence since childhood, and led a life driven by lies, compulsive borrowing and cynical flair for flattering (and using) romantically vulnerable women.
Aurora Real de Asua (left) and Jennifer Latimore in "The Wickhams: Christmas at Pemberley." (Photo by Liz Lauren)
Sotille brings a dashing stylishness and hot temper to the role of Darcy. Last, but by no means least, there is the lovely, understated Netta Walker as Elizabeth, the emotionally disciplined heroine of Austen's novel who loves her husband, understands that her marriage requires considerable compromise and diplomacy, and whose exasperation with her childish sister is matched by her loving efforts to protect her.
William Boles' masterful set has a "Masterpiece Theatre"-like detail, with a winding staircase and small balcony that ideally suggests the downstairs workrooms and the unseen family Christmas party going on above. Izumi Inaba's ideal costumes easily suggest the class divide, with a particularly beautiful gown for Lydia.
Like any family saga "The Wickhams" is not a "happily ever after" story, but along the way some hearts come together, some grow wiser and, some are broken. And the legacy of both pride and prejudice continues to work its magic.
"The Wickhams: Christmas at Pemberley" runs through Dec. 15 at Northlight Theatre, 9501 Skokie Blvd., Skokie. For tickets ($30-$89) call (847) 673-6300 or visit www.northlight.org. Running time is 2 hours and 10 minutes with one intermission.
Follow Hedy Weiss on Twitter: @HedyWeissCritic
---
'The Niceties' Captures Contemporary University Turmoil
Stunning 'Don Giovanni' a Surprisingly Ideal Fit for the #MeToo Era
Hedy Weiss Reviews 'A Doll's House,' 'I'm Lenny Bruce' and More
---