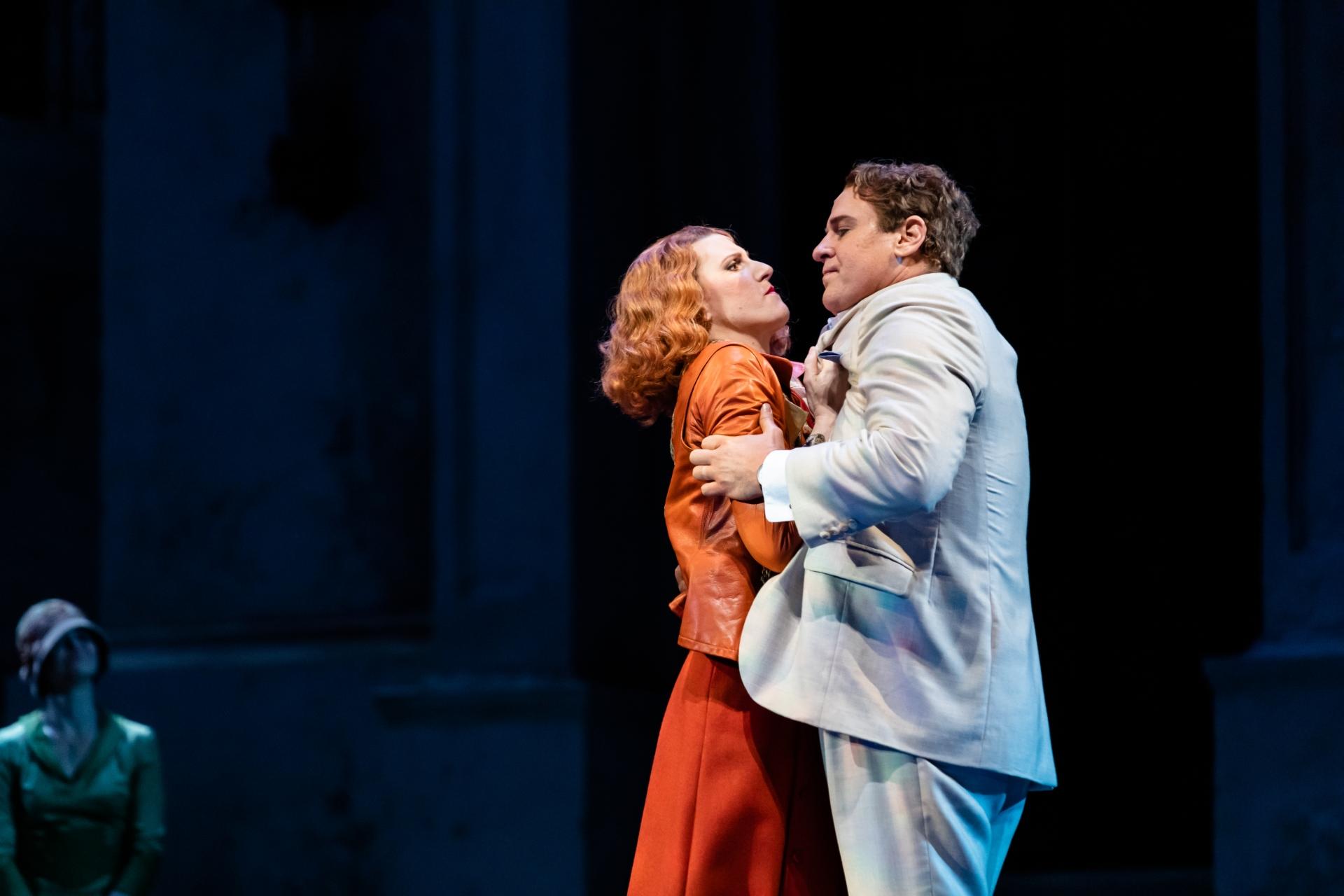 Amanda Majeski and Lucas Meachem in Lyric Opera of Chicago's "Don Giovanni." (Photo by Kyle Flubacker)
You might not think that Mozart's 1787 opera "Don Giovanni," with its tale of an unrepentant libertine for whom women are nothing but easily dispensable objects of momentary sexual gratification, would be such an ideal fit for the #MeToo era. But the sensational Lyric Opera production that opened Thursday night suggests quite the opposite is true.
In fact, the similarities between Giovanni, the wealthy nobleman who is a compulsive (and at times violent) seducer, and the likes of today's most notorious scoundrels (from Jeffrey Epstein and Harvey Weinstein to countless others), are instantly apparent. The principal difference is that the offending men of the 21st century do not have a genius like Mozart or the skill of his Italian librettist, Lorenzo Da Ponte, who drew on the legends of Don Juan (and whose own biography is absolutely fascinating), to immortalize them in any way, and to transform their exploits and punishments into a tragicomic morality tale with music of great beauty and emotional range.
The production, directed by Robert Falls (artistic director of the Goodman Theatre) is the finest work he has done on any stage since "The Iceman Cometh," and it has been cast with glorious singers who also are exceptional actors (and ideal in form and figure for their roles). He has gathered a team of outstanding designers with whom he has long collaborated, and conductor James Gaffigan and the Lyric Orchestra supply superb support for the singers (even if the uneven performance of the Overture left me wishing for Maestro Muti and the CSO).
While the action still unfolds in a village in Spain, Falls has set the story in the 1920s (and it is probably not a coincidence that this was the time of the sexual reform movement in Spain). And while the women in "Don Giovanni" are seduced and quickly abandoned by this decadent libertine (the opera opens with a rape and a murder), they also are attracted to him, and in some cases even yearn for him long after he has used them and betrayed them. (According to Leporello, Giovanni's much-abused but often complicit servant, Giovanni has even catalogued his conquests of thousands of women in Italy, Germany, France, Turkey and Spain that include women of every age, physical type and social status.)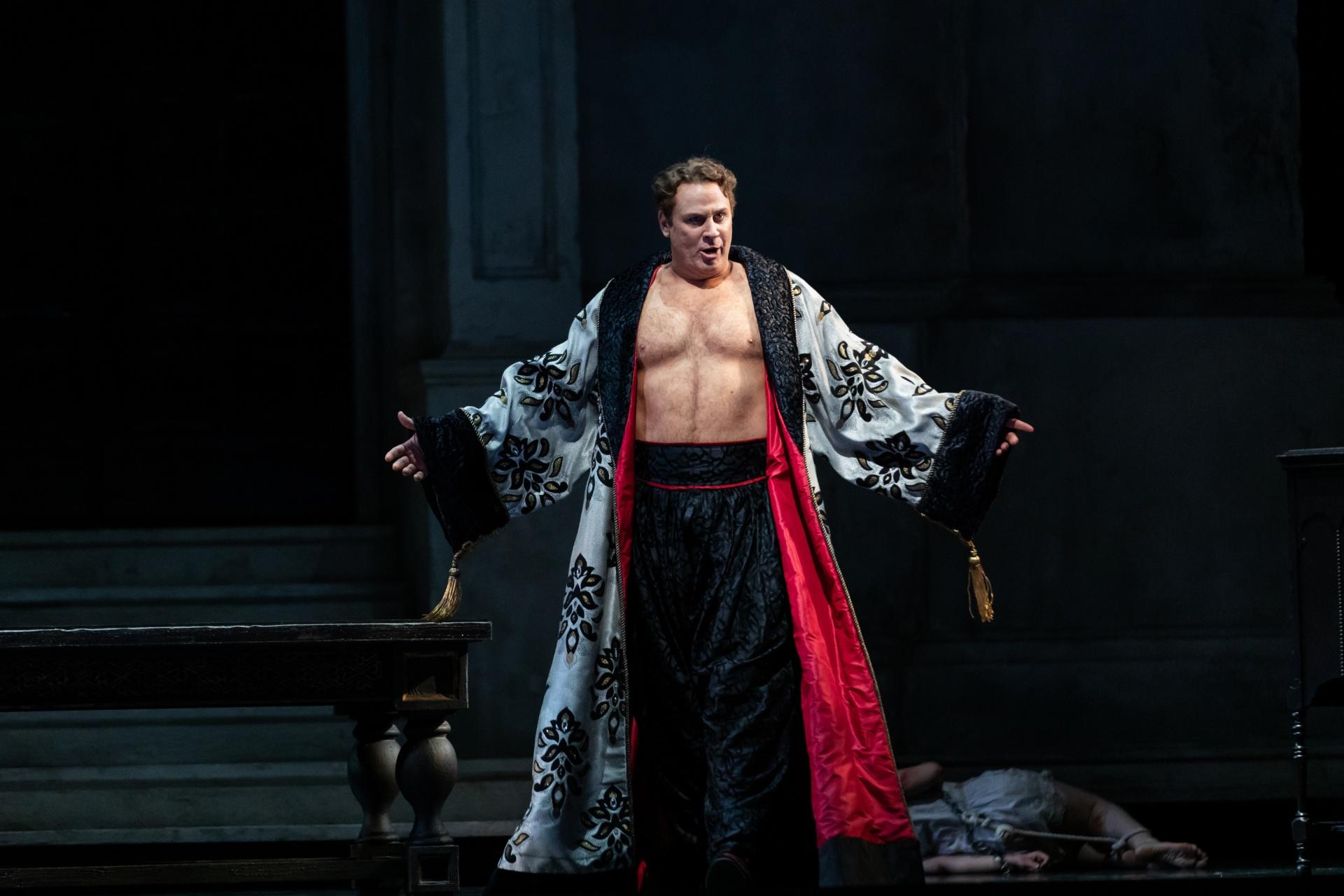 Lucas Meachem in Lyric Opera of Chicago's "Don Giovanni." (Photo by Kyle Flubacker)
Beyond Giovanni's conquests, there also is an intriguing depiction of a variety of different male-female relationships, and extended soliloquies about the nature of love by a number of characters, all performed in front of a curtain of black roses.
There also is the master-servant relationship between Giovanni (Lucas Meachem, who not only uses his rich baritone to fine effect, but also captures the arrogance, deceptive charm and cruelty of his character), and Leporello (British bass Matthew Rose, whose antic physicality is most winning, and who deftly suggests his character's awareness of his own moral weaknesses).
As Donna Elvira, the sophisticated redhead torn between heartbreak and a lust for revenge after her betrayal by Giovanni, the tall, graceful, Illinois-born soprano Amanda Majeski is a marvel. Not only is she capable of tapping into the comedy of her relentless attempts to interfere with her former lover's latest conquests, but she also never loses sight of the real pain he has inflicted on her.
And then there is Ying Fang as Zerlina, the fetching young woman who is about to marry Masetto (Brandon Cedel), but catches Giovanni's eye and is not entirely immune to his flattery and wealth, nor entirely true to Masetto. Fang, the Chinese-born soprano, is a petite dynamo whose high-flying voice and flair for comedy and flirtation are ideal for the role. And as Masetto, who suffers greatly at the hands of Giovanni, Cedel, the American bass-baritone, suggests how a man can be hurt by betrayal just as deeply as a woman.
Brandon Cedel and Ying Fang in Lyric Opera of Chicago's "Don Giovanni." (Photo by Kyle Flubacker)
As Donna Anna, the rape victim whose father is murdered early on by Giovanni, American soprano Rachel Willis-Sorensen fully comes into her own late in the opera when she asks her fiancé, Don Ottavio (the rich-voiced American tenor Ben Bliss) to give her time to grieve before she marries him. And Mika Karas, the Finnish bass, brings just the right gravitas to the Commendatore, who sees to it, from beyond the grave, that Giovanni pays the price for his destructive life.
Set designer Walt Spangler has an imagination ideally scaled to operatic extravagance. And while the grand architecture and spectacular gardens he has conjured for this production feel more Italian than Spanish, the beauty and invention of everything he has put on stage, from a banquet table to a cathedral interior is magic. So are Ana Kuzmanic's character-defining costumes and Duane Schuler's lighting, including a surprise final effect (no doubt devised along with Falls), that suggests an all-powerful divine intervention has occurred in the name of justice.
And what more can be said about Mozart? Only that he captured the human voice and the human heart in ways that suggest a certain divine force was at work in him, too.
"Don Giovanni" will be performed Nov. 17, 20, 23, 26 and 30, and Dec. 3, 5 and 8 at Lyric Opera Chicago, 20 N. Wacker St. For tickets ($39-$259) call (312) 827-5600 or visit www.lyricopera.org. Running times is 3 hours and 20 minutes with one intermission.
Note: Playing Don Giovanni for the three December performances will be Italian baritone Davide Luciano.
Coming up at Lyric Opera: In the semi-staged "Three Queens" (Dec. 1, 4 and 7), the renowned soprano Sondra Radvanovsky will perform the challenging finales from three Donizetti operas about a trio of formidable historical figures (Mary Stuart, Anne Boleyn and Queen Elizabeth I).  Renée Fleming will star in "The Light in the Piazza" (Dec. 14-29), the semi-operatic Broadway musical by Adam Guettel and Craig Lucas.
Follow Hedy Weiss on Twitter: @HedyWeissCritic
---
Hedy Weiss Reviews 'A Doll's House,' 'I'm Lenny Bruce' and More
Leguizamo Blazes His Way into an Often Unexplored Cultural Inheritance
'Andares' a Powerfully Imagined Homage to Mexico's Indigenous Cultures
---