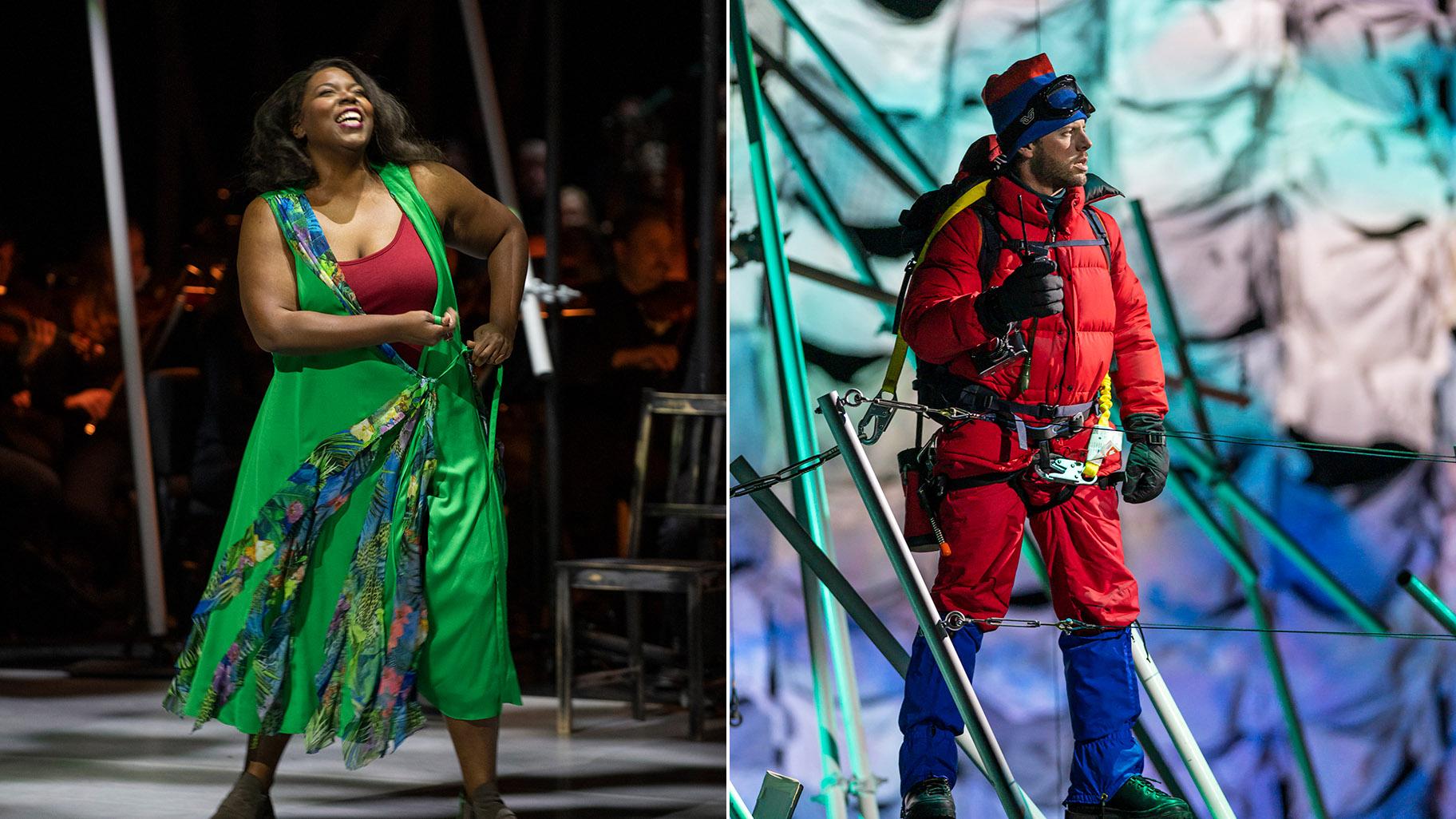 Michelle Johnson and Andrew Bidlack in Chicago Opera Theater's productions of "Aleko" and "Everest." (Photo credit: Michael Brosilow)
As Robert Frost famously wrote: "Some say the world will end in fire, / Some in ice." And in a very real sense it was those two opposing endgame scenarios that Chicago Opera Theater (COT) conjured this past weekend as it opened its 2019-2020 season with an all-too-brief run at the Harris Theater for Music and Dance.
The double bill of one-acts – both receiving their Chicago premieres, and very different musically as well as stylistically – began in the realm of ice, with an enthralling performance of "Everest," the 2015 work by British composer Joby Talbot and librettist Gene Scheer.
Based on Jon Krakauer's bestselling book, "Into Thin Air," it chronicles the 1996 Mount Everest disaster in which eight climbers died as they were caught in a blizzard while attempting their descent from the summit of the mountain.
The second half of the program was devoted to "Aleko," a fiery gypsy melodrama by Rachmaninov (written in 1892, while he was still a student), with a Russian libretto by Vladimir Nemirovich-Danchenko adapted from a poem by Alexander Pushkin. It tells the story of the title character, who left Russian society to join with a more free-living community of Romani travelers. He falls in love with Zemfira, the freewheeling gypsy girl, and then explodes in a murderous jealous rage when she rejects him after taking up with a new young gypsy lover.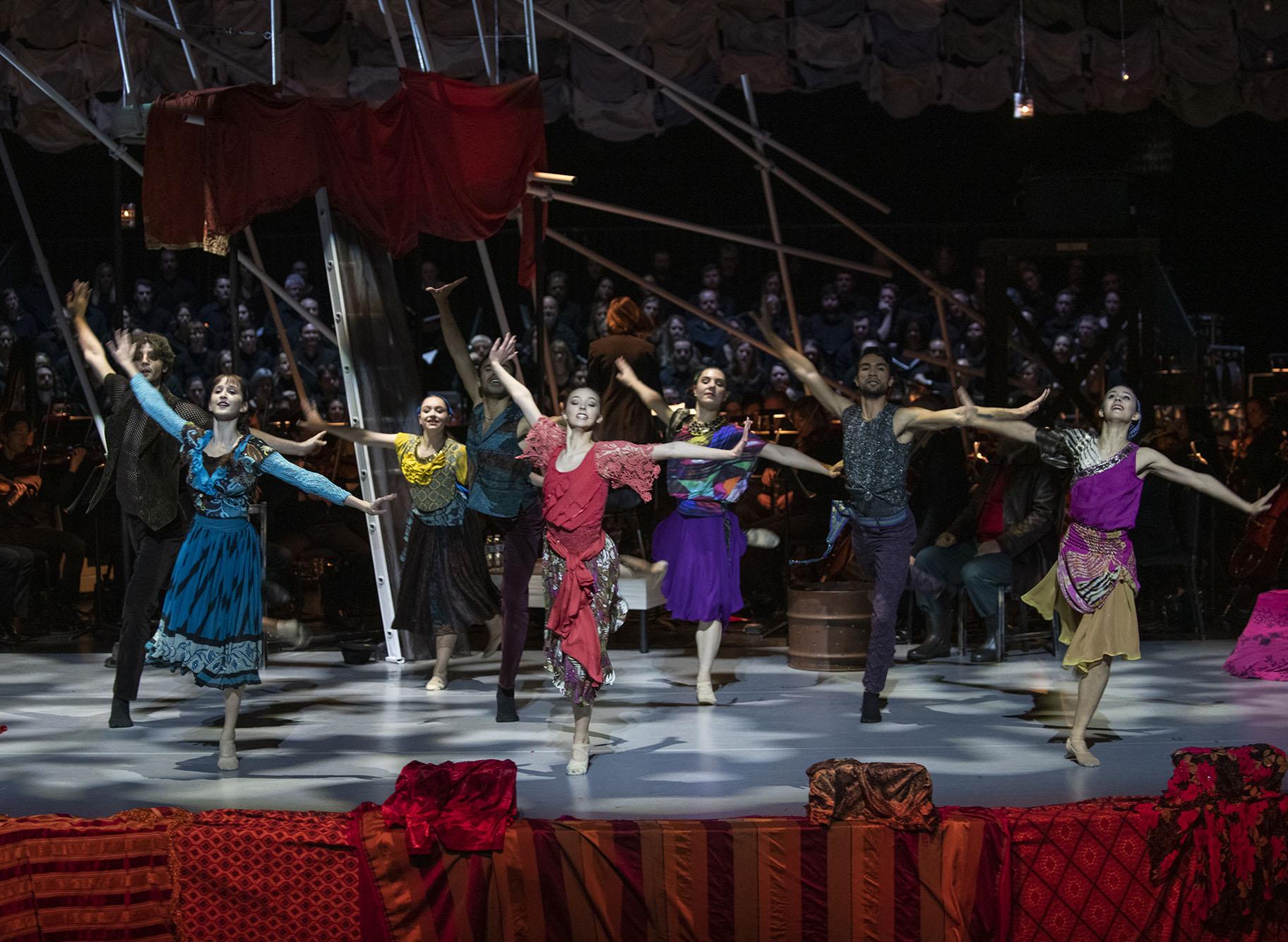 A&A Ballet Dancers (Jonathan Carter, Jose Soares, Tricia Camody, Abigail Dudich, Gabriel Hartman, Sara Jaworski, Autumn Steed, Kaylie Thrun) in "Aleko." (Photo credit: Michael Brosilow)
Both operas were superbly conducted by COT's music director, Lidiya Yankovskaya, who led a 70-piece onstage orchestra backed by the haunting voices of the Apollo Chorus (under music director Stephen Alltop). And both were skillfully directed by Chicago-bred, New York-based director Dylan Evans, with a cleverly adaptable minimalist sculptural set by Greg Mitchell (who also designed the projections) and Olga Maslova (who doubled as costume designer), and lighting by David Lee Bradke.
"Everest," in which performers were perched atop small platforms reached by ladders, is a riveting psychological drama in which the endangered climbers initially explain their desire to tackle Everest and then face very real matters of mortality and the struggle for survival.
As Rob Hall, the leader of the expedition, tenor Andrew Bidlack captured the confidence and professionalism of a man who suddenly realizes he is in very serious trouble. More than that, he feels responsible for Doug Hansen (whose sense of defeat is clearly sounded by baritone Zachary Nelson), a far less experienced climber who lacks the strength to continue. Unwilling to leave Doug behind, he tries to aid in the man's ascent, but fails.
Hall, too, will lose his life, but not before being connected by phone to his pregnant wife, Jan (a lovely, understated performance by mezzo-soprano Zoie Reams), a doctor who made the climb on an earlier expedition, and with whom he chooses the name Sarah for their as-yet unborn daughter.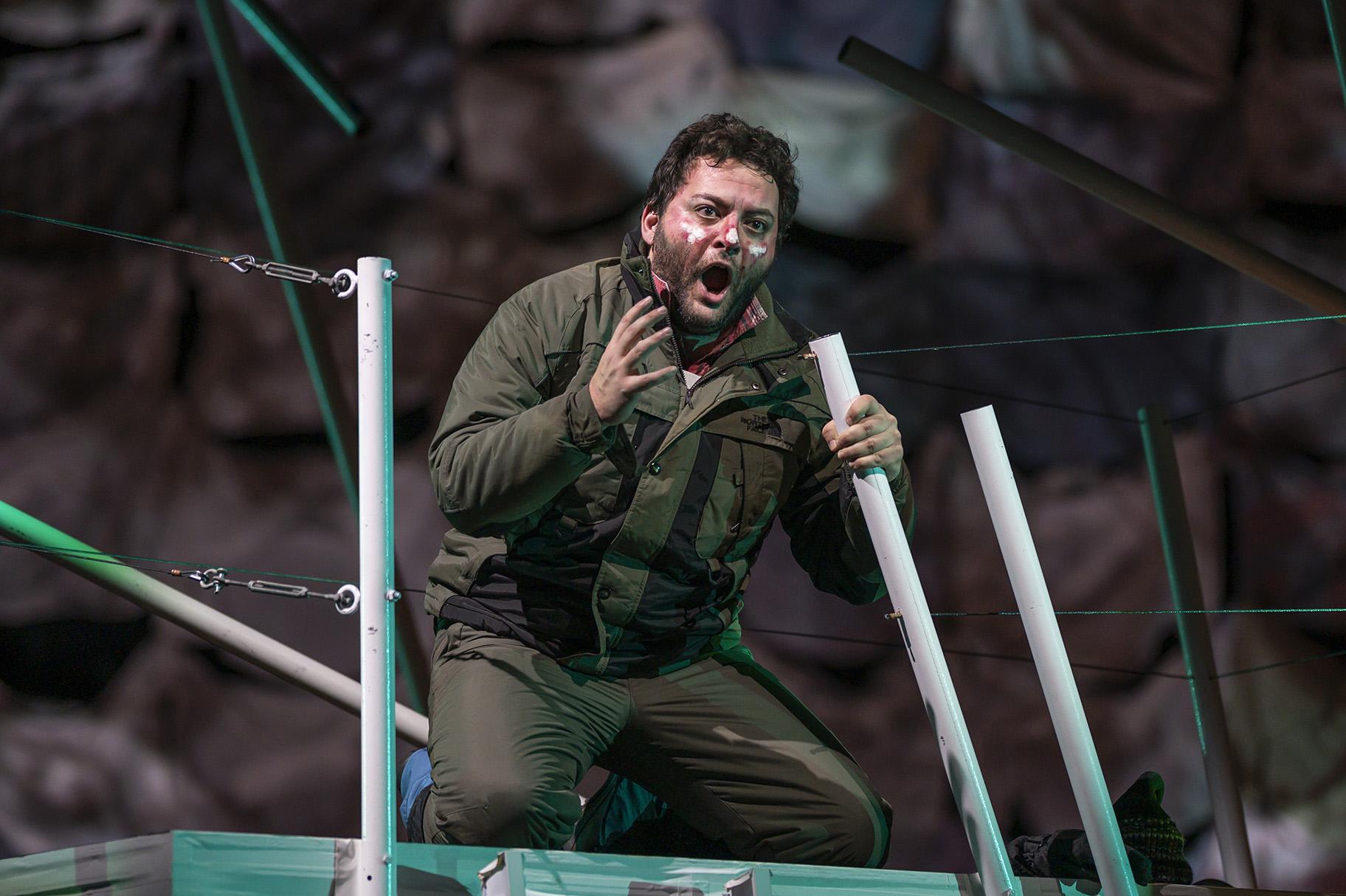 Aleksey Bogdanov in "Everest." (Photo credit: Michael Brosilow)
Meanwhile, in a different spot on the peak, climber and pathologist Beck Weathers (played with an almost Wagnerian intensity by baritone Aleksey Bogdanov), senses he will not make it down the mountain alive (although somehow he does, despite suffering from high-altitude vision problems and frostbite). Beck thinks about his young daughter, Meg (mezzo-soprano Anna Laurenzo), and muses on mortality.
There also is fine work by Ryan Stoll (as the young communications specialist at a base camp) and John Mathieu as climber Mike Groom.
At the very start of "Everest," dancer Jose Soares performs a powerful solo (choreographed by Alexei Kremnev) that evoked the terrifying solitary nature of climbers on Everest and was set to a haunting soundtrack of a shortwave receiver, with the chorus suggesting the beauty of the world as seen from above.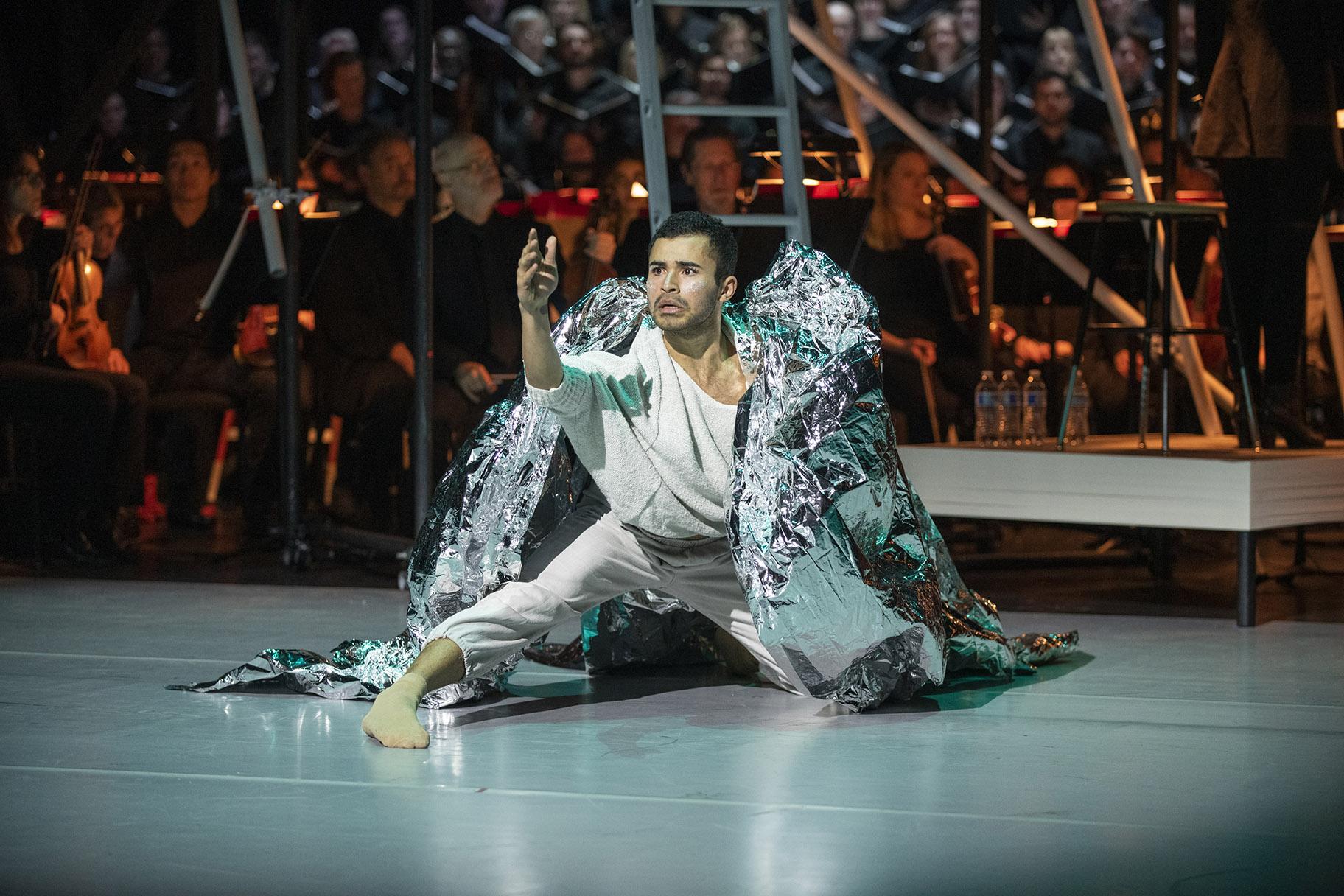 Jose Soares in "Everest." (Photo credit: Michael Brosilow)
"Aleko" plays on all the classic cliches of gypsy life. But its extensive dance sequences – created by Kremnev, and expertly executed by highly polished dancers from A&A Ballet, the Chicago company led by him and Anna Resnik, brought the house down. (They included Jonathan Carter, Tricia Camody, Abigail Dudich, Gabriel Hartman, Sara Jaworski, Autumn Steed and Kaylie Thrun.) The lush musical storytelling was winningly performed by bass Gustav Andreassen as the Old Gypsy who narrates the tale; baritone Bogdanov as Alexis, the "outsider" and fiercely jealous lover driven to violence; soprano Michelle Johnson as Zemfira, the unapologetic proponent of free love who stirs up all the trouble; and Bidlack as the boyish Young Gypsy who replaces Aleko as Zemfira's favored lover.
---
Note: Sadly, there were only two performances of this double bill. But the ever adventurous Chicago Opera Theater has two more programs planned for this season. Its next production will be the world premiere of Dan Shore's "Freedom Ride," inspired by the Freedom Riders so crucial to the civil rights movement. It will run Feb. 8, 14 and 16, 2020 at the Studebaker Theatre and will be directed by Tazewell Thompson. Then comes the Chicago premiere of "Soldier Songs" (May 14-17 at the MCA), a one-man rock opera by David T. Little about the experiences of veterans of the armed forces. It will be performed by acclaimed baritone Nathan Gunn and directed by Ashley Tata. For more information visit chicagooperatheater.org
Follow Hedy Weiss on Twitter: @HedyWeissCritic
---
'The Wickhams' Puts a Beguiling Twist on a Jane Austen Sequel
'The Niceties' Captures Contemporary University Turmoil
Stunning 'Don Giovanni' a Surprisingly Ideal Fit for the #MeToo Era
---