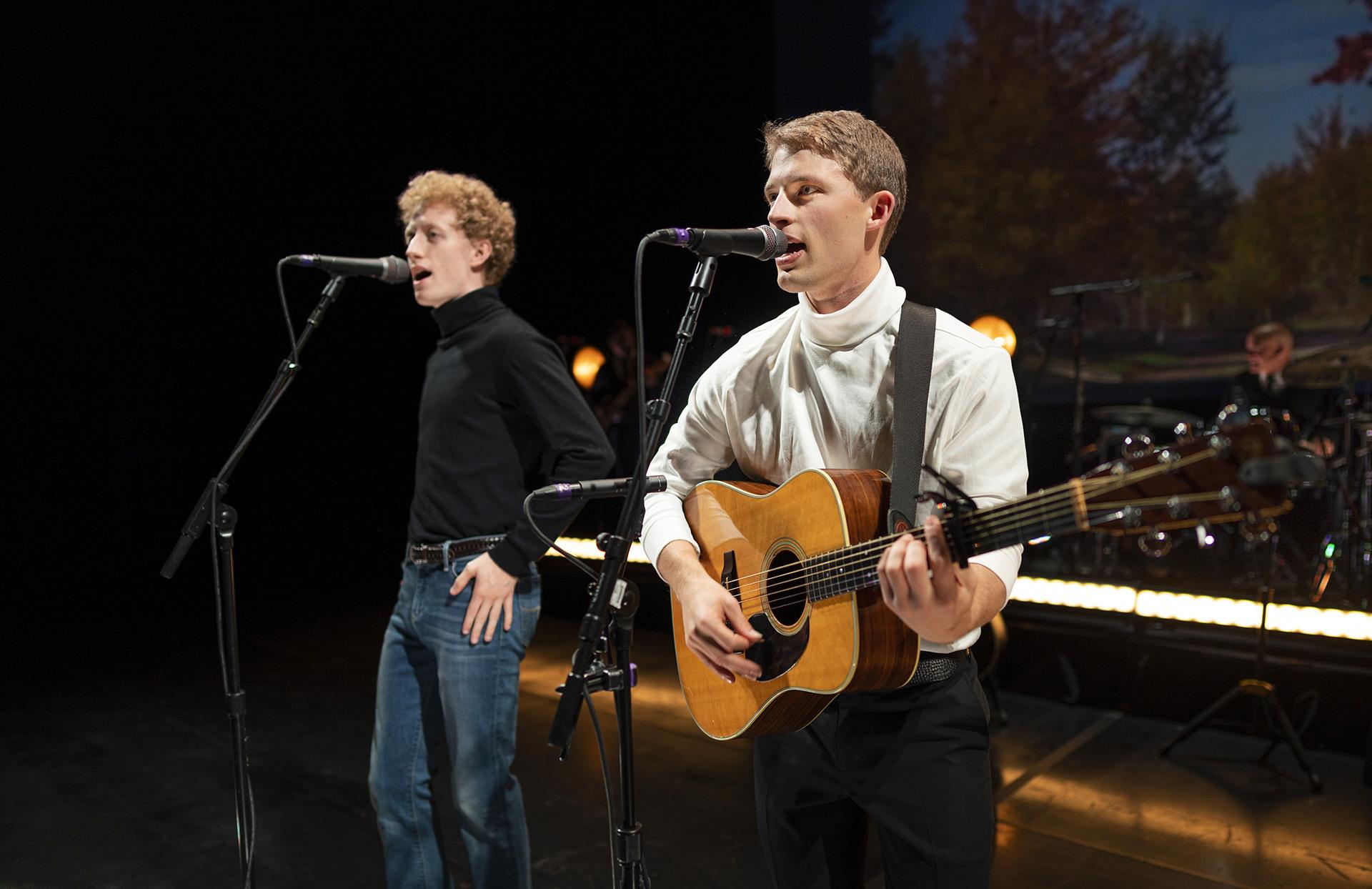 Ben Cooley (left) and Taylor Bloom perform in "The Simon & Garfunkel Story." (Photo by Lane Peters)
To start, I should confess to the emotional link I've had with the music of Simon & Garfunkel from the very beginning of their storied careers as the unique folk-rock balladeers of the 1960s - a decade of promise, heartbreak, upheaval and momentous change.
Though somewhat younger than the pair, I grew up just a few miles from where they did in Queens, New York. And like them, I came of age just as John F. Kennedy became president; the civil rights movement burgeoned; the war in Vietnam raged; the counterculture of sex, drugs, rock 'n' roll, alienation and protest ruled the day; and those British lads, the Beatles, filled the airwaves.
But there was always something especially haunting about the gorgeous harmonies (inspired by their idols, the Everly Brothers) and the image-filled lyrics of Paul Simon and Art Garfunkel. "The Simon & Garfunkel Story," a concert-style performance that began in London and is now making a brief stop at the Broadway Playhouse as part of an extensive North American tour, turned out to be a great deal more than just a grandly nostalgic trip through a remarkable songbook, with superb renderings of many of their greatest hits. The show also happens to be a wonderful reawakening that suggests just how potent the pair's songs, with their poetic underpinnings, wonderfully original melodies and ingenious rhythms continue to be in these very different yet no less chaotic times.
Structured as a straightforward chronicle of the musicians' early lives and careers, the major focus of the show, which features about 30 of their most emblematic songs, is on their phenomenally successful albums of the 1960s. Though difficult to believe, their collaboration really lasted for only one golden decade. After their relationship ruptured in 1970, Simon pursued a notable solo career and Garfunkel tried his hand at acting, writing and walking the globe.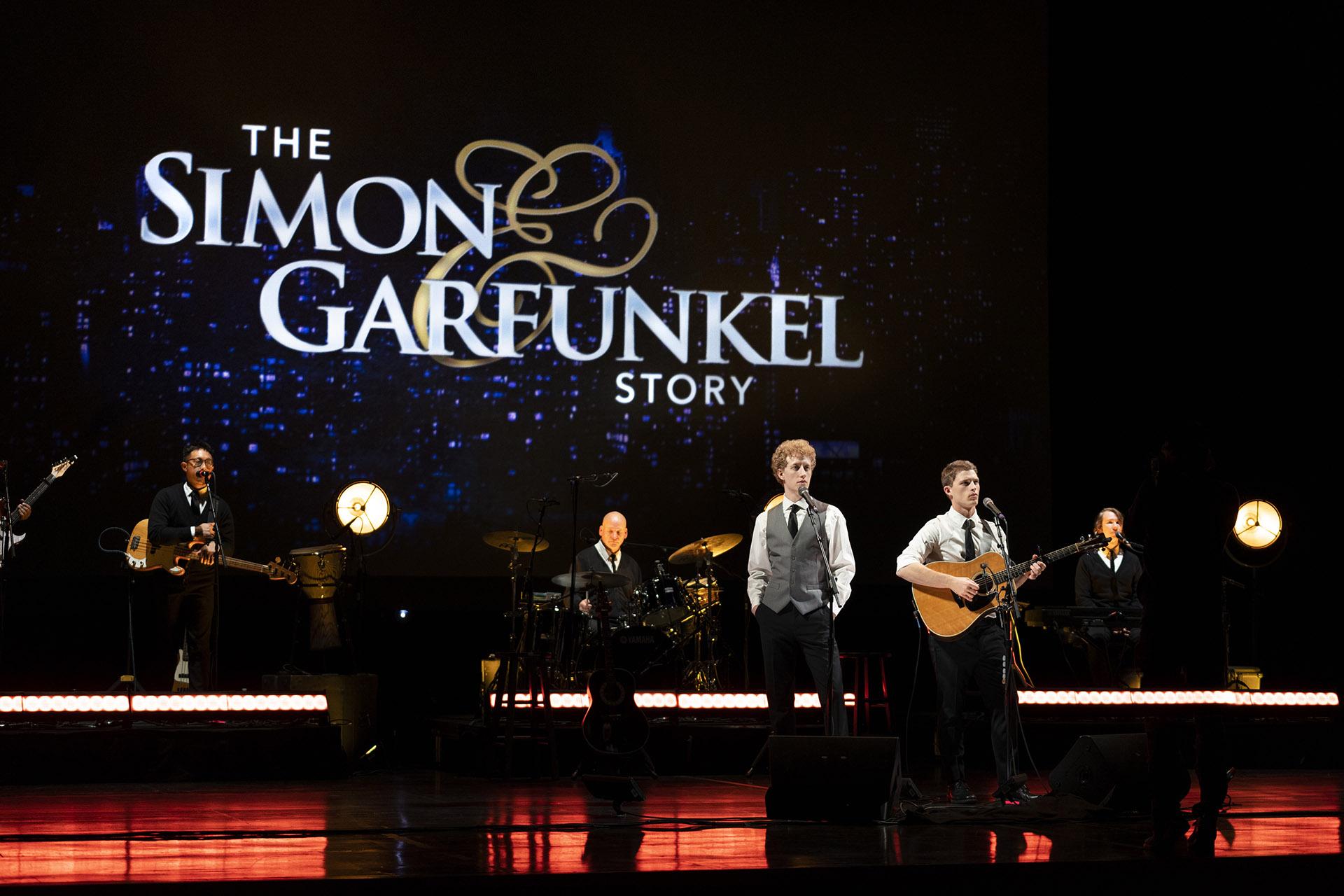 Ben Cooley (left) and Taylor Bloom perform in "The Simon & Garfunkel Story." (Photo by Lane Peters)
The production comes with no credit for a writer. Athenaeum dialogue/narration is kept to a minimum, allowing the two exceptional performers to mostly make music. Taylor Bloom, both a vocalist and guitarist, plays Simon (the principal songwriter of the duo) whose intense but understated style he captures ideally. And Ben Cooley, whose physical resemblance to the rail-thin, curly-haired Garfunkel is quite uncanny, suggests the quirky singer who was a master of harmony.
Director and musical supervisor Dean Elliott, musical director/keyboardist Alec Hamilton and sound designer Steve Beatty have done a superb job of seeing to it that the show's sound is flawlessly in sync with the Simon & Garfunkel standard. And along with Hamilton, the show's top-notch onstage band (Bob Sale on drums, Marc Encabo on bass guitar and Joshua Vasquez on guitars) supplies background vocals.
Adding historical heft (and at times ideally ironic commentary), are the show's rich visuals: a mix of archival film, photos and artwork that alternately illustrate and amplify the time, place and emotional heat suggested by each song. There is war footage from Vietnam, iconic shots of the March on Washington and Woodstock, vintage picture postcards, TV commercials and more, all seamlessly paired with the music.
We learn that the two musicians first bonded in an elementary school production of "Alice in Wonderland," initially teamed up under the name of Tom & Jerry, and then, in 1963, when they signed with Columbia Records, renamed themselves as Simon & Garfunkel. And then came the extraordinary records, including such albums as "The Sounds of Silence" and "Parsley, Sage, Rosemary and Thyme" (both released in 1966), "Bookends" (1968), the aptly titled "Bridge Over Troubled Water" (1970), and their 1971 reunion album, "The Concert in Central Park," recorded live before a crowd of more than a half million people.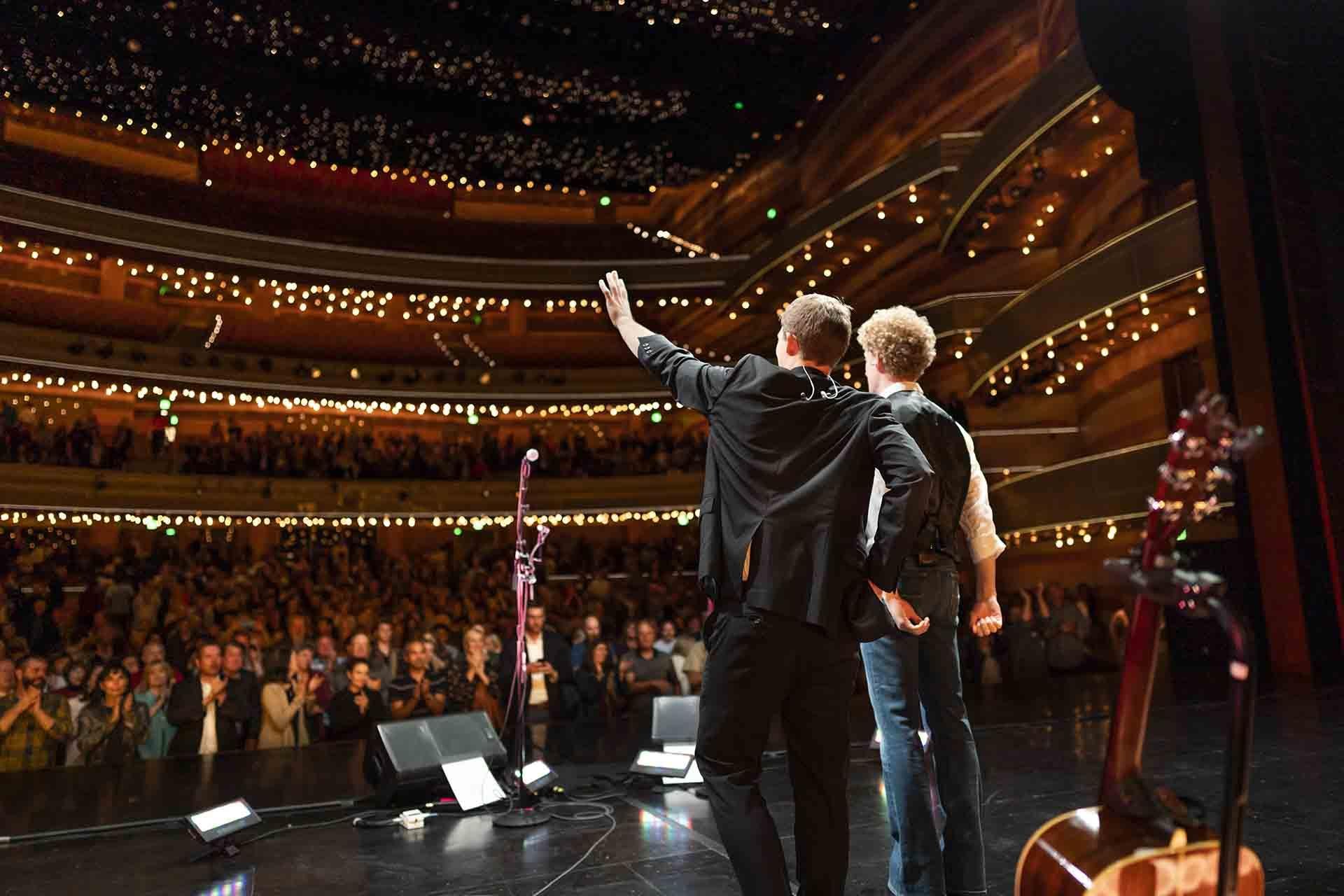 Taylor Bloom (left) and Ben Cooley perform in "The Simon & Garfunkel Story." (Photo by Lane Peters)
Along with the many ideal renderings of the title songs from those albums, the show includes exquisite performances of "Scarborough Fair," "I Am a Rock," and "Richard Cory" (inspired by the Edwin Arlington Robinson poem, and eerily powerful in this age of the wealth/poverty gap). Other highlights include deeply moving renderings of such eternal classics as "Old Friends" and "America."
The show's second act is a rapid-fire chronicle of the post-1970 years of each man, as they set out on their very separate ways in the wake of a decade of phenomenal success. Simon, who soared in his collaboration with South Africa's Ladysmith Black Mambazo and the 1986 album "Graceland," formally "retired" from touring in 2018 but still performs on occasion. Garfunkel did some film acting and writing and has (literally) walked much of the globe.
Listening to the richly faithful performances by Bloom and Cooley was in many ways like stepping into a time machine. And as I left the theater awash in memories, I wondered whether Simon and Garfunkel have seen the show in which they are so winningly captured - not so much imitated as in many ways reborn.
Note: The vocal demands of this production make it necessary to have two casts. Despite a confusing program note, it is enough to say that George Clements (as Simon) and Andrew Wade (as Garfunkel) will rotate performances with Bloom and Cooley.
"The Simon & Garfunkel Story" runs through Dec. 8 at the Broadway Playhouse at Water Tower Place, 175 E. Chestnut St. For tickets ($35-$105) call (800) 775-2000 or visit www.BroadwayInChicago.com. Running times is 2 hours and 20 minutes with one intermission.
Follow Hedy Weiss on Twitter: @HedyWeissCritic
---
Chicago Opera Theater Captures Extreme Passions in Pair of Life-and-Death One-Acts
'The Wickhams' Puts a Beguiling Twist on a Jane Austen Sequel
'The Niceties' Captures Contemporary University Turmoil
---