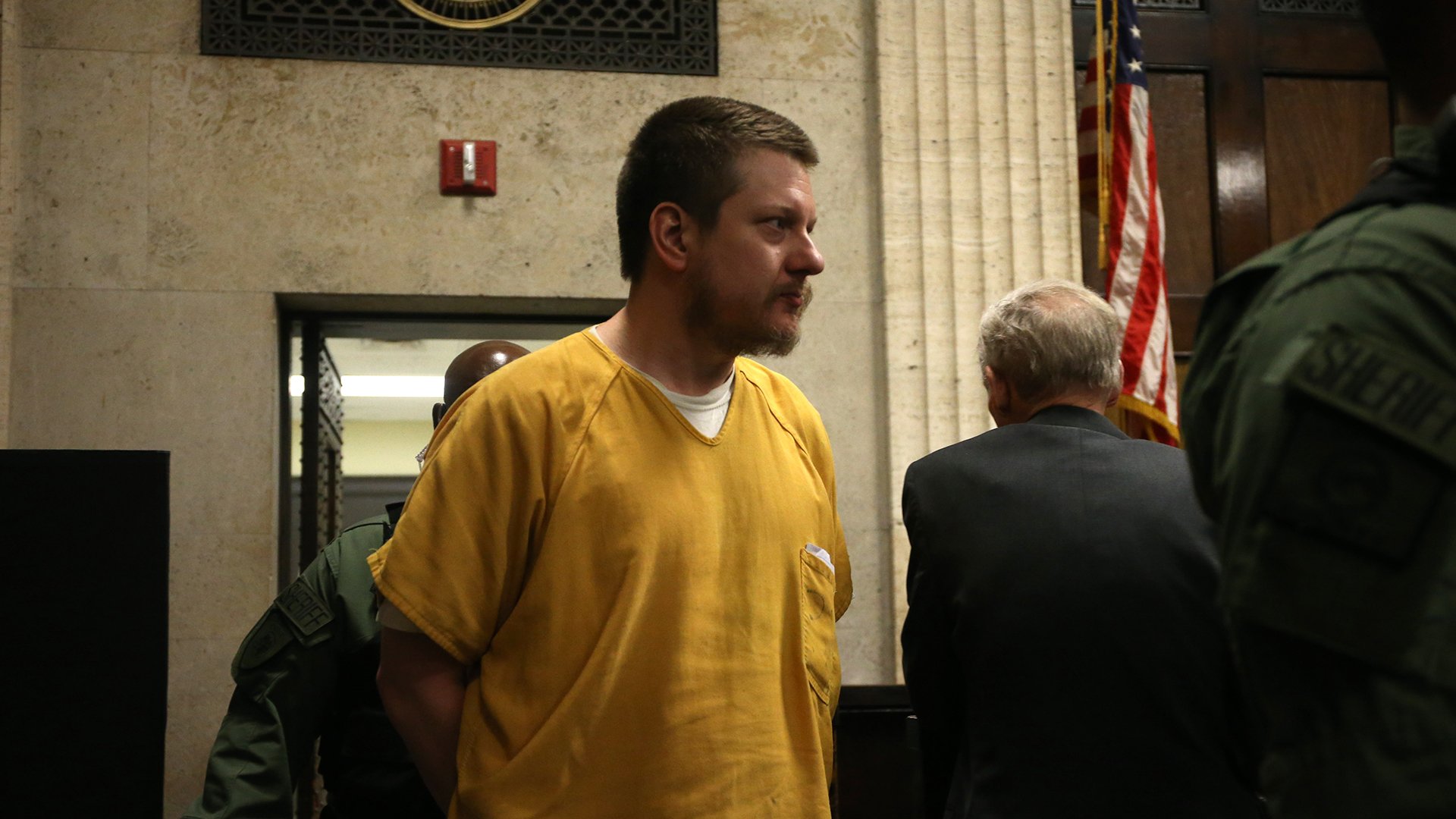 Former Chicago police Officer Jason Van Dyke enters the courtroom for his sentencing hearing at the Leighton Criminal Court Building on Friday, Jan. 18, 2019. (Antonio Perez / Chicago Tribune / Pool)
UPDATE: Jason Van Dyke Being Held in Maryland Facility
Former Chicago police Officer Jason Van Dyke is no longer being held in a federal prison in New York – or in federal custody, period – but it's unclear where he will serve out the remainder of his sentence for the murder of black teen Laquan McDonald in 2014.
Van Dyke, who was convicted last year of second-degree murder for shooting McDonald 16 times, spent time in two federal prisons on the East Coast this year. But the Federal Bureau of Prisons on Tuesday confirmed that Van Dyke is no longer at the medium security federal correctional institution in Otisville, New York, where he had been incarcerated since March.
"As of today, Jason Van Dyke is no longer in the custody of the Federal Bureau of Prisons," bureau spokesman Justin Long told WTTW News in an email Tuesday afternoon. He referred follow-up questions to the Illinois Department of Corrections.
Reached via email, IDOC spokeswoman Lindsey Hess said that while Van Dyke is no longer in BOP custody, he's also not in IDOC's custody.
"He remains under the jurisdiction of the Illinois Department of Corrections, but is not in our custody," she said. "For safety and security purposes, the Department does not discuss details concerning the placement of offenders who have transferred under the terms of the Interstate Corrections Compact Agreement."
Although he was convicted in state court, Van Dyke has been held in federal prison due to the notoriety of his case. He was initially moved to a prison in Connecticut following his sentencing in January, but was transferred to Otisville after he was attacked by his fellow inmates in February.
But it remains unclear where exactly Van Dyke is being held now.
"I only know what you know," Van Dyke's appellate attorney Jennifer Blagg told WTTW News in an email.
Until this week, publicly available BOP records indicated Van Dyke was being housed in Otisville with a scheduled release date in February 2022. As of Tuesday, those records indicated Van Dyke had a new release date of Nov. 26, 2019.
The Federal Bureau of Prisons website shows Jason Van Dyke with a scheduled release date of Nov. 26, 2019.
Van Dyke, 41, was convicted in October 2018 of second-degree murder and 16 counts of aggravated battery with a firearm following a landmark monthlong trial. His conviction marked the first time a Chicago police officer had been convicted of murder for an on-duty shooting in some 50 years.
Van Dyke shot McDonald 16 times during a police response on Oct. 20, 2014, as the teen walked down the middle of South Pulaski Road carrying a knife. The dashcam footage of the shooting was not released until more than a year later.
Taking the witness stand at trial, Van Dyke testified he only started shooting after McDonald raised the knife at him, and continued firing as the teen tried to get up off the ground with a knife still in hand.
But special prosecutors argued that didn't match the dashcam video. They also pointed to statements the officer made to his partner on the night of the shooting while en route to McDonald's position, including saying, "Oh my God, we're going to have to shoot the guy."
Though he was charged with first-degree murder, jurors convicted him of a lesser charge. They believed that Van Dyke felt he was in danger when confronting McDonald, but felt that wasn't enough of a reason to shoot and kill him.
The conviction was hailed by local activists as a "historic victory," but that sentiment soured some after Van Dyke was sentenced to 81 months in prison – far below the 18-year sentence special prosecutor Joseph McMahon had recommended.
"This is a sad day for America and the American justice system," McDonald's great uncle, the Rev. Marvin Hunter, told reporters after the sentence was announced. "This man has clearly committed murder … Anyone of any civil and conscious mind knows that this is murder."
Van Dyke formally resigned from the CPD last month.
Beyond Van Dyke, the McDonald shooting had lasting repercussions throughout the Chicago Police Department. Then-CPD Superintendent Garry McCarthy was fired days after the dashcam video was released.
A U.S. Department of Justice investigation into the CPD undertaken after that video came out found a pattern of civil rights violations, stating that the police department "engages in a pattern or practice of using force, including deadly force, in violation of the Fourth Amendment of the Constitution." The CPD has since entered into a consent decree placing the department under federal oversight.
Three other officers – Joseph Walsh, Thomas Gaffney and David March – were tried and ultimately acquitted of covering up the shooting this past January.
And in July, the Chicago Police Board fired four other officers connected to the shooting.
Because he was convicted of a Class 1 felony – rather than a Class X felony like first-degree murder – Van Dyke was only expected to serve about half of his 81-month sentence. He has so far served about 10 months.
Contact Matt Masterson: @ByMattMasterson | [email protected] | (773) 509-5431
---
Related stories:
Aug. 14, 2019: Judge Lifts Decorum Order in Jason Van Dyke Case, Freeing Up Last Documents
Feb. 13, 2019: Source: Jason Van Dyke Beaten by Fellow Inmates in Prison
Jan. 18, 2019: Jason Van Dyke Sentenced to 7 Years in Prison
Oct. 9, 2018: Jason Van Dyke Transferred From Cook County Jail Amid Safety Concerns
Oct. 5, 2018: 'I Feel That We Gave a Good Verdict': Van Dyke Jurors Speak Out After Trial
Oct. 5, 2018: Jason Van Dyke Found Guilty of Second-Degree Murder
Nov. 24, 2015: Chicago Police Officer Charged with Murder in Shooting Death of Laquan McDonald
Nov. 24, 2015: City Releases Laquan McDonald Shooting Video
---