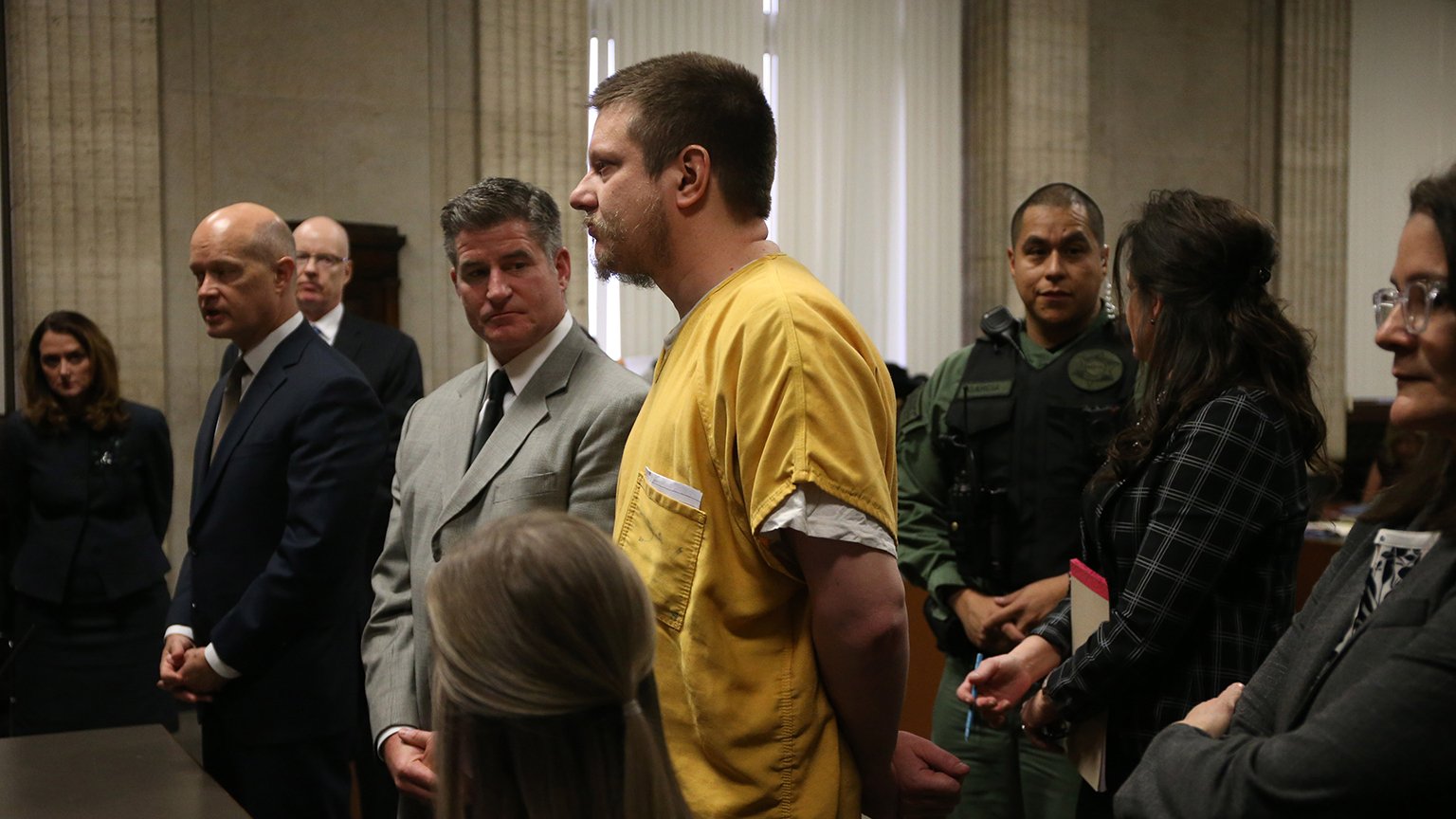 Former Chicago police Officer Jason Van Dyke and his attorney Daniel Herbert, left, attend Van Dyke's sentencing hearing on Friday, Jan. 18, 2019. (Antonio Perez / Chicago Tribune / Pool)
UPDATE: Jason Van Dyke's Wife, Attorneys Demand Answers After Prison Beating
Jason Van Dyke was beaten by his fellow inmates shortly after being transferred to an out-of-state prison, a source close to his family confirms.
The former Chicago police officer was transferred to a prison facility in Connecticut less than a month after he was sentenced to 81 months for the 2014 shooting death of teen Laquan McDonald.
While there, he was beaten by other inmates, the source confirmed. No further information on his condition was provided. WGN first reported news of the attack Wednesday night. Van Dyke's wife Tiffany is reportedly planning a press conference Thursday morning, according to the Chicago Sun-Times.
"We are petrified and very worried about Jason's safety," Tiffany Van Dyke said in a statement. "Jason wants to serve his time and does not want any trouble. We are hoping prison officials will take quick action to rectify this situation."
Van Dyke was convicted last fall of second-degree murder and 16 counts of aggravated battery with a firearm stemming from the fatal shooting of McDonald. The incident garnered national attention after police dashcam video of the shooting was released in 2015.
Immediately after his conviction, Van Dyke was moved into the Cook County Jail. But it was a short stay: He was transferred days later to the Rock Island County Jail, about three hours from Chicago, until his sentencing.
Cook County Jail officials said at the time the move was made in the "best interest of his safety as well as the safety and stability of the jail compound." Van Dyke was isolated from other prisoners while in Rock Island.
Just this week, Illinois Attorney General Kwame Raoul and special prosecutor Joseph McMahon announced they're challenging Van Dyke's sentence, petitioning the state Supreme Court for a writ of mandamus, claiming Van Dyke received an "improper sentence."
Van Dyke's attorneys decried that as a political move and filed an appeal of his convictions last week.
Contact Matt Masterson: @ByMattMasterson | [email protected] | (773) 509-5431
---
Related stories:
Van Dyke Prosecutor Joseph McMahon, Attorney General Discussing Sentence Challenge
Attorney General, Special Prosecutors Reviewing Van Dyke Sentence
Jason Van Dyke Sentenced to 7 Years in Prison
Jason Van Dyke Found Guilty of Second-Degree Murder
Van Dyke Defense Opens with Testimony of Laquan McDonald's Past
A Timeline of the Laquan McDonald Shooting
---