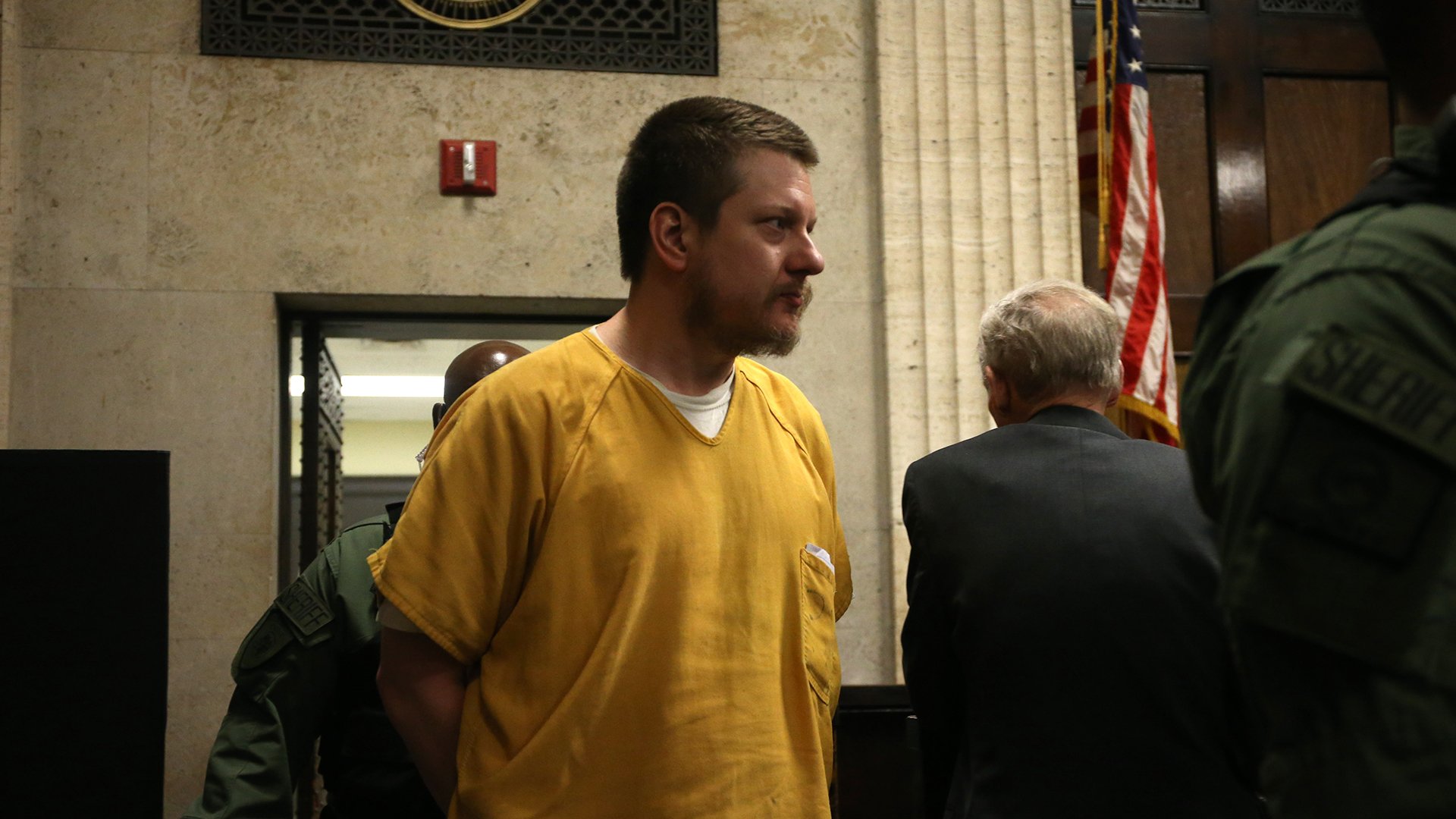 Former Chicago police Officer Jason Van Dyke enters the courtroom for his sentencing hearing at the Leighton Criminal Court Building on Friday, Jan. 18, 2019. (Antonio Perez / Chicago Tribune / Pool)
Federal prosecutors in Chicago have announced they will not file criminal charges against Jason Van Dyke, the ex-police officer who was previously tried and convicted in state court for the 2014 murder of teen Laquan McDonald.
The decision from U.S. Attorney John Lausch comes two months after Van Dyke was released from custody after serving about half of his 81-month sentence handed down by a Cook County judge in 2018.
"U.S. Attorney Lausch has spoken with a representative of Mr. McDonald's family on multiple occasions over the past three years, including recently, to discuss the factors the Department of Justice considers when deciding to bring a second prosecution," Lausch's office said in a statement Monday. "The family was in agreement not to pursue a second prosecution, and the Office respects their position."
Van Dyke, who is White, was charged more than a year after he shot Black teen McDonald 16 times in the middle of a Southwest Side street. Dash camera video of the shooting — which showed McDonald carrying a knife and walking away from officers before he was killed — made national news and sparked widespread protests and calls for reform of the Chicago Police Department.
A 12-person jury convicted Van Dyke of second-degree murder and 16 counts of aggravated battery with a firearm.
As his release date approached, local activists and politicians renewed calls for additional federal charges. Mayor Lori Lightfoot expressed "supreme disappointment" with Van Dyke's release, while others felt he deserved a significantly harsher prison sentence.
Lausch said his office conducted a "thorough and independent investigation" into McDonald's murder, alongside the Cook County state's attorney's office and the FBI, as well as the Chicago Independent Police Review Authority and its successor, the Civilian Office of Police Accountability.
While he acknowledged his office would have the ability to retry Van Dyke, and noted that doing so would "not be a retrial of the state case," Lausch said federal prosecutors would have to clear a "very high bar" to secure a conviction.
"Federal prosecutors would need to prove to a jury beyond a reasonable doubt that Mr. Van Dyke willfully deprived Mr. McDonald of a constitutional right," Lauch said. "To do that, prosecutors would have to prove not only that Mr. Van Dyke acted with the deliberate and specific intent to do something the law forbids, but also that his actions were not the result of mistake, fear, negligence, or bad judgment. It requires federal prosecutors to prove beyond a reasonable doubt what Mr. Van Dyke was thinking when he used deadly force, and that he knew such force was excessive."
Even if Van Dyke was convicted again, Lausch notes that at sentencing, a judge would have to consider the previous 81-month sentence, as well as the facts that Van Dyke's conduct in prison allowed for an early release and that he can no longer serve as a police officer.
"Given these factors," he said, "there is a significant prospect that a second prosecution would diminish the important results already achieved."
Contact Matt Masterson: @ByMattMasterson | [email protected] | (773) 509-5431
---