The video cannot be displayed.
Early this evening, the Chicago Police Department released the long-awaited video of the shooting death of teenager Laquan McDonald. The 17-year-old was shot and killed by Chicago Police Officer Jason Van Dyke in October 2014.
The video shows Van Dyke in the middle of the street, moving away from the police car that's recording the incident with its dash cam. He appears to be moving away from police officers, including Van Dyke, when Van Dyke immediately opens fire. McDonald spins to the ground as shots continue to be fired. The video moves to the right and Van Dyke is out of frame, but puffs of smoke rising from McDonald's body are confirmed to be debris from gunshots.
[City Releases Laquan McDonald Shooting Video]
There were 16 shots fired total in a span of 15 seconds. For 13 of those seconds, McDonald was on the ground.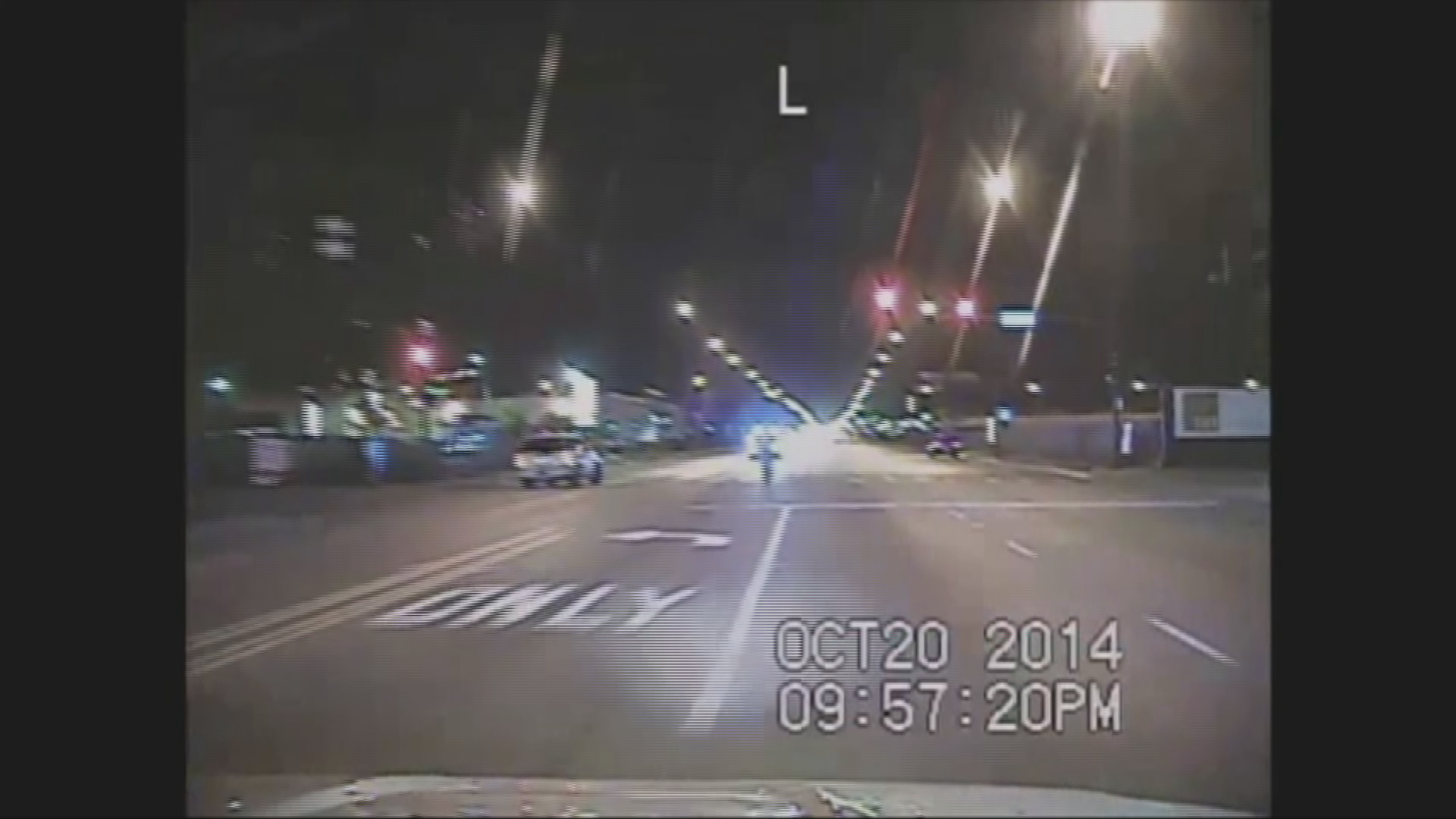 Charges filed
Van Dyke has been suspended without pay and is facing a first-degree murder charge tonight.
State's Attorney Anita Alvarez outlined the case earlier today, and admitted that the impending release of the video forced her to charge the officer sooner than she would have, despite a yearlong investigation.
Alvarez says she was determined to bring murder charges weeks ago, despite only acting today – but said she would have liked more time for the investigation.
Van Dyke, 37, appeared in court early this morning with his attorney, Dan Herbert. He is being held without bond until a Monday hearing where the judge has asked to see the video.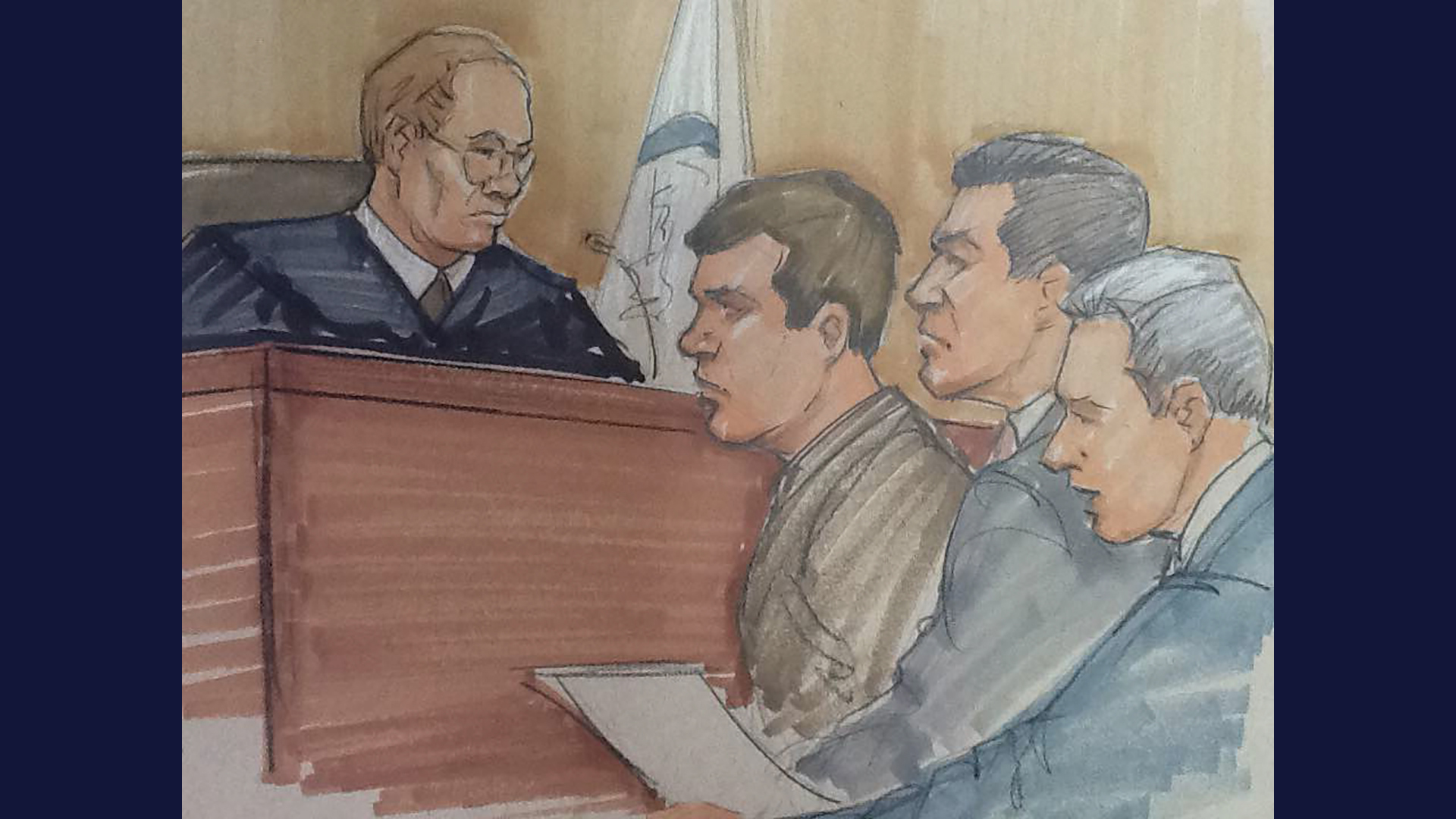 (Sketch by Thomas Gianni)
Van Dyke appeared before the judge and onlookers with his hands tied behind his back and wearing blue jeans and a brown sweat shirt. Prosecutors read the proffer presenting the facts of the case against him as they see it.
[Attorney of Officer Van Dyke Addresses Shooting Video of Laquan McDonald]
It starts at 9:47 p.m. on Oct. 20, 2014, where McDonald is caught breaking into trucks and stealing radios – he has a knife in his hand, PCP in his system and slashes the car tire of a police vehicle. Nine minutes later, Van Dyke's unit is on the scene – in less than a minute, he is out of his car firing at McDonald.
"An analysis of the video establishes that 14 to 15 seconds passed from the time the defendant fired his first shot to clear visual evidence of a final shot," say prosecutors. "For approximately 13 of those seconds, McDonald is lying on the ground. Of the eight or more officers on the scene, only the defendant fired his weapon.
"The beat officers did not see the need to use force against McDonald when they encountered him and that he began running towards Pulaski when sirens could be heard."
Alvarez cites testimony from those officers, including a patrolman who was driving with Van Dyke.
"The motorist described McDonald as looking for a way to get away from the police," Alvarez said. "The motorist stated that McDonald never moved toward, lunged at, or did anything threatening towards the officers before he was shot and fell to the ground. This witness stated that he heard a pause in the shots after McDonald fell to the ground, but then heard more shots. He also said he did not see McDonald do anything threatening while lying on the ground that would cause the officer to continue to shoot.
"It is my determination that this defendant's actions of shooting McDonald when he did not an pose immediate threat to create bodily harm or death, and the subsequent actions of shooting McDonald while he lay on the ground were not justified or a proper use of deadly force by this police officer," Alvarez said.
Yearlong investigation
Many officials, including Cook County Board President Toni Preckwinkle, alluded to frustration with Alvarez's office that it took a year to bring charges against Van Dyke.
But Alvarez said that she felt this was a quick investigation; that the video did force her hand, and that police shootings can take two years to investigate. The reason is that it is extremely difficult to match the burden of proof to show the unjustified use of deadly force.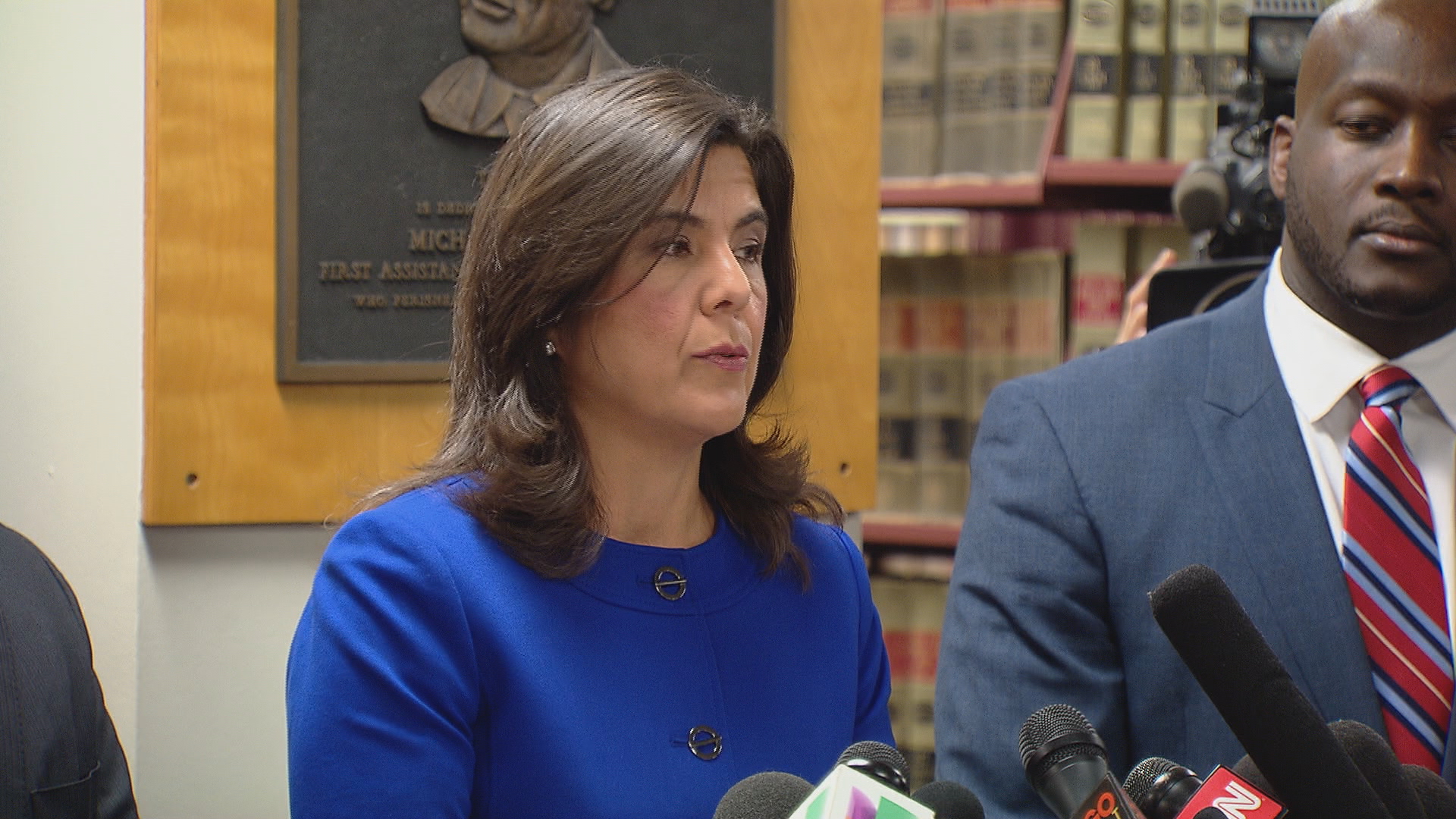 Anita Alvarez "It's extremely complicated when you investigate police shootings," Alvarez said. "That being said, this investigation was tenacious, meticulous, and we did everything to make sure we weren't going to jeopardize the case. While we would have preferred for the investigation to run its full course and allow our federal partners to complete their evaluation in its entirety, I felt compelled in the interest of public safety to announce these state charges today."
Alvarez says the FBI and U.S. attorney's' office worked jointly with the state's attorney on this – but they were not ready to bring charges this week.
Jason Van Dyke
Van Dyke has been on the force since 2001 and is married with two children. He had 15 complaints against him but had never faced disciplinary action. The Fraternal Order of Police and Van Dyke's attorney are standing by him, saying the case has to be tried in a court of law – and that one video does not tell the whole story of what happened that night.
"I don't want to get into his head, but when you're in a situation where you feel the need to utilize your weapon, you do that, whether its six seconds, one second, or five minutes," said Dean Angelo, President of the Fraternal Order of Police.
"The standard in this case is, 'What was my client experiencing at the time he made this split-second decision to fire,'" said FOP and Van Dyke attorney Herbert. "That is the standard that hopefully will be used in court, and we fully anticipate we'll be successful in this case. This is not a murder case. Despite what you heard in the courtroom, this is truly not a murder case."
McDonald's family this afternoon issued a statement:
"We [the family of Laquan McDonald] deeply appreciate the outpouring of love and support for Laquan. This is a difficult time for us. As we have said in the past, while we would prefer that the video not be released we understand that a court has ordered otherwise. We ask for calm in Chicago. No one understands the anger more than us but if you choose to speak out, we urge you to be peaceful. Don't resort to violence in Laquan's name. Let his legacy be better than that."
Alvarez and Chicago Police Department officials say other video retrieved from a nearby Burger King was not relevant to the case, and there was no evidence that the surveillance video was tampered with, despite reports and claims from attorneys that the video had gone missing.
In Monday's hearing, a judge will re-determine conditions of bond after viewing the video that is now public to everyone.
---
Watch Alvarez's press conference about the fatal shooting and charges filed against Van Dyke.
---
Related 'Chicago Tonight' stories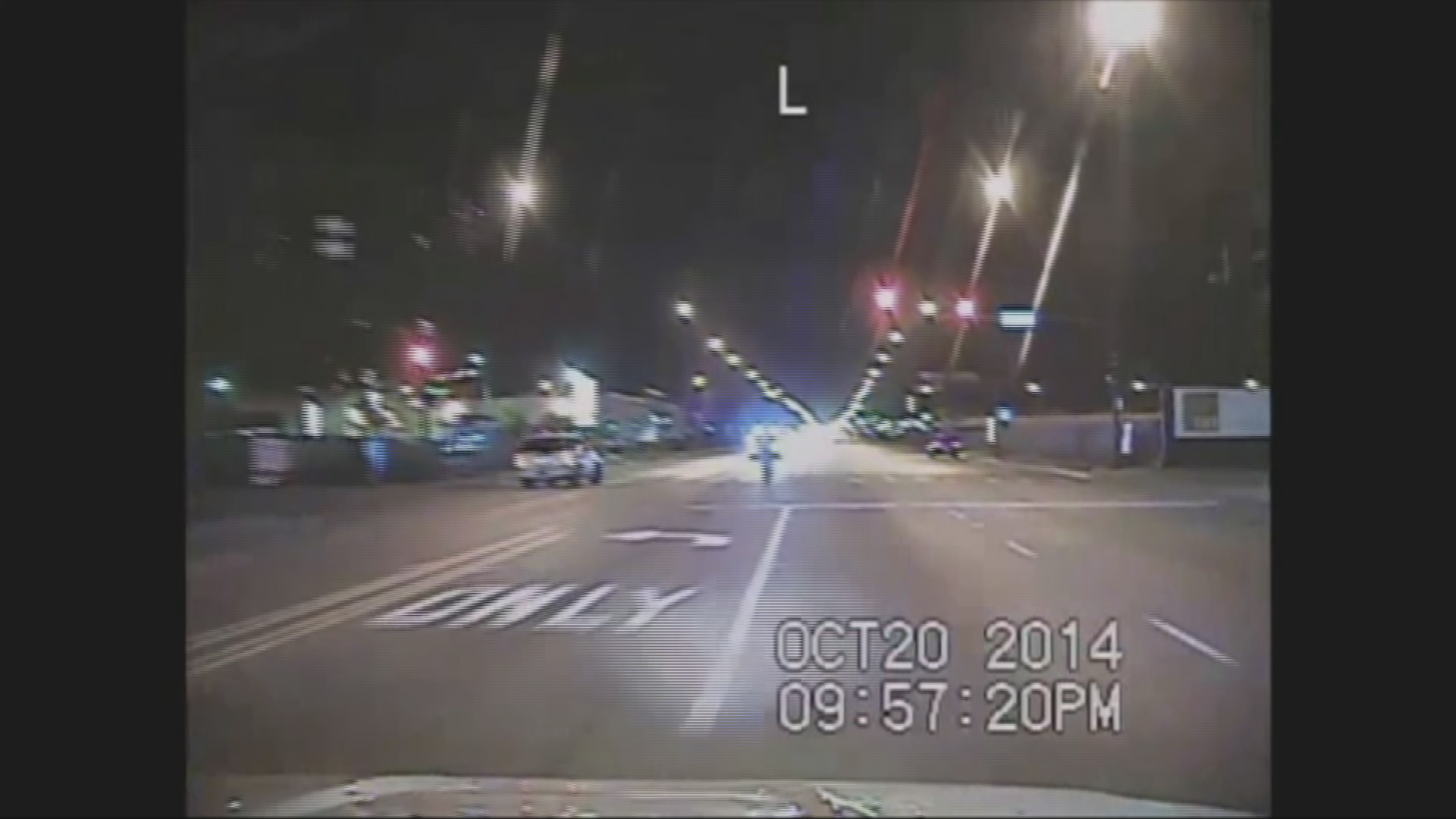 City Releases Laquan McDonald Shooting Video
The Chicago Police Department on Tuesday released the dash-cam video depicting the fatal shooting of 17-year-old Laquan McDonald by police officer Jason Van Dyke.
---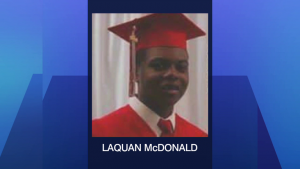 Ministers and Community Activists Respond to Decision to Charge CPD Officer with Murder
We talk with activists and faith leaders about the decision to charge the officer involved in the fatal shooting of Laquan McDonald with first degree murder and what reaction they expect from their community at large.
---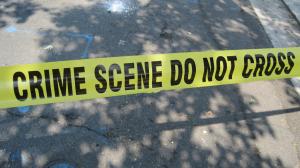 Chicago Prepares for Release of Controversial Police Shooting Video
The city of Chicago has two days to release the controversial video involving a white police officer shooting an African-American teen 16 times and killing him. How are officials preparing for the fallout? 
---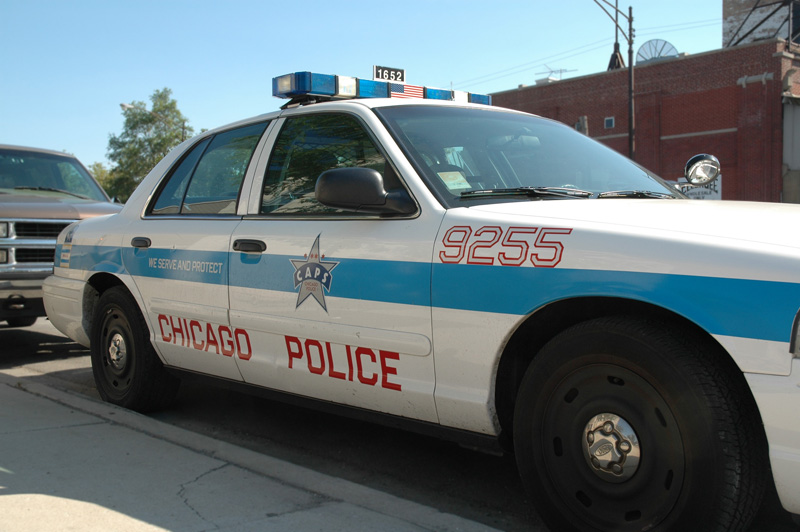 Understanding Police Shooting Investigations
The city of Chicago will release video this week showing a police officer shooting a teenager. We take a closer at look at the sometimes lengthy process of investigating police shootings.
---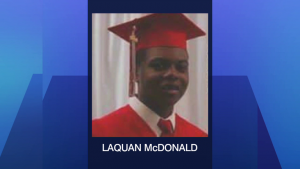 City Will Release Laquan McDonald Police Shooting Video
Chicago officials are bracing for the release of a controversial video purported to show a white police officer shooting 17-year-old Laquan McDonald, an African-American, 16 times and killing him.
---
McDonald Family Attorney, Journalist React to Judge's Ruling on Controversial Police Video
We talk with the freelance journalist who sued the city for the video and one of the attorneys representing the McDonald family during settlement talks with the city.
---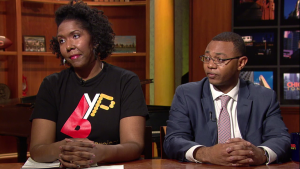 Laquan McDonald Police Video Release Stirs Mixed Reactions
We hear from two members of the black community as a Cook County judge orders the release of dashboard video footage of the fatal police shooting of 17-year-old Laquan McDonald.
---