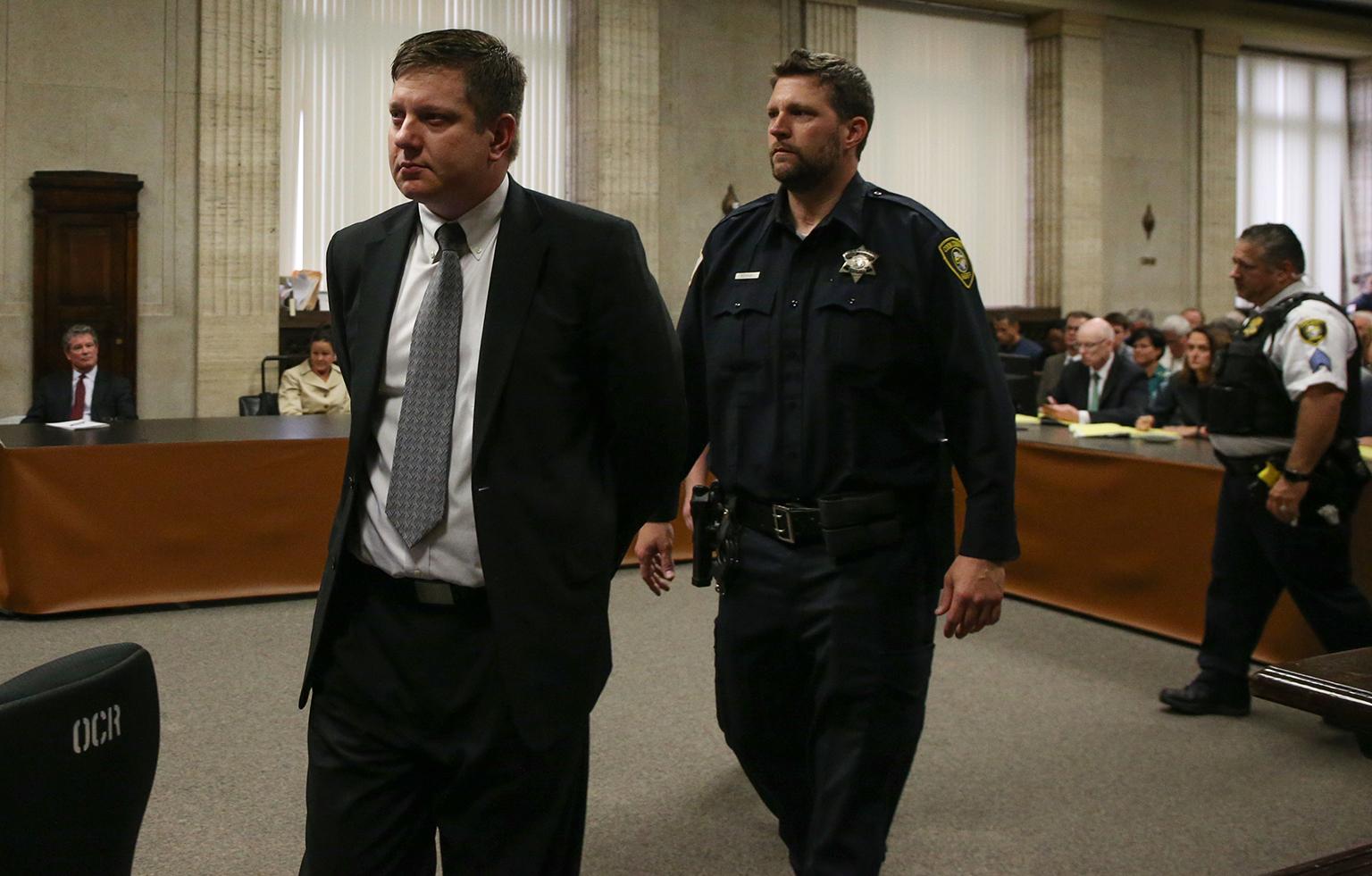 Chicago police Officer Jason Van Dyke is led out of the courtroom following the verdict announcement Friday, Oct. 5, 2018. (Antonio Perez / Chicago Tribune / Pool)
"The jury has reached a verdict," Cook County Judge Vincent Gaughan told his courtroom just after 1 p.m. Friday afternoon. About 30 minutes earlier, the 12-person jury tasked with deciding the fate of Jason Van Dyke returned verdict forms announcing their decision: they had found the suspended Chicago police officer guilty of second-degree murder in the 2014 shooting death of Laquan McDonald.
The verdict came almost exactly 24 hours after attorneys finished their closing arguments, following three weeks of testimony in the high-profile case that has dominated headlines since Nov. 24 2015 – the day when charges were first filed and dashcam video of the shooting was released.
Jurors began their deliberations just before 1 p.m. Thursday inside the same room where they were first interviewed as potential jurors early last month. That room – located opposite Gaughan's chambers behind the courtroom – features a long rectangular table, two bathrooms and windows looking northward. 
After 7.5 hours of deliberations and one night spent sequestered together inside a hotel, they had their verdict.
"I feel that we gave a good verdict," the lone black female juror on the case said after the verdict. "We looked at all the evidence and we ruled on it accordingly."
On top of second-degree murder, Van Dyke was also convicted on 16 counts of aggravated battery with a firearm. He was acquitted on one count of official misconduct.
Jurors said they felt Van Dyke should have considered other, non-lethal options before firing his weapon 16 times. While they believe Van Dyke felt he was in danger, they didn't find that belief to be a compelling enough reason to kill.
When asked if a total acquittal on all charges was ever on the table, jurors said it was not.
"He should have realized what the situation was," a white male juror said. "And instead of escalating the situation, (he) should have looked at other options."
Jurors felt Van Dyke taking the witness stand was a misstep, saying his testimony felt rehearsed and untruthful. And in a trial of a white officer shooting a black teen, many jurors didn't think race played a factor in the case – until closing arguments. It was then defense attorney Dan Herbert said that had Van Dyke shot a Boy Scout who was acting the same way as McDonald, he probably wouldn't have been justified.
"We didn't come here because of race," one juror said. "We came here because of right and wrong."
Most felt serving on the jury was a privilege, even if some didn't fully grasp the enormity of the case when they took it on early last month.
"We were kind of like hostages but VIPs at the same time," a female juror said. "It's going to be weird walking into a room now and not (have) everybody standing for us. But it was really interesting. I feel honored, in a way, that I was selected."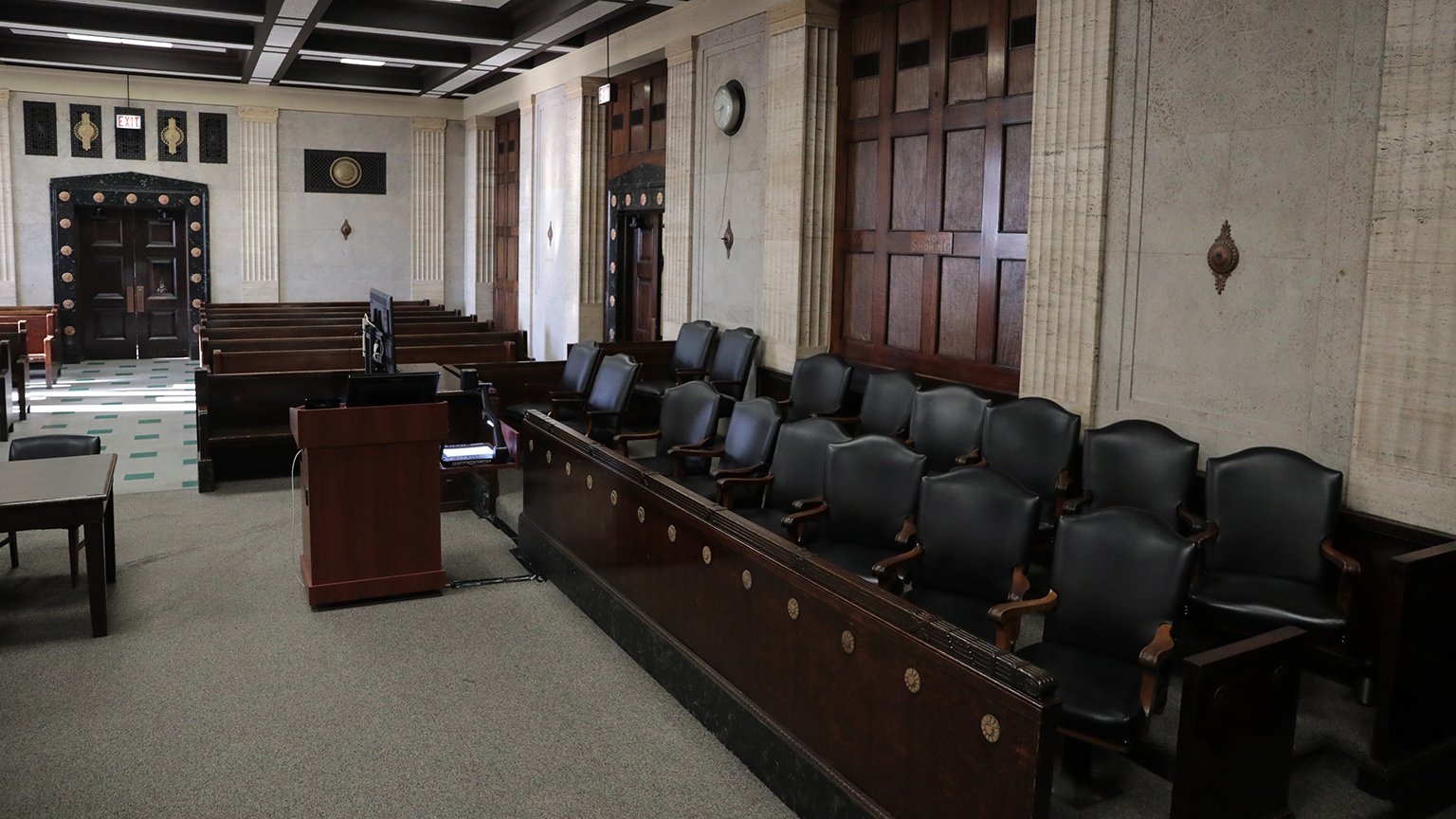 Empty jury box area readied for members of the jury in the courtroom of Judge Vincent Gaughan at the Leighton Criminal Court Building on Tuesday, Sept. 4, 2018. (Antonio Perez / Pool / Chicago Tribune)
About five hours after they began deliberating Thursday, jurors made two requests to Gaughan: to review a transcript of testimony from Joseph Walsh, Van Dyke's partner on the night of the shooting; and to be allowed cigarette breaks because some were having difficulty concentrating.
Both requests were granted. But Gaughan then promptly ended deliberations for the day and sequestered the 12-person jury and three alternates – meaning no phones, no television and practically no contact with the outside world.
They returned to court Friday morning and resumed deliberations at 10 a.m.
Within an hour, jurors had two more questions for the judge. One alternate juror asked if she could use her laptop to send an out-of-office notification. Gaughan obliged. Another, more substantial inquiry from the jurors dealt with the 16 counts of aggravated battery with a firearm.
Each count correlated to one of the bullets that struck McDonald. But the jurors wanted to know how those should be counted. (The Cook County pathologist who conducted McDonald's autopsy numbered each gunshot wound as she progressed across McDonald's body, from head to toe.)
Lunch arrived and was wheeled into the deliberation room before noon. A verdict was reached at 12:32 p.m. Friday.
"The deliberations were … they couldn't have been better because we listened to each other, we respected what each other said," the black female juror said. "When somebody was questioning something we let them ask their questions and we worked with it until people … till we all came to a consensus."
Contact Matt Masterson: @ByMattMasterson | [email protected] | (773) 509-5431
---
Related stories:
Jury Deliberations Begin in Jason Van Dyke Murder Trial
Closing Arguments in Jason Van Dyke Murder Trial Set for Thursday
Jason Van Dyke Takes Witness Stand, Tearfully Recounts Fatal Shooting
Van Dyke Defense Presents Fatal Shooting from Officer's Perspective
Van Dyke Defense Opens with Testimony of Laquan McDonald's Past
A Timeline of the Laquan McDonald Shooting
---