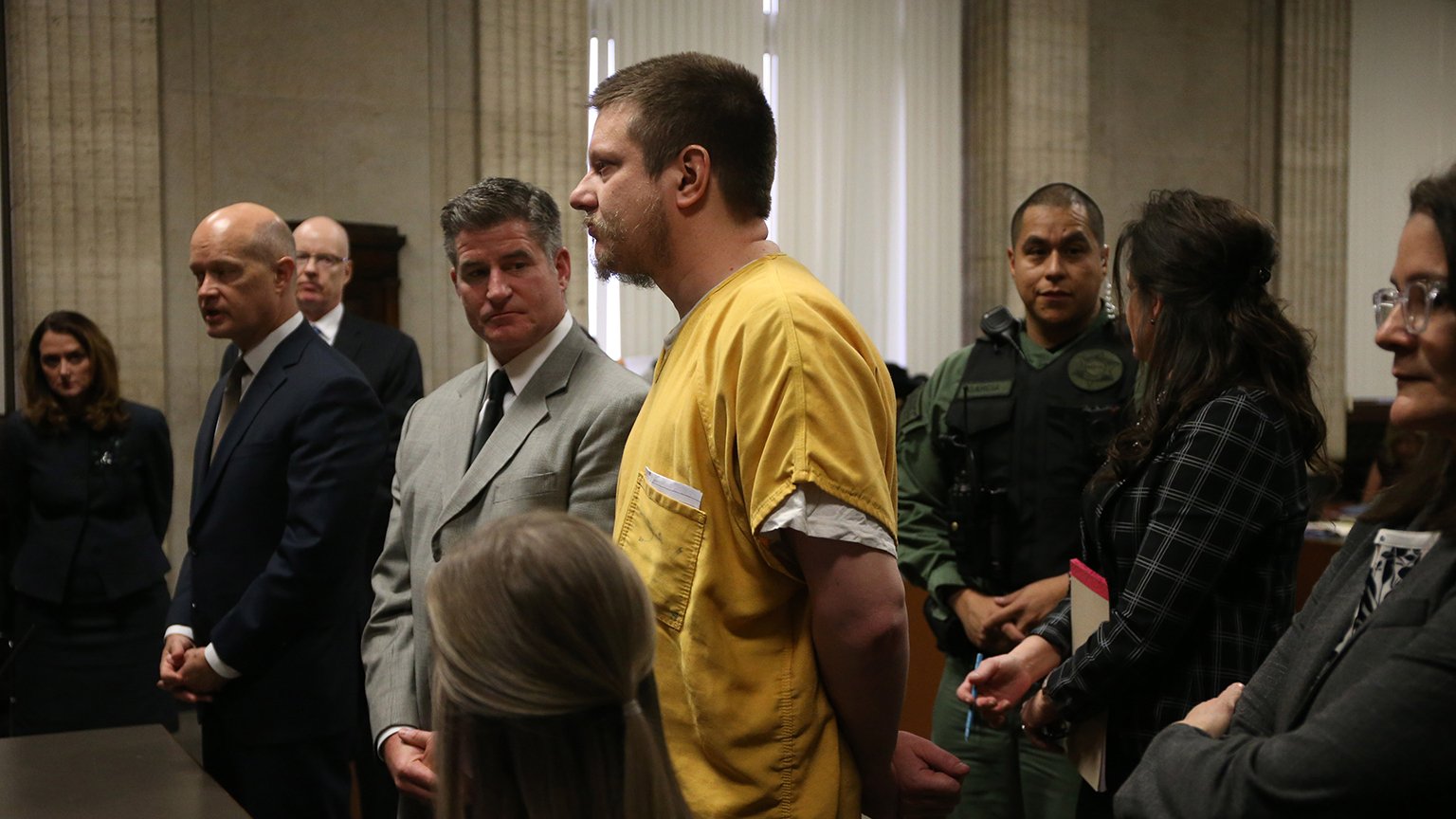 Former Chicago police Officer Jason Van Dyke and his attorney Daniel Herbert, left, attend Van Dyke's sentencing hearing on Friday, Jan. 18, 2019. (Antonio Perez / Chicago Tribune / Pool)
Jason Van Dyke is currently being held in a facility in Baltimore, Maryland, as he awaits placement inside another prison. He was moved out of federal custody this week.
An inmate with Van Dyke's name and birthdate appeared on the inmate listings of the Maryland Division of Corrections, which confirmed it received the former Chicago police officer on Tuesday.
"Yes, we have him, he's here," an employee at the Maryland Reception, Diagnostic and Classification Center told WTTW News on Wednesday morning.
That location is an intake facility, the employee said, where inmates are held until they can be relocated into a state prison. The employee could not give any reason for Van Dyke's move there.
Jason Van Dyke's name appeared Wednesday on the Maryland Division of Correction's inmate records.
This marks the third state Van Dyke has been held in since he was convicted last year of second-degree murder and 16 counts of aggravated battery with a firearm for the 2014 killing of Laquan McDonald.
He was first housed in a federal institution in Connecticut, but was quickly transferred after he was beaten by his fellow inmates. He has since been held at FCI Otisville, a medium security prison in New York, but public records this week indicated he was set to be released from that facility Tuesday.
A spokesman with the Federal Bureau of Prisons confirmed Tuesday that Van Dyke was no longer in their custody, but offered no other information. Likewise, the Illinois Department of Corrections said he was not in their custody, but remained under their jurisdiction.
Van Dyke's status in Maryland was first reported by The Crime Report.
As of Tuesday night, neither Van Dyke's trial attorney Daniel Herbert nor his appellate attorney Jennifer Blagg knew where he was being held. 
Van Dyke was sentenced in January to 81 months in prison. He was expected to serve about half that time with a scheduled release date in February 2022.
Contact Matt Masterson: @ByMattMasterson | [email protected] | (773) 509-5431
---
Related stories:
Nov. 26, 2019: Jason Van Dyke No Longer in Federal Custody
Aug. 14, 2019: Judge Lifts Decorum Order in Jason Van Dyke Case, Freeing Up Last Documents
Feb. 13, 2019: Source: Jason Van Dyke Beaten by Fellow Inmates in Prison
Jan. 18, 2019: Jason Van Dyke Sentenced to 7 Years in Prison
Oct. 9, 2018: Jason Van Dyke Transferred From Cook County Jail Amid Safety Concerns
Oct. 5, 2018: 'I Feel That We Gave a Good Verdict': Van Dyke Jurors Speak Out After Trial
Oct. 5, 2018: Jason Van Dyke Found Guilty of Second-Degree Murder
Nov. 24, 2015: Chicago Police Officer Charged with Murder in Shooting Death of Laquan McDonald
Nov. 24, 2015: City Releases Laquan McDonald Shooting Video
---