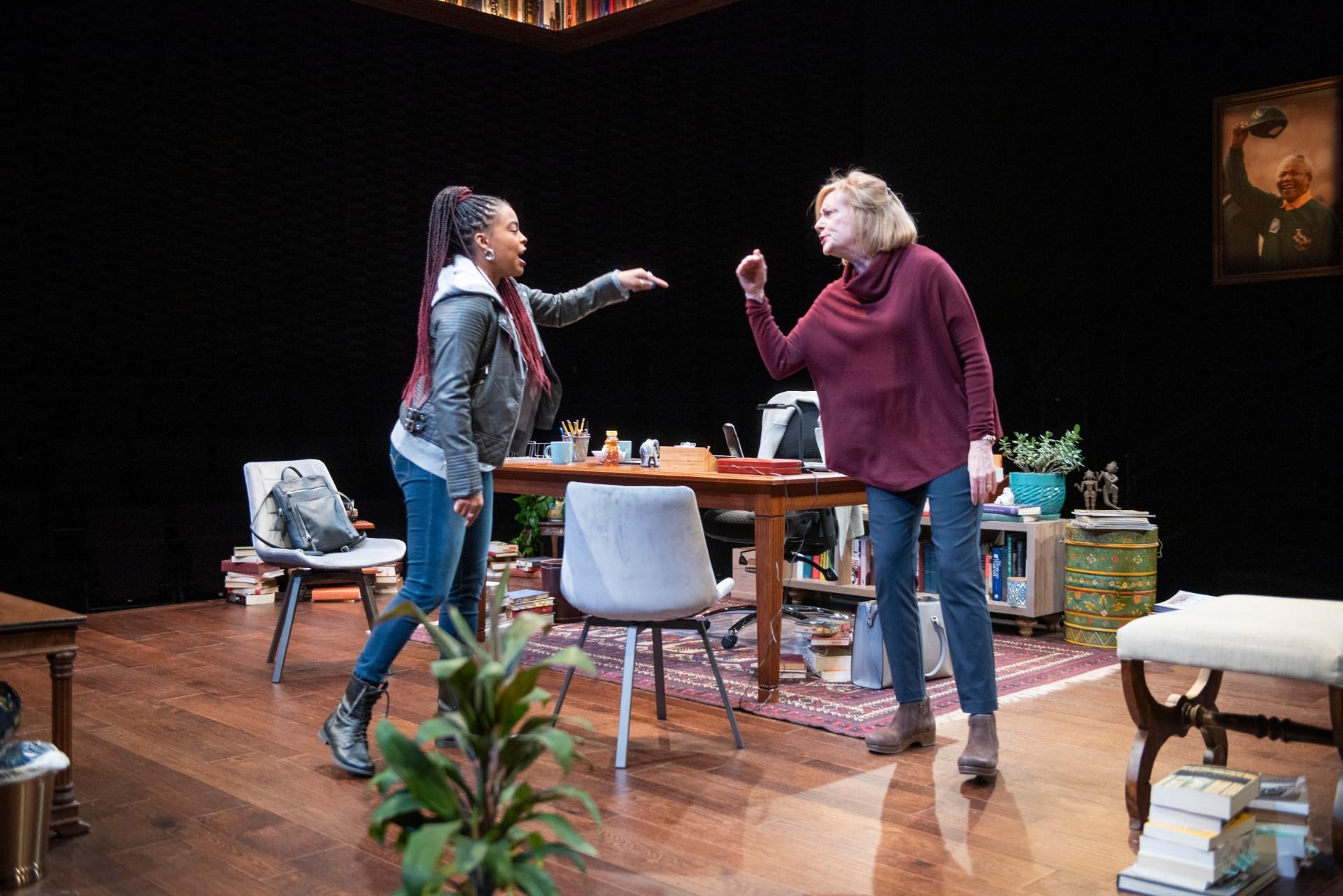 Ayanna Bria Bakari and Mary Beth Fisher in "The Niceties." (Photo by Michael Brosilow)
While a traditional debate team at an unnamed "elite university in the Northeast" might have thrived as the backdrop for Eleanor Burgess' play "The Niceties" in the past, it probably doesn't have a prayer these days.
Now in a Writers Theatre production directed by Marti Lyons, Burgess sums up the campus climate at the moment as she captures the confrontation between a white tenured history professor and her African American undergraduate student. In the process, she reveals the toxic atmosphere that permeates campuses these days, with issues of racism, diversity, sexism, power, privilege and the concept of "safety."
As these women of different generations battle it out, supporting their opposing views with an equally feverish sense of purpose, the niceties of a debate exercise of times past are no longer observed. And there is no handshake at the finale. Rather, what we witness is a bitter devolution into the most brutal, acrimonious battle: one that will have life-altering crash-and-burn consequences for both women.
Burgess (a Yale College alum) has crafted a dramatic vehicle for our time. It definitely is not subtle, but it pushes all the right buttons. Given its topicality, it's hardly surprising that it has inspired a dozen productions nationwide in this year alone.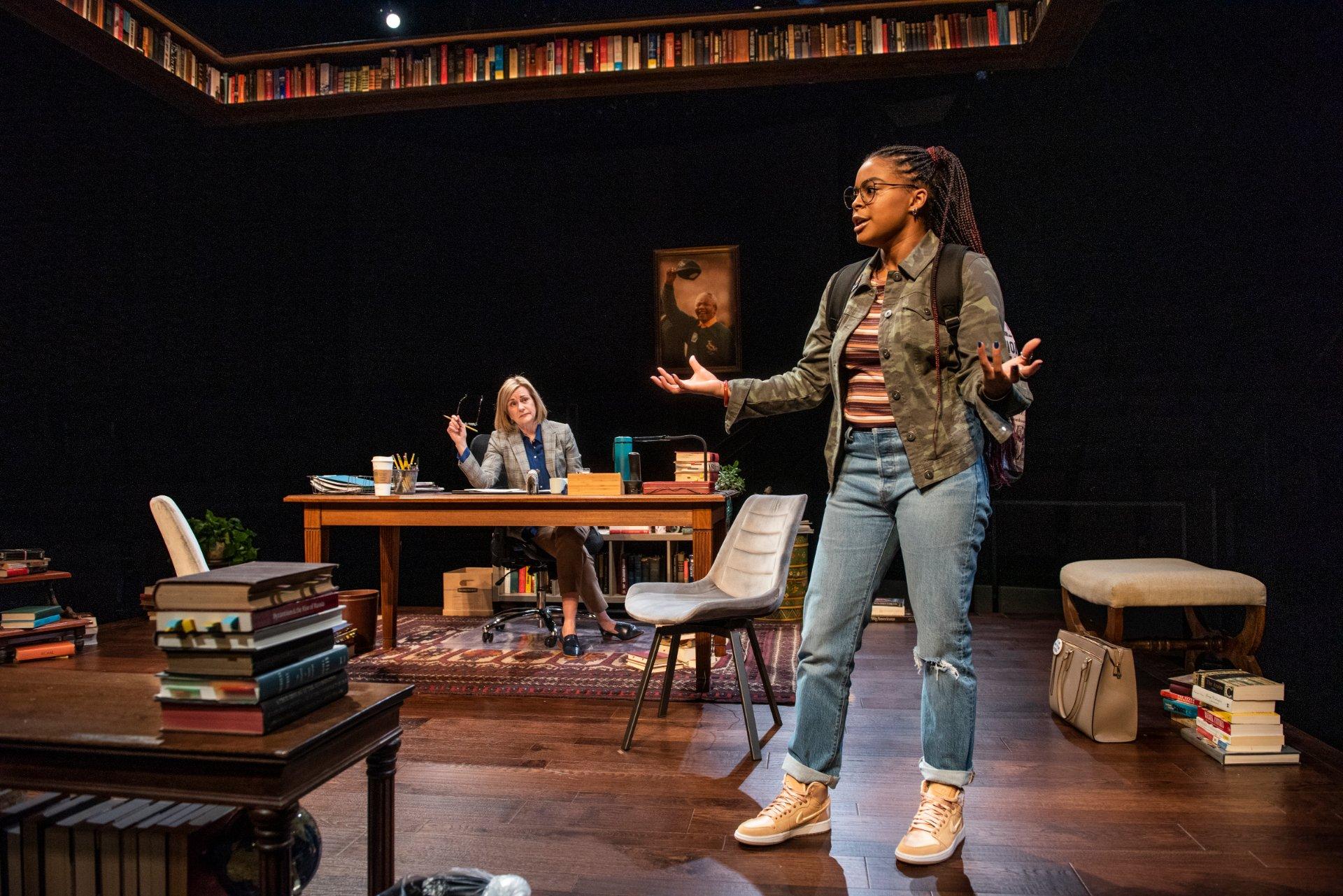 Mary Beth Fisher and Ayanna Bria Bakari in "The Niceties." (Photo by Michael Brosilow)
During the final year of the Obama presidency in March 2016, Zoe (Ayanna Bria Bakari), a junior majoring in political science, arrives in the book-strewn office of her professor, Janine (Mary Beth Fisher), to discuss a draft of her all-important final paper for a class on the American Revolution.
Zoe accepts Janine's initial grammatical and stylistic corrections, but it's not long before things grow exceptionally contentious as Janine begins to challenge her questionable uses of sources (including citations from the internet), and demands more primary sources. Zoe suggests that the lack of such sources suggests why there is such a gap in accurate writing about slavery at the time of the revolution. And while she is angry, brash and confrontational there also is a subtle suggestion that she is hardly from a disadvantaged background. (She grew up in the largely upscale area of Westchester, New York.)
Janine (the mother of an estranged son who is attending the same university where she is a faculty member), is gay and married, and clearly has risen from her working-class Polish roots to the very top ranks of academia. Her publications celebrate the United States as an example of a country founded by means of a "moderate revolution," unlike the more catastrophic upheavals in the history of France, China, Russia and beyond. She argues that while the American Revolution did not include the abolition of slavery, change came about over time.
Zoe will have none of it, and she surreptitiously tapes their conversation on her phone, posts it online, and sees to it that Janine is branded a racist and that her career is all but destroyed. The interesting thing here is that in the process Zoe also destroys herself, for as Janine tells her, she has become a pariah among the school's faculty, and she will find it difficult to get a top-level job after graduation given that her past, too, will be on the record.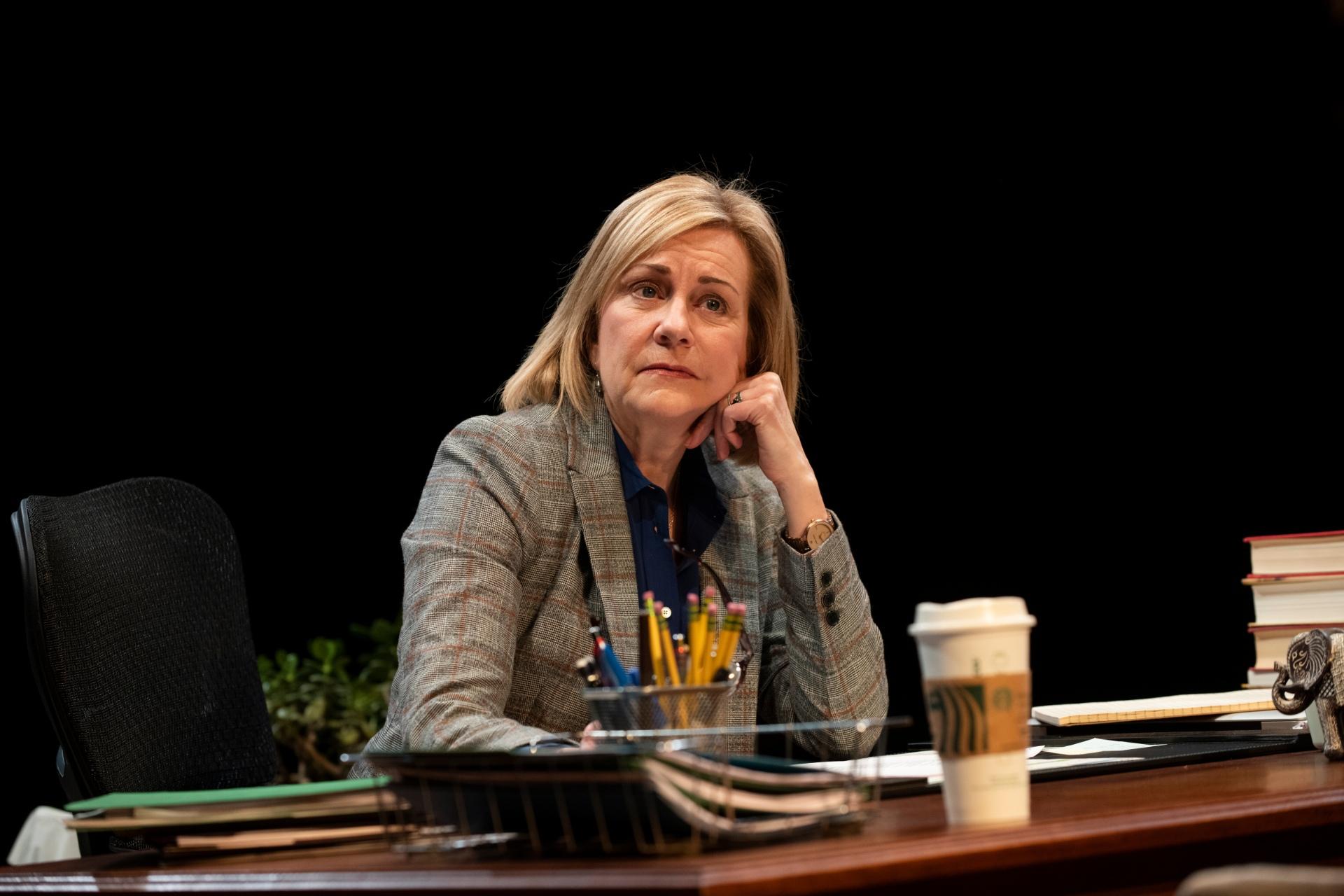 Mary Beth Fisher in "The Niceties." (Photo by Michael Brosilow)
In short, "The Niceties" is a brief and telling chronicle of the temper of our times and the seeming inability of people to disagree, air profound grievances and then work at finding compromises in order to generate change.
Both Fisher (a practiced master at this sort of bristling argument play) and Bakari (a 2017 DePaul Theatre School graduate who has already amassed a formidable resume, including a superb recent performance in "Too Heavy for Your Pocket"), sustain the necessary tension and subterfuge required to keep things at the boiling point here. With the Writers Theatre mainstage now configured in-the-round, Bakari can sometimes sound muffled when not facing in your particular direction.
The play can definitely feel overly contrived at moments, and at moments Burgess too casually tosses in suggestions of anti-Semitism and mental illness. But "The Niceties" unquestionably has been designed to provoke conversation. And so it does.
"The Niceties" runs through Dec. 8 at Writers Theatre, 325 Tudor Court, Glencoe. For tickets ($35-$80) call (847) 242-6000 or visit www.writerstheatre.org. Running time is one hour and 45 minutes with one intermission.
---
Stunning 'Don Giovanni' a Surprisingly Ideal Fit for the #MeToo Era
Hedy Weiss Reviews 'A Doll's House,' 'I'm Lenny Bruce' and More
Leguizamo Blazes His Way into an Often Unexplored Cultural Inheritance
---