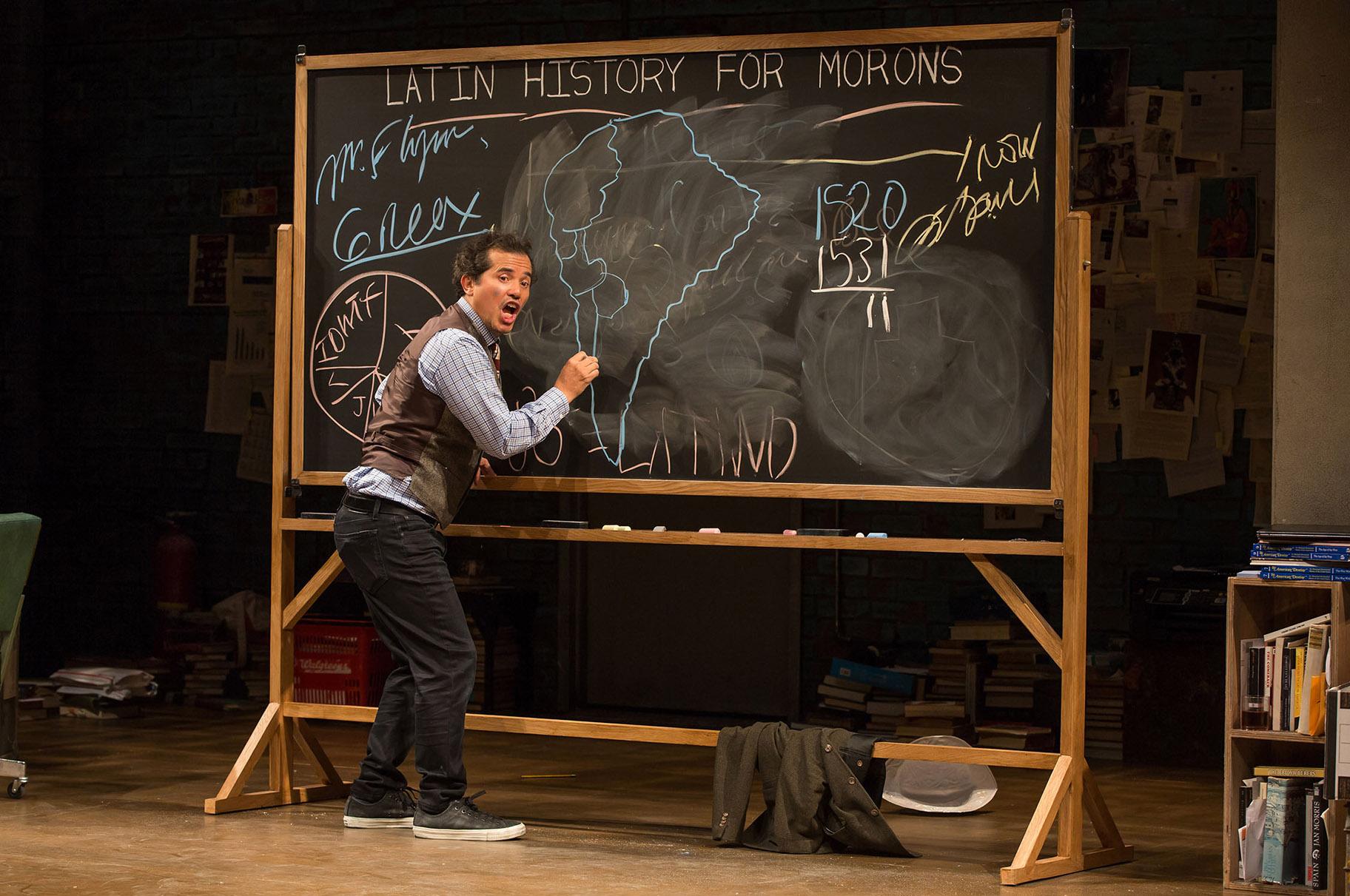 John Leguizamo in "Latin History for Morons." (Photo by Matthew Murphy)
Three decades ago, a lean, manic, crazily brilliant young actor by the name of John Leguizamo first exploded onto the stage of the old Goodman Theatre. His one-man shows, "Mambo Mouth" and "Spic-O-Rama," captivated audiences with his blazing streets-of-New York attitude, zany comic impressions, wild energy and irresistible Latin dance moves.
Now 55, the Colombian-born, Queens-bred, multi-heritage performer has returned to the stage with "Latin History for Morons," another self-penned, one-man show that is playing through Nov. 3 on the vast stage of the Cadillac Palace Theatre. He has accrued a long, starry resume full of Broadway, film, television and publishing credits, but, happily, he has not lost any of his high-octane drive, fabulous plasticity of body and mind, or comic edginess. Yet in this show, which works a twist on the long popular "For Dummies" book series and simultaneously serves as a real-life father-and-son story, Leguizamo is notably angrier. He is clearly fueled by the bitter immigration policies of the current (as well as many past) U.S. administrations, and by all the accompanying debasement of "south of the border" populations, many of whom happen to be "north of the border" citizens.
Arriving on a stage outfitted with piles of books and an old-fashioned chalkboard (on which Leguizamo proves himself a master of sexually charged map drawing), the actor explains how his sweet, shy, eighth-grade son, enrolled in a posh Manhattan private school, was subjected to ethnic bullying and called "a beaner," the loathsome slur most often directed at Mexicans.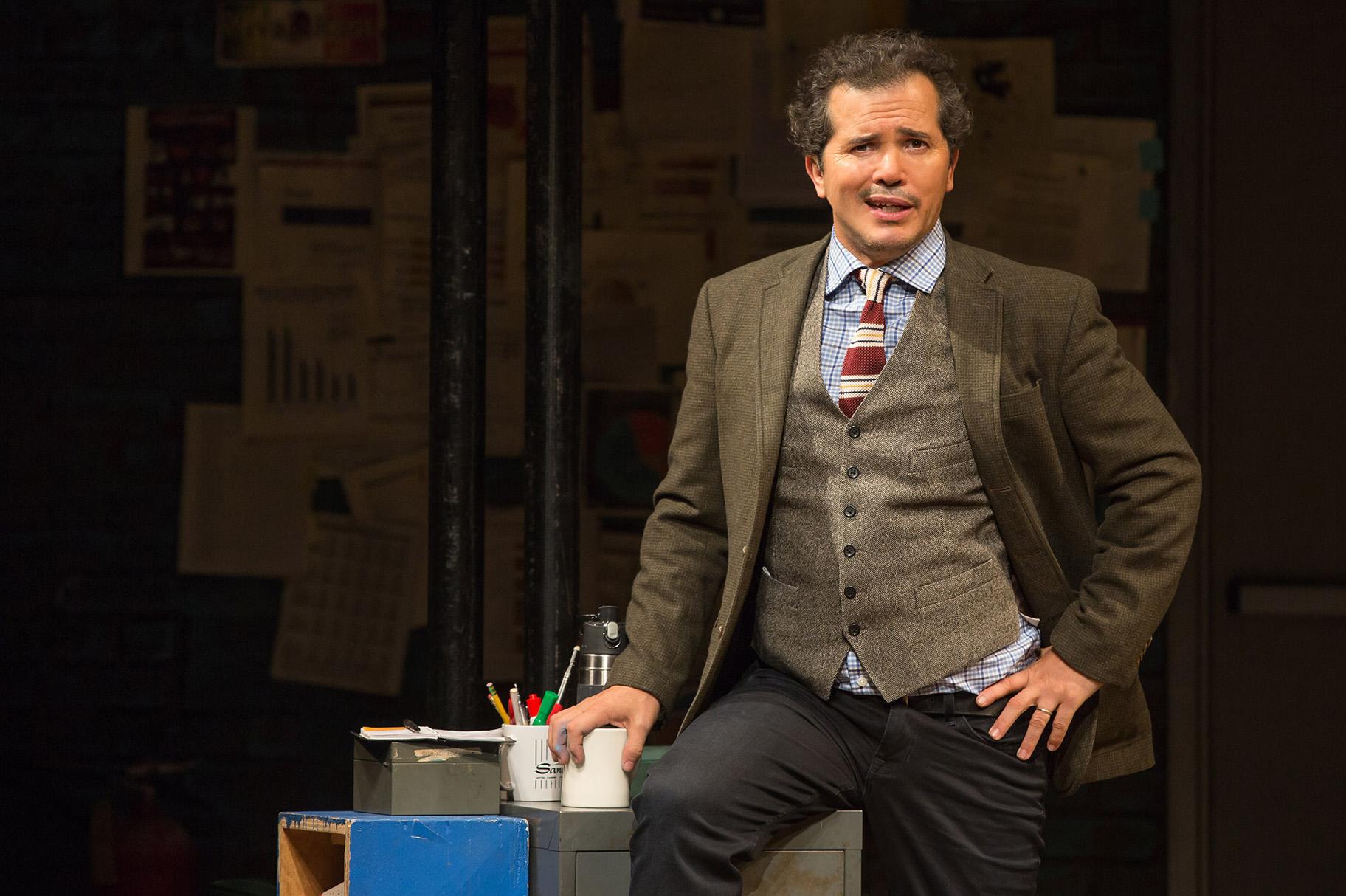 John Leguizamo in "Latin History for Morons." (Photo by Matthew Murphy)
As an understandably outraged father, he tries (and more often than not fails) to advise the 13-year-old about the necessary countermeasures he should take. But along the way he realizes a crucial problem in the whole situation: the long history of Latin America is rarely if ever mentioned in textbooks.(As a side note, Leguizamo champions the books of historian Howard Zinn and Charles C. Mann, author of "1491.") Nor is the near total decimation of indigenous populations taught, particularly the genocides of the monumental civilizations of the Incas and Aztecs by Spanish conquistadors (with the latter also undermined by their corruptible king, Montezuma).
As it happens, some of the most brutal warfare came in the form of germs through the introduction of smallpox, syphilis and other diseases, along with the massive theft of gold and the "conquest" of indigenous women. As Leguizamo quips, the European marauders brought germ warfare and in exchange were introduced to "tomatoes, corn, chocolate and avocado toast." And, as the actor asks, has anyone really been taught about what has happened in the subsequent centuries?
Leguizamo leads the audience on an epic, admittedly Monty Python-esque trip back to those great civilizations and their near total desecration. And in the process he suggests why just a couple of weeks ago a number of states refused to celebrate Columbus Day and instead called for it to be renamed Indigenous Peoples' Day.
And there is much more, all compressed into a marathon 110 breathless minutes, during which Leguizamo conjures deft cameos that suggest his Jewish wife, his jargon-laden therapist, and his anti-violence, wholly tuned-in daughter.
The show is "adult" – playfully lewd and heavily laced (to the point of overkill) with obscenities.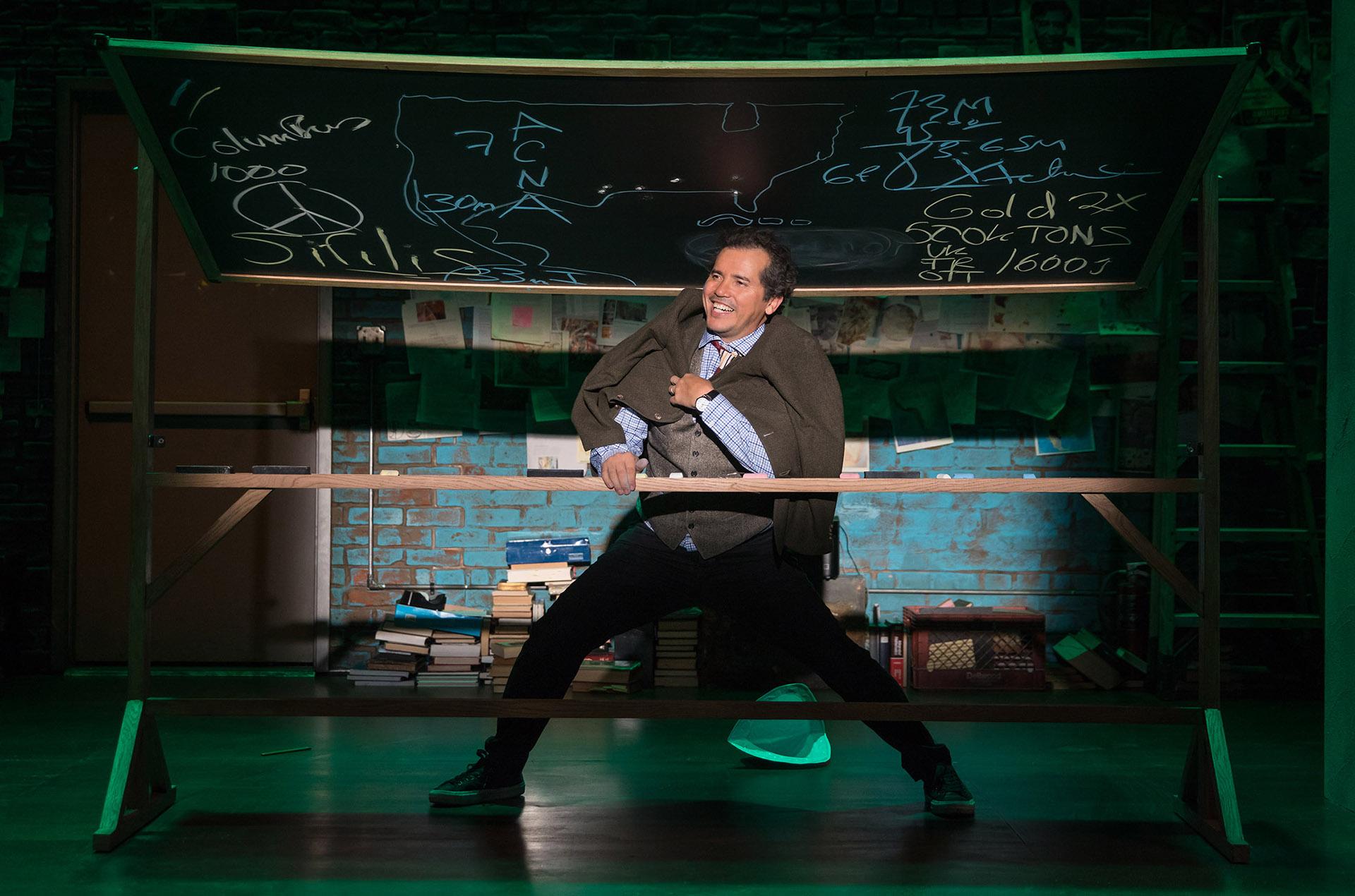 John Leguizamo in "Latin History for Morons." (Photo by Matthew Murphy)
I found the recent Mexican productions of "Andares" (presented by the Chicago Shakespeare Theater), and "American Catracho" (a work by Chicago's Cerqua Rivera Dance Theatre presented at the Auditorium Theatre) more deeply moving. And I would take issue with Leguizamo's claim that the art of Latin America's ancient civilizations is relegated to the folk art/outsider realm as I have spent many happy hours strolling through the fabulous pre-Colombian collections of sculpture, textiles, pottery and masks at New York's Metropolitan Museum of Art, Chicago's Art Institute of Chicago and other major museums.
But there is no denying the ferocity of Leguizamo's tragicomic jeremiad, or his bravura gifts as a terrific physical performer (throughout he is magnified for the large house to see on a giant video screen), or his ability to improvise. (He made the most of several seriously distracting sound system glitches that sadly robbed Tuesday night's audiences of the chance to see him dance the tango.) Truly unflappable, the man clearly is driven on by his determination to educate the "morons."
Note: For the Thursday, Oct. 31 performance, tickets to the show will be $31 and patrons are encouraged to come dressed in costumes as their favorite Latin hero or heroine, or in their best "calavera" (or skull) makeup. Full-face makeup, masks, and weapons (whether fake or real) are strictly prohibited. When ordering tickets (online only) be sure to use the code word HALLOWEEN. The first 300 costumed patrons will receive a "Latin History for Morons" tote bag.
"Latin History for Morons" runs through Nov. 3 at the Cadillac Palace Theatre, 151 W. Randolph St. For tickets ($30-$90) call (800) 775-2000 or visit www.broadwayinchicago.com. Running time is 110 minutes with no intermission.
Follow Hedy Weiss on Twitter: @HedyWeissCritic
---
John Leguizamo Brings 'Latin History for Morons' to Chicago
Tapping Into the Blistering Tragedy of 'I'm Lenny Bruce'
'Andares' a Powerfully Imagined Homage to Mexico's Indigenous Cultures
Sensational Actress Works Her Magic in Writers Theatre's 'A Doll's House'
---