If your Latin history is a little rusty, actor and writer John Leguizamo understands – and he's here to offer an antidote in the form of his latest one-man show, playing in Chicago this week: "Latin History for Morons."
We morons have been getting schooled by Leguizamo's show first on Broadway, then in a Netflix special, now in a national tour. The idea for the show came when Leguizamo realized his son's eighth-grade history textbooks were utterly lacking in Latin history. His own research led to one book after another.
Theater review: Leguizamo Blazes His Way into an Often Unexplored Cultural Inheritance
"It was this plethora of information that I was like, 'Wait a minute – all this incredible information and it's not in history textbooks or Hollywood movies or the History Channel? Something's up.' And that's why I wrote the show," Leguizamo said.
The show covers thousands of years' worth of material. Leguizamo says he's gotten bolder about adding more information over the years.
"At first when I started doing it, I had a lot of history and people were like, 'Nahhh. No,'" Leguizamo said. "So I had a little personal story, a little analogous story, and a little history, back and forth. Now I've put a little more history in, snuck it in a little better."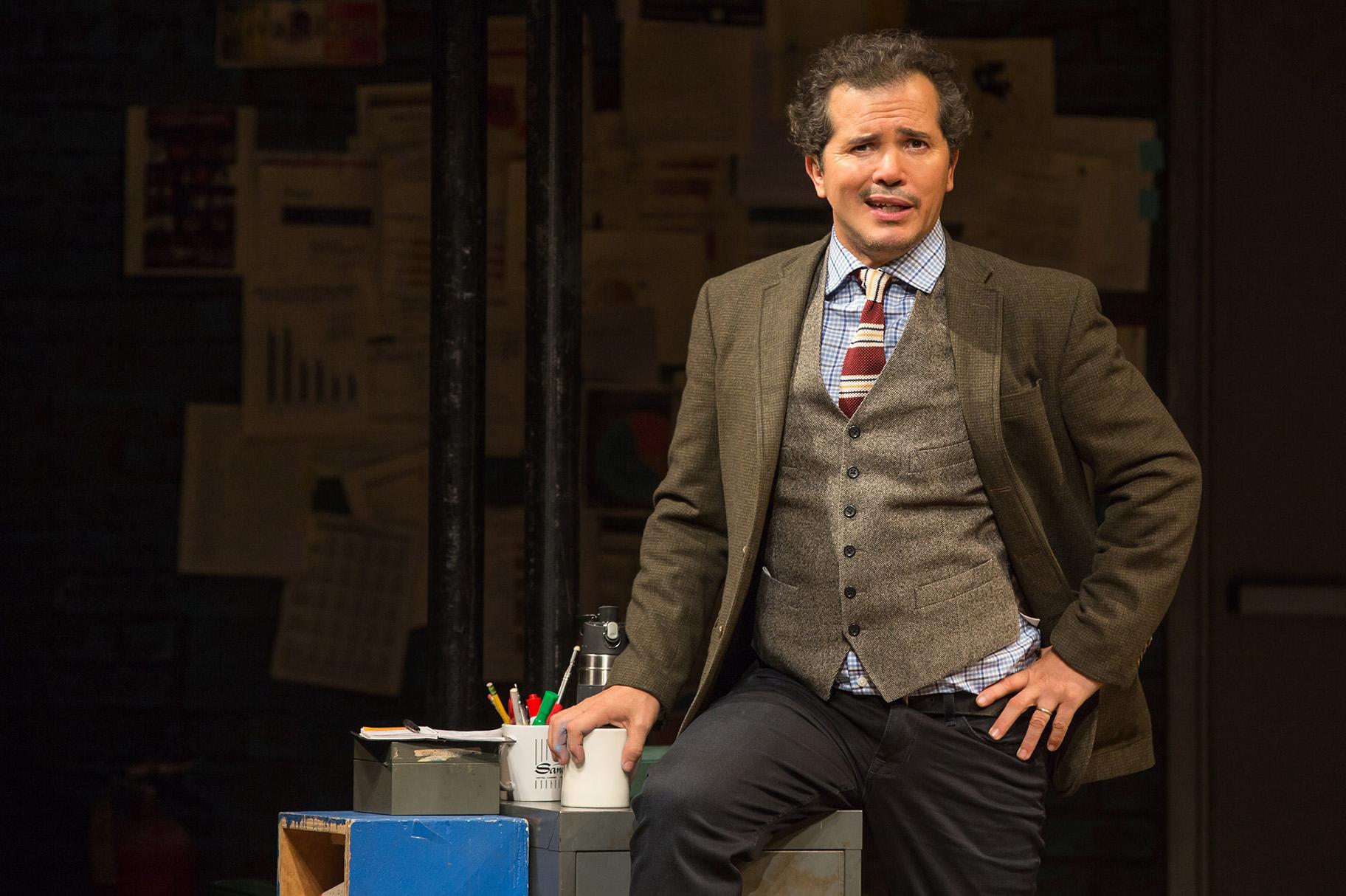 John Leguizamo in "Latin History for Morons." (Photo by Matthew Murphy)
While the role of history teacher is a recent one, Leguizamo has long been known for a wide range of roles, from an upstart drug dealer in "Carlito's Way," to fledgling drag queen Chi-Chi Rodriguez in the cult hit "To Wong Foo, Thanks for Everything! Julie Newmar."
While many younger viewers know his voice as that of Sid the Sloth from "Ice Age," Leguizamo says kids usually find that hard to believe when their parents tell them that's who he is. "They're aghast. I know, this is Sid the Sloth," Leguizamo said, gesturing to himself. "Get over it."
Leguizamo says his favorite performance was probably his previous one-man show, "Ghetto Klown."
"(A one-man show) is the most intimate or raw you can be as an artist with an audience," Leguizamo said. "When they're outraged by things, I feel it. When they're saddened by what I'm talking about. When they're laughing their asses off."
Leguizamo's latest show is infused with humor and informed, in part, by the current political moment.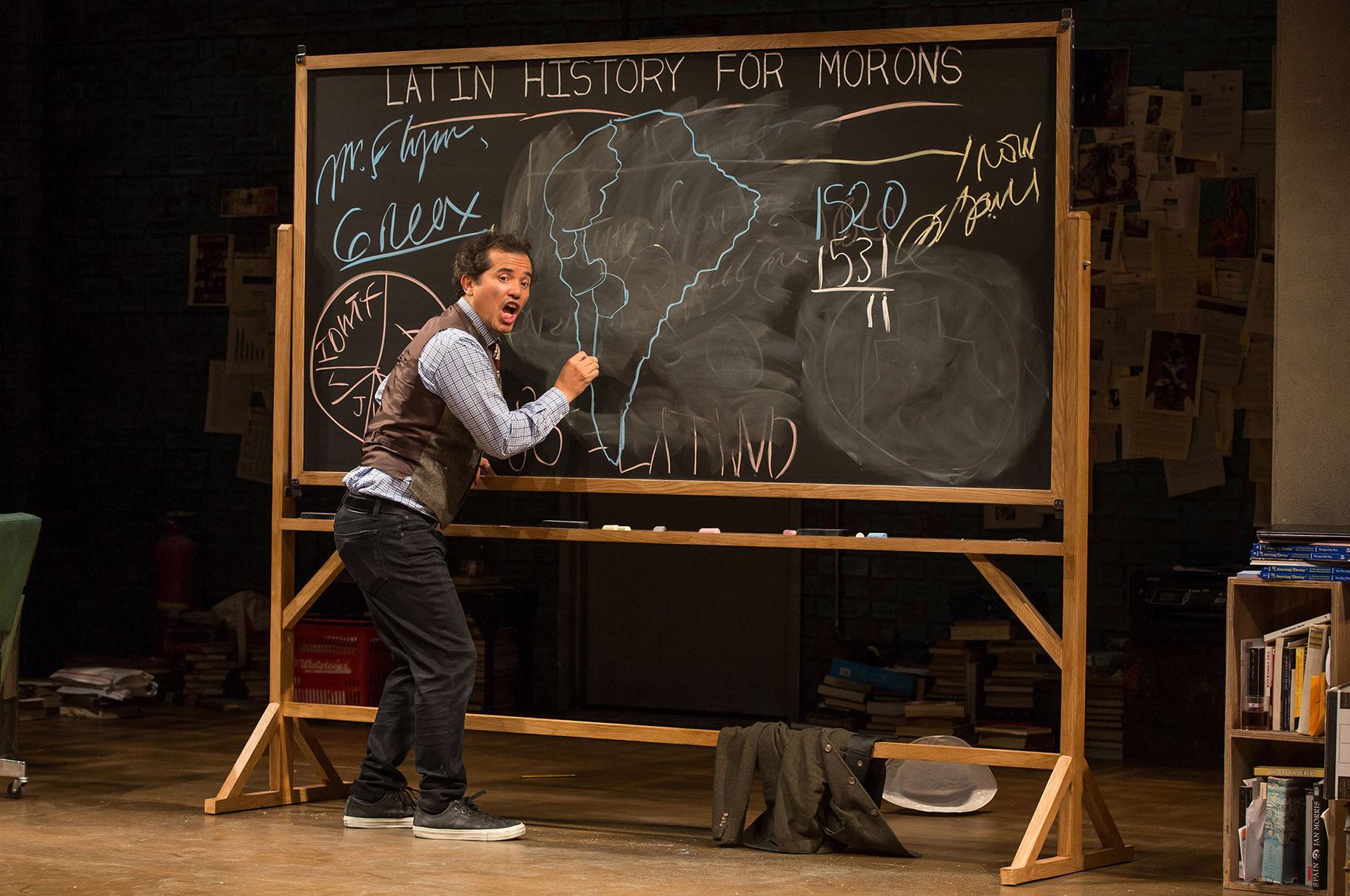 John Leguizamo in "Latin History for Morons." (Photo by Matthew Murphy)
"The fact that (Latinos are) 20% of the population but less than 3% of the faces in front of the cameras in Hollywood, or behind the cameras, is a cultural apartheid that predated Trump," Leguizamo said. "The only thing is that it's made it important for me to make it a call to action. And it does affect the way I do the show, definitely my show has a lot more teeth and a lot more oomph to it than when I first started."
Leguizamo's hope for the show is pretty simple:
"I want everybody to walk out knowing that being Latin is a superpower," he said.
"Latin History for Morons" runs Tuesday through Sunday at the Cadillac Palace Theatre.
More: Go behind the scenes of Leguizamo's show in the PBS "Great Performances" series.
---
Related stories:
Leguizamo Blazes His Way into an Often Unexplored Cultural Inheritance
Tapping Into the Blistering Tragedy of 'I'm Lenny Bruce'
'Andares' a Powerfully Imagined Homage to Mexico's Indigenous Cultures
Sensational Actress Works Her Magic in Writers Theatre's 'A Doll's House'
---