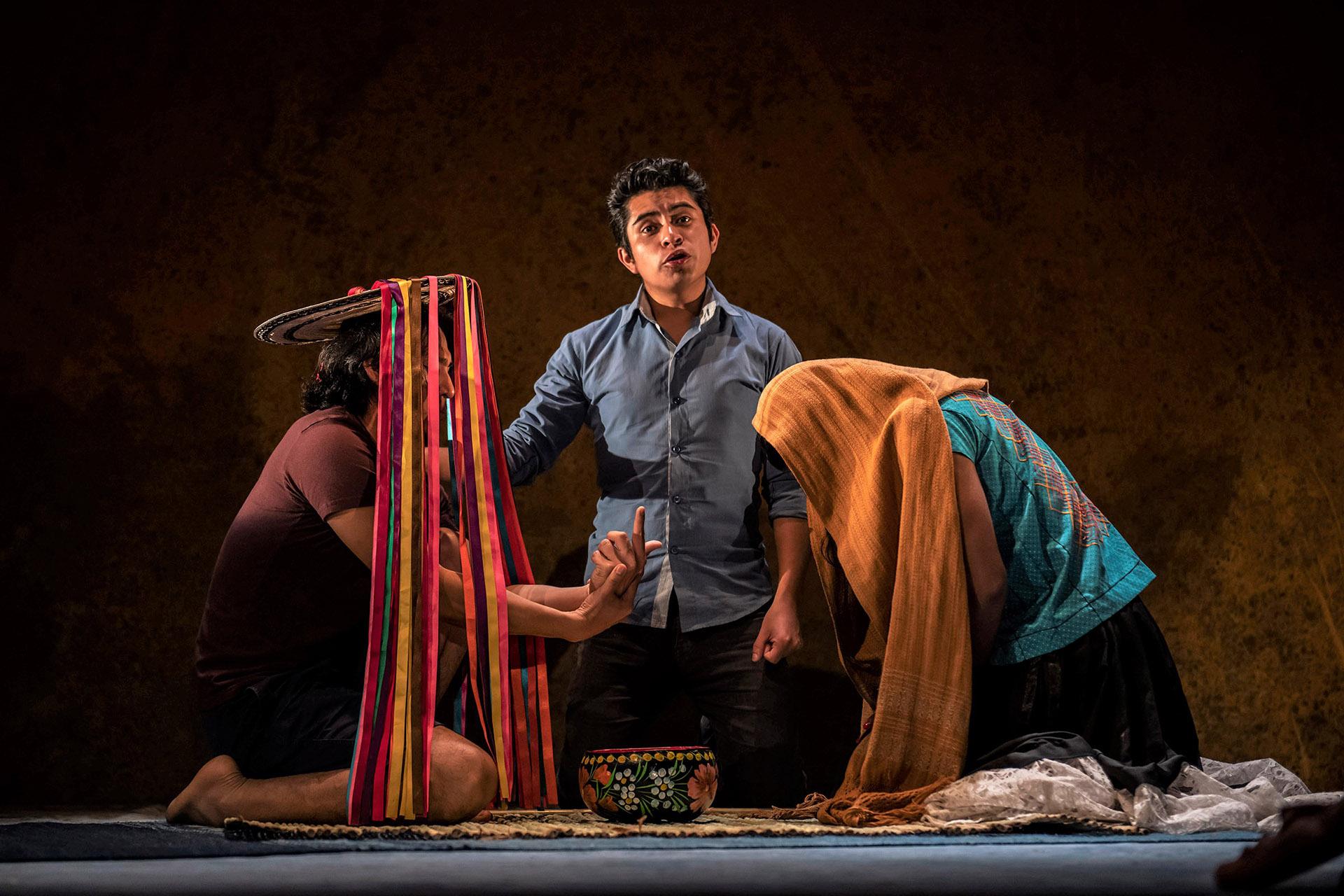 Josué Maychi (from left), Lupe de la Cruz, and Alexis Orozco (who was unable to join the Chicago production and has been replaced by Domingo Mijangos) perform in "Andares." (Photo by Raúl Kigra)
Since its inception nearly two decades ago, the Chicago Shakespeare Theater's WorldStage Series has been one of the most invaluable cultural treasures of this city's arts scene, showcasing the theatrical marvels of artists from 23 countries spanning six continents.
Earlier this month it produced "A Man of Good Hope," an unforgettable work from South Africa about the plight of a Somali refugee. Now, in collaboration with "Destinos" - the third edition of the also exceptional Chicago International Latino Theater Festival that is spearheaded by the Chicago Latino Theater Alliance (CLATA) - Chicago Shakespeare is hosting Mexico's Makuyeika Colectivo Teatral (Theatre Collective), an ensemble dedicated to creating original works about its country's indigenous people. The ensemble's show, "Andares", (or Pathways), superbly conceived, directed and designed by Hector Flores Komatsu, and written in collaboration with his company, is a beauty.
The calamities facing indigenous communities throughout Latin America are multifaceted: A long, oppressive colonial history; the unscrupulous seizure of indigenous land by governments and corporations; the brutal "disappearances" of those who have had the courage to oppose such policies; the devastation of the environment and loss of family farms; the migration of younger generations of indigenous people to cities in search of work; and the depletion of indigenous language speakers and the centuries of history, mythology and spiritual connection that comes with a functioning culture.
The 80-minute "Andares" (spoken mostly in Spanish, with smatterings of Maya, Tzotzil, Zapotec and Wixarika, and with projected English supertitles) is a collection of artfully interwoven stories drawn from five different regions of Mexico and enacted by a trio of richly expressive actors (Josue Maychi, Lupe de la Cruz and Domingo Mijangos, who is substituting for Alexis Orozco, who was unable to join the Chicago engagement). Joining them as musical narrator is Raymundo Pavon Lozano, a singer who plays the small Mexican guitar known as a jarana jarocha. Together they spin stories that feel as much choreographed as directed as they conjure a true sense of ritual at once ancient and modern.
Staged in Chicago Shakespeare's intimate Upstairs space, all that is needed to suggest the terrain, lifestyles and magic customs of the homelands being evoked are a terra cotta backdrop, straw mat, wooden pole, colorful floral bowl, clay masks, a ribbon-bedecked headdress, one extravagant fiesta dress, and the richly evocative lighting design of Bryan Guerrero.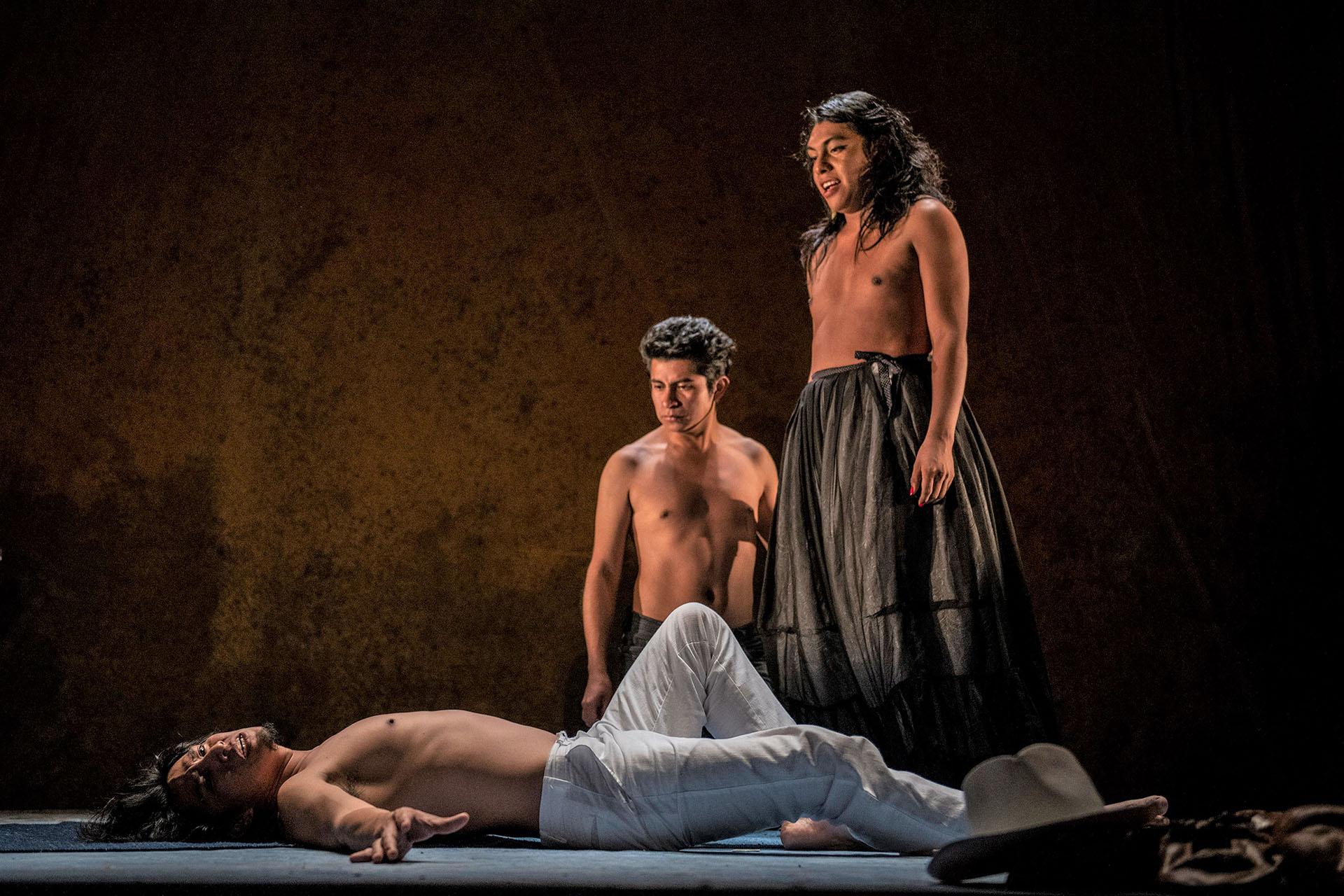 Josué Maychi (from left), Lupe de la Cruz, and Alexis Orozco (who was unable to join the Chicago production and has been replaced by Domingo Mijangos) perform in "Andares." (Photo by Raúl Kigra)
The writing is intensely poetic and personal, awash in stories about beloved parents, ancient ceremonies, a profound connection with nature (from fire and water to stags, snakes and hummingbirds), and infused with many and varied genesis myths. But there is much that is rooted in the everyday as well - from planting corn, to childhood memories of sweets sold at outdoor markets, to a first experience with peyote, to the tearing down of huts made with natural local materials that are replaced by cold concrete block houses.
Sexual role-playing also is a strong theme here, particularly in the show's look at the macho culture that exists side by side with the Zapotec culture of the Oaxacan region of southern Mexico where there is a third gender: the "muxes" who are "born male but dress, live and love as women," and are not always in a safe or easy relationship to their society.
There also are a couple of quick, sharp, laugh-inducing political jabs at the current U. S. leadership.
But most crucially, there is the sense of the profound psychological impact that comes with the loss of indigenous communities and the way this can undermine native people's sense of self-worth, as well as the often equally powerful lure of home, and the hunger to hold fast to primal rituals and history endures.
"Andares" is a vivid example of how this inheritance can be kept alive. The show's three exceptionally graceful, expressive actors – each of them powerful solo players – form a seamless bond that is beautiful to behold. They are at once passionate artists and fierce cultural warriors.
"Andares" runs through Oct. 27 at Chicago Shakespeare Theater Upstairs, 800 E. Grand Ave. For tickets ($35-$45) call (312) 595-5600 or visit www.chicagoshakes.com. Running time is 85 minutes with no intermission.
Note: For additional information about other productions that are part of "Destinos," which runs through Oct. 27, visit www.clata.org.
Follow Hedy Weiss on Twitter: @HedyWeissCritic
---
Sensational Actress Works Her Magic in Writers Theatre's 'A Doll's House'
Joffrey Dancers' Dramatic Powers Soar in Hypnotic 'Jane Eyre'
Stardom and Mortality Battle It Out in 'Sunset Boulevard'
Art Is Love in Endearing 'Man of No Importance'
---