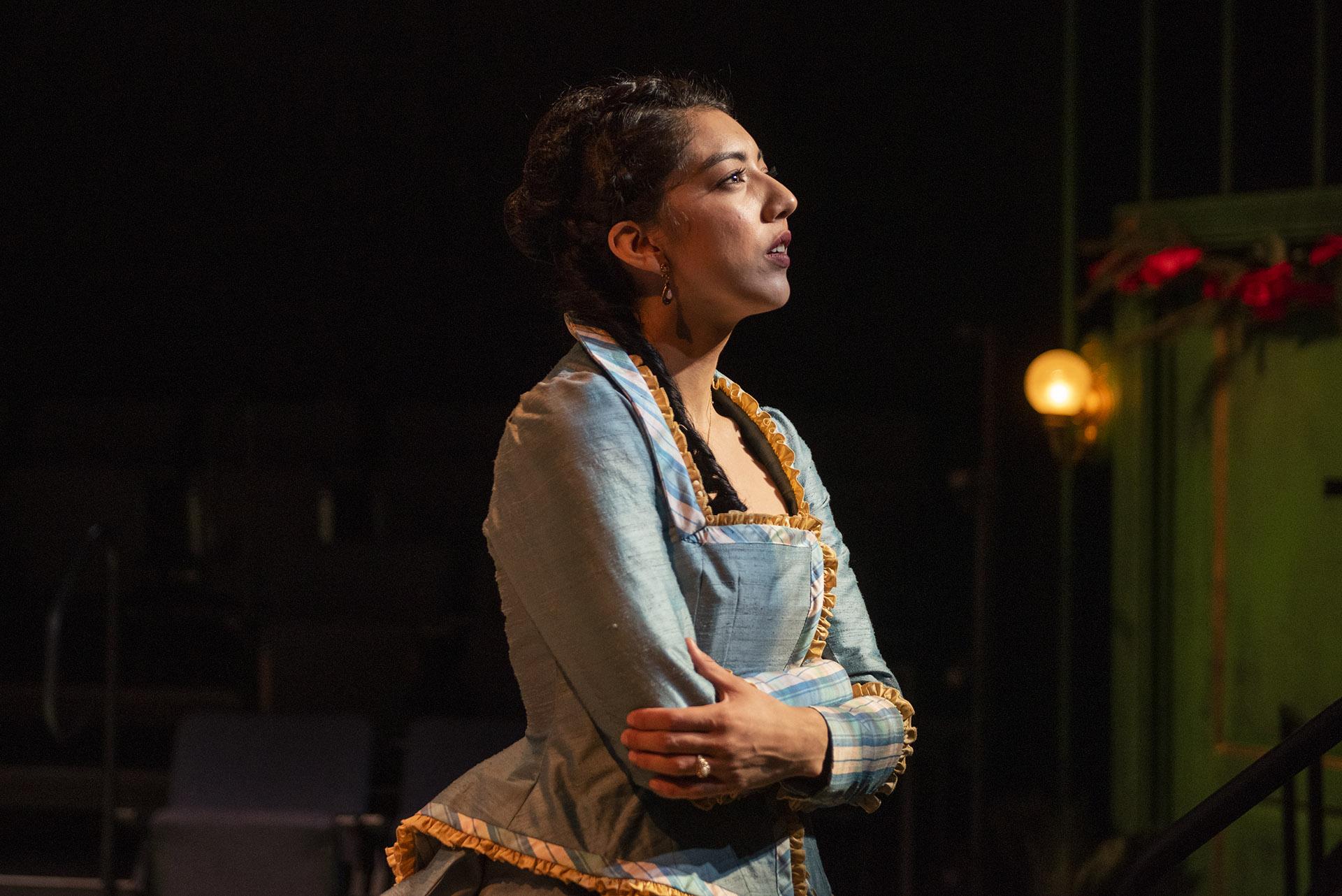 Cher Álvarez (Nora) in "A Doll's House." (Photo by Michael Brosilow)
Henrik Ibsen's play, "A Doll's House" had its world premiere in Copenhagen, Denmark in 1879. It caused a sensation, went on to scandalize and outrage audiences in a number of other European capitals. It arrived on Broadway in 1889, and has served as the go-to play from the rise of the feminist movement in the late 1960s to the #MeToo movement of more recent vintage. In his 2017 play, "A Doll's House, Part 2," Lucas Hnath even imagined an epilogue. 
I confess I was not entirely thrilled as I headed off to Writers Theatre to catch yet another take on the Ibsen classic about a bourgeois family beset by financial worries, and the noxiously paternalistic, controlling husband whose seemingly sheltered wife finally does the unthinkable by walking out on him and their young child.
But as it turned out, the Writers' production, cannily but faithfully adapted by Sandra Delgado and Michael Halberstam, directed at thrilling warp speed by Lavina Jadhwani, and featuring a bravura performance by the luminous Cher Alvarez as Nora Helmer (plus razor-sharp turns by the others in an altogether ideal cast), brought the play back to life in the most unexpected ways. And it did so without any of the heavy-handed efforts to sound "contemporary" that have marred such recent, if quite different works as "Bernhardt/Hamlet" (at the Goodman Theatre), or "Mother of the Maid" (at Northlight Theatre), both of which closed this weekend.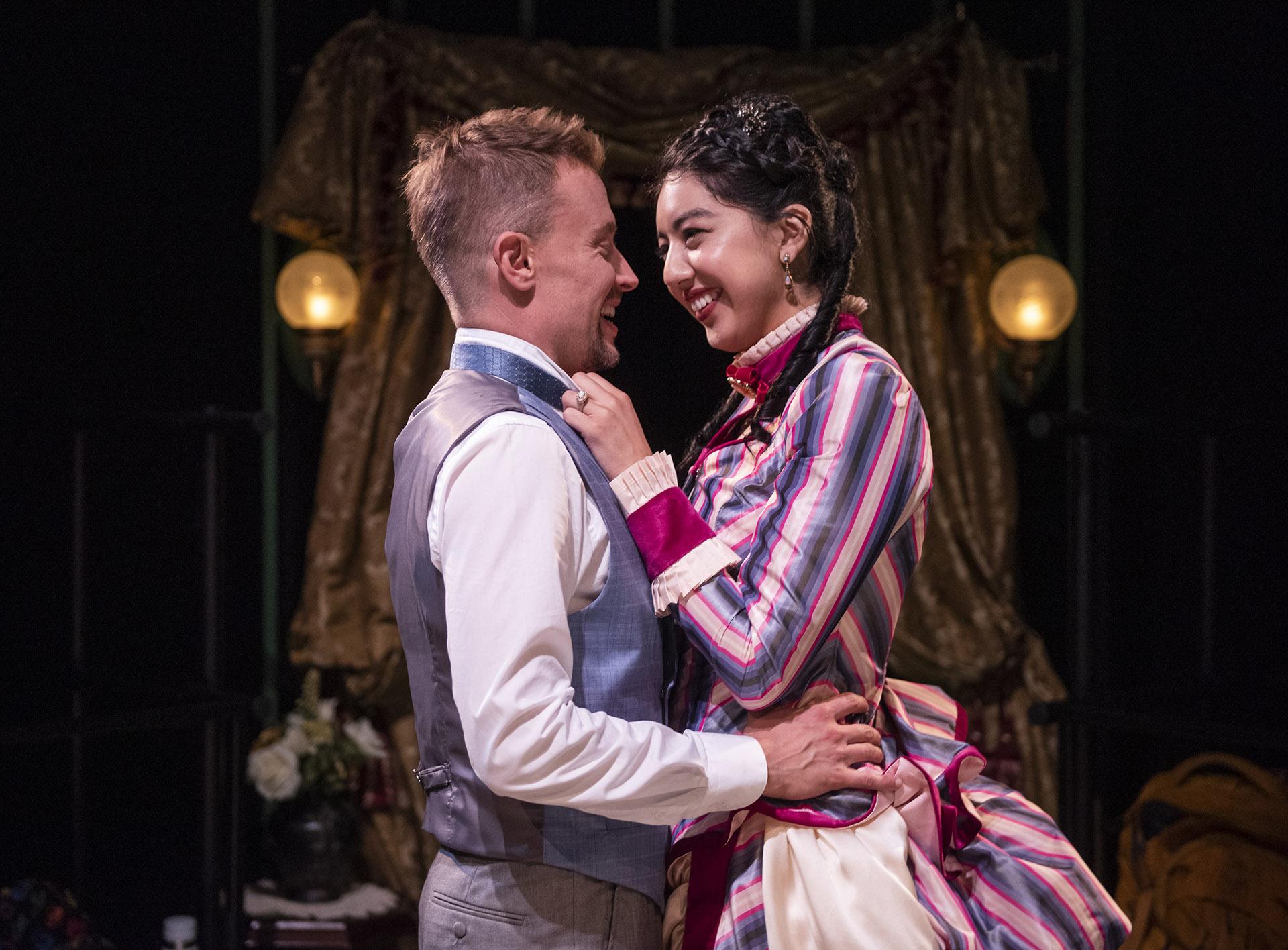 Greg Matthew Anderson (Torvald) and Cher Álvarez (Nora) in "A Doll's House." (Photo by Michael Brosilow)
What makes this production work so perfectly, so that every scene crackles with insight, intensity, sensuality, rage, repression and danger?
For starters, there is Alvarez's extraordinarily expressive face and movement that are not just radiantly beautiful to watch, but also let you see how Nora's brain operates. Here is a woman of immense energy, intelligence, cunning and charm who has mastered the art of seeming a bit bubbleheaded and subservient, while at the same time employing every available wile and form of subterfuge to control her life. As she acknowledges, she learned all this by dealing first with her father, and then with her husband, Torvald (a flawless turn by Greg Matthew Anderson), a banker who lives in terror of losing his professional and social status.
The play is set during the Christmas season in the conservative Norway of the late 1800s. And while Torvald has just gotten an important promotion, with a salary that will finally free him of ever-present money worries, he chides his wife for her spending habits while calling her by an endless stream of endearing but condescending nicknames like "my little squirrel" and "my radiant starling."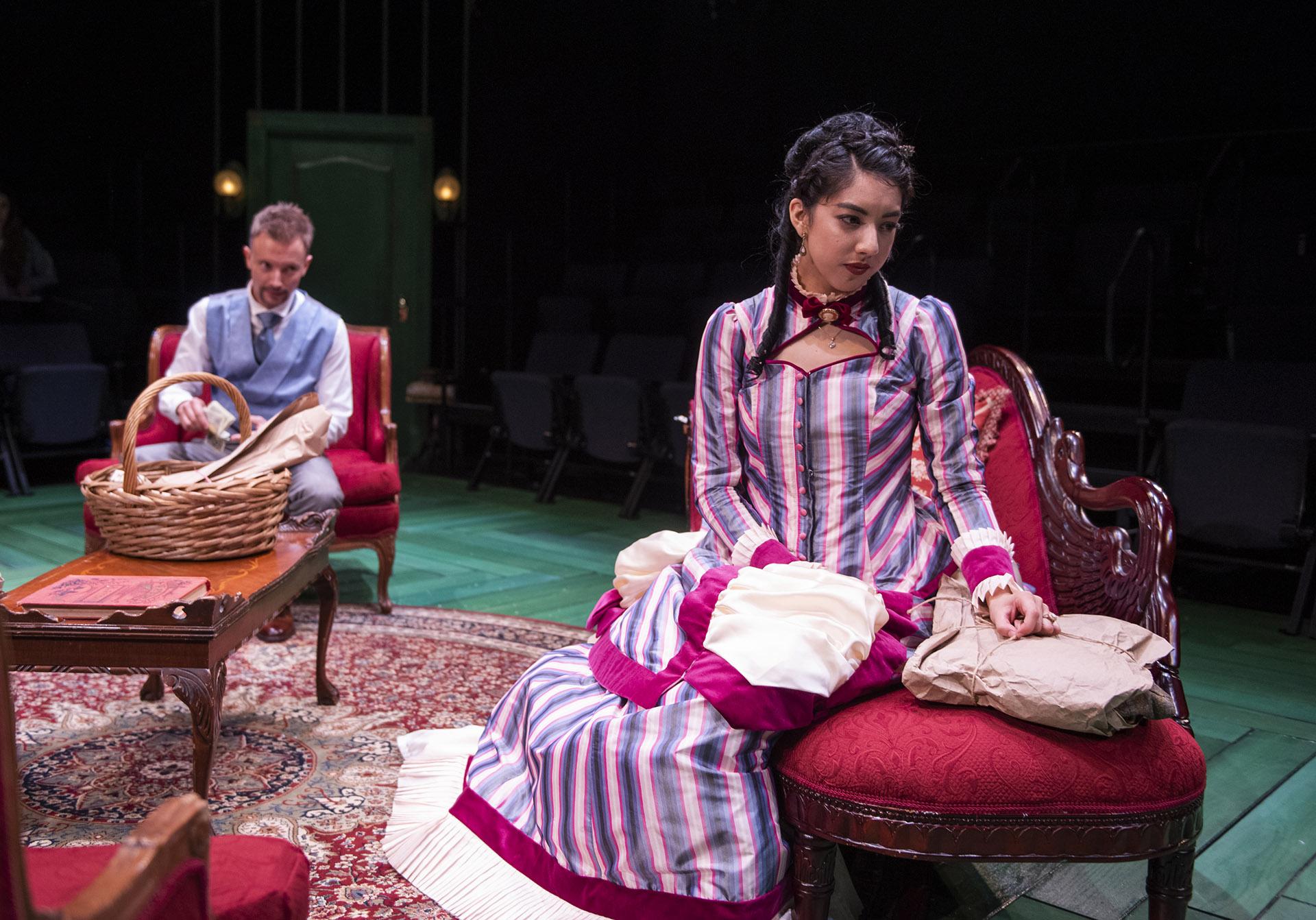 Greg Matthew Anderson (Torvald) and Cher Álvarez (Nora) in "A Doll's House." (Photo by Michael Brosilow)
Nora plays along, but she has a deeply worrying secret, as some years earlier she borrowed a great deal of money (Torvald's greatest nightmare) from an unscrupulous acquaintance, Krogstad (played by a wonderfully evil Adam Poss), in order to be able to take her then seriously ailing husband to the warmer climate of Italy. And because the law being what it was at that time, with women not permitted to sign for loans, she skirted the law and forged her father's signature and began making payments to Krogstad as best she could.
Adding to the intrigue here is the arrival of Nora's former friend, Christine (shrewdly but subtly played by Tiffany Renee Johnson), a widowed, childless woman desperate for a job, who begs Nora to intervene on her behalf so she can work at the bank. And stopping in to visit is the well-to-do Dr. Rank (played with just the right sense of mortality and creepiness by Bradley Grant Smith), an old friend of the Helmers, who is far from indifferent to Nora's charms. Meanwhile, watching all the intrigue with a knowing eye is the Helmers' housekeeper, Anne Marie (played by the ever slyly witty Amy J. Carle).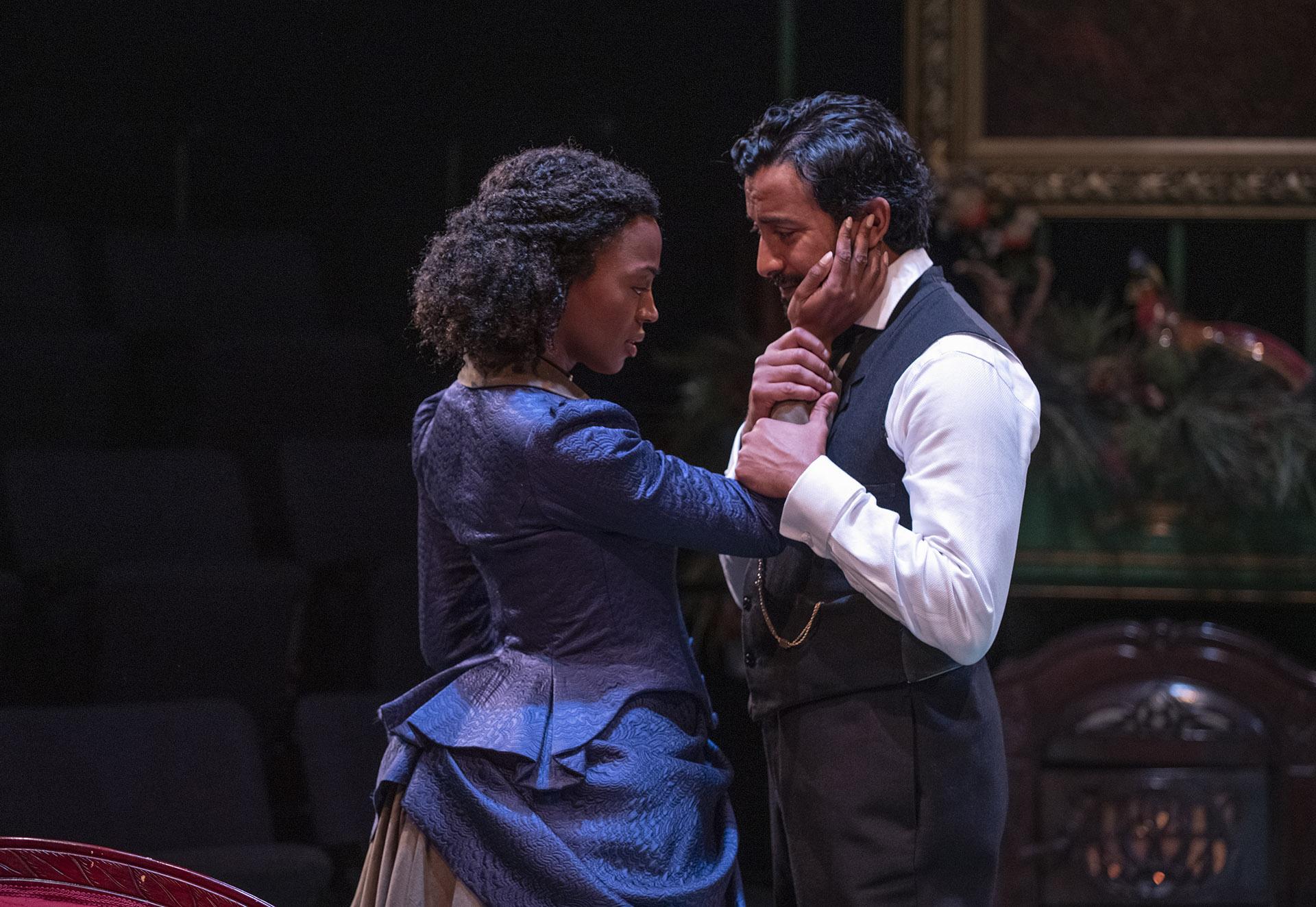 Tiffany Renee Johnson (Christine) and Adam Poss (Krogstad) in "A Doll's House." (Photo by Michael Brosilow)
The action plays out on Arnel Sanciano's exceptionally artful Victorian set (with a notably beautiful painting of a small bird over the mantel, fine lighting by Sarah Hughey and music by Thomas Dixon). And Alvarez knows just how to work the wonderfully lavish costumes Izumi Inaba has designed for Nora.
As it turns out, everyone in this "Doll's House" feels trapped in some profound way, and each of them is wracked by fear and desire. The tension is palpable. But ultimately it is Nora - part brilliant minx, part unexpected rebel - who declares her independence and slams the door. Alvarez takes you with Nora every step of the way.
"A Doll's House" runs through Dec. 15 at Writers Theatre, 325 Tudor Court, Glencoe. For tickets ($35-$80) call (847) 242-6000 or visit www.writerstheatre.org. Running time is 95 minutes with no intermission.
Follow Hedy Weiss on Twitter: @HedyWeissCritic
---
Joffrey Dancers' Dramatic Powers Soar in Hypnotic 'Jane Eyre'
Stardom and Mortality Battle It Out in 'Sunset Boulevard'
Art Is Love in Endearing 'Man of No Importance'
---