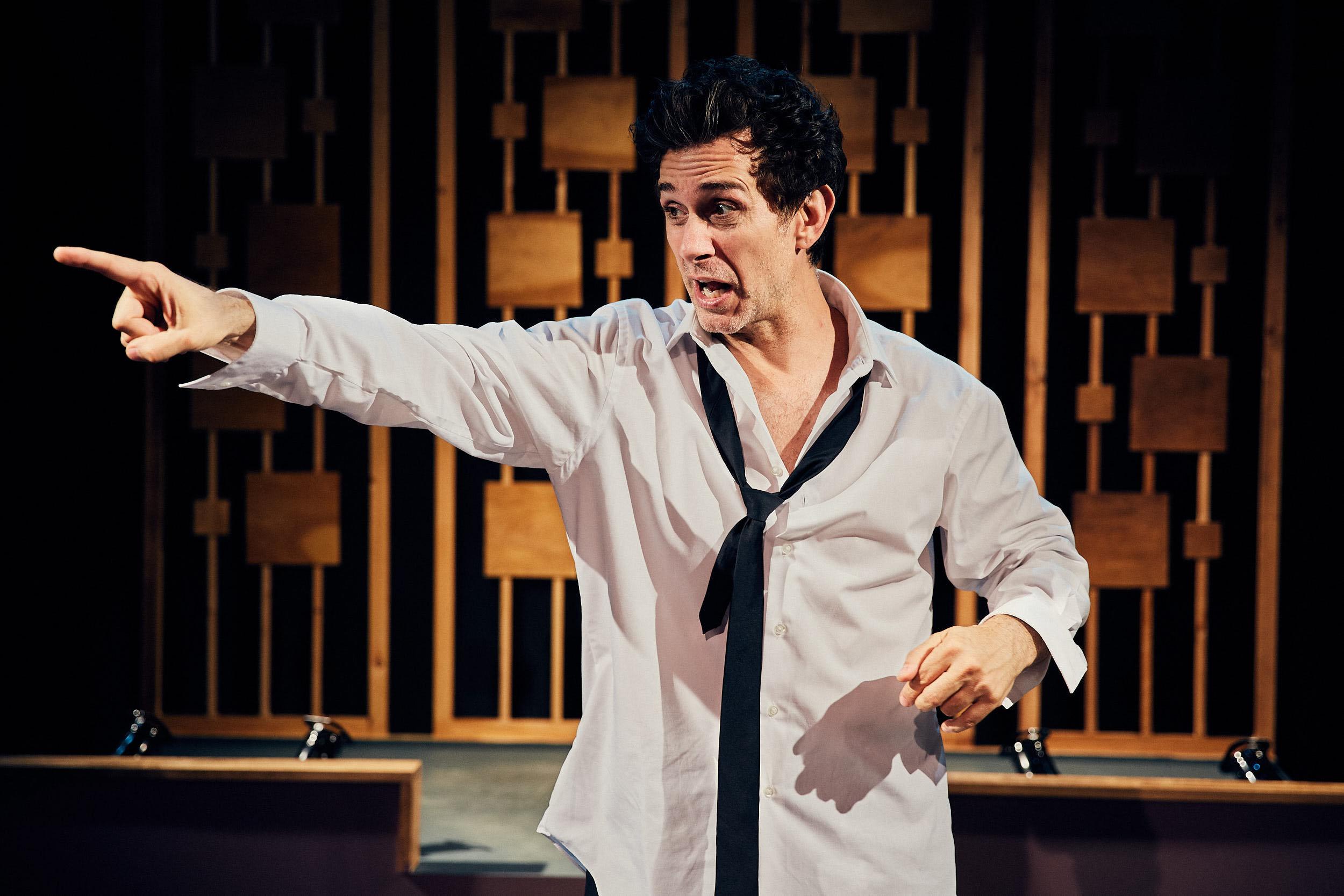 Ronnie Marmo as Lenny Bruce. (Photo by Doren Sorell)
Let's begin with a few telling quotes courtesy of Lenny Bruce, the tragically self-destructive satirist of the 1950s and '60s who in many ways created the template for the pitch black comedy and social comedy that has endured for more than a half century, and that no doubt still has the ability to inflame the sensibilities of many.
"All my humor is based upon destruction and despair." "Life is a four-letter word." "Everyday people are straying away from the church and going back to God." "In the halls of justice the only justice is in the halls." And this is just the tip of the (printable) iceberg.
Today's theater and comedy scene is a far less restrictive place, so the spirit – and language – of Lenny Bruce can roam fast, free and furiously funny on a stage. And so it does in "I'm Not a Comedian ... I'm Lenny Bruce," the one-man show by Ronnie Marmo (its virtuosic writer and performer), now at the Royal George Theatre.
Slight of build, and with an ideally mobile face, Marmo suggests the crazy junkie and jazz mentality of the man as he crawls deeply into Bruce's volcanic, often manic, and increasingly drug-fueled brilliance whether "onstage" in a standup act, or confronting a cop or judge in "real life" as he was continually hounded on charges of obscenity (and more). Marmo also captures the essence of the man who was at turns a lost mama's boy, an unabashed romantic, a sexual adventurer, an intensely self-aware provocateur, and a self-punishing drug addict with a profound loathing for every form of hypocrisy whether related to race, religion, sex, politics or the true nature of human nature.
Among the most interesting aspects of "I'm Not a Comedian," is how it reveals along with Bruce's ferocious defense of the right of free speech came his passion for the almost sacred power of "the word." And he believed that the more taboo words could be freely used, the more their destructive impact could be defused (He gives all the poisonous examples.). You could certainly argue with this theory, but it does make you think. (One of the funniest sequences in the show involves a riff on a 10-letter obscenity that could zanily be suggested by the more neutral pairing of the words "rooster and lollipop." That might keep you guessing, but no more hints will be provided.)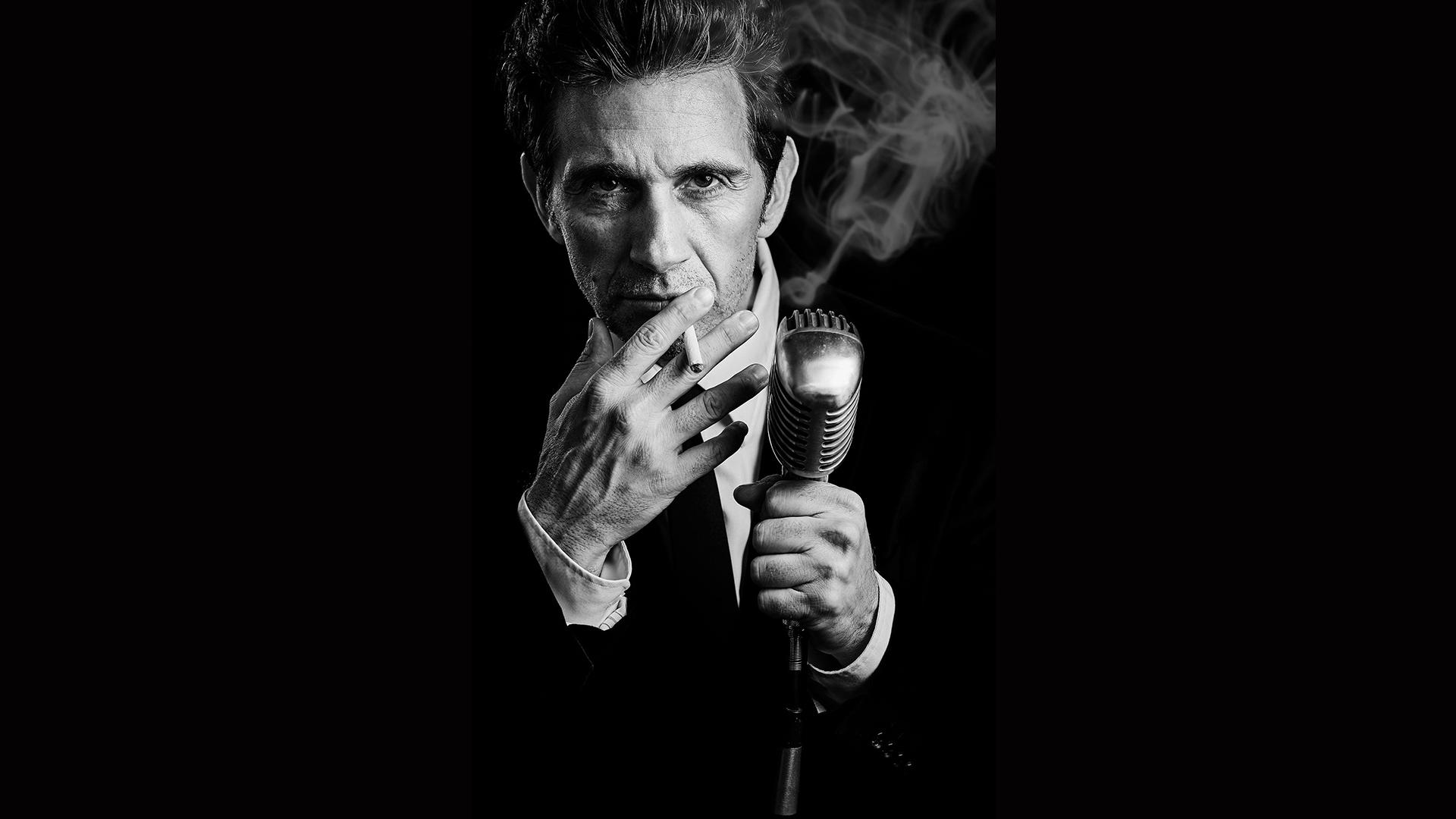 Ronnie Marmo as Lenny Bruce. (Photo by Doren Sorell)
Directed with just the right balance of the sacred and the profane by Chicago-bred actor Joe Mantegna, Marmo's show is a seamless weave of excerpts from Bruce's acts along with original material that deftly takes us inside the man's psyche. And the intimate, club-like space of the Royal George Cabaret is enhanced by Matt Richter's smoky lighting and Danny Cistone's set, where a toilet is the principal piece of furniture.
The show highlights Bruce's chaotic childhood (He was born Leonard Alfred Schneider, the son of Jewish parents who divorced when he was 8, and was raised in Queens, New York and on Long Island.). Along the way we hear about his intense attachment to his mother (the nightclub performer known as Sally Marr), and his tumultuous marriage to Honey Harlow (a stripper with whom he had a daughter, Kitty, who now runs a foundation devoted to combatting alcohol and drug addiction).
Among the most brilliant scenes in the play are those in which he feverishly attempts to mount his own defense when hauled into court. His many encounters with "the law" included arrests on charges of both obscenity and drug possession, and this made it increasingly difficult for him to get work.
Convicted of obscenity in 1964, Bruce died of an overdose at the age of 40 in 1966, with a gruesome photo taken to document the scene. In a footnote infused with more than a little irony, we are reminded Bruce was pardoned posthumously in 2003 by New York's then-Gov. George Pataki. You can only imagine how Bruce might be working that bit of news into an act he might be performing in some other universe.
Of course, there is Bruce's legacy as seen in the work of George Carlin, Richard Pryor, Robin Williams, Bill Maher and countless other comedians. And it only serves as proof that Bruce was spot-on when he observed that "satire is tragedy plus time."
"I'm Not a Comedian ... I'm Lenny Bruce" runs through Feb. 16 at the Royal George Theatre, 1641. N. Halsted St. For tickets ($69-$79) call (312) 988-9000 or visit www.theroyalgeorgetheatre.com. Running time is 90 minutes with no intermission.
Follow Hedy Weiss on Twitter: @HedyWeissCritic
---
New Play Brings Lenny Bruce Back to Life … and to Chicago
'Andares' a Powerfully Imagined Homage to Mexico's Indigenous Cultures
Sensational Actress Works Her Magic in Writers Theatre's 'A Doll's House'
Stardom and Mortality Battle It Out in 'Sunset Boulevard'
---