UPDATE: Chicago Teachers Strike Comes to an End, Classes Resume Friday
Members of the Chicago Teachers Union won't head back to school Thursday morning and their strike will last at least one more day after the union's House of Delegates accepted a tentative agreement with the city, but refused to return to work.
The union said throughout the day Wednesday it was close to accepting a "monumental agreement" with the city. The 800 or so union delegates did vote in favor of that offer Wednesday night, but the strike will continue into Thursday.
That's because the teachers won't end their strike until Mayor Lori Lightfoot agrees to add instructional days to the end of the school year to make up each of the 10 days already lost to the work stoppage.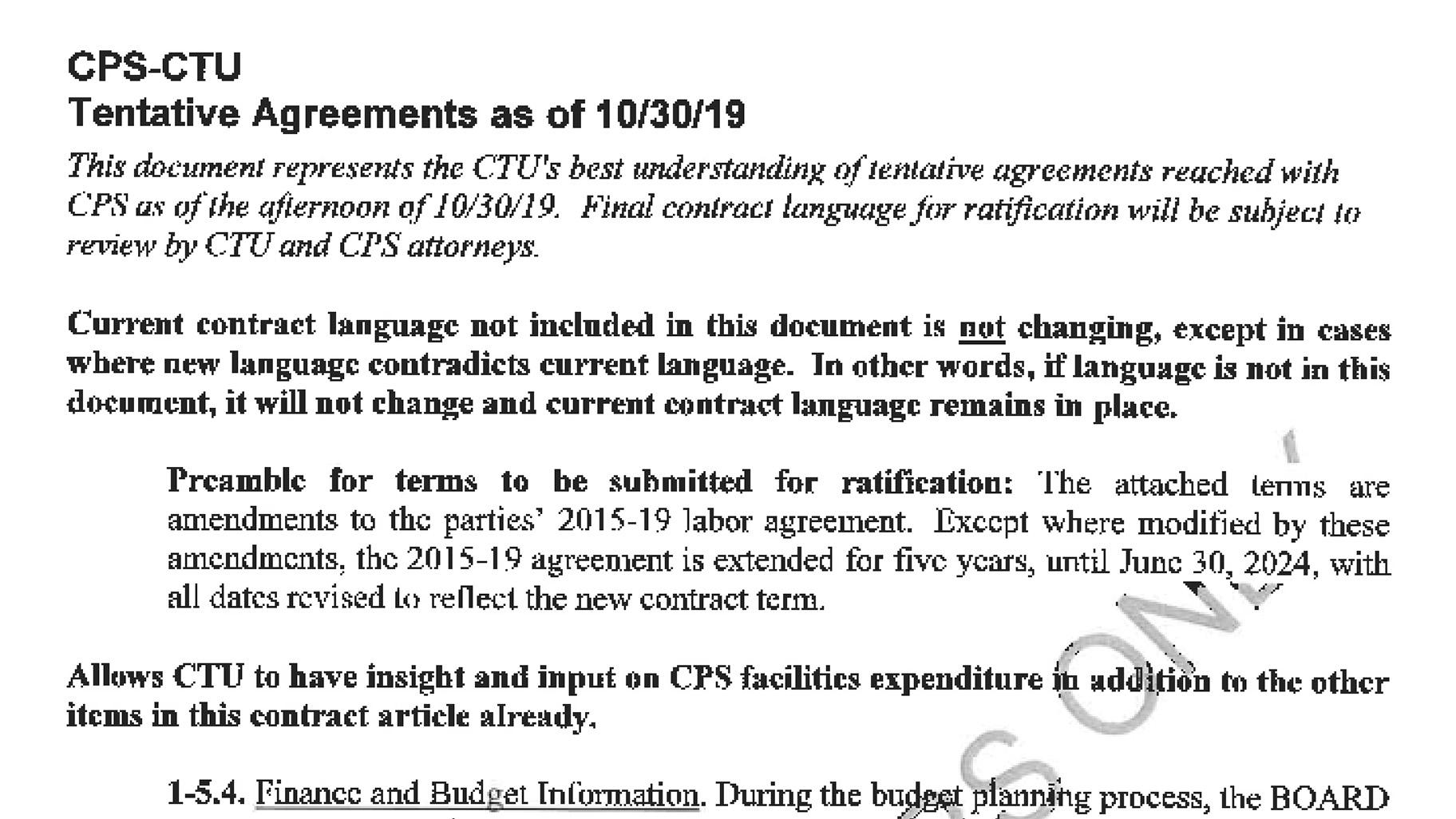 Document: Read the tentative agreement.
"We have a tentative agreement, but we do not have a return to work agreement," the CTU said in a tweet late Wednesday. "So we will be at City Hall at 10 a.m. to demand the mayor return our days."
Following the delegates meeting, CTU President Jesse Sharkey was complementary of the union's tentative agreement with the city, calling it a "contract we can believe in." But he said the delegates made clear "in no uncertain terms" they were not willing to call off the strike without a provision adding back those lost days.
"We miss our students," Sharkey said late Wednesday. "We want school to continue."
CTU Vice President Stacy Davis Gates said Wednesday afternoon a vote on the city's offer hinged on the mayor signing off on those additional days, which would ensure teachers have the chance to make up wages that have been lost due to their work stoppage.
A visibly irate Lightfoot late Wednesday said she was "gravely disappointed" that the strike had not been ended, and gave no signal she'd be willing to budge on the issue of additional days added to the schedule.
She said compensation for missed days never came up once during a three-plus hour meeting with union leadership and claimed Sharkey had given her his word that if six issues were resolved, the teachers would go back to school. Making up missed days, she said, was not one of those issues.
"The fact that we are not in school tomorrow is on them," Lightfoot said. "We've done everything we can, we've laid it all on the table. When someone comes to me and says 'I give you my word,' I expect as anyone would that that means what it's intended to mean, which is that we have a deal."
Sharkey called Lightfoot's resistance to add back days "punitive," saying he feels like they're being punished because they "had the audacity" to stand up to the mayor.
"We have an agreement," he said, "and her last card is to punish us."
Many of the other issues that had been sticking points throughout negotiations appear to have been resolved. The city's contract offer included $70 million in resources to improve staffing levels and $35 million each year for class size relief. 
The tentative agreement between the sides had included class size limits and requires that oversized classes add another instructor or teaching assistant in grades K-8. Oversized high school classes must add another instructor or an additional class section.
Lightfoot signaled the deal would put a nurse and social worker in each school by the end of the deal. And an internal document leaked to WTTW News showed the union was willing to accept a five-year contract in exchange for Lightfoot's backing of an elected Chicago school board.
Earlier this week, Lightfoot criticized union leaders for "moving the goal posts" by throwing in last-minute demands for the mayor's legislative backing of that bill and another that would allow the CTU to renegotiate what issues it can strike over.
Lightfoot balked at those proposals and seemingly refused to budge on another union demand to add 30 minutes of teacher prep time each school day. 
On Wednesday, Davis Gates turned the tables and accused Lightfoot of denying students class time by refusing to add on extra days.
"Why is the mayor taking out her anger over the strike on CPS students by reducing instructional time?" she said in a statement Wednesday afternoon.
However you count it – 14 calendar days or 10 school days – the work stoppage has been the CTU's longest since a four-week strike in 1987.
The city had previously maintained it would not be making up any of that lost time at the end of the school year. But under state law, Chicago Public Schools must have at least 180 instructional days on its calendar. They had scheduled 188, but after losing 10 days to the strike, the school district will be bound to add on class days next June.
Follow us on Twitter: @ByMattMasterson | @BrandisFriedman | @WTTW
---
Related stories:
Internal Document Provides Insight into CTU Bargaining
Chicago Teachers Strike Day 9: Negotiations at a Standstill
Lightfoot Accuses CTU of Moving Goal Posts After Marathon Bargaining Session
Chicago Principals Concerned About Possibility of Long Strike
---