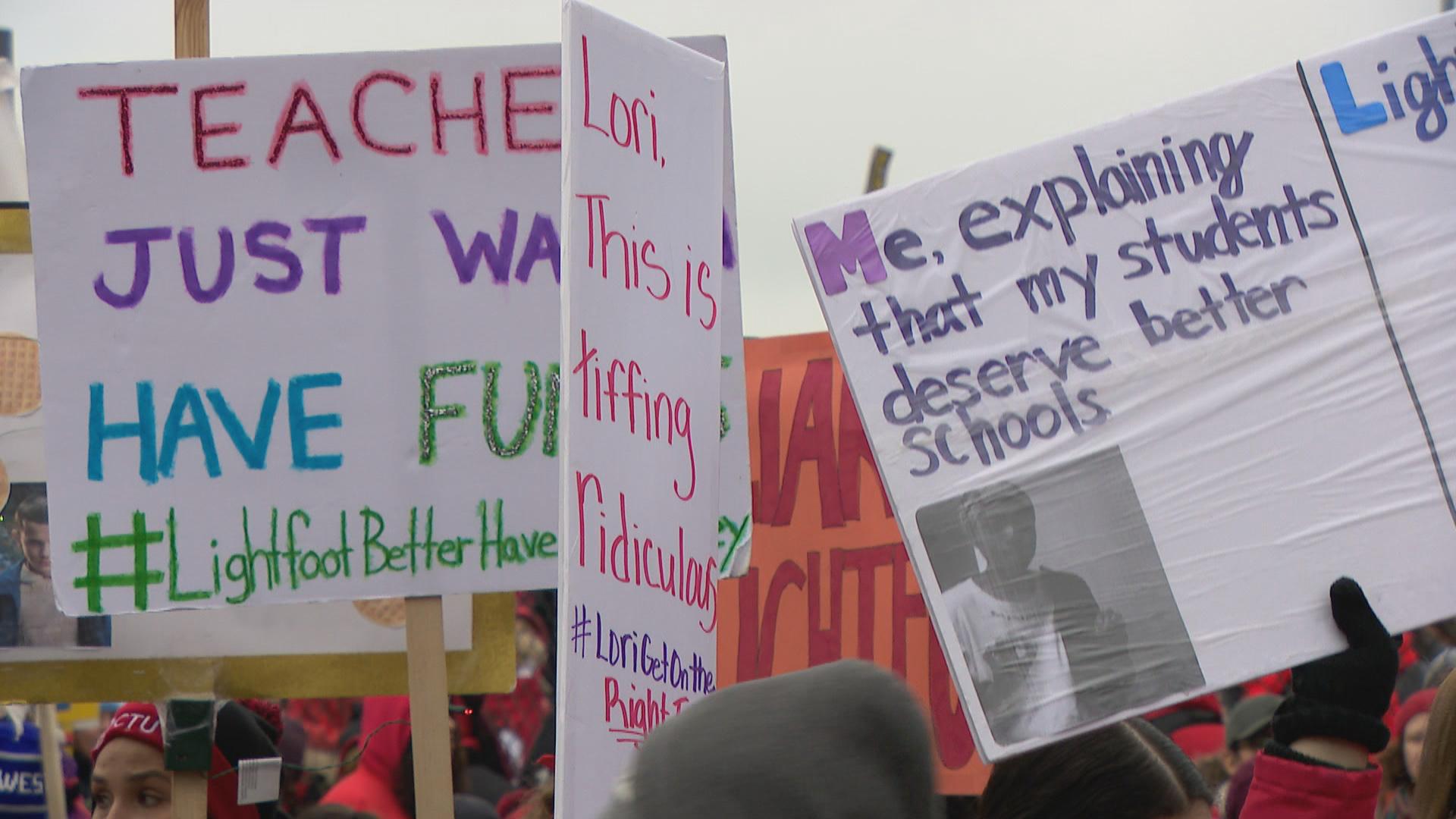 Chicago Teachers Union members hold a rally at the Lincoln Yards development on day nine of the strike, Tuesday, Oct. 29, 2019. (WTTW News)
UPDATE: Chicago Teachers Strike Comes to an End, Classes Resume Friday
An internal Chicago Teachers Union document obtained by WTTW News shows the union would agree to a five-year contract – a point of contention for months – if Mayor Lori Lightfoot agrees to stop blocking the passage of an elected school board bill in Springfield and "getting back our bargaining rights."
The document, which lays out for members the status of priority negotiation issues for the union, shows the two sides have made no movement over the length of the contract: the union has proposed three years, the district is demanding five.
"CPS and the mayor are dug in. Whether we can agree to a 5-year contract will depend on our assessment of the wins in the contract," the document reads.
On Tuesday, day nine of the strike, Lightfoot accused the union of bringing up new issues at the 11th hour.
The union is also requesting the mayor's support of HB2275, legislation that would repeal Section 4.5 of the Illinois Educational Labor Relations Act, which governs which issues the union can bargain over.
"Are we really keeping our kids out of class unless I agree to CTU's political agenda wholesale?" Lightfoot said Tuesday when speaking to reporters.
The city released a one-page summary of the offer it made to teachers Tuesday, imploring parents to view it for themselves.
In that summary, CPS says it will provide additional money to cover pay increases for veteran teachers and class size support "in exchange for the CTU dropping its remaining outstanding proposals."
The union has also made a priority issue of staffing for social workers, case managers, nurses and more than a dozen clinical or support positions.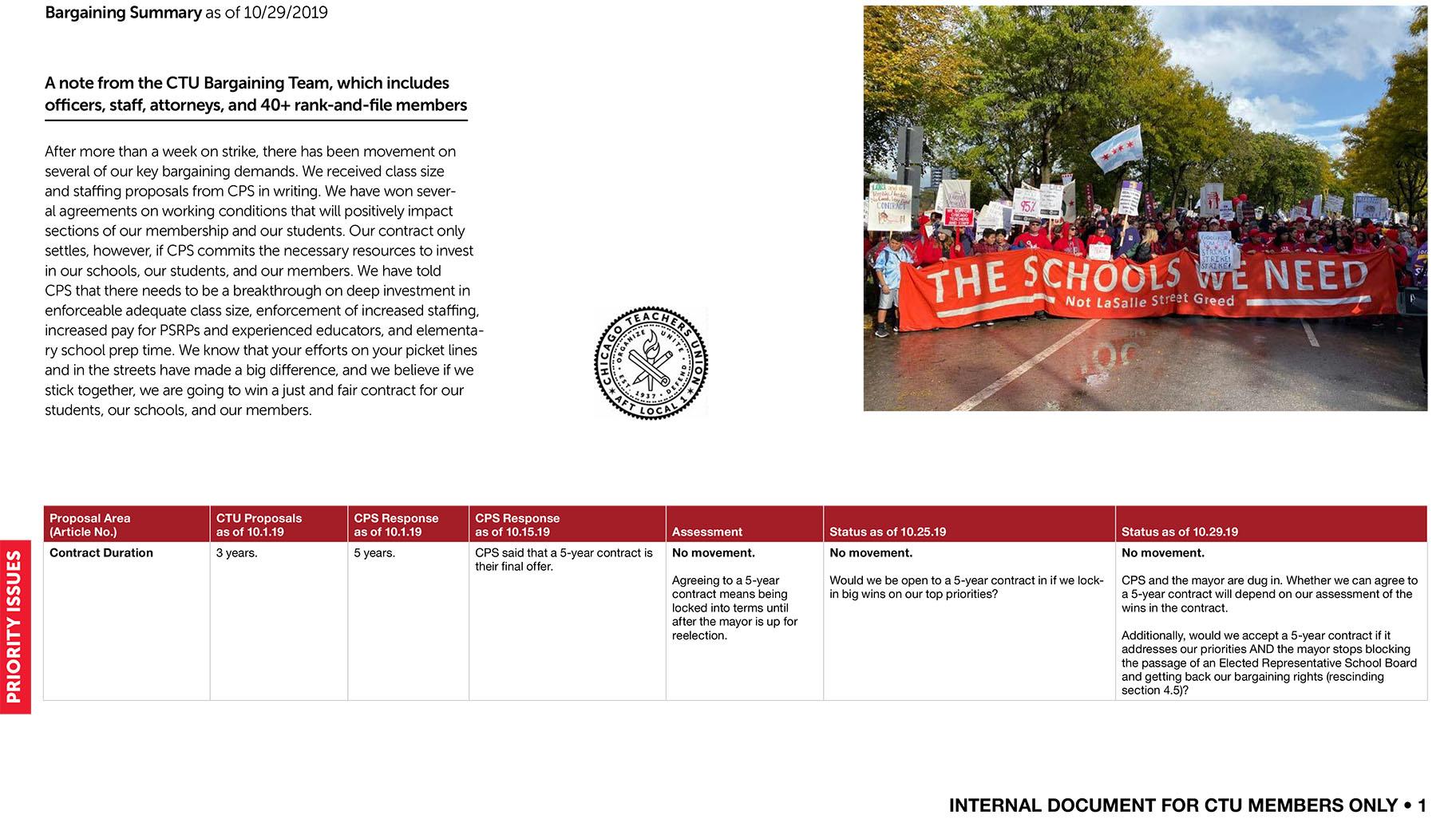 Document: Read the CTU bargaining summary. The CTU's internal document shows the union and district have reached a tentative agreement on the subject of privatized nurses, but only "movement" on the specifics.
For example, "CPS agreed to CTU proposal to increase the MOU (Memorandum of Understanding) to $500,000 annually to recruit new nurses, social workers" and others.
It also shows the two parties making progress on allocating positions, like case managers, based on the number of special education students a school has.
While the CTU document says that "CPS still proposed same social worker and nurse numbers," it also says: "We have to … create an enforcement mechanism to ensure positions are filled."
Among the priority issues where CTU shows "movement" are class size, pay (including veteran pay, which had been a sticking point for many senior teachers), PSRP pay and health care.
"I've been in step 14 for the majority of my career. It's gonna peak out at year 15. The feeling is still that veteran teachers are going to get crumbs, the increases after the 15th year are not going to be sufficient, even after yesterday's bargaining," a CTU member who asked to remain anonymous told WTTW News. "If you get to the point where you're just too expensive, someone won't want to hire you if you want to change schools."
But teacher preparation time remains an outstanding issue, one that CPS CEO Janice Jackson and her senior staff have said they are not willing to compromise on because additional instructional time has led to academic progress in recent years.
"The CTU Bargaining Team has discussed multiple ways of approaching additional prep time for elementary school and so far the mayor and CPS have not agreed to any possible option," the union's document states.
The two sides have made "no movement" on a host of other issues, the CTU document shows, including benefit time, special education, REACH teacher evaluations, student-based budgeting, SQRP school ratings and a school closing moratorium.
It shows the bargaining team is still preparing a counteroffer on some special education-related issues, and while there are some tentative agreements on that subject, the remainder are tied to the argument over teacher prep time.
While teachers rejoined the picket lines Wednesday morning after a House of Delegates meeting Tuesday night that lasted more than two hours, they have yet to vote on any agreement.
Bargaining between the two sides continues Wednesday, but the union has yet to schedule another delegates meeting for a potential vote.
"We're in it this far, let's go all the way. I know that sounds callous, but if we've gone all this way, what's a couple more days," the CTU member told WTTW News. "I don't see us going back tomorrow. I'll be shocked."
Follow Brandis Friedman on Twitter @BrandisFriedman
---
Related stories:
Chicago Teachers Strike Day 9: Negotiations at a Standstill
Lightfoot Accuses CTU of Moving Goal Posts After Marathon Bargaining Session
Chicago Principals Concerned About Possibility of Long Strike
CPS Cancels Tuesday Classes as Sticking Points Stall Deal
---