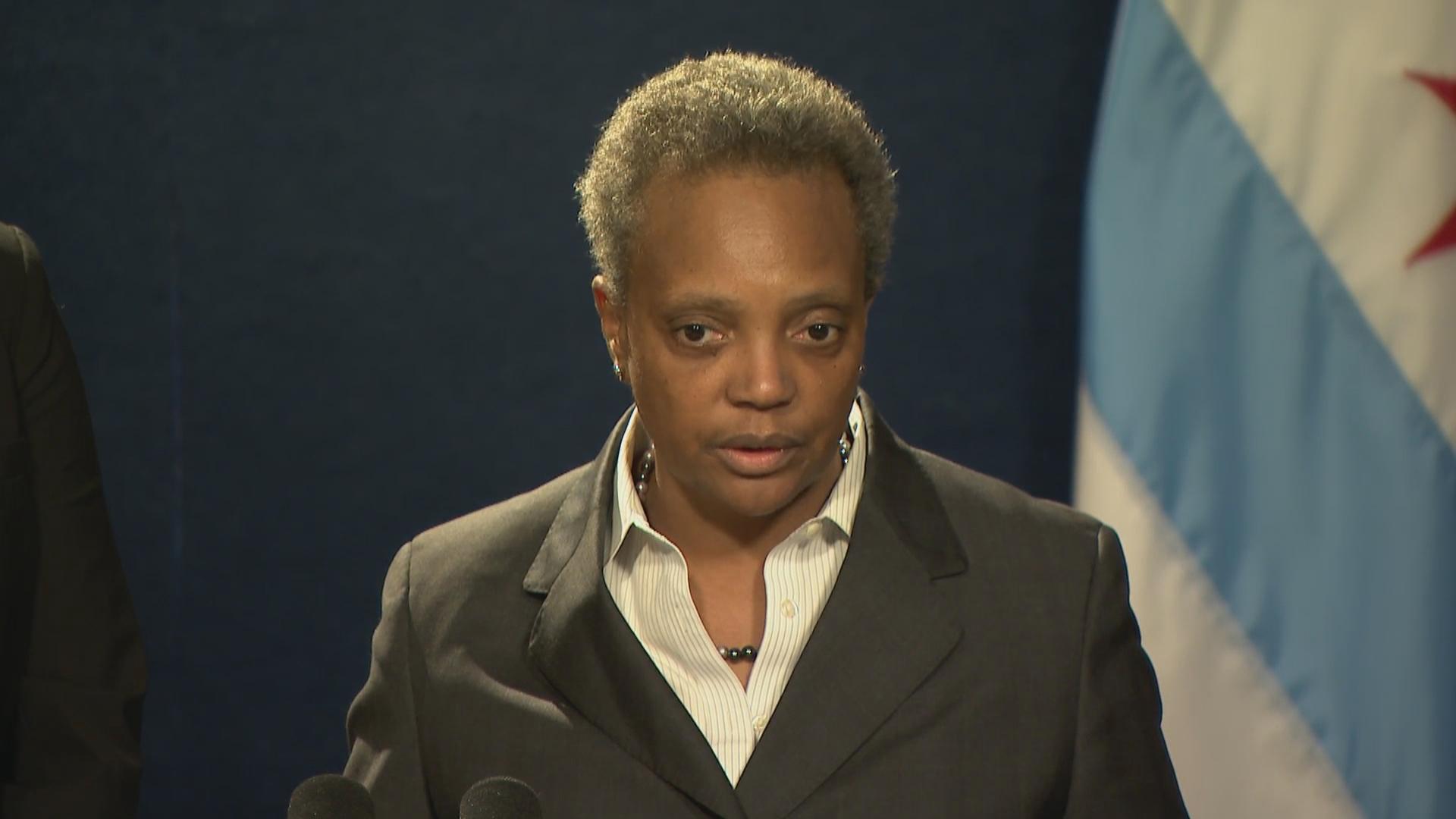 Chicago Mayor Lori Lightfoot speaks about the ongoing teachers strike on Tuesday, Oct. 29, 2019, the ninth day of the work stoppage. (WTTW News)
A new contract agreement with the Chicago Teachers Union is no longer being held up by dollars and cents, according to Mayor Lori Lightfoot, who said union leaders "continue to move the goal posts" by pushing for new legislative demands.
Following a marathon bargaining session that ended after 2 a.m. Tuesday morning, the mayor said the sides "came so close" to tentative agreements on the CTU's biggest issues: class size caps and staffing guarantees.
On Tuesday, the union called together its House of Delegates for a meeting to hear an update on where negotiations stand. Those 800 or so delegates must ratify any contract agreement before the strike will end. But as of Tuesday afternoon, no tentative agreement had been reached for them to vote on.
Lightfoot said the city's current offer includes $70 million dedicated to additional staffing – promising a nurse and social worker in every school by the end of the contract – along with $25 million for class size relief.
But she claimed union leaders are now pushing for additional demands that "do not belong in any collective bargaining contract," including a promise from the mayor to back a legislative proposal in Springfield that would create an elected Chicago school board.
"A bill I fundamentally think is flawed and rejected," Lightfoot told reporters Tuesday morning. "Look, I made clear many times that I support an elected representative school board, but that is a citywide conversation that must be had. It is a policy that must be changed through the legislative process in Springfield and with many stakeholders at the table, not just the CTU leadership."
The union also wants to renegotiate the state labor law that limits what issues they are allowed to strike over, Lightfoot said.
"Are we really keeping our kids out of class unless I agree to support the CTU's full political agenda wholesale?" she asked.
This is no longer about money. CTU is making a last minute grab to take away precious instructional time for students. They want to shorten the school day/year, and we're not going to jeopardize our students' progress by rolling back the school day. https://t.co/bA5bUVCB2K

— Janice K. Jackson, EdD (@janicejackson) October 29, 2019
---
Along with the legislative items, Chicago Public Schools CEO Janice Jackson said teachers are also demanding the city either grant them 30 minutes of prep time each day or pull four full instructional days off the school calendar – which the city refuses to do.
"This is no longer about money," Jackson said, speaking alongside the mayor. "This is about the political issues … and a last-minute grab to take away precious instructional time that our students need and we have seen tremendous academic gains as a result of."
CTU leaders, however, reject the city's claims and says issues like prep time have been part of negotiations for months.
Research shows that prep time improves the quality of instruction. As an educator, the chief executive officer of Chicago Public Schools should know that. What good is a day that's 30 minutes longer, but not 30 minutes better because of the lack of prep time? #protectyourpreps https://t.co/rrVZLNFJqm

— ChicagoTeachersUnion (@CTULocal1) October 29, 2019
---
Teachers say they need that prep time to let them contact parents, grade papers, prepare lesson plans and update curricula – which reduces the amount of unpaid labor they put in outside of the work day.
"So when we demand prep time, it's because we know it's essential to professional growth, student growth and classroom success," the union said in a tweet following Lightfoot and Jackson's comments. "The fact that it's a sticking point for the mayor and CPS is a matter of either stubbornness or insensitivity. Neither of which are good."
They also maintain the city has refused to put down an additional $38 million they say would cover their contract demands – a number the city says is inaccurate – while Lightfoot's office has refused to turn over $100 million in TIF funding they say had been previously promised to the school district.
With students held out of class once again Tuesday, the teachers' ongoing work stoppage is now the longest in the city in more than 30 years.
Contact Matt Masterson: @ByMattMasterson | (773) 509-5431 | [email protected]
---
Related stories:
CPS Cancels Tuesday Classes as Sticking Points Stall Deal
Chicago Principals Concerned About Possibility of Long Strike
Special Needs Families Hope Chicago Strike Will Bring Change
The Week in Review: End in Sight for Chicago Teachers Strike?
No Breakthroughs Friday as Chicago Teachers Strike Heads Into Weekend
---