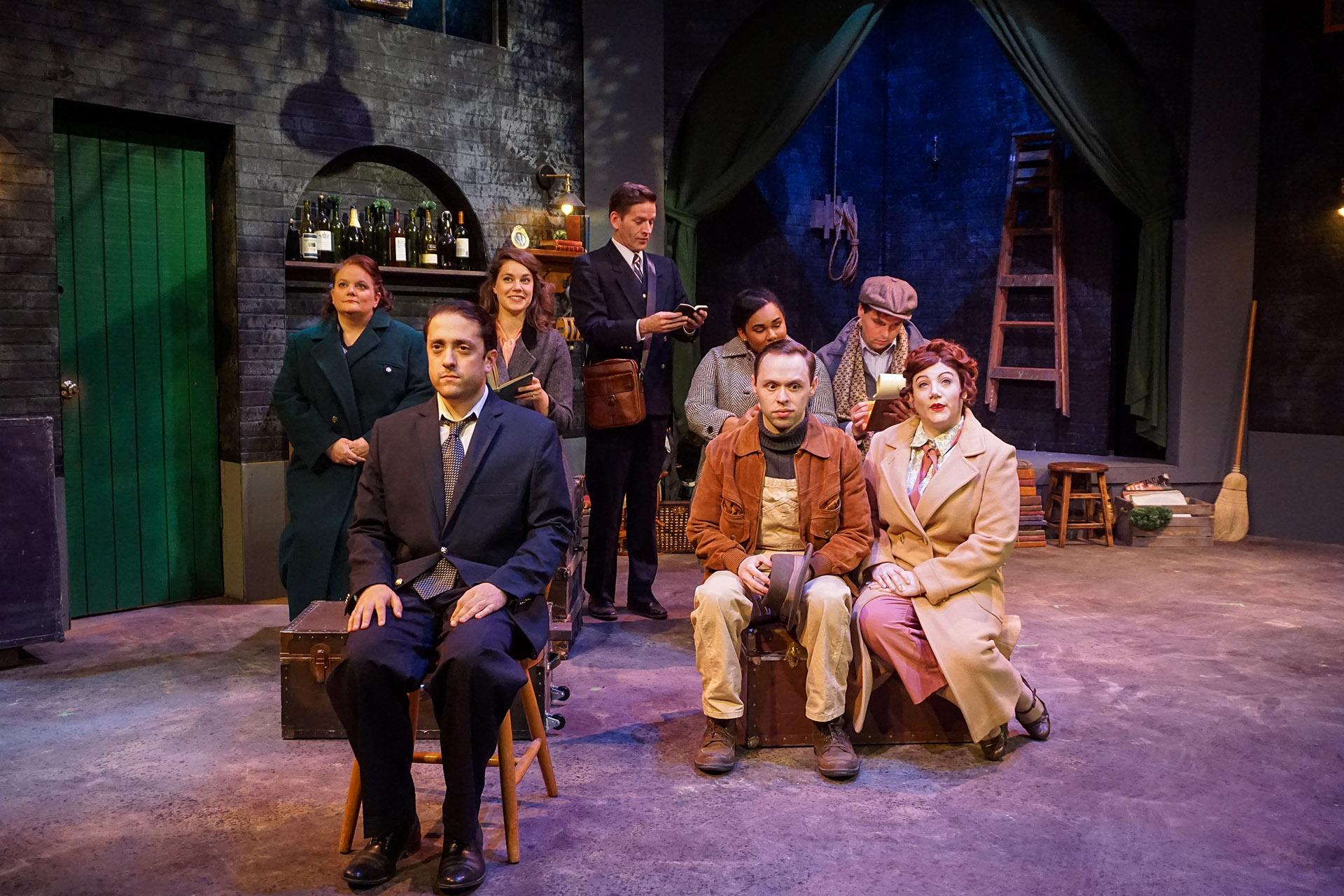 Cast of "A Man of No Importance." (Photo by Heather Mall)
Do not confuse Alfie, the central character in "A Man of No Importance" – the musical now receiving an altogether beautiful, heartrending production by Pride Films and Plays – for the womanizing Cockney chauffeur in the popular 1966 film starring Michael Caine. Rather, this is Alfie Byrne, the middle-aged Dublin bus conductor and closeted homosexual with a passion for theater who was so winningly played by Albert Finney in a 1994 film.
But be advised, Alfie Byrne's story has since been turned into a beguiling musical with a book by Terrence McNally, and an exceptionally lovely score by Lynn Ahrens and Stephen Flaherty periodically infused with traditional Irish tunes, (the magical team that also created "Ragtime"). And it features exceptionally fluid, comedy-meets-tragedy direction by Donterrio Johnson, the invariably superb musical direction of Robert Ollis, and an ideal cast led by Ryan Lanning, who calls to mind the great British film actor Leslie Howard, and whose superbly nuanced performance is sure to win your heart.
When he is not collecting tickets on his bus route – where he regales his familiar passengers with the recitation of great poetry and dramatic monologues, and riffs on the power of art – Alfie lives with his sister, Lily (Sarah Beth Tanner), who both loves and resents him, and has delayed her own hope for marriage until her eccentric brother ties the knot.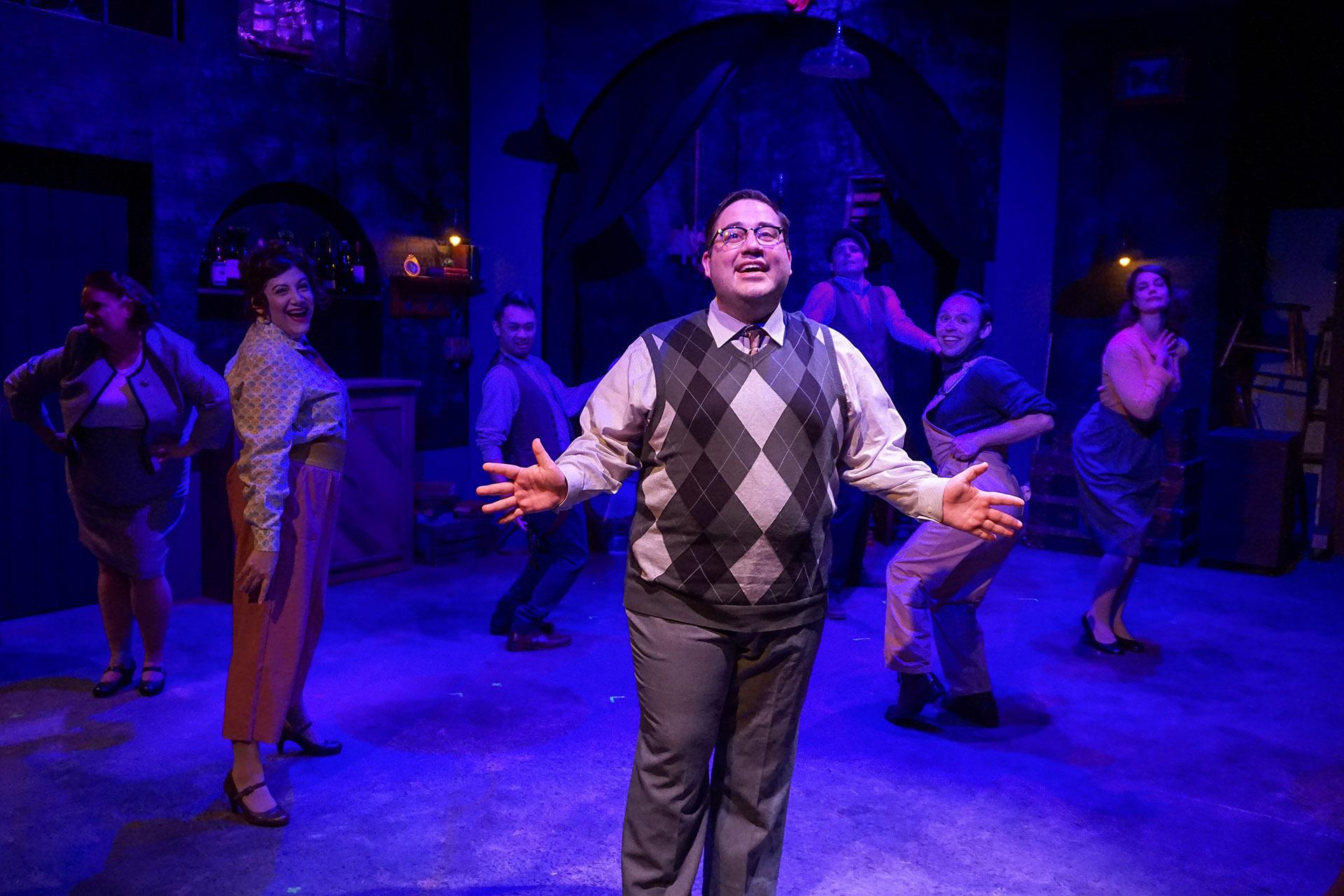 Tommy Bullington (front), Kimberly Lawson (from left), Jessica Lauren Fisher, Thomas Tong, Christopher Davis, Ryan Armstrong and Amanda Giles perform in "A Man of No Importance." (Photo by Heather Mall)
The unspoken object of Alfie's affection is his handsome, streetwise coworker, Robbie Fay (the easily charismatic Nick Arceo) who is straight and hot for Mrs. Patrick (the rich-voiced Tiffany T. Taylor), a married mother of three. But this is 1964 in a strongly moralistic Irish Catholic society where homosexuality was not decriminalized until 1993. So Alfie channels his greatest passion into the theater, often championing the plays of his hero, Oscar Wilde. And for some time he has directed (quite laughably amateurish performers) in productions staged in the social hall of St. Imelda's church.
Alfie's decision to stage Wilde's "Salome" is sure to cause a scandal (as it did in London in 1892 when Sarah Bernhardt tried to perform it), even if it is a story rooted in the Bible. But he argues that it is "art" not "a dirty play." And under the watchful eye of Father Kenny (Ian Rigg), the regulars in his little company of performers and techies gather for rehearsals. They include Carney, the beefy butcher (Tommy Bullington); the ebullient Mrs. Grace (Kimberley Lawson), Miss Crowe (Jessica Lauren Fisher), Sully O'Hara (Thomas Tong) and Peter (Orlando Shelly); Mrs. Curtin, the tap dancing mother of nine (Amanda Giles); Baldy (Christopher Davis), a widower, and skillful stage manager; and Ernie Lally (Ryan Armstrong), a prop maker with a crazy tendency for overacting. Hovering throughout as both Breton Beret, the sexual devil, and as Wilde himself (complete with signature green carnation) - is Kevin O'Connell.
Alfie discovers his Princess Salome by chance when Adele Rice (the altogether radiant Ciera Dawn, who turns every one of her songs into a powerful scene), boards his bus. A beautiful young woman, she has just moved from the countryside to Dublin and has a dark secret. She resists Alfie's offer at first, but soon connects with her character, and also comes to realize that, much like Alfie, she has been filled with shame simply for acting on her love and desire.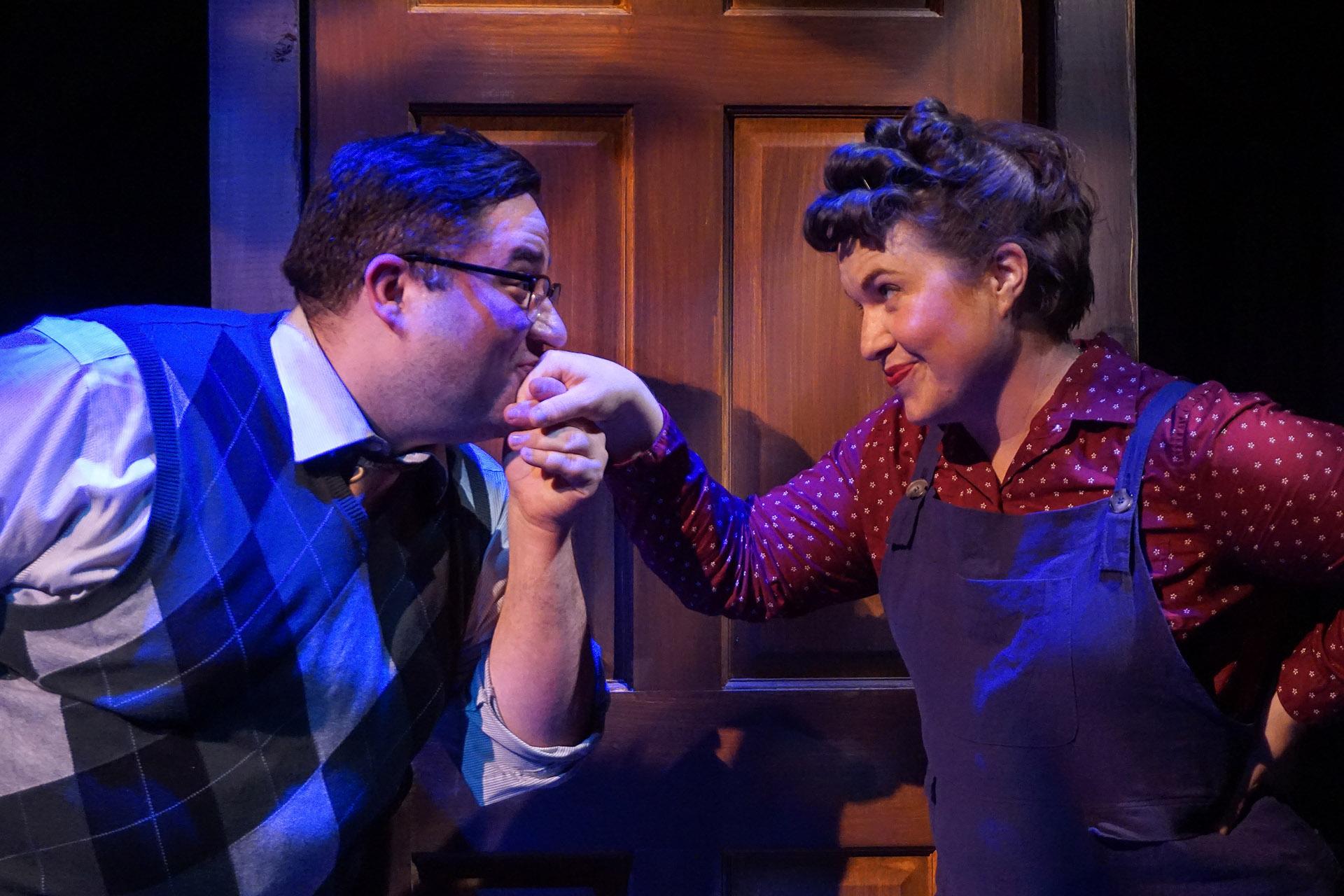 Tommy Bullington and Sarah Beth Tanner in "A Man of No Importance." (Photo by Heather Mall)
Before it's all over (but not before Alfie is painfully outed) these two become soul mates and join for a grand reprise of the show's defining anthem, "Love Who You Love." (Listen closely to the musical's nearly two dozen wonderful songs, which are ideally played by Robert Ollis (keyboard), along with Suzanne Hannau (reeds), Cesar Romero (guitar), Chuck Evans (violin), Kelsee Vanderval (cello) and several of the actors, and you will quickly wonder why Ahrens and Flaherty are not far more appreciated.) And Alfie finally begins to find self-acceptance, and the acceptance of his little theatrical family.
The fine designers (Evan Frank, Mike McShane, Matthew Zalinski and Isaac Mandel) have made the most of the intimate theater's space, and Bob Kuhn's character-defining costumes are ideal.
The ensemble work here is perfection. But it is Lanning's exquisitely limned turn as Alfie that ultimately makes the show. A man of much importance.
"A Man of No Importance" runs through Nov. 10 at The Broadway, Pride Arts Center, 4139 N. Broadway St. For tickets ($30-$40), call (773) 857-0222 or visit www.pridefilmsandplays.com. Running time is 2 hours and 25 minutes.
Follow Hedy Weiss on Twitter: @HedyWeissCritic
---
A Smashing Debut by Pianist Sunwook Kim at Thrilling CSO Concert
It's Time to Declare a 'Year of Chicago Dance'
'A Man of Good Hope' Captures Immigrant's Plight with Stunning Artistry
---